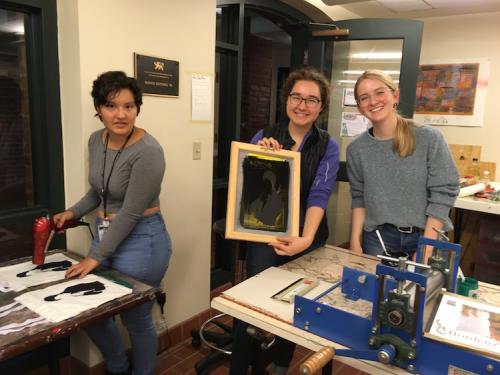 Notes

 and 

News

 – Week of 10/1
 
HL's Pieces
 
Dear Red Lions,
 
First, many thanks go to our wonderful 

TD

 Dining team for putting together a great Football tailgate brunch with delicious food and festive decorations! Judging from the many happy smiles, we can say this was a great success!
 
And speaking of festive occasions, our "photo of the week" captures three first-year suitemates – Adriana Maciel Metal, Eva Syth, and Julia Burgiel – at the TD Art Studio's tote bag design workshop this past Saturday.  Many thanks to our Art Studio Aides Antalique Tran '21, Sarah Jho '20, and Vicky Gebert '19 for running such a great event!
  
Speaking of art… I am excited to announce a New York City fall break trip for Wednesday 10/17.   We have the opportunity to have a group of 10 TD students go on a tour led by Curator Emma Capron at the Frick Museum, hosted by TD Fellow Stephen Scher '56 .  Dr. Scher is an art historian and retired CEO of Scher Chemicals.  He has maintained strong connections with New York's finest art museums including the Metropolitan Museum of Art and the Frick Museum.  We will do a sign-up Google Form later this week so stay tuned. 
  
Escape New Haven is interested in working with any TD students who want to see what goes on behind the scenes in an Escape Room!  They are looking for volunteers to help with the TD pop up escape room in the RH crypt as "in room" actors.  Volunteers will be given training and then asked to sign up for shifts to work as actors or greeters while the game is running.  All in all, Escape New Haven asks for about 7 hours of nighttime availability from October 21-31.  The game will be in operation for one week from Thursday 10/25to Halloween on 10/31.  If you are interested in volunteering, please visit https://goo.gl/forms/Ej3sUaDk1Qea79bm1. Volunteers will receive limited-release Forbidden Tomb t-shirts and behind-the-scenes access!
Last but not least, please don't forget to get your flu shots this season and help with the TD herd immunity!  For a full list of clinics, please go to this link.  The clinic is free for all Yale students and employees. 
  
Here are our important TD college events for this week:
 
Tuesday 10/2 6-7pm Senior Mellon Kickoff Dinner Meeting (TD House)
 
All senior lions are welcome to our first dinner – featuring Thai food – to learn about the funding and presentation opportunities at this year's Mellon Forum.  Great food, conversation, and company awaits!  Facilitated by our wonderful TD residential fellow, Anouk Lloren.  Feel free to email anouk.lloren@yale.eduif you have any questions about the Mellon Forum.
 
Tuesday 10/2 10pm-12am IM Butt Bucks Kickoff (TD Buttery)
 
TD is still doing great this fall despite a few tough losses.  Come to this wonderful kickoff  "Butt Bucks" event in the Buttery overseen by IM secretary Angel Mora TD '21and keep the IM spirit going.  Let's win back the Tyng Cup!
 
Wednesday 10/3 6pm Dinner with our Alder (TD Dining Hall)
 
Jeanette Morrison, our Alder from Ward 22, which contains the TD courtyard – along with Silliman, Pauli Murray, Benjamin Franklin, Morse, and Stiles – will be having an informal dinner with TD students in our dining Hall.  We'll have a reserved table to welcome Alder Morrison so feel free to drop in and share any thoughts or concerns you have for the ward.
 
Wednesday 10/3 8-9:30pm SAC Smores Night (TD Courtyard)
 
Looking ahead we have a great autumn evening for our SAC smores night!  Come roast some marshmallows and melt some chocolate and distress with some communal guitar playing and singing!  Drop by or stay awhile!
 
Saturday 10/6 4:30-6pm Parent's Weekend Reception (TD House)
 
We are looking forward to welcoming your family and friends back to Yale and the TD courtyard with a festive reception at the TD Head of College house.  For the full menu of Family Weekend activities across the campus, please go to this link.
 
Sunday 10/7 ¡ANDA! 5K Run for HAVEN Free Clinic (Edgewood Park)
 
This is the last week to sign up in the HoC office for this great fundraising run to support the HAVEN Free Clinic, a non-profit organization that partners with Yale University to provide comprehensive primary care services to members of the New Haven community free-of-charge.  For more info, visit the following link: https://www.wizathon.com/anda5k/?id=3094" 
 
 
And here are some exciting events for the following week:
 
Monday 10/8 4:30-6pm Tea with Prof. Andrew Curley (TD House)
 
Co-sponsored tea with the Association of Native Americans at Yale (ANAAY), we are delighted to host Dr. Curley who is an Assistant Professor at the University of North Carolina.  His talk, "What is a Resource Curse?: Energy, Development, and Indigenous Sovereignties in Native North America," will focus on Indigenous rights and conflicts over energy and water rights and access for the Navajo (Diné nation). 
 
Tuesday 10/9 7-8:30pm Senior Champagne Tasting w. David Swensen (TD House)
 
David Swensen, Chief Investment Officer and manager of the Yale endowment, is generously sharing his collection of champagne with the college.  Please go here to sign up.  We have room for 30 participants and you must be 21 year old or older.  First come first served!!!
  
Wednesday 10/10 5-6:30pm  Joint Grad School info session with Silliman College Hosted by Career Services (Silliman Rm 303)
If you're considering applying to graduate school (master's and doctorate programs) and want to learn the nuts and bolts of putting together the strongest application – then this is the workshop for you!  A panel of graduate students will help walk you through the process and answer your questions.
 
Wednesday 10/10 8-9pm Sophomore Advising Night with TD Grad Affiliates (TD Dining Hall)
 
TD '21, do not settle for uncertainty and confusion – aka the "sophomore slump" – when you can get great advice from our fabulous graduate student affiliates who come from across a range of disciplines, departments, and professional schools on campus.  Many of our affiliates are TD alums now back to continue their postgrad education.  They are a wealth of information and inspiration so take the time to meet them! 
 
Thursday 10/11 4:30-6pm Tea with Clemantine Wamariya TD '13, "The Girl Who Smiled Beads" (TDHouse)
 
We are delighted to welcome back Clemantine Wamariya TD '13 who just published her first book this spring, The Girl Who Smiled Beads: A Story of War and What Comes After, with Crown Publishers.  A New York Times bestseller, the book chronicles her childhood experiences living through the Rwandan genocide and gaining refugee status in the United State and growing up in Chicago. 
Friday 10/12 8pm TD Movie Night hosted by SAC (Location TBA)
SAC is bringing back the highly popular movie night!  They hope to have it in the TD courtyard if the weather cooperates.  Otherwise, we will likely move indoors into the TD Dining Hall.
 
Without further ado, here is a word from Dean Mahurin…
 
Áshe,
 
HL
 
***
"But as long as you remember what you have seen, then nothing is gone."
(Leslie Marmon Silko, Ceremony)
 
 
OFFICE OF SUSTAINABILITY

Celebrate Sustainability
Please make note of the upcoming Celebrate Sustainability week, October 8-12th! Celebrate Sustainability is a week-long series of events to raise awareness and deepen campus engagement around sustainability, within this year's theme of "Healthy Yale, Healthy Planet". Events include lectures, walking tours, meditation sessions, and more. A list of currently scheduled Celebrate Sustainability events is available on the Office of Sustainability website.
 
(TD-Centric Sustainability)
Do you want to make your residential college more sustainable? Come meet Victoria and James - two students who work at the Office of Sustainability- at your residential college's focus group meetings, to share your ideas about achieving a greener campus! What's more - there will be free eco-friendly items like organic soap and face masks given away to those who participate too!
 
Date and time for TD: 
Wednesday, 3 October, 7-8pm
WLH 012 (Tentatively - we are trying to arrange for a location within TD itself!)
 

CIPE PRESENTATION AND PANEL: Family Weekend
We want to meet your family! CIPE will be presenting on our units (Office of Career Strategy, Fellowships, Study Abroad, and Summer Session) and the resources they have to offer, followed by a student panel who will talk about the CIPE experiences they've participated in and their engagement with the center. We hope to see you and your family there, and would love to see you again at the CIPE Office!  Saturday, October 6th 11:30AM-12:30PM in SSS114.
 
 
CENTER FOR TEACHING AND LEARNING WORKSHOPS

Exam Study Strategies           
Reduce exam stress by learning new strategies for preparing and studying for midterms and finals. This workshop offers suggestions for preparing for and taking problem-based, short answer, and essay exams.  Monday, October 1, 4:00 PM, Seminar Room, Trumbull College
 
Managing a Heavy Reading Load      
Feeling overwhelmed by piles of reading? Learn some essential strategies to make the most of your limited reading time. Have less stress and create more free time!
Monday, October 1, 6:00 PM, CTL M104A Wednesday, October 3, 7:30 PM, Seminar Room, Trumbull College
 
Reading Analytically  
Learn how to read deeply to generate effective contributions to class discussion, develop essay topics, and identify strong evidence for essays. Monday, October 1, 7:30 PM, Trumbull Room, Branford College
 
Pathways for First Years        
First years get a lot of advice from a wide variety of sources. But what do youreally want to get out of your first year? This interactive workshop helps students identify goals and sources of satisfaction, and offers strategies for avoiding common pitfalls like overextension and burn out. Tuesday, October 2, 4:00PMBerkeley Walker Seminar Room in Berkeley South Court

Time Management     
Set priorities and develop a weekly schedule that can lead to a satisfying academic life.
Tuesday, October 2, 6:00 PM, JE Seminar Room L23
Thursday, October 4, 7:30 PM, CTL M104A

Creating a Timeline for Your Senior Project  
Learn how to plan your writing and research, and how to access support resources for your senior thesis. 
Tuesday, October 2, 7:30 PM, Morse College Fellows Lounge
Thursday, October 4, 4:00 PM, Berkeley Walker Seminar Room in Berkeley South Court


Succeeding in Lectures/Notetaking
Learn strategies for effective note-taking, classroom engagement, and preparing for exams and assignments.
Wednesday, October 3, 4:00 PM, CTL M104A

Cultivating Faculty Mentors/Recommendations      
Initiate conversations, ask for assistance, request recommendations, and build mentoring relationships with Yale faculty, teaching fellows and staff.  Wednesday, October 3, 6:00 PM, Room 303, Byers Hall, Silliman College

Procrastination: How to Work Through It    
We all procrastinate. When your procrastination habits get in the way of your goals, however, it's time for a change. This workshop offers strategies for identifying the sources of procrastination and pursuing productive habits that can get you back on track.
Friday, October 5, 1:00 PM, CTL 120C
 
1-1 Academic Strategies Mentoring
Want to set up a weekly study routine that works for you? Sign up for a meeting with a peer Academic Strategies Mentor by clicking here, or contact academicstrategies@yale.edu.