Sustainability in Timothy Dwight College
Timothy Dwight's Sustainability Liaisons (SLs) facilitate collaboration between Yale's Office of
Sustainability and TD operations and initiatives. The SLs' efforts to continually improve TD's
sustainability center around efficient energy use, waste minimization, events that promote and 
encourage sustainable practices, and sharing educational content.
With the support of 
TD administrators and the Office of Sustainability, the SLs plan events for TDers to enjoy and 
initiatives to lessen our community's environmental footprint.
Making TD Events More Sustainable
Before organizing a TD-affiliated event, TD Sustainability urges all event planners to reply, in just a few brief sentences, to the 
TD Event Sustainability Clause
 after reading through the suggestions that follow. Organizers can email their responses to the TD Sustainability Liaisons, 
selin.goren@yale.edu
 and 
peyton.meyer@yale.edu
 . You can also reach out to them to get a general consultation about how to make your event more sustainable!
Follow our Instagram @sustainabili_TD to stay up to date on future events and learn more about sustainability!
Sustainability Liaisons
Selin Goren (she/her)
, EVST and Energy Studies '24, is from Turkey and is engaged in climate advocacy in her hometown, Istanbul. She's passionate about the green energy transition of companies and cities, youth participation in climate politics, along with the intersectionality of environmental justice. In addition to being a SL for TD, Selin is working as a student research assistant at Yale Carbon Containment Lab and the Student Director for EVST.
Peyton Meyer (he/him)
, EVST and Energy Studies '24, is originally from Waunakee, Wisconsin and has worked as a TD Sustainability Liaison since the start of the 2021 fall semester. He is passionate about sustainable energy use/systems as well as the link between mental health and time spent outdoors. Along with his role as TD SL, Peyton is a Co-Director for the Yale Student Mental Health Association, passionate about destigmatizing mental health on campus.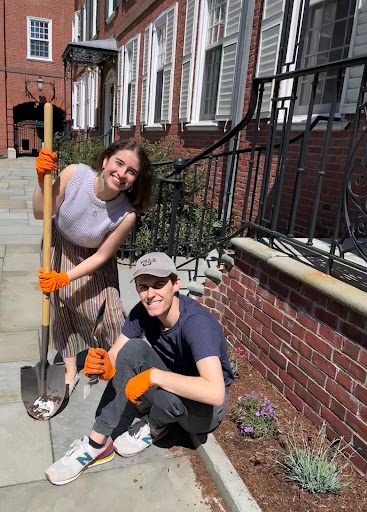 Facilities Superintendent
Recent TD Sustainability Projects
Distributed self-watering plant kits to TDers ahead of Winter break
Created a tutorial on efficient dorm room radiator use
Hosted a vegan cupcake baking (and tasting!) event
Distributed sustainable menstrual products
Started a TD Sustainability Instagram account to promote events and share educational resources
Collected food and clothing donations for a local food drive 
Screened the film 2040 for TDers to learn more about climate change mitigation and proposed sustainable long term solutions
Resources
A large part of sustainability is making sure the places we spend time indoors operate efficiently. To report any issues you encounter that may increase energy consumption or waste, click this link

 to submit

 a facilities work request. Contact Melissa Debies-Carl with any additional facilities-related questions. 
Click this link to view the Yale Sustainability Plan 2025
Transportation & Sustainability

Read about bike theft prevention and register your bike with the National Bike Registry through Yale Police

here

.

Learn about the public transportation options in Connecticut

here

.
Learn More
Visit the Yale Office of Sustainability website for more information on sustainability at Yale
Learn how to operate your dorm room radiator efficiently (here) to reduce energy loss 
Learn more about important sustainability topics  from Yale experts
Join the Sustainabili-TD team!
Interested in getting involved in TD sustainability? We are looking for TD students to help us out in our mission to make TD more sustainable! Join the Sustainabili-TD team and help us plan the events and implement the changes you want to see in TD, from improving energy efficiency to fun environment themed events. Fill out this quick form or contact one of your SLs to express your interest.