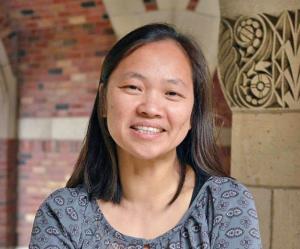 Professor Mary Ting Yi Lui, Head of College of Timothy Dwight College, is a member of the faculty of the American Studies program and the History department. She is also affiliated with the programs Ethnicity, Race, and Migration and Women, Gender, and Sexuality Studies. Her research and teaching focuses on Asian American history, urban history, women and gender studies, and public history. Her first book, The Chinatown Trunk Mystery: Murder, Miscegenation, and Other Dangerous Encounters in Turn-of-the-Century New York City, was awarded a 2007 best book prize for history from the Association of Asian American Studies. She recently appeared in a documentary film on the history of Chinese Exclusion Act directed by acclaimed filmmakers Ric Burns and Li-Shin Yu that aired on PBS's American Experience in May 2018.
Born in Hong Kong and raised in New Jersey, Professor Lui earned an A.B. from the Woodrow Wilson School of Public Affairs at Princeton University, with a certificate in East Asian studies. She received her Ph.D. in history from Cornell University. She has held appointments at the Chicago History Museum (as public historian), at Williams College (as the Charles Gaius Bolin Fellow and seminar instructor in history), and at the Museum of Chinese in the Americas (as a curator).
Dr. Vincent Balbarin​, Associate Head of College, is a solutions architect at Yale Information Technology Services. He received his doctorate in chemistry at Cornell University, where his area of study was inorganic solid state chemistry. He received his Bachelor of Arts at Northwestern University.  He has an abiding interest in the intersections of the humanities and the physical sciences. He particularly enjoys opportunities to bring together visual art and science. A native of Chicago, he was born into a typical, Northside, Cubs family, and anticipates hopefully the start of each Cubs, Bulls, and Bears season and commiserates with family at each season's end. He brings the same cheerful enthusiasm to Timothy Dwight's intramural season.
They live in the college with their family and their wire fox terrier, Wally, who is excited to greet anyone coming into the courtyard!