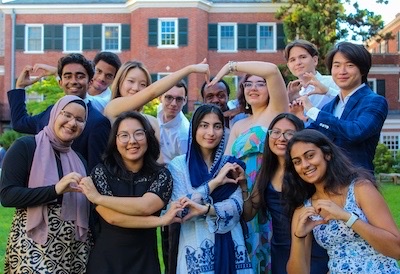 TIMOTHY DWIGHT NOTES & NEWS
WEEK OF 9/12/22
HL'S PIECES
Dear Red Lions,
Our "photo of the week" is a little bit of a blast from the past featuring photos taken by our TD photography aide, Demi Lee, for First-Year Dinner.  It feels like months ago when our First-Year Lions arrived on campus. Here is a photo of FroCo Meghan Joshi with her group.  For more photos, please visit the folder.  You're welcome to download any photos there.
 
I hope you are excited for our fall 2022 TD Community Night that will take place this evening in the TD Dining Hall!  There will be new and familiar faces this evening with music, dancing, comedy, and more!  So please come down to the TD dining hall by 8:30pm to grab your seats.  
TD IMs begin again today and with it, a new quest for eternal Tyng Cup glory!!! This season we will be competing in Soccer, Flag Football, Ping Pong, Pickleball, Spikeball, and Cornhole.  While we enjoy playing and defeating the other colleges, our IM teams are notorious for bringing out lots of students and having the best college spirit.  Whether you have played one of these sports your whole life or are trying it for the first time, we welcome you to join your fellow Red Lions on the field/court!  If you have any questions or want to be added to the email list (the first email came out a few days ago), please email kaleb.assefa@yale.edu!
Speaking of TD IMs, there was no one more devoted to TD IMs then Professor Robert Faris Thompson, or "Master T", who presided over TD for thirty-two years! [Scroll to the end of this email for a vintage Master T IMs email.] This Sunday, September 18th at 2pm, will be the Battell Chapel memorial service and tribute to Professor Thompson who passed away in 2021.  Present-day Red Lions will be familiar with his larger-than-life portrait hanging in the TD Dining Hall. In his honor, our groundskeepers will be preparing a new planting bed near entryway B in the upper courtyard that will feature a Lois Magnolia (Magnolia x Acuminata).  The planting will take place either this Tuesday or Wednesday depending on the weather.
Here are some more important TD events and dates for the next two weeks:
Monday 9/12 8:30-10:30pm Fall Community Night (TD Dining Hall)
Get ready for an amazing evening of Red Lion performances!!!  Piano, guitars, singing, sketch comedy, original dance and more!!!  Come cheer on your TD peers as they take to the stage.  Pizza intermission as always.
Monday 9/12 11:59pm Deadline to Sign-Up for IRIS volunteer opportunity
TD is partnering with IRIS's new afterschool program at their satellite location just down the street from TD at the Center Church of New Haven (250 Temple Street).  The program starts in late September and runs Monday through Thursday from 3:15-5pm and focus on working with children recently resettled in New Haven.  Although the program will run in English, IRIS especially wants to encourage students with Pashto, Arabic, Spanish, and Swahili to participate.  Volunteers will go through a training and orientation with IRIS.  Please sign-up at this Google Form to get more information.
Thursday 9/15 SAC Movie Night (TD Lower Courtyard) 7:50-9:45pm
SAC ran into technical difficulties last week but are excited to try again!  So this is courtyard movie night take 2!!!  Grab a blanket and your friends to sit back, relax, and enjoy the end of add/drop with a movie. They'll be showing Coco and passing out movie candy, you won't want to miss it!
Friday 9/16 11:59pm Deadline to apply to join the Mott Woolley Council – TD's Student Council 
The Mott Woolley Council, otherwise known as Mott, is one of the two TD student councils (the other being the Student Activities Council, or SAC).  Mott designs and manages TD gear sales, selects TD's college seminar for each semester, and organizes events for the college from paintball to apple picking. If you're a first year student and are interested in joining, please email the President of Mott and TD junior, Jai Chadha, at jai.chadha@yale.edu. Please include a short answer (up to 300 words) to the following question in your email: Why do you want to be in Mott?  The first meeting of Mott will be the evening of Monday, September 26th.
Saturday 9/17 1:30-3:30pm TD Art Studio Open House (Art Studio)
Come make your very own tote bag – all bags and materials supplied, free of charge! The TD Art Studio is reopening this week and Art Studio Aides, Naomi Sellers and Alex Yu, will host a tote bag workshop to introduce you to the studio. Come with your friends and suitemates to make customized, painted totes and also get trained for art studio access. They can't wait to see you!
Saturday 9/17 3:00-5:00pm TD Student Kitchen Open House (Student Kitchen)
Join TD Kitchen Aides, Grace MacDonald and Sarah Skoler, for banana muffins (vegan option, too!).  You can learn about the kitchen and receive training to reserve the space for future culinary adventures with friends.
Sunday 9/18 10pm-Midnight TD Buttery Soft Opening Fall Fair Special (Buttery)
Our Buttery Managers, Jack Denning and Anna Tredway, will be launching a soft opening featuring corn dogs and fried oreos – fall festival favorites!  Normal Buttery service will start back up on Sunday 9/25.  In the meantime, The world-renown TD Buttery is looking for new staff! If you're interested, please go to this Google Form to apply, the deadline is Monday 9/19. Jack and Anna are looking for folks with lots of Buttery spirit, no food experience required! See the application for more details.
Without further ado, here is a word from Dean Mahurin…
Àshe,
HL
***
I would do it all over again:
Be the harbor and set the sail,
Loose the breeze and harness the gale,
Cherish the harvest of what I have been.
Better the summit to scale.
Better the summit to be.
              (from "Eve Remembering," Toni Morrison)
 
DATES AND DEADLINES
 
Sept. 14


 

W


 

Withdrawal from Yale College on or before this date entitles a student to a full rebate of fall-term tuition. See Undergraduate Regulations.


 

Sept. 14


 

W


 

Final deadline to apply for fall-term Leave of Absence. See Leave of Absence, Deferral, Withdrawal, and Reinstatement.


 

Sept. 22


 

Th


 

Last day to withdraw from a course offered in the first half of the fall term without the course appearing on the transcript.


 

Sept. 24


 

S


 

Withdrawal from Yale College on or before this date entitles a student to a rebate of one-half of fall-term tuition. See Undergraduate Regulations.


 
LANGUAGE STUDY OPPORTUNITIES
The Yale Center for Language Study is now accepting applications for spring semester study for its Fields Program and its Directed Independent Language Study (DILS) Program. The deadline for applying to either program for spring semester study is October 1st at 1:00pm. 
The Directed Independent Language Study (DILS) Program gives students the opportunity to study a language that is not currently taught in a Yale classroom.
The Fields Program gives students the opportunity to pursue advanced-level language study within the context of their academic area of focus (generally in areas other literature if the language is taught at Yale, since advanced coursework in literature would likely be available).
Both are non-credit programs, open to all registered Yale students (undergraduate, graduate and professional). In each program, students work with a Language Partner—a native speaker of the target language (not a formal instructor)—in two 1-hour sessions for 12 weeks. The sessions aim to develop linguistic and cultural competence through active conversation and practice of what you are studying independently. With a limited number of slots available, a selection committee reviews all applications for their merit and appropriateness, and notifies students of its decisions within four to six weeks after the application deadline.
Details on each program and how to apply can be found at these links:
Directed Independent Language Study (DILS): 
https://cls.yale.edu/dils
Fields Program: 
https://cls.yale.edu/fields
SWENSEN FELLOWSHIPS
 
Would you like to learn the skills of a top-tier strategy consultant, while working in service of a client you know and love: Yale University?  If so, we invite you to apply for the Yale University Swensen Fellows in Strategic Analysis program. Positions are currently available for full-time fellowships and summer internships to begin work in Summer 2023. As a Swensen Fellow, you would work on the most complex strategic challenges facing Yale and help enable University leaders to make decisions that best advance Yale's mission. You would address a broad spectrum of topics including: defining and measuring excellence, setting priorities, improving performance, and allocating scarce resources across the units that comprise Yale.  
  
We're looking for students who possess exceptionally strong quantitative skills and are intellectually curious, practical and results-oriented, attentive to detail, emotionally intelligent, collaborative and team-oriented, and passionate about Yale's mission and the advancement of higher education. Interested students can speak with our team during Yale's virtual Boutique Consulting Networking Event on September 9. 
  
To apply, please visit our website at swensenfellows.yale.edu and submit your application by October 3. 
  
 
PEACE AND DIALOGUE LEADERSHIP INITIATIVE
In 2023, the Peace and Dialogue Leadership Initiative (PDLI) will be taking a select group of Yale and West Point students to Israel and Palestine for an opportunity to learn about the region's cultural and political atmosphere as part of a year-long fellowship.
We will be hosting identical information sessions on Monday, September 19th from 8-9pm and Tuesday, September 20th from 7-8pm in WLH 117.
Each year, selected fellows learn from high-level political leaders, diplomats, journalists, and activists to foster collaboration and creative ideas that contribute to the international conversation on these subjects. The fellowship culminates with a highly subsidized, 10-day trip to Israel and Palestine after commemoration. Past fellows have gone on to become Kerry Fellows, Marshall and Rhodes Scholars, Schwarzman Scholars, and now pursue a diverse array of career paths.
Applicants need not have prior experience with foreign policy or the Middle East. We seek students with a sincere desire to learn and discuss pressing issues from a variety of academic and personal perspectives. We highly encourage you to apply. Please do not hesitate to reach out to yasmeen.abed@yale.edu with any questions.
ACADEMIC STRATEGIES WORKSHOPS
STEM Navigators: How to Succeed in the Bio Sequence 
Monday, Sept. 12, 6:30-7:30 pm, Poorvu CTL 120A 
Are you taking BIOL 101/102 or 103/104? Come hear from students who took and succeeded in those courses and learn the ins and outs of doing well in the bio sequence at Yale. There will be opportunities for questions. 
 
Reading Analytically for Social Science 
Monday, Sept. 12, 7-8 pm, Poorvu CTL M104A 
This workshop provides an overview of deep reading to generate effective contributions to class discussion, develop essay topics, and identify strong evidence for essays. 
 
Pathways for First-Years 
Monday, Sept. 12, 8-9 pm, Online 
What do you really want to get out of your first year? This interactive workshop helps students identify goals and sources of satisfaction while avoiding common first year pitfalls. 
 
Essentials for First Years: Optimize Your Reading (Choose 1) 
Tuesday, Sept. 13, 4-5 pm, Poorvu CTL 120C 
Wednesday, Sept. 14, 4-5 pm, Poorvu CTL 120C 
In this interactive session, students will learn how to preview a text, effectively interact with the text while reading, and review their reading for class, essay, or exam preparation. 
 
Planning for Your Senior Thesis 
Tuesday, Sept. 13, 4-5 pm, Poorvu CTL M104A 
Learn how to plan your writing and research, and how to access support resources for your senior thesis. For full-year and 1-semester senior thesis writers. 
 
Strategies for Intro Math 
Tuesday, Sept. 13, 7-8 pm, Poorvu CTL M104A 
Learn strategies for efficiently working on intro math problem sets and key strategies for studying for exams. 
 
Optimize Your Reading 
Tuesday, Sept. 13, 8-9 pm, Online 
Learn how to preview a text, effectively interact with the text while reading, and review your reading for class, essay, or exam preparation. 
 
Returning from Your Leave of Absence 
Wednesday, Sept. 14, 4-5 pm, Poorvu CTL M104A 
This interactive workshop helps you assess your current interests, strengths, and needs, and helps you develop a transition plan to help you get reconnected to your academic life at Yale. 
 
Managing a Heavy Reading Load 
Wednesday, Sept. 14, 7-8 pm, Poorvu CTL M104A 
Feeling overwhelmed by piles of reading? Learn some essential strategies to make the most of your limited reading time. Have less stress and create more free time! 
 
Fresh Start 
Wednesday, Sept. 14, 8-9 pm, Online 
Want to refresh your approaches to your academic work? Our mentors will lead you through a series of activities to help you identify your current strengths and develop new strategies for meeting the new challenges presented by your current semester's courses. 
 
Getting the Most Out of Your Language Classes 
Thursday, Sept. 15, 4-5 pm, Poorvu CTL M104A 
Learn the daily habits and mindsets that can help you succeed in learning a language at Yale. 
 
STEM Navigators: Excel Crash Course 
Thursday, Sept. 15, 4:30-5:30 pm, Poorvu CTL 120A 
Are you taking a lab course or statistics? Come learn the basics of an important skill needed to generate graphs from your data. Students taking general chemistry lab are especially encouraged to come! 
 
Organize Your Time! 
Thursday, Sept. 15, 7-8 pm, Poorvu CTL M104A 
In this interactive session, students will create a weekly routine to help them manage their time and get their academic work done. 
 
Cultivating Faculty Mentors/Recommendations 
Thursday, Sept. 15, 8-9 pm, Online 
Learn how to initiate conversations, ask for assistance, request recommendations, and build mentoring relationships with Yale faculty, teaching fellows, and staff. 
 
 ***
 
As promised… here is more IMs inspiration from Professor Thompson, aka "Master T".  Please note nothing was altered, including the font color and size!  Now go bring back that Tyng Cup!!!