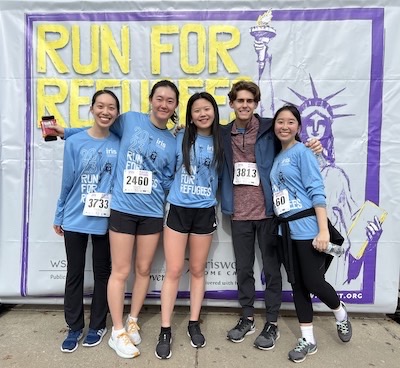 TIMOTHY DWIGHT NOTES & NEWS

WEEK OF 2/20/2023
HL'S PIECES
Dear Red Lions,
Our "photo of the week" comes from Bernice Wang TD '24 who ran the IRIS 5k with her many friends including TD Junior lions Clara Lee, Peyton Meyer, and Alice Ao.  The Run for Refugees brought together 3,000 participants and raised almost $90,000 to support IRIS's work.
Many thanks to TD Operations Manager, Samantha Moore, for pulling together our annual Valentine's Day Ice Skating Trip to Ralph Walker Rink.  Everyone had a great time skating and enjoying the delicious chocolatey treats!  For more photos, please go to this link.
 
We also had a great TD Senior Sushi Night tonight – first one in over 2 years in the TD House!  So excited to have had the opportunity to celebrate the class of 2023 with sushi!
 
Here are our TD events for the next two weeks:
Tuesday 2/21 5:30-7pm TD Mellon Forum (TD House)
This week's presentations feature Senior Lions Sumedha Chowdhury, Zack Andalman, and Akweley Lartey.
Thursday 2/23 4pm Tea with Food Entrepreneur, Irene Li (TD House)
Meet Irene Li, James Beard nominee and co-founder of MeiMei Dumplings out of Boston.  She will be talking in the afternoon at 4pm in the TD house and attendees will get to sample her assortment of dumplings, including a vegetarian variety.  If you're interested in doing her dumpling workshop, please go here to sign up.  Lottery for the 10 spots closes at 11:59pm.  But don't forget you can come sample her dumplings for free at the Tea!
Friday 2/24 4-5:30pm TD Knitting/Crocheting Club (TD House)
Second meeting of the semester – yarn lovers of all levels welcome!  And if you are stuck on your project bring it by and let our expert knitters/crocheters help you.  We are welcoming back Suxiao Yang back to TD! 
Monday 2/27 4:30pm Tea with Digital Storyteller Aaron Reiss '10 (TD House)
Come meet Aaron Reiss '10, a multimedia journalist for The New York Times, The New Yorker, This American Life and more.  Learn how Aaron is working with new digital media technologies to develop new interactive ways of storytelling that include the use of maps, audio, video, illustration and more.  An environmental studies major, Aaron will walk us through some of his projects including a fascinating interactive map of Manhattan's Chinatown.  This tea is co-sponsored with Yale-China.
Week of 2/27  "Take Your Professor out to Dinner in TD" Week (TD Dining Hall)
The COVID-19 pandemic made it difficult for many students and faculty to get to know one another outside of the classroom.   TD is piloting a "take your professor out to dinner week" to give all Red Lions an opportunity to get to know their professors better by allowing each TD student to invite one professor to dinner during the week.  Off-campus students not on the meal plan may also dine for free and invite a professor out to dinner on the college.  We'll send out a Google Form to gather sign-ups.  In the meantime, go invite a professor to dinner!
Without further ado, here is a word from Dean Mahurin…
Àshe,
HL
***
Eve Remembering
Toni Morrison
 
1
I tore from a limb fruit that had lost its green.
My hands were warmed by the heat of an apple
Fire red and humming.
I bit sweet power to the core.
How can I say what it was like?
The taste! The taste undid my eyes
And led me far from the gardens planted for a child
To wildernesses deeper than any master's call.
2
Now these cool hands guide what they once caressed;
Lips forget what they have kissed.
My eyes now pool their light
Better the summit to see.
3
I would do it all over again:
Be the harbor and set the sail,
Loose the breeze and harness the gale,
Cherish the harvest of what I have been.
Better the summit to scale.
Better the summit to be.
 
 
DATES AND DEADLINES
 
Mar. 1
 
W
 
Last day to withdraw from a course offered in the first half of the spring term.
 
Mar. 1
 
W
 
Last day to convert from a letter grade to Cr/D/F option for a course offered in the first half of the spring term.
 
Mar. 2
 
Th
 
Courses offered in the second half of the spring term begin.
 
Mar. 7
 
T
 
Deadline to apply for Non-Yale Summer Abroad, 1 p.m.
 
CENTER FOR LANGUAGE STUDY PROGRAMS
The Yale Center for Language Study is now accepting applications for fall semester study for its Fields Program and its Directed Independent Language Study (DILS) Program. The deadline for applying to either program for fall semester study is March 1st at 1:00pm. 
The Directed Independent Language Study (DILS) Program gives students the opportunity to study a language that is not currently taught in a Yale classroom. The Fields Program gives students the opportunity to pursue advanced-level language study within the context of their academic area of focus (generally in areas other literature if the language is taught at Yale, since advanced coursework in literature would likely be available).
Both are non-credit programs, open to all registered Yale students (undergraduate, graduate and professional). In each program, students work with a Language Partner—a native speaker of the target language (not a formal instructor)—in two 1-hour sessions for 12 weeks. The sessions aim to develop linguistic and cultural competence through active conversation and practice of what you are studying independently. With a limited number of slots available, a selection committee reviews all applications for their merit and appropriateness, and notifies students of its decisions within four to six weeks after the application deadline.
Details on each program and how to apply can be found at these links:
Directed Independent Language Study (DILS): 
https://cls.yale.edu/dils
Fields Program: 
https://cls.yale.edu/fields
FELLOWSHIPS AND FUNDING
Senior Exhibit Fellowship at Yale Library
Tuesday, February 21 | 4:00pm – 4:45pm
More information
 
Schwarzman Scholars Global Leadership Program in China: Information Session
Thursday, February 23 | 12:00pm noon – 1:00pm
President's Room, Schwarzman Center
Lunch available
Register
 
Schwarzman Scholars Global Leadership Program in China: Drop-In Hours
Thursday, February 23 | From 2:00pm
Bass Café space
 
Info Session for UK Fellowships: Rhodes & Beyond
Friday, February 24 | 2:00pm – 3:00pm
55 Whitney Ave, 3rd floor, Room 305
More information
 
International Study Award (ISA) Info Session 3
Friday, February 24 | 3:00pm – 4:00pm
Zoom link
Yale Peabody Museum Summer Internships
The Yale Peabody Museum offers paid summer internships for Yale undergraduates across a variety of disciplines. These are valuable opportunities to conduct research and work with Peabody collections, and many of the past projects have evolved into publications, presentations, and senior theses. Seniors graduating this May are unfortunately not eligible. The application deadline is 5:00 pm on Friday, February 24, 2023. Please check out the complete set of opportunities and application form HERE. We hope you'll consider applying!
UPCOMING OCS EVENTS
2023 MassBio Virtual Career Fair
Wednesday, February 22 | 3:00pm – 6:00pm
More information
 
Everything you want to know about applying to MD/PhD Programs
Thursday, February 23 | 4:30pm – 5:30pm
More information
 
The D.E. Shaw Group Information Session
Friday, February 24 | 1:30pm – 3:00pm
Event and registration
 
Yale Healthcare Hackathon
Friday, February 24 – Sunday, February 26
More information
 
Cove Hill Partners Virtual Information Session
Monday, February 27 | 6:00pm – 7:00pm
More information
 
Boston Consulting Group Information Session
Tuesday, February 28 | 6:00pm – 7:30pm
The Study Hotel
Register here
 
Bracebridge Capital Coffee Chats
Wednesday, March 1 | 3:00pm – 5:00pm
Learn more