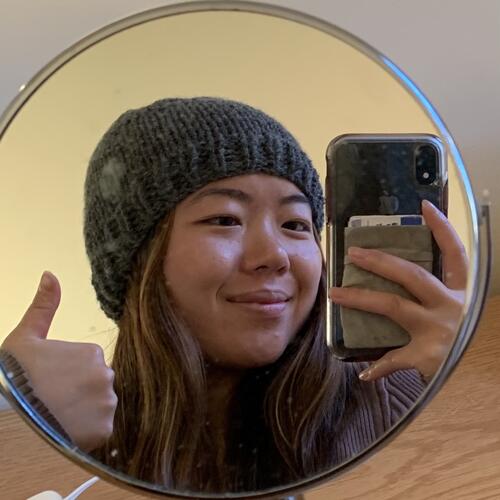 TIMOTHY DWIGHT NOTES & NEWS
WEEK OF 1/23/2023
HL'S PIECES
Dear Red Lions,
Happy new year of the Rabbit! I hope the auspicious timing of the Lunar New Year to the end of Add/Drop means that your the 2023 spring semester is starting out well!
Our "photo of the week" is from TD senior, Vivian Wang, who knitted her first hat after coming out for our knitting/crocheting study break during finals.  Looking good, Vivian!
Due to popular demand, we are officially forming a 
TD knitting/crocheting club 
that will meet every other Friday starting on February 10th.  The session will go from 4-5:30pm and all levels from beginners to super advanced are welcome. For beginners, we'll provide yarn, needles, and patterns to get your first projects off the ground.  Experienced knitters, bring your current projects to share or pick up a new one-skein project.  To help us gauge interest and make sure we have enough supplies, please go here to sign up.  
I hope all TD first-years saw the note sent out by Anh Tiet, Senior Administrator in Dean Mahurin's office, to sign up for our TD Fireside Chats series.  We have sessions starting this Friday 1/27 going all the way to mid-February so everyone should be able to find a time.  Please go to this link to sign-up.
Winter IMs are on!  The TD IM Sects are looking for captains for Broomball and Innertube Water Polo… so if you like running around on ice or bobbing around in an inner tube, this is for you!  Interested… please email kaleb.assefa@yale.edu for more information.  Or better yet, go out to the games tonight and join the GroupMe.  Here is the information:
 
Here are some important upcoming dates and events for TD: 
Monday 1/23/2023 11:59pm Creative and Performing Arts Awards in the Residential Colleges Deadline
Last call for CPA applications!  The application portal automatically times out at 11:59pm but please get your application in much earlier to make sure it makes it in.  Wishing you all good luck and happy artmaking!
Tuesday 1/31/2023 8:30pm-10:30pm TD Spring Community Night (TD Dining Hall)
TD Community Night sign-ups are out!  As always everyone is welcome to come on out and perform!  If you are interested in performing please go to this link and sign up. 
Friday 2/3/2023 4pm Tea with Wall Street Journal Jazz Critic Larry Blumenfeld and Professor Michael Veal (TD House)
TD is partnering with the Yale University Jazz Collective to host a jazz conversation with music critic Larry Blumenfeld and Professor Michael Veal in Yale's Department of Music, African American Studies, and American Studies.  Blumenfel writes regularly about music and culture for The Wall Street Journal and Daily Beast and has appeared in The Village Voice, The New York Times, New Orleans Times Picacyune, Chamber Music Magazine, Pitchfork, and Salon.  His work often explores the connections between arts and issues of politics and social justice.  
Tuesday 2/7/2023 5:30-7pm TD Mellon Forum resumes (TD House)
We are excited to resume our fabulous Mellon forum presentations and dinners featuring the amazing capstones of our TD Seniors.  We will release the presentation schedule closer to the date.
 And don't forget to sign up for the IRIS Run for Refugees on Sunday, February 12th, starting at Wilbur Cross High School located at the base of East Rock Park.  The 5k raises funds for IRIS programs assisting refugees and immigrants with a wide range of services: housing, job care, healthcare, education, and more.  Please go to this link to sign up and use code "TD_2023" at check out.  Spots are first-come, first-served.  
Without further ado, here is a word from Dean Mahurin…
Àshe,
HL
***
January
William Carlos Williams
Again I reply to the triple winds
running chromatic fifths of derision
outside my window:
                                  Play louder.
You will not succeed. I am
bound more to my sentences
the more you batter at me
to follow you.
                                  And the wind,
as before, fingers perfectly
its derisive music.

DATES AND DEADLINES
 
Jan. 27


 

F


 

Last day for students in the Class of 2023 to petition for permission to complete the requirements of two majors.


 

Jan. 31


 

T


 

Final deadline to apply for a spring-term Leave of Absence (section J).


 

Jan. 31


 

T


 

Withdrawal from Yale College on or before this date entitles the student to a full rebate of spring-term tuition (Undergraduate Regulations).


 

Feb. 7


 

T


 

Last day to withdraw from a course offered in the first half of the spring term without the course appearing on the transcript.


 

Feb. 7


 

T


 

Deadline to apply for Yale Summer Session Programs abroad, 1 p.m.


 
STUDY ABROAD
Yale Summer Session Abroad or Non-Yale Summer Abroad - What's the Difference?
Yale Summer Session Programs Abroad are intensive, highly structured study abroad programs for Yale College credit. A full semester of coursework is condensed into the program length. Students benefit from the same level of rigorous coursework offered at Yale during the academic year. Through excursions and activities, students gain hands-on experience that amplifies the classroom learning.

A 

non-Yale summer study abroad program is a program for academic credit run by another university or other study abroad program provider that you can attend during any one of your three summers while enrolled at Yale. After successful completion of a program of this type, you'd earn transfer credit towards your Yale degree.
You can find both Yale Summer Session Programs Abroad and Non-Yale Summer Abroad programs on our designated list using the Search Programs tool. Both types are ISA-eligible!
Yale Summer Session Programs Abroad 2023 – Deadline: Tuesday, February 7 @ 1:00 p.m. (Eastern) 
Application for Credit and Petitions for Non-Yale Summer Abroad 2023 – Deadline: Tuesday, March 7 @ 1:00 p.m. (Eastern) 
Academic Year 2023-24 or Fall Term 2023 Abroad – Deadline: Tuesday, April 4 @ 1:00 p.m. (Eastern) 
 
ALUMNI  MENTORSHIP
The Yale Alumni Association offers to pair you with a Yale alum to start a 1:1 mentorship dialogue lasting 3 months. As someone who's been in your position and walked in your shoes, your mentor can help you navigate choices, solve problems, develop skills and gain insights. And your mentor benefits as well: they get to see today's Yale through your eyes. It takes just minutes to join by going to this link. Questions? Contact Branford Resident Fellow Steve Blum (stephen.blum@yale.edu).
ACADEMIC STRATEGIES WORKSHOPS
Our famous workshop sessions are available in person and online! Register via the YaleConnect links below. Questions? Contact us at academicstrategies@yale.edu.  
STEM Navigators: Talking to STEM Professors 101 
Tuesday, Jan. 24, 5-6 pm, Poorvu CTL M104A 
How do I start a conversation, ask for help, or request recommendations from my STEM professor? Come to this workshop to learn the best approaches to doing these things!  
 
Introduction to Assistive Technology (w/food!) 
Tuesday, Jan. 24, 6-7 pm, Poorvu CTL M104A 
Learn the ins-and-outs of assistive technology and the benefits of incorporating it into your study habits/routine. If you've ever struggled to plan and write a paper, organize your week, or get through all your readings, assistive technology can help you. Stop in to learn about a plethora of apps you can download on your phone and computer that can significantly improve the way you study, learn and plan your life!  
 
Revitalize Your Semester 
Tuesday, Jan. 24, 7-8 pm, Poorvu CTL M104A 
Want to refresh your approaches to your academic work? Our mentors will lead you through a series of activities to help you identify your current strengths and develop new strategies for meeting the new challenges presented by your current semester's courses. 
 
Reading Effectively for STEM  
Tuesday, Jan. 24, 8-9 pm, Online 
Learn strategies for reading purposefully and effectively for STEM courses. 
 
Optimize Your Reading 
Wednesday, Jan. 25, 4-5 pm, Poorvu CTL M104A 
Learn general strategies for effectively reading texts for any Yale class. Learn how to preview a text, effectively interact with the text while reading, and review your reading for class, essay, or exam preparation. 
 
Managing a Heavy Reading Load  
Wednesday, Jan. 25, 7-8 pm, Poorvu CTL M104A  
Feeling overwhelmed by piles of reading? Learn some essential strategies to make the most of your limited reading time. Have less stress and create more free time! 
 
Getting the Most Out of Your Seminars and Lectures 
Wednesday, Jan. 25, 8-9 pm, Online 
Seminars and lectures make different demands on students. Learn preparation, participation, note-taking, and review strategies to help you succeed. 
 
Strategies for Intro Math: Problem Sets and Exams 
Thursday, Jan. 26, 4-5 pm, Poorvu CTL M104A 
Learn strategies for efficiently working on intro math problem sets and key strategies for studying for exams. 
STEM Navigators & OCS: Write Your CV & Emails  
Thursday, Jan. 26, 5-6 pm, Poorvu CTL 120A 
Are you struggling to get started on your CV? Are you struggling to write emails to professors, PIs, etc.? Come to this workshop where we'll go over the process together - just bring your research interests and your laptops! 
 
Pathways for First Years  
Thursday, Jan. 26, 7-8 pm, Poorvu CTL M104A 
What do you really want to get out of your first year? This interactive workshop helps students identify goals and sources of satisfaction while avoiding common first year pitfalls. 
 
Strategic Planning for Your Senior Thesis 
Thursday, Jan. 26, 8-9 pm, Online 
This workshop offers you foundational strategies for researching, working with resources, and writing your senior thesis. 
 
Wait – Someone Will Pay Me to Do That? (Arts & Humanities) 
Friday, Jan. 27, 4-5 pm, Poorvu CTL 120A 
Come here to learn how to take advantage of opportunities within the study of arts and humanities.