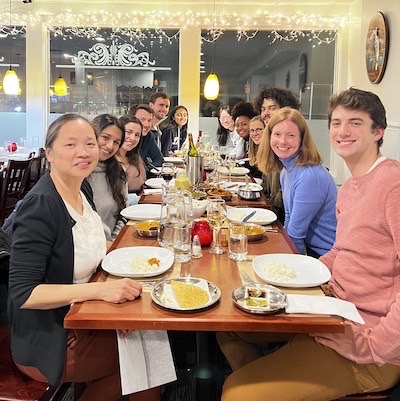 TIMOTHY DWIGHT NOTES & NEWS
WEEK OF 1/17/2023
HL'S PIECES
Dear Red Lions,
Welcome back!  I hope that you return rested and excited for the new semester and that your first day of classes are going well.  
I share these two "photos of the week" from last semester's holiday dinners with our hard-working FroCo and Aides teams.  Speaking of FroCos and Aides, we are starting up the hiring process for both teams… to hear more about becoming a FroCo please see Dean Mahurin's announcement below.  We plan to send out the application for the TD Aides team at the end of next week.  
 
This week's Notes and News is a little bit light because we mostly want everyone to take time to settle back into life on campus, work out course schedules, and make sure to get enough sleep.  
Tonight is the Breaking Bread dinner across the 14 Residential Colleges in celebration of Martin Luther King, Jr.  I also hope that many of you will take time out to attend the special celebration in Woolsey Hall tomorrow evening at 5:30pm featuring Martin Luther King III.  Attendance is free and open to all.  
TD is once again sponsoring 25 runners for the IRIS Run for Refugees on Sunday, February 12th, starting at Wilbur Cross High School located at the base of East Rock Park.  The 5k raises funds for IRIS programs assisting refugees and immigrants with a wide range of services: housing, job care, healthcare, education, and more.  Please go to this link to sign up and use code "TD_2023" at check out.  Spots are first-come, first-served. 
Senior lions, we still have TD Mellon funds available for senior thesis research.  So if you are still looking for funds to purchase research materials or travel to archives and libraries, there is still an opportunity to apply.  Please remember all Mellon recipients must present at this spring semester's TD Senior Mellon Forum. 
Here are some important dates and events:
Monday 1/23/2023 11:50pm Creative and Performing Arts Awards in the Residential Colleges Deadline
CPA applications are now live. For guidelines, please go to the CPA site.  Please remember all applicants should meet with me before submitting a proposal.  To make an appointment please email Kimberly Rogers, our wonderful Senior Administrator in the TD HoC office.  Her email is kimberly.rogers@yale.edu.
Tuesday 1/31/2023 8:30pm-10:30pm TD Spring Community Night (TD Dining Hall)
We are excited to host another amazing group of performers for our spring Community Night as our customary welcome back to school!  We will be releasing the Google sign-up form by this weekend.  Now is the time to start planning your act… as always we love group performances … and we will cheer you on loudly!!!
Without further ado, here is a word from Dean Mahurin…
Àshe,
HL
***
Dream Dust
Langston Hughes
Gather out of star-dust
            Earth-dust,
            Cloud-dust,
And splinters of hail,
One handful of dream-dust
            Not for sale.
 
DATES AND DEADLINES
Jan. 20


 

F


 

Friday classes do not meet; Monday classes meet instead.


 

Jan. 23


 

M


 

Add/drop period closes, 5:00 p.m.


 

Jan. 27


 

F


 

Last day for students in the Class of 2023 to petition for permission to complete the requirements of two majors.


 

Jan. 31


 

T


 

Final deadline to apply for a spring-term Leave of Absence (section J).


 

Jan. 31


 

T


 

Withdrawal from Yale College on or before this date entitles the student to a full rebate of spring-term tuition (Undergraduate Regulations).


 

Feb. 7


 

T


 

Last day to withdraw from a course offered in the first half of the spring term without the course appearing on the transcript.


 

Feb. 7


 

T


 

Deadline to apply for Yale Summer Session Programs abroad, 1 p.m


 
 
FROCO INFORMATION SESSION
Join me and members of this year's froco team for an informal information session in the TD Lounge on Wednesday, 1/18, at 7:45pm.  We'll try to answer all your most pressing questions!  You can find more information about the application process here. 
 
APPROACHING APPLICATION DEADLINES
 
 
STUDY ABROAD
DIS Virtual Info Session: Study in Copenhagen or Stockholm 
Feb 1, 2023, 4 - 5 PM  
Join this session to learn more about DIS Study Abroad. Experience a Scandinavian summer with DIS, where you have the chance to live and study in either Stockholm, Sweden or Copenhagen, Denmark.  DIS offers hands-on learning experiences that take you out of the classroom – you meet experts, explore historic sites and exhibitions, and hear from locals that add to your perspective.  
Register for the session
 
Summer Applications Open 
Remember that you can only apply to one Yale Summer Session Program Abroad program, so we encourage you to apply to at least one Non-Yale Summer Abroad program as a backup.  For the Credit and Petition applications for a Non-Yale Summer Abroad program, it does not matter whether you submit your application before or after applying directly to your intended program(s), as long as you meet both Yale's and the programs' application deadlines. 
You can meet with a Study Abroad Adviser to explore goals, programs, credit transfer, and more.