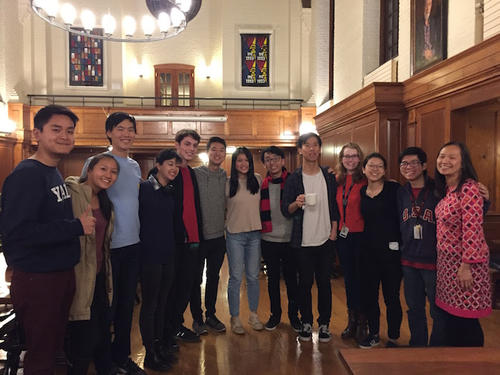 Notes and News – Week of 10/29
 
HL's Pieces
 
Dear Red Lions,
 
We kicked off this year's celebration of Halloween last week with pumpkin carving in the TD courtyard and the Escape the Forbidden Tomb game in the Rosenfeld Hall basement.  The TD Dining Hall will continue the Halloween festivities with their own pop up event so make sure to get to dinner this Wednesday evening! 
Our "photo of the week" captures the amazing dinner we had after our tea with Australian violinists Eddy Chen and Brett Yang, otherwise known as TwoSet Violin.  The two generously talked about their careers as classical musicians and comedic Youtube videomakers as well as performed their signature "Concerto Battle" and Pablo de Sarasate's "Navarra." They were accompanied by our own TD dynamic duo of first-year pianists, George Hua and Caroline Ho.
 
Speaking of special TD events, you have just this week to sign-up for the Chubb dinner on 11/7 with award-winning graphic novelist Gene Luen Yang.  The lottery will close on Thursday 11/1 at 12pm and we'll announce the TD guest list by Friday 11/2. 
 
And what a great turnout for our Fall Formal!  Congratulations to our SAC leaders – TD sophomores Sarah Cameron and Ryan Tsedevsuren– for putting together a very fun event at Box 63.  While we still miss Anna Liffey's it's great to know we can bring the TD fun just about anywhere we go!
It's been awhile since we have had an IMs update… According to our head IM Secretary Max Yuhas '20, TD is currently in first place for the Tyng Cup race… just ONE point ahead of Saybrook!!!  The IMs energy has been intense this year so let's keep it going.  Max and Angel Mora '21 have vowed to shave their heads into a "TD design" if we win the Tyng Cup!  Now that is dedication!!!
 
Once we get past Halloween, the Mott Woolley Council will be working with our Harvard sister college, Leverett House, to host TD students for the Harvard-Yale Game.  We will send out a separate email with housing info for the big game.  Please stay tuned!
 
Here are our important events for this week:
 
Monday 10/29 12pm Lunch with Dean Marvin Chun (Thompson Room)
 
Dean Chun will be dining with Yale students at our dining hall today.  All students attending this lunch have been notified. 
 
Monday 10/29 4pm IMs Soccer Final (IM Fields)
 
Come support TD in the IM Soccer Final as we face off against our oldest rival: Silliman!!!  A rematch of last year's semifinal, the winner will get to play the Harvard IM champion on November 15th.  Please meet in the courtyard at 3:30 pm to catch the bus of victory from PWG!  Feel free to email soccer team captain angel.mora@yale.edu for more info!
 
Tuesday 10/30 8-10pm Sibs Night for Escape the Tomb with Escape New Haven (RH Common Room and RH Crypt)
 
To support our wonderful Sibs program, TD is hosting a Sibs Night in the RH Common Room with hot apple cider and cookies. Our coordinators, Melina Delgado and Alanna Pyke, have already confirmed the time with the 8 Sib groups who signed up for a free slot to play.  Even if you didn't manage to get a free slot, come hang out with your sibs and enjoy the Halloween snacks!
 
Friday 11/2 6-7pm Dinner with James Duderstadt '64 (Thompson Room)
 
We have a few spots remaining for dinner with James Duderstadt, eminent professor of engineering and nuclear science as well as the former President of the University of Michigan (1988-1996).  The dinner will be co-hosted by TD juniors Won Jung, Max Yuhas, and Leah Smith.  To reserve your spot, please write to me directly at mary.lui@yale.edu.
 
Saturday 11/3 Mott 11:30am-4pm Woolley Paintball Trip
 
Great way to relieve midterms and have some fun!  Sign up in the Head of College office and pay $10 to secure your spot.  Sign ups will close on Tuesday 10/30.  The bus leaves at 11:35am on Saturdaymorning from the Temple Street gate and will return to campus around 4pm.  Make sure to bring comfortable clothing that you don't mind getting very dirty. You'll want to dress in thick layers to stay warm and cushion those splattering paintballs!  For more information, please email angel.mora@yale.edu.
 
Without further ado, here is a word from Dean Mahurin…
 
Áshe,
 
HL
 
***
 
In Baseball
Baron Wormser
Neither forces nor bodies equivocate:
Each action holds a tell-tale trait,
Each moment convokes an actual fate.
Reality, being precious, becomes a game
In which, nature-like, no two things are the same-
Whatever is remarkable is nicknamed.
The untitled fan applauds the grace of epithet
And thinks of warring Greeks, whose threats,
Stratagems, confusions, deeds though met
On a smaller scale are yet quiveringly real.
Player against player on a simple field,
It's the keenness of conflict that appeals
To the citizen so sick of the abstract "they."
Here, there is no such thing as a beggared day.
Achievement can be neither created nor feigned
And the whole mix of instinct, confidence, wit,
And strength emerges as a catch or a hit,
Something indicative, legible, quick
And yet as much a mystery as luck.
Lured by the tangible we strive to pluck
The meaning that cannot be awe-struck.
The exemplary fact remains-a ball,
The thing that rises and abjectly falls,
The unpredictable, adroit rhyme of it all.
 
UPCOMING DATES AND DEADLINES:
November 9, Friday: Last day to withdraw from a course offered in the second half of the fall term without the course appearing on the transcript.
November 16, Friday: November recess begins, 5:30p.m.
November 26, Monday: Classes resume.
Yale-China Fellowship
Thinking about post-graduation opportunities?  Come hear more about the Yale-China Fellowship and how it could be a transformative, life-changing experience.
Teahouse and Information Sessions:
Info Session: Friday, October 26th  12-1 pm Ezra Stiles College Fellows Lounge
Info Session: Friday, October 31st  12-1 pm Yale-China, 442 Temple Street
Teahouse: Friday, November 9th 4-6 pm, Yale-China, 442 Temple Street
Info Session: Friday, November 30th 12-1 pm Davenport College Seminar Room 204
Round 1 Application Deadline: December 3rd
Round 2 Application Deadline: March 8th
Join Yale-China's most prestigious, life-changing and long-standing fellowship program and be embedded in a Chinese school community. The teahouse will be an informal gathering of former Yale-China Fellows who will share their experiences, relate the Fellowship's impact on their lives, and answer all questions. There will be former fellows speaking at the information session as well.  More information can be found at www.yalechinafellowship and http://www.yalechina.org/education/fellowship  Or contact Leslie Stone, Director of Education Programs atleslie.stone@yale.edu
Office of Career Strategy
OISS Co-Sponsors Branford College Tea with Author Ari Satok
Thursday, November 1, 4:00pm-5:30pm
Branford College Common Room
3rd Annual Career Networking Mixer
Thursday, November 8, 7:30pm-9:30pm
Afro-American Cultural Center
Co-sponsored by the Afro-American Cultural Center and 1stGenYale. Sign up here
Friday, November 9 - Sunday, November 11
Hynes Convention Center
Wednesday, November 14
Online recruiting for job seekers with disabilities