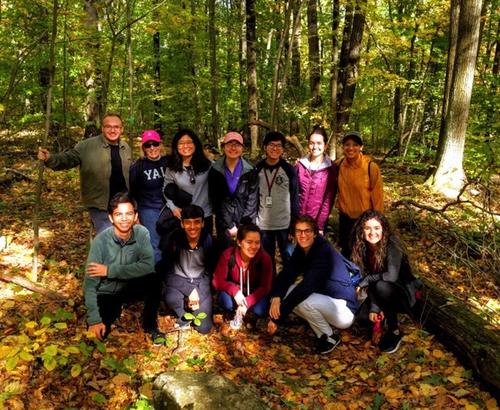 Welcome back from break!  I hope you all managed to take advantage of the collective grand pause to catch up with sleep, work, and friendships and family!  I am delighted to share this "photo of the week" from TD first-year Amay Tewari, titled "Perfect Fall Hike Day" taken on our college hike last Friday afternoon!  We are really grateful to Steve Updegrove TD '74 and TD Grad Affiliate Juliana Lawrence for helping to organize this trip for TDers to visit gorgeous Brooksvale Park!
We have a really busy 2
nd
half of October with our Fall Chubb Fellow event with Representative Rosa DeLauro this Thursday 10/24!   We have reserved seats for TD students for the dinner in the TD Dining Hall starting at 6:45pm. 
To enter the lottery, you must sign up by midnight tonight!
  And don't forget that the TD Dining Hall will be closed for the dinner event so if you're not coming to the Chubb dinner, you'll have to make plans to dine elsewhere.
Here are all of our great TD events for this week:
Wednesday 10/23 4:30pm Tea with Soleil Ho (TD House)
Soleil Ho is the restaurant critic for the San Francisco Chronicle.  She will be here to talk about food and social justice!  She's reviewed a wide range of culinary experiences including fine dining restaurants to Michelin-star ramen restaurants to Popeye's Chicken Sandwich.  She is also a graphic novelist and the former co-host of the award-nominated Racist Sandwich podcast, which looked at food under the lights of gender, race, and class. To sign up for dinner with Soleil Ho that is specially prepared by Catherine Rutherfurd '22, please go to this form.  
Thursday 10/24 5:15pm and 6:45pm Fall Chubb Lecture and Dinner with Representative Rosa DeLauro (Yale Law School and TD Auditorium)
Friday 10/25 6:55am TD Community Service Trip to Sunrise Café (depart from TD courtyard to Wooster Square)
Friday 10/25 3:30-5pm Pumpkin Carving (TD Courtyard)
Saturday 10/26 11am-5pm Residential Colleges and Yale College Dean's Office Seasonal Shopping Trip (depart from Phelps Gate)
The YCDO and the Residential Colleges are collaborating to offer free transportation to local malls and outlets for shopping to prepare for the cold weather.  Buses will depart from Phelps Gate and go to either the Connecticut Post Mall or the Clinton Crossings Outlet. Please go here to sign up for the buses and get more information.
Saturdays & Sundays from 3-5pm Community Art Project Office Hours at TD Art Studio
Starting this weekend, TD Art studio aide Zi Lin and TD Community Engagement Fellow Nishanth Krishnan will be launching a community art project with DESK – Downtown Evening Soup Kitchen to help create art for our neighbor organization.  Consider volunteering your creativity to help make DESK a more inviting place for patrons. Students of all artistic skill levels are invited to join and all supplies costs will be covered! To join, visit office hours or contact nishanth.krishnan@yale.edu or zihao.lin@yale.edu with questions.
Here are our great events next week:
Friday 11/1 7-9pm TD Seniors Red Wine Tasting with David Swensen (TD House)
David Swensen, Yale's Chief Financial Officer, is returning to TD to host another of his legendary tastings from his private wine collection.   We'll have room for 25 seniors to attend this senior-only event.  Keep an eye out for the Google form to sign up for your spot.  If we have greater demand, we'll end up doing a lottery.
Saturday 11/2 11:00am-4:30pm Mott Woolley Paint Ball Trip
Without further ado, here is a word from Dean Mahurin…
Áshe,
HL
***
A Blessing
James Wright
Just off the highway to Rochester, Minnesota,
Twilight bounds softly forth on the grass.
And the eyes of those two Indian ponies
Darken with kindness.
They have come gladly out of the willows
To welcome my friend and me.
We step over the barbed wire into the pasture
Where they have been grazing all day, alone.
They ripple tensely, they can hardly contain their happiness   
That we have come.
They bow shyly as wet swans. They love each other.
There is no loneliness like theirs.   
At home once more,
They begin munching the young tufts of spring in the darkness.   
I would like to hold the slenderer one in my arms,
For she has walked over to me   
And nuzzled my left hand.   
She is black and white,
Her mane falls wild on her forehead,
And the light breeze moves me to caress her long ear
That is delicate as the skin over a girl's wrist.
Suddenly I realize
That if I stepped out of my body I would break
Into blossom.
UPCOMING DATES AND DEADLINES
 
October 25, Friday: it's a big one!

 

Midterm.
Last day to withdraw from a fall full-term course without the course appearing on the transcript. See Withdrawal from Courses and Grades.
Last day to convert from a letter grade to the Credit/D/Fail option in a fall full-term course.
Deadline to apply for double credit in a single-credit course. See Special Arrangements.
Withdrawal from Yale College on or before this date entitles a student to a rebate of one-quarter of the fall term's tuition. See Undergraduate Regulations.
November 7, Thursday

 

Last day to withdraw from a course offered in the second half of the fall term without the course appearing on the transcript. See Withdrawal from Courses and Grades.
Last day to convert from a letter grade to the Credit/D/Fail option in a course offered in the second half of the fall term. See Grades.

November 23, Sunday

 

November recess begins, 9 p.m.

November 30, Sunday

 

Last day to relinquish on-campus housing for the spring term without charge. See Undergraduate Regulations.
CIPE SUMMER OPPORTUNITIES FAIR
The CIPE Summer Opportunities Fair. will be on Friday, November 8th, from 2:30-4PM in Silliman dining hall and will highlight options for summer experiences and funding for undergraduate students through Study Abroad, Fellowships, Career Strategy, and Yale Summer Session. See the Facebook event here!  Below are some of the summer opportunities that students will be able to learn about at the fair:
 
SILVER SCHOLARS PROGRAM AT SOM
The Silver Scholars Program at the Yale School of Management allows students to earn a Yale MBA degree within three years, directly after graduation, spring-boarding them toward their career goals and leadership positions. The program is designed for exceptional students with strong leadership potential.  These students enroll in our full-time MBA program where they make up about 5% of the student body. Rather than the traditional summer MBA internship, Silver Scholars complete a year-long internship, extending their experience to three years.  All Yale College students receive a 50% tuition discount and an application fee waiver.
The admissions committee seeks applicants with a combination of intelligence, maturity, and curiosity who aim to be future leaders in their field of interest. Candidates from all majors are welcome to apply; we enjoy the diversity of interests and backgrounds that Silver Scholars bring to the broader MBA class at Yale SOM.  If you would like to speak with an admissions representative, please email maria.derlipanska@yale.edu to schedule an appointment.
INTERESTED IN BECOMING A CCE?
The Communication and Consent Educators are a diverse, creative group of undergraduates drawn from across campus to foster a more positive social and sexual climate.  Through workshops, programs, and conversations, they collaborate within their own communities to build a culture of respect and support. They also serve as a resource for students who have experienced or heard about sexual misconduct, providing a peer avenue to SHARE, the UWC, Title IX, and the Yale Police. The CCEs are paid employees of the YCDO, working 5-10 hours per week, with longer hours during training periods in August and January.  There's no need for prior experience in sexual violence prevention. The prime qualification for being a CCE is the desire to make Yale a better place! For more information or to apply, please visit yale.edu/cce.
STUDIES IN GRAND STRATEGY
The Brady-Johnson Program in Grand Strategy is now accepting applications for the class of 2020. The Grand Strategy Program: Studies in Grand Strategy  is the flagship course for the Brady-Johnson Program in Grand Strategy. Beginning in January, the two-semester course explores how to achieve large ends with limited means, whether in military conflict, foreign policy, domestic politics, or social movements. The course engages security questions from a wide range of perspectives, including national security, global security, and social security. It emphasizes interaction between academics and practitioners, and between participants of differing political views. Grand Strategy aims to develop students' capacities not only to analyze the past and present, but to act as responsible, thoughtful leaders and citizens of the future.
To apply, Please clink the link here: https://grandstrategy.yale.edu/apply
We will be hosting two information sessions, an undergraduate session on Tuesday, October 22 from 4:30-5:30pm, and a graduate session on Thursday, October 24 from 4:00-5:00pm. Both sessions will take place in WLH Room 116.