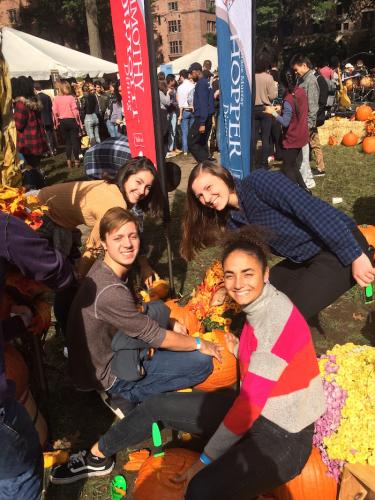 Notes and News – Week of 10/15
 
HL's Pieces
 
Dear Red Lions,
 
We had a great week with many special guests coming into the college.  We were especially thrilled to welcome back Clemantine Wamariya TD '13 who stopped into the courtyard and gave a tea as part of her book tour for The Girl Who Smiled Beads. 
 
I hope many of you enjoyed yesterday's gorgeous "Fall Fest" on Old Campus.  Our "photo of the week" is titled "TD Pumpkin Carvers" and comes from Froco Davey Proctor and features, from left to right, first-years Sabrina Garcia, Christian Bell, Virginia Davis, and Kat Melnyk.  For those of you who missed the event, TD will have its own pumpkin carving event on Friday 10/26, just in time for Halloween! 
Speaking of fall, our TD Operations Manager KC Mills is puppy sitting this week!  If you haven't already seen Autumn and would like to visit, feel free to go to KC's office between 2-4pm or just hang out in the TD Courtyard.  Otherwise, the puppy will likely be snoozing away since their growing bodies need about 18 hours of sleep per day!
 
As we head into Fall Break, please use our TD Fall Break guide put together by our TD Outreach Aides team to find fun and new things to do in the City of New Haven.  Please know that the TD student kitchen remains available for use.  During the business day, you can sign out a key from the TD Head of College office.  But after hours, you can contact one of the kitchen aides on duty for a key. 
 
Here are our important events for this week:
 
Wednesday 10/17 TD Fall Break Trip to the Frick Museum (NYC)
 
The trip with with Stephen Scher '56 to the Frick Museum in New York City is now full.  Everyone who obtained a spot has been contacted to pick up their roundtrip train tickets at the Head of College office by Tuesday afternoon.
 
Thursday 10/18 1-3pm Paint Splatter Wall Art (TD Art Studio or TD Courtyard)
 
Over the break, the Art Studio aides will be holding a "paint-splatter wall art" workshop.  If weather permits, the art making will head outside.  Just come on down to the art studio for some painting and fun!
 
And here are some exciting events for the following week when we return from break:
 
October 21 5-7pm YCC Office hours (TD Dining Hall)
 
Our YCC representatives Angel Mora '21 and Clayton Land '22 will be holding "office hours" during dinner time.  Please stop by at their booth to talk over any issues you have for the council.
 
Tuesday 10/23 4:30-6pm Tea with TwoSet Violin (TD House)
 
TwoSet Violin, the comedy music duo and Youtube sensation consisting of Brett Yang and Eddy Chen, will be in TD for a conversation and performance!  These classically-trained musicians have been performing to sell out audiences on their North American tour and have over 1 million viewers on their videos!!!  We are very lucky to have them stop into TD before they head down to New York City and perform to a sell out audience at Merkin Hall!  Come early to get your seats – we'll open the TD doors at 4:15pm. 
 
Thursday 10/25 4:30-6pm Tea with Lisa Rosenblum TD '75, "Yale, Athletics, Telecommunications, Government: Reflections on Building a Career" (TD House)
 
Come meet one of the most "most powerful women in cable" and telecommunications!  Lisa Rosenblum is currently the Vice Chairman of Altice, USA and served as the Commissioner and Deputy Chairman of the New York Public Service Commission.  An alum of one of the first classes of women at Yale, Ms. Rosenblum was also the Captain of the Yale Women's Tennis Team and its most valuable player.  We are delighted to welcome her back to TD to discuss her long and successful career in the telecommunications industry.
 
Thursday 10/25 7-11pm Opening Night for TD Pop Up Escape Room with Escape New Haven (Rosenfeld Hall)
 
The long awaited TD Escape Room in the RH sub-basement is about to come alive!  Online sign-ups will begin this Thursday 10/18.  TD is very excited to partner with our neighbor, Escape New Haven, for this special college event.  The RH Escape Room will go run from October 25 to October 31, from 7pm to 11pm each night.  Please feel free to invite non-TD friends.  They are welcome as long as they come with a TDer!
 
Friday 10/26 3-5pm Pumpkin Carving (TD Courtyard)
 
We kickoff the Halloween weekend with our own pumpkin carving event with hot chocolate, hot apple cider, and donuts.  Of course we will have pumpkins of all sizes to carve, paint, and decorate. 
 
Saturday 10/27 9-11:30pm SAC Fall Formal (Box 63)
 
SAC is excited to announce our Fall Formal will be at Box 63, located at 338 Elm Street just on the corner of Park and Elm Streets.  There will be great food, drinks, music, and dancing! 
 
Without further ado, here is a word from Dean Mahurin…
 
Áshe,
 
HL
 
***
 
"She told me the world was made of stories, nothing else, just stories, and stories about stories."
 (Tommy Orange, There There)
UPCOMING DATES AND DEADLINES:
October 15, Monday: Deadline to apply for a Spring 2019 term abroad.  Classes begin for courses offered in the second half of the term.
October 16, Tuesday: October recess begins, 11p.m.
October 22, Monday: Classes resume, 9a.m.
Interested in becoming a CCE?  
The Communication and Consent Educators are a diverse, creative group of undergraduates drawn from across campus to foster a more positive social and sexual climate.  Through workshops, programs, and conversations, they collaborate within their own communities to build a culture of respect and support. They also serve as a resource for students who have experienced or heard about sexual misconduct, providing a peer avenue to SHARE, the UWC, Title IX, and the Yale Police. The CCEs are paid employees of the YCDO, working 5-10 hours per week, with longer hours during training periods in August and January.  There's no need for prior experience in sexual violence prevention. The prime qualification for being a CCE is the desire to make Yale a better place! For more information or to apply, please visit yale.edu/cce.  
Approaching fellowship application deadlines
October 23 - Michel David-Weill Campus Deadline| Eligible: Seniors 
October 24 - The Hertz Foundation National Deadline | Eligible: Seniors/Alumni
October 28 - Princeton in Africa National Deadline | Eligible: Seniors/Alumni
October 30  - Echoing Green Fellowship National Deadline | Eligible: Seniors/Alumni
November 1 - Paul and Daisy Soros Fellowships for New Americans National Deadline | Eligible: Seniors/ Alumni/Graduate Students
November 2 - Princeton in Asia  National Deadline | Eligible: Seniors/Alumni
November 9 - Carnegie Endowment James C. Gaither Junior Fellows Program Campus Deadline| Eligible: Seniors/Alumni
November 12 - Princeton in Latin America National Deadline | Eligible: Seniors/Alumni
November 16 - Saint Andrew's Graduate Scholarship Campus Deadline | Eligible: Seniors
November 25 - Knowles Teaching Fellows Program National Deadline | Eligible: Seniors/Alumni
November 27 - Barry M. Goldwater Scholarship Campus Deadline| Eligible: Sophomores & Juniors
November 28 - Harry S. Truman Scholarship Program Campus Deadline| Eligible: Juniors
December 1 - Rotary Foundation Global Grant Scholarships; Contact the gershonmail.net%20%3ccmg@gershonmail.net%3e" target="_blank">New Haven Rotary Foundation Chair with application questions | Eligible: Seniors/Alumni 
Academic Strategies
Here over October break and getting caught up/getting ahead on your work? Join us for our Academic Strategies Open House (with pizza!) on Thursday, October 18 from 1-3 pm in the Writing Center, on the CTL mezzanine (take the stairs near the 301 York St. entrance to Sterling Memorial Library).  Or, consider our 1-1 Peer Mentoring, if you want to strategize about planning your work for October break and after? Sign up for a meeting with a peer Academic Strategies Mentor Oct. 14-16 by clicking here , or contact academicstrategies@yale.edu.