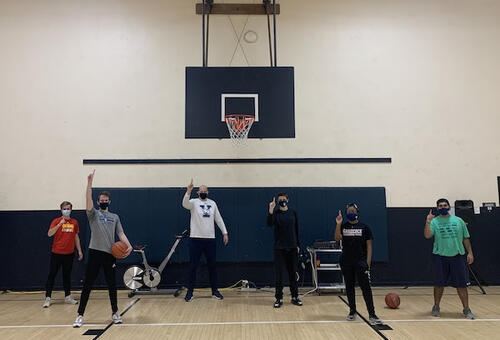 Dear Red Lions,
I hope you all had a good weekend to recharge after a very tough week awaiting elections results and learning of rising numbers of positive COVID-19 viral tests on campus.  If you are on campus or in New Haven, I especially hope you took advantage of the sunny, warm weather to get outside and take a break.
As you know, students in Davenport, Grace Hopper, and Saybrook will continue to quarantine in their suites so please do not venture out to those three colleges or host friends from those colleges in TD.  We wish them all well and look forward to their quarantine ending on Thursday.
Although IMs are currently suspended, please join me in congratulating our HORSE team led by TD junior Bennett Hall who submitted this week's "photo of the week" titled "Champions!"  He writes that we defeated Pierson 6-2 and finished the season with an 8-2 record, the best in this year's league!  Pictured from left to right is the winning team: Will McCormack '22, Bennett Hall '22, TD Resident Fellow/Coach Justin Simon, Jack Miller '24, Rachel Roberts '22, and Jai Chadha '24.  And TD is still at the top of this year's Tyng Cup scoreboard thanks to the amazing energy of our TD IM secretaries and our first-year Lions! 
Pick up your boxes for move out!
  It's hard to believe that we are down to our last two weeks on campus for the fall semester!  KC Mills, has worked out the schedule for picking up your boxes for move out starting this Wednesday 11/11 at 5:30pm. 
Please click on this link to check your assigned time.
  We ask that you stick with the time you have been assigned so that we can keep you all physically distanced as you pick up and move your boxes to your room.  If you or your suite mate cannot pick up the boxes, please email 
kc.mills@yale.edu
 to reschedule.   
As we begin to wind down the fall semester, I am excited to announce that TD Senior Yasmin Alamdeen is doing a "History of the Present" for her Creative and Performing Arts project for the college.  She is documenting how we interact with common spaces in TD specifically looking at the courtyard through a series of photos. She would love any and all photos you have of anything from large events like Sunnyside BBQ Night to small moments like studying out in the courtyard in this semester to help document what it's like living in TD right now. Photos uploaded may become a part of the History of the Present Project, saved in theYale Covid Archive, and/or included in the TD online gallery. For further instructions on submitting photos and release forms, please see go directly to the project link.  We are excited to see what you have to share!  And if you are interested in doing a CPA project, please know that the application will open again in January 2021.
Wednesday 11/11 4:30pm Virtual tea with Bryan Konietzko (Zoom)
We are excited for our last tea of the semester with Bryan Konietzko, the co-creator of the Avatar series.  Thanks to everyone who wrote to ask a question.  The registration form is now closed.  We will send out the Zoom link to the TD community the morning of the event.  Please don't forget that from 3:30-4:15pm, we'll be serving up in the Packages Storeroom a fun Avatar menu representing food from the four nations of Fire, Air, Water, and Earth.
Friday 11/13 8pm New Haven Cannoli Night (TD Package Storeroom)
Our fantastic Buttery and Student Kitchen team want to end the semester with one last food event for 2020 and feature the cannoli, a favorite Italian American dessert from Wooster Square's iconic Libby's Pastry Shop.  We'll post a pick up schedule on Friday afternoon to keep us all physically distanced.
Save the Date Tuesday 11/17 5:30-7pm First Year Celebration (TD Courtyard)
We are still hoping to do a fun food truck celebration for our wonderful TD class of 2024.  We are so delighted that you have joined our community and brought along your great energy and spirit to our courtyard.  We are monitoring the public health situation on campus and working out the details with Yale Environmental Health and Public Safety to create a safe "grab and go" event.  So please stay tuned.
Without further ado, here is a word from Dean Mahurin…
Àshe,
HL
***
Rethinking the Burning of Books
Kate Daniels
Regret is the only book I've ever
Burned: I threw it into the fire
As a useless text, and resolved
To stand still for awhile, and feel
The fire's heat, and not even try
To resist.  The path backward
Is overgrown anyway before we
Even reach its end. We already saw
Its sights and blistered our feet
And froze our asses off walking
There the first time.  We know its
Start and stop.  So why go back?
A bonfire built to burn regret
Destroys every pathway leading
Back, and wastes no energy lighting
Up the dark environs of the unknown
Future that lies beyond its flaming
Circle.  Its message is fiery and
Stark – five syllables flaming
In the present tense: It is what it is.
A declaration, of sorts.  A manifesto,
If you will.  A way to live.
PERTINENT DATES AND DEADLINES
Nov. 20


 

F


 

November recess begins after classes end.


 

Nov. 30


 

M


 

Classes resume online.


 

Dec. 4


 

F


 

Fall-term online classes end; online reading period begins.


 
GIS DAY AFTERNOON KEYNOTE
Yale University will celebrate GIS Day 2020 with the 
Yale GISday Virtual Conference: Mapping Spatial Inequality
, scheduled on Friday, November 13, 2020, from 11:30 am - 4 pm. Our GIS community at Yale University has shown an innovative application of geographic information system (GIS) technology in analysis, visualization, gaining insights into geospatial data, and decision-making in many fields ranging from science and social science to medicine, among others. 
TEDMED speaker and artist Jennifer Chenoweth has devoted countless hours to mapping the feelings of communities. Join us to learn how belonging and emotions have been translated into 3D mapping through Chenoweth's XYZ Atlas.  To discover how the GIS community at Yale University is innovating through the application of GIS and learning about mapping spatial inequality, join the Yale GISday Virtual Conference. For more details, visit https://gisday.yale.edu.  Register at https://gisdayatyale.eventbrite.com
 
COMMUNITY ORGANIZING FELLOWSHIPS (Summer 2021)
Information Session, Monday November 9, 4:30-5:15pm via Zoomhttps://yale.zoom.us/j/8145317496.
 
The presidential election hangs in the balance; the outcome may not be known for days. But regardless of the winner, the need to build powerful community-based organizations has never been stronger. Organizing renters facing evictions. Building power among community college students to demand funding for public higher education. Strengthening unions and workplace democracy. Organizing.  Are you interested in joining these efforts and learning to organize? Please join an information session next Monday, November 9, 4:30-5:15 via Zoom session for Yale students interested in Summer 2021 virtual internships with grassroots community organizations in Connecticut, New York, Washington state, and Virginia. Please see this sheet for more information about the program and insights from Yale students who participated this summer.
 
The internships will take place from late June to early August, and engage issues including economic justice, housing, education, immigrant rights, police accountability, indigenous sovereignty,  and voting. Students will be encouraged to apply for funding from Yale sources to support their participation in the program. Applications will be accepted beginning November 10 until all positions are filled. No prior experience is necessary.  Lead organizers with the Alliance for a Just Society will be available to discuss the internship opportunities, the application process, and to answer questions about the training, placement, and structure of the program. To register for the information session, be added to the fellowship mailing list, or to request more information about the internships, please RSVP here.  For additional information, please contact Professor Daniel Martinez HoSang daniel.hosang@yale.edu.
OCS EVENTS
1stGenYale Alumni Emerging as Leaders
Wednesday, November 11, 6:00pm-7:15pm
Job & Internship Search Strategies Workshop
Thursday, November 12, 4:00pm-5:00pm, register in Yale Career Link
​
Designing Your Career @ Yale Programs
Learn to apply design thinking tools and ideas to: explore your possible career futures, take proactive steps to test your career interests, moving from contemplation to action, and become a part of a growing community of life designers. Design thinking can help you create a life that is both meaningful and fulfilling, regardless of background and identity, or what your interests might be. Open to sophomores, juniors, and seniors.
ACADEMIC STRATEGIES
Individual Consultations: Sundays through Thursdays, 7-9 pm ET and by request
Our Academic Strategies Mentors will help you develop a weekly study routine, offer strategies for approaching complicated readings and p-sets, and planning for the second half of the semester.  Make an appointment to meet 1-1 with a peer mentor through our online scheduler. Students residing in Asia or Europe may find our Friday 5 am ET time slot helpful. Can't meet at these times? You can also request a mentor by emailing us at academicstrategies@yale.edu.  
Meet with our Learning Specialist
Do you have a learning difference or other condition that affects how you approach your learning? Meet with our Learning Specialist, Sarah Cussler (sarah.cussler@yale.edu), to discuss strategies for adapting to the challenges of learning online and the different demands of college-level academic work. And learn more about the resources available to students via Sarah's welcome video.
**NEW Workshop** Approaches to Your Leave of Absence
Thursday, November 12 @ 4 pm ET
Planning to take a leave of absence this spring? Join our discussion about how to transition in and out of your leave and practices that can help you make your leave meaningful and productive for you.
Pathways for Sophomores    
Monday, Nov. 9 @ 7 pm ET
Sophomore year offers new challenges, including increased course loads, upper-level classes, and identifying a major. This interactive workshop helps students set goals and make long-term plans for the year.    
Cultivating Faculty Mentors/Recommendations
Tuesday, Nov. 10 @ 4 pm ET
Thursday, Nov. 12 @ 7 pm ET
Initiate conversations, ask for assistance, request recommendations, and build mentoring relationships with Yale faculty, teaching fellows and staff.
Time Management
Tuesday, Nov. 10 @ 7 pm ET
Monday, Nov. 16 @ 4 pm ET
Time management is key for lowering stress at Yale. Set priorities and develop a weekly schedule that can lead to an active and balanced academic life.               
Exam Study Strategies
Wednesday, Nov. 11 @ 4 pm ET
Monday, Nov. 16 @ 7 pm ET
Reduce exam stress by learning new strategies for preparing and studying for midterms and finals. This workshop offers suggestions for preparing for and taking problem-based, short answer, and essay exams.
Imagining Your Summer (with CIPE)
Wednesday, November 11 @ 7 pm ET
Interested in summer study abroad, fellowships, or internships, but don't know how to get started? Hear from students who have done these things to help you identify some possible summer opportunities. You will leave with a clearer idea of what is possible and the resources you can access to make your vision happen. Now is the perfect time to start planning!