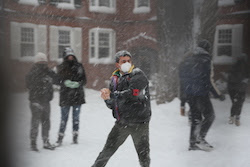 Dear Red Lions,
I hope you are all doing well and taking care of yourselves and one another. We are in the second week of classes and Phase II of Arrival Quarantine so we are slowly making some progress.  
Please note that the sign-up for the virtual IRIS Run for Refugees – College Edition – is now up.  TD is sponsoring 40 runners this time.  Remote and LOA students are welcome to sign-up to run.  To get your free registration, please enter the code "TD_2021" when prompted.  
This week's "Photo of the Week" is from Sophomore Alisia Pan, TD Photography Aide, who captured last Monday's courtyard skirmish.  She quotes an Entryway E resident aptly describing the impromptu event as "The most epic snowball fight of the century as the sophomores reclaimed the first year they never got to finish."   To see more pictures, you may go here.  
Speaking of our Sophomore lions, we plan to celebrate your return to campus by hosting the TD Sophomore Class Dinner with 
Fryborg food truck
on Monday 2/22, the first Yale Break Day.  Your wonderful dinner committee – Emma McKinney, Max Moen, and Ben Scher – have worked out a delicious menu and selected a great class gift for each Sophomore lion.  Staggered dinner service will go from 5:30-7:30pm.  In addition, Fryborg will be serving up gourmet french fries to all first-years, juniors, and seniors in residence in TD from 4-5pm.  So put it on your calendars!
Here are some important deadlines and events for the next 2 weeks:
Thursday 2/11 4-5:30pm TD Thursday Snack Break –  Chocolate-covered Pretzels! (TD Package Storeroom)
Our Thursday afternoon breaks continue with a variety of chocolate-covered pretzels.  Please continue to keep the same staggered schedule by class year/last name as last Thursday.  
Sunday 2/14 2-3:30 pm Valentine's Day Chocolate Lava/ Vanilla Confetti Mug Cakes (TD Package Storeroom)
Our TD Student Kitchen Aides and Buttery Managers have tested out foolproof microwave baking kits to celebrate Valentine's Day!  Come on down to the TD Package Storeroom to get your own beautiful TD mug and a mug cake kit of your choice – chocolate lava or vanilla confetti.  You only need to supply your own water, stir it up, and microwave your batter into a tasty treat.  We'll send out socially distanced pick-up times later this week. 
 
Wednesday 2/17 4:30-5:30pm Virtual Tea with Dean Marvin Chun (TD Zoom event)
Our first virtual tea of the semester features a conversation with Dean Chun, Richard M. Colgate Professor of Psychology, with secondary appointments in the Cognitive Science Program and the Yale School of Medicine Department of Neuroscience.  Prior to becoming Dean of Yale College, he was also the Head of College, Berkeley College.  We'll talk with Dean Chun about his work and vision for Yale College as well as his ongoing research in psychology.  Stay tuned for the special menu we have created in honor of Dean Chun.
Without further ado, here is a word from Dean Mahurin…
Àshe,
HL
***
 
Edna St. Vincent Millay
O world, I cannot hold thee close enough!
Thy winds, thy wide grey skies!
Thy mists, that roll and rise!
Thy woods, this autumn day, that ache and sag
And all but cry with colour!   That gaunt crag
To crush!   To lift the lean of that black bluff!
World, World, I cannot get thee close enough!
Long have I known a glory in it all,
As stretcheth me apart,—Lord, I do fear
Thou'st made the world too beautiful this year;
My soul is all but out of me,—let fall
No burning leaf; prithee, let no bird call.
PERTINENT DATES 
AND
 DEADLINES
Feb. 15

M

   Application for 2021 New Haven and online Summer Session courses opens. Rolling admissions for New Haven and online courses.

Feb. 15

M

   Final deadline to apply for a spring-term Leave of Absence. See Leave of Absence, Withdrawal, and Reinstatement.

Feb. 15

M

   Withdrawal from Yale College on or before this date entitles a student to a full rebate of spring-term tuition. See Undergraduate Regulations.

Feb. 22

M

   Classes do not meet

 
IS IT TOO LATE TO MAKE CHANGES TO MY SCHEDULE?
Maybe, maybe not.  You may request permission to add a course after final schedules are submitted, but doing so requires both the permission of the instructor and Dean Mahurin's authorization. Timely requests for adding a course after the deadline are routinely approved when, for example, a student on a waitlist for a limited-enrollment course learns, after schedules were due, that a space has become available, or when an adviser identifies a significant problem with a student's final schedule. And, as has always been the case, you may drop a full-term course until 5 p.m. on the last day of classes. Please note that a fee of $20 will be charged for the processing of any approved course change notice after add/drop period.
YAA LEADERSHIP OPPORTUNITIES
We want to make you aware of the following student leadership opportunities through the Yale Alumni Association:
Senior Class Officers (2022) - Class Secretary & Class Treasurer
Junior Class Delegate (2023)
Sophomore Class Delegate (2024)
 
All are elected positions voted on by the individual classes and the duties of each role are listed at the end of this email. If you know if someone who might be interested in learning more and running for one of the positions, there will be two info sessions.
 
 
 
In order to be a candidate, a student must do three things:​​​​​
1. Attend an information session.
2. Complete the Certificate of Candidacy form and return it by email to jeannie.daniel@yale.edu">jeannie.daniel@yale.edu.
3. Submit a Statement of Purpose, no more than 150 words, to YAA Undergraduate Elections.
The deadline for declaring candidacy and submitting your statement is Friday, February 19 at 5:00pm. If a student is interested in running but not able to attend an information session, please contact jeannie.daniel@yale.edu">jeannie.daniel@yale.edu.
 
Class Officer Duties include:
During senior year:
Organization of a class council

Planning virtual & in-person events

Organizing Senior Week events

Monitoring the class treasury

Working with the

 

Yale College Dean's Office

Class Secretary serves as an ex-officio member of the Yale Alumni Association (YAA) Board of Governors
After graduation, the duties include:
 
Writing class notes:

 

stay connected by writing exciting news on your fellow Class of 2022 alumni – six times a year for the 

Yale Alumni Magazine.

 (Secretary)

Keeping the class treasury

 

healthy:

 

write emails and letters for class dues solicitations. Dues assist with class activities and help defray costs of reunions. (Treasurer)

Organizing and monitoring class events

: with the assistance of the Yale Alumni Association (regional events, reunions, tailgates, etc.).
 
Class Delegate Duties include:
 
Attending YAA Assembly/Convocation in November and reporting back to your class on important University issues

Serving on YAA committees relevant to undergraduate life and student-alumni relations

Other projects as appropriate

 
ACADEMIC STRATEGIES WORKSHOPS
Getting the Most Out of Mentorship
Monday, Feb. 8 @ 7 pm ET
Join Yale undergrads for a conversation on how to make the most of any mentorship opportunity, including peer, graduate student, faculty, and alumni mentorship. 
 
Reading Effectively for STEM      
Monday, February 8 @ 9 pm ET
Learn strategies for reading purposefully and efficiently for STEM courses. Effectively read textbook chapters and scientific articles; navigate jargon, data, and figures; use readings to prep for problem sets and exams.
 
Fresh Start: Positive Change for Your Academic Life
Tuesday, February 9 @ 4 pm ET
Refresh your approaches to your academic work through a series of activities that identify your current strengths and develop new strategies for meeting the challenges of this semester.
 
Cultivating Faculty Mentors/Recommendations
Tuesday, February 9 @ 7 pm ET
Initiate conversations, ask for assistance, request recommendations, and build mentoring relationships with Yale faculty, teaching fellows and staff.
 
Time Management
Tuesday, February 9 @ 9 pm ET
Time management is key for lowering stress at Yale. Set priorities and develop a weekly schedule that can lead to an active and balanced academic life.               
 
Imagining Your Summer (with CIPE) – Back by popular demand!
Wednesday, February 10 @ 1 pm ET
Interested in summer study abroad, fellowships, or internships, but don't know how to get started? Hear from students who have done these things to help you identify some possible summer opportunities. You will leave with a clearer idea of what is possible and the resources you can access to make your vision happen. Now is the perfect time to start planning!
 
Approaches to Your Leave of Absence
Wednesday, February 10 @ 4 pm ET
Planning to take a leave of absence this spring? Join our discussion about how to transition in and out of your leave and practices that can help you make your leave meaningful and productive for you.
 
Getting the Most Out of Your Seminars & Lectures         
Wednesday, February 10 @ 7 pm ET
Learn preparation, participation, note-taking, and review strategies to help you succeed in these two very different learning environments.
 
How to Study Away from Campus: A Guide to Motivation, Connection, and Time Management
Wednesday, February 10 @ 9 pm ET
Learn how to create environments, schedules, and peer networks to help support your learning while away from campus and help you stay refreshed and motivated to engage in your academic work.
 
Strategies for Reading Literature
Thursday, February 11 @ 4 pm ET
How do we read deeply and completely without running out of time? This workshop introduces techniques to help you effectively read and respond to literary works.
 
Pathways for Sophomores
Thursday, February 11 @ 7 pm ET
Sophomore year offers new challenges: increased course loads, upper-level classes, and identifying a major. This interactive workshop helps students set goals and make long-term plans for the year.
 
Strategies for Intro Math: Problem Sets & Exams
Thursday, February 11 @ 9 pm ET
Learn strategies for efficiently working on intro math problem sets and key approaches for studying for exams
APPROACHING FELLOWSHIP DEADLINES