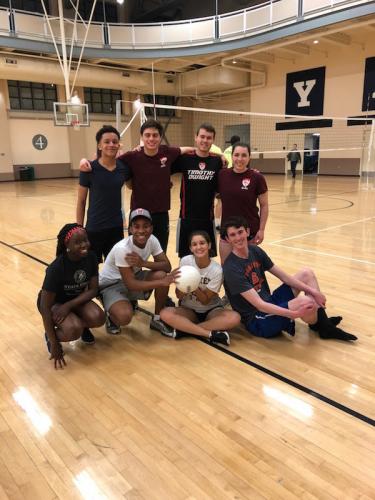 Notes and News – Week of 2/26/2018
HL's Pieces
Dear Red Lions,
Last week, I announced the Chase Coggins Memorial Scholarship Fund named after Chase Frederick Coggins TD '79.  This week, I draw your attention to the Michael Manzella Fellowship named after Michael Manzella TD '93, who was an accomplished musician and composer and dearly valued member of the TD community.  He also devoted his time working with children suffering from life-threatening illness, often in underserved communities.  The fellowship supports summer projects in the areas of cancer research, music and the performing arts, education and youth development. Grant awards range from $3000 to $5000 to be used toward research expenses as well as project-related travel or lodging expenses. Please click here for the fellowship application. 
While the Coggins and Manzella awards are administered by foundations outside of TD, they greatly welcome and encourage current TD students to apply.  Please keep in mind our Chubb, Richter, and Bergin fellowships that are administered through the college are accessed through the Yale Student Fellowships and Grants database.  As always, I will be happy to discuss your project proposals with you. 
As midterm season gets into high gear, come out to IMs to get some good exercise and work off your stress!  Our "photo of the week" comes from Rebecca Amonor TD '21 and is titled "Another Volleyball Win!"  Rebecca writes the photo was taken after their recent win against Morse. "We're off to a great start and it's looking to be a great season!" 
If you are interested in signing up for any email panels for TD IMs, please visit the following link:
https://docs.google.com/forms/d/e/1FAIpQLSeT4lBxVhumIYfTXaGtRGalupsAC-r5M-gR23yenxyu3ssqmA/viewform?usp=sf_link 
Please email our IM Secretaries – max.yuhas@yale.edu, maraya.keny-guyer@yale.edu, briggs.bulkeley@yale.edu, or sebastian.rodriquez-vars@yale.edu – if you have any questions.
These are our events for this week:
Tuesday 2/27 5:30pm Senior Mellon Forum (TD House)
Another great night of senior projects and dining!  Come celebrate everyone's hard work!
Wednesday 2/28 5:30-7pm Final Cut Competition (TD Dining Hall)
Come support our two TD teams as they battle for the honor to represent TD in the big Final Cut competition in April!  They will be cooking in the main dining hall so come on by to watch our teams work and cheer them on!
Without further ado, here is a word from Dean Mahurin…
Áshe,
HL
***
 
"Life is easy to chronicle, but bewildering to practice."
(EM Forster, A Room with a View)
UPCOMING DATES AND DEADLINES:
Feb. 28 (
Wednesday)
 Classes begin for courses offered in the second half of the term. 
Mar. 5 (Monday) Deadline to apply for a fall-term 2018 Term Abroad or a 2018–2019 Year Abroad. See Special Arrangements. 
Mar. 9 (Friday) Midterm.  Spring recess begins, 5:30 p.m.
Last day to withdraw from a full-term course without the course appearing on the transcript. See Withdrawal from Courses and Grades.
Deadline to apply for double credit in a single-credit course. See Special Arrangements.
Withdrawal from Yale College on or before this date entitles a student to a rebate of one-quarter of the term's tuition. See Undergraduate Regulations.
The Yale Politics Initiative, a new non-partisan program through the Department of Political Science, is launching its "Off the Record" master-class series on political practice this semester. The application for its second class just went live!
Patti Solis Doyle—Hillary Clinton's 2000, 2006, and 2008 campaign manager, who transformed Clinton from first lady to politician—is coming to Yale to lead a master class on "shaping a candidate." The class is happening on March 1 from 4-6:30pm and the application is available at bit.ly/pattiotr.
Patti Solis Doyle will also take part in a public Q&A on March 1 from 8-9pm in WLH.
TEDxYALE
On March 3, 2018, dive into the unexplored with TEDxYale: Uncharted. With the drastically increasing means for advancement, TEDxYale aims to move forward into the unknown and dig deeper into the nooks and crannies that have been overlooked. We've invited nine featured speakers ranging from authors to activists, and everything in between, to talk about how their work and passion has brought them to the Uncharted. In addition, we will also have five student speakers from the area. TEDxYale's mission is to bring Ideas Worth Spreading from around the country to the Yale-New Haven community. The Facebook event is 
here
. Get your tickets on 
Eventbrite
!
GETTING REAL ABOUT CLASS PRIVILEGE
Getting Real About Class Privilege: a workshop on class, wealth, and social change
Sunday, March 4: 2-4pm
Office of LGBTQ Resources: 135 Prospect St
At Yale, 45% of us come from the wealthiest 5% of the US population, and a fifth of us from the top 1%. Many of our parents are professionals or academics. And yet, for all our awareness of social injustice, this abundance of class privilege is something wealthy folks rarely discuss.
This workshop is aimed at breaking that silence. What is class privilege, and how has it structured our experiences, values, and lives? How are those privileges situated in a world with a drastically unequal distribution of land, wealth, and power? And what might those of us with access to privilege and wealth do to change that world, or to support the movements that do?
Resource Generation (RG) is a national organization that mobilizes young people with wealth towards redistributive justice and social change. As the newly formed Yale chapter, we believe that these conversations about class privilege by those who have it are necessary and long overdue.
The workshop will be co-facilitated by Shane Lloyd, Asst. Director of the Afro American Cultural Center at Yale and Senior Trainer for Class Action, Holly Fetter, Resource Generation NYC Organizer, and some of our members. While directed at students who come from high-income or upper-middle to upper class backgrounds, all are welcome to learn and teach alongside us. In particular, we welcome students across race, ethnicity, gender and sexual orientation, all of which are cut across by the lines of class.
WALDEN PEER COUNSELORS
Walden Peer Counseling is a confidential and anonymous counseling service for undergraduates. Walden is currently accepting applications for prospective counselors for the 2018-2019 school year. All first years, sophomores, and juniors are welcome to apply. The application (priority deadline, March 9th, and final deadline, March 30th) can be found here: http://walden.sites.yale.edu/get-involved. For more information, please visit http://walden.sites.yale.edu or contact us at walden.counseling@gmail.com.