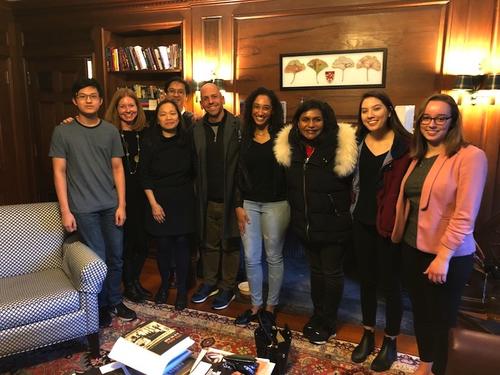 Dear Red Lions,
We had a wonderful packed attendance for the Justin Noble/Mindy Kaling tea this afternoon!  Despite their whirlwind schedules, we were able to have a wonderful conversation about their work as writers and performers of comedy.  I especially want to thank all TDers for being patient with the lottery process.  I do not like restricting tea attendance – never did it until this occasion – but I am glad we did in order to maintain good crowd control and safety.  So thank you all for your patience and cooperation to make the event a success for our amazing guests and the college!  Here is a parting photo – our "photo of the week" – we managed to take just before they left the college.
This past weekend, we also had a great skating trip to the local New Haven rink!  And thanks to Alisia Pan '23, we have some great photos showing the fun everyone had despite the cold temperatures!  I was sad to miss this year so and thankful for the many pictures.  
Here are our important events for this week:
Wednesday 2/19 4:30pm Tea with Playwright Lauren Yee '07 (TD House)
Award-winning playwright Lauren Yee will be here to talk about her new play, Cambodian Rock Band, premiering at New York City's Signature Theater.  (See TD theater trip below!) The play explores the history of Communism in Southeast Asia in the 1970s through the story of a Khmer Rouge survivor returning to Cambodia for the first time in 30 years, as his daughter prosecutes one of Cambodia's most infamous war criminals.  Directed by Chay Yew, the play employs contemporary music by Dengue Fever and classic Cambodian songs to tell a rock epic.
Saturday 2/22 NYC Theater trip to Cambodian Rock Band (Field Trip to NYC)
Following up on the tea, TD is collaborating with the Council on Southeast Asia Studies to bring students to see Lauren Yee's play in its New York City premiere at the Signature Theater.  All lottery winners have been notified.  
And here are out exciting events for next week in TD:
Monday 2/24 4:30pm  Tea with Chef and Food Advocate Kiki Louya (TD House)
We are excited to welcome acclaimed chef and food advocate, Kiki Louya, to TD!  This is part of the "Cooking Across the Black Diaspora" series with the Afro-American Cutural Center, the Yale Sustainable Food Program, and the Yale Center for the Study of Race, Indigeneity, and Transnational Migration.  If you are interested in the cooking demo with Kiki Louya,please go here to sign-up!
Mon 2/24 9-10:30pm  Financial Planning Workshop (Thompson room) 
Please attend a financial planning workshop with Stephen Blum '74.  He will answer questions about budgeting, saving, investing, and taxes.  You are never too young (or old) to start thinking about these questions.  So all are welcome, but definitely very important for juniors and seniors who are closer to graduation and need to think about planning for your financial futures post-Yale! 
Wed 2/26 6-7:30pm  Sophomore Dinner (TD House)
We are excited to celebrate the TD sophomore class!  Your wonderful planning committee will be coming up with an exciting menu featuring local restaurant caterers!  Be ready to write a letter to your senior selves (which you'll get back at graduation) and record a video postcard for senior dinner!  
Thursday 2/27 4:30pm Mystery of Sleep Tea (TD House)
We are excited to welcome Dr. Meir Kryger to TD to talk about the importance of sleep and how we can – and should – get more of it!  We will be giving away TD flannel PJ bottoms to all TD students who come to the Tea!  
Friday 2/28 8pm TUIB & Friends Concert (TD Dining Hall)
We look forward to welcoming back TUIB to the TD Dining Hall!  TDers Francesca Dezza Parada '22 and Rifat Islam '23 will be playing!  TUIB had a fabulous return to TD last year and I'm sure they will play another wonderful concert!
Without further ado, here is a word from Dean Mahurin…
Àshe,
HL
***
 
Awaking in New York
Maya Angelou
Curtains forcing their will   
against the wind,
children sleep,
exchanging dreams with   
seraphim. The city
drags itself awake on   
subway straps; and
I, an alarm, awake as a   
rumor of war,
lie stretching into dawn,   
unasked and unheeded.
UPCOMING DATES AND DEADLINES
Feb. 15


 

S


 

Deadline for applications for Yale Summer Session Programs Abroad.


 

Feb. 19


 

W


 
Last day to withdraw from a course offered in the first half of the spring term. See Withdrawal from Courses and Grades. 
 

Feb. 27


 

TH


 

Classes begin for courses offered in the second half of the spring term.


 

Mar. 1


 

SU


 

Deadline to apply for Non-Yale Summer Abroad.


 
LEAP
Leadership, Education and Athletics in Partnership (LEAP) is hiring staff for our summer 2020 programs and we need your help to share this with students to apply!
LEAP Senior Counselors lead groups of children and teenagers as teachers, mentors, and positive role models to help our youth develop both academically and socially. LEAP Senior Counselors must be a college or graduate student in good academic standing at a 2- or 4-year college or university or be enrolled in any kind of post-secondary program with proof of enrollment (i.e. trade school, military training, etc.).
Please share this opportunity with eligible students! We are offering a full-time summer position with hourly compensation and free housing provided in New Haven. If students choose to use this position to fulfill university or departmental requirements, their supervisor is able to confirm those hours and provide supplementary evaluations, as needed.
Yale students are also eligible to receive additional funding to work with us as Senior Counselors or can get funding for an unpaid internship with LEAP through the following funding structures:
For additional information and the Senior Counselor application, please view the Senior Counselor infographic attached below or visit the LEAP website. If students have questions or would like to learn more about possible internship opportunities separate from the Senior Counselor position, they can reach out to me at azachariah@leapforkids.org.
TEDxYALE
We are currently inviting student speakers for our annual flagship conference – TEDxYale 2020. Every conference has a theme — a title or tagline of the event that brings coherence to the variety of talks. The theme of TEDxYale 2020 is "Breaking Boundaries." TedxYale will take place on April 4, 2020. 
The Student Speaker Series Competition aims to create a platform for students from any background to share their ideas. We would greatly appreciate if you could spread the following information to the Timothy Dwight community via email or attach it in newsletters: 
The first round will take place online. Interested individuals can either access the form below or e-mail grace.cajski@yale.edu to be e-mailed it. The deadline to submit the form will be February 17th. Those chosen to continue until the next round will be informed on February 21st. Then,interviews will take place the week of February 24th. 
 
Link to application:
https://docs.google.com/forms/d/e/1FAIpQLSfeqpSLdNB4-1KUT01TIqn1v4h5TqyXxo9R11P4YMjijV4Pfw/viewform?usp=sf_link
RICHARD RHODES EVENTS
Pulitzer Prize winning author (The Making of the Atomic Bomb) and first-gen Yale alumnus Richard Rhodes ('59) will be on campus Wednesday and Thursday, Feb. 19 & 20, for a series of events:
The Craft of Writing with Richard Rhodes
Wednesday, Feb. 19, 11 am – 1pm (lunch provided), Poorvu Center Room 120A
Join Richard Rhodes for a lunchtime conversation about the art of writing and writing as a career. RSVP via this link.
Arsenals of Folly: The Parasitism of Nuclear Policy
Thursday, Feb. 20, 4-5 pm, YSB Marsh Auditorium
Join Richard Rhodes for a lecture on contemporary nuclear policy and humanity's future. All are welcome—no RSVP necessary.
FOCUS PRE-ORIENTATION LEADERSHIP POSITIONS
We are currently looking for passionate and qualified first-years, sophomores, and juniors to apply to be FOCUS leaders for this upcoming summer! The following link takes you to the application form, and also contains a more in-depth description of the program: https://forms.gle/gFMb9JzTGP2adZuq9