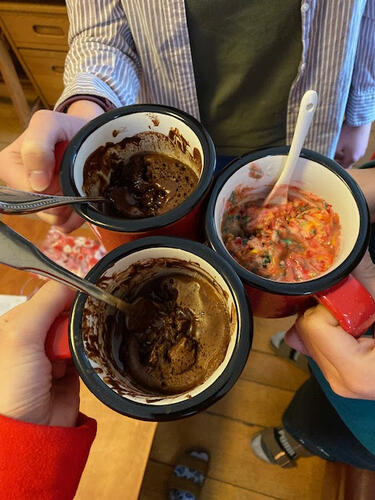 Dear Red Lions,
I am happy to announce that we are in Phase 3 of Arrival Quarantine.  I know everyone living in the courtyard is excited to venture out but please make sure to read Dean Chun's email regarding the expectations for Phase 3and the rest of the semester so that we all stay healthy and well for this spring.
Our "photo of the week" is from sophomore Annaelise Kennedy who baked up her mug cakes with her suitemates and gave a top rating: "Nice and gooey/chocolatey! Very yummy!"  We are very grateful to the TD staff, Buttery, and Student Kitchen aides for putting together and passing out over 100 mug cakes this Saturday!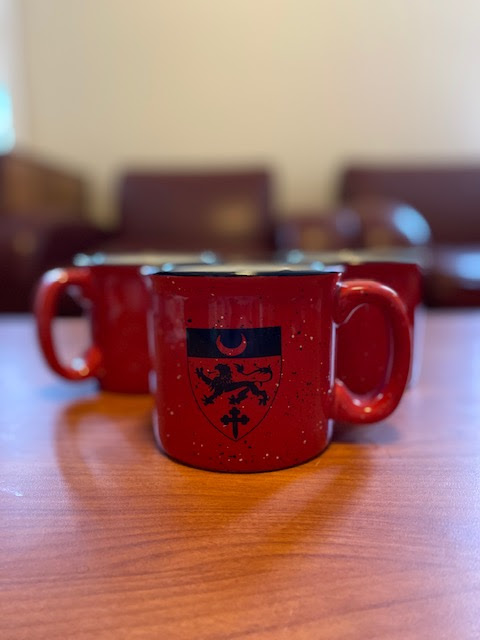 Please put on your calendars that IMs will restart next week!!! 
 We are on track to win the Tyng Cup so please come out and protect our lead and bring the Tyng Cup back to where it belongs!  The first two events will be:
Knockout (Ben Scher, captain) – starting on 2/22
Badminton (Jessica Li, captain ) – starting on 2/23
Please write them at ben.scher@yale.edu or jessical.a.li@yale.edu to sign up and play.  Once you are on their roster, they'll email you the schedule.  A more detailed announcement will come out later this week.  But for now, please email our captains and plan to come out to Knockout and Badminton!
Don't forget to sign up for the Iris Run for Refugees – College Edition that will go from 3/1-3/15 when we are out of quarantine.  We still have many spots left so please register.  All TD students – including LOA folks – are welcome to sign-up and run for free.  Please use "TD_2021" for your registration code.
We has purchased additional yoga mats and exercise bands and are creating a semester-long borrowing program for the TD free weights.  We'll post more info this week.  In the meantime, please note that PWG has reopened and are allowing both weights and cardio workouts through a reservation process.  Go here to learn more.
Here are some important deadlines and events for the next 2 weeks.  Please note we won't do a Thursday Snack Break this week because of the Wednesday tea.
Wednesday 2/17 4:30pm Virtual Tea with Dean Marvin Chun (Zoom event)
Join us for a conversation with Dean Chun, Richard M. Colgate Professor of Psychology.  Prior to becoming Dean of Yale College, he was also the Head of College, Berkeley College.  We'll talk with Dean Chun about his work and vision for Yale College as well as his ongoing research in psychology.  We are serving up a special mini "thunder brunch" menu in honor of Dean Chun.
Monday 2/22 4-5pm Yale Break Day Food Event with Fryborg Food Truck (Temple Street Gate)
We are kicking off our first break day of the semester with some fancy French fries featuring the Fryborg food truck.  For first-years, juniors, and seniors the truck will serve up fries with a choice of 3 added toppings.  Sophomores, please see below on your event.  The topping choices include: Italian Fries (pesto, mayo, pecorino romano cheese), Philly Fries (braised short ribs, onions, peppers, mushrooms, and cheddar cheese sauce), and PoBorg (sliced andouille sausage, lettuce tomato, onions, dill pickle, and creolaise).  We'll post the staggered service times.
Monday 2/22 5:30-7:30pm Sophomore Dinner with Fryborg Food Truck (Temple Street Gate)
Fryborgwill be serving up a delicious menu featuring their signature sandwiches and fries.  Don't forget to pickup your class gift!  Because of the COVID-19 restrictions on group gatherings we'll have to do a staggered time slots for ordering and food pick up.  Sophomores who are remote or on LOA we will save your gift and you can pick it up when you are back on campus.
Without further ado, here is a word from Dean Mahurin…
Àshe,
HL
***
"If we're going to solve the problems of the world, we have to learn how to talk to one another.  Poetry is language at its essence.  It's the bones and the skeleton of the language.  It teaches you, if nothing else, how to choose your words."  (Rita Dove)
PERTINENT DATES 
AND
 DEADLINES
Feb. 15

M

   Application for 2021 New Haven and online Summer Session courses opens. Rolling admissions for New Haven and online courses.

Feb. 15

M

   Final deadline to apply for a spring-term Leave of Absence. See Leave of Absence, Withdrawal, and Reinstatement.

Feb. 15

M

   Withdrawal from Yale College on or before this date entitles a student to a full rebate of spring-term tuition. See Undergraduate Regulations.

Feb. 22

M

   Classes do not meet

 
CENTER FOR LANGUAGE STUDY: FIELDS AND DILS
The Yale Center for Language Study is now accepting applications for fall semester study for its Fields Program and its Directed Independent Language Study (DILS) Program. The deadline for applying to either program for fall semester study is March 1st at 1:00pm. 
The Directed Independent Language Study (DILS) Program gives students the opportunity to study a language that is not currently taught in a Yale classroom.  The Fields Program gives students the opportunity to pursue advanced-level language study within the context of their academic area of focus (generally in areas other literature if the language is taught at Yale, since advanced coursework in literature would likely be available).
Both are non-credit programs, open to all registered Yale students (undergraduate, graduate and professional). In each program, students work with a Language Partner—a native speaker of the target language (not a formal instructor)—in two 1-hour sessions for 12 weeks. The sessions aim to develop linguistic and cultural competence through active conversation and practice of what you are studying independently. With a limited number of slots available, a selection committee reviews all applications for their merit and appropriateness, and notifies students of its decisions within four to six weeks after the application deadline.
Details on each program and how to apply can be found at these links:
Directed Independent Language Study (DILS): 
https://cls.yale.edu/dils
Fields Program: 
https://cls.yale.edu/fields
SUMMER RESEARCH OPPORTUNITIES SPONSORED BY 1st GEN YALE
Here are over 45 research opportunities presented by Yale faculty who are looking for student interns to work on projects including AIDS, biostatistics, communication, cancer, COVID-19, education, environmental or global health, epidemiology, grant writing, information systems, mental health, social & behavioral sciences, safe sports, trauma, and so much more with faculty from Yale School of Management, Yale School of Public Health, and professionals from several non-profits! 
 
This is a great opportunity to do research this summer, have a window into a professional school and career profession, and add research to your resume and possible future application to graduate school. 
Work is for 240 hours for $4,000 funded by the Summer Experience Award (SEA) or other fellowships over the summer months. These are virtual, but some may become in person if permitted.
2nd round application deadline: Monday, March 1st at midnight. Apply early to be considered for your research project first choice. Check back frequently since research projects are being added.
What you need to do:
First, students who are first-years, sophomores, and juniors on financial aid, select one of our research opportunities at tinyurl.com/1GYSummerBulldogs and complete the process.
Second, students apply for funding, which can be made through the SEA at the Yale Office of Career Strategy - ocs.yale.edu/channels/summer-experience-award/. The SEA (formerly DSA) is available for eligible undergraduates who will receive $4,000 for 240 hours of work during the summer. 
If you already have used your DSA or need additional funding, there are also merit awards through the Office of Fellowship Programs - funding.yale.edu - which have different deadlines, so check them out.  Given the pandemic, 1stGenYale alumni volunteers have been focusing on promoting job opportunities for our Yale College students and honored to work with Yale faculty, Yale College, and the Office of Career Strategy. We look forward to reading your applications! For questions, contact 1stgenyale@gmail.com.
YALE SUMMER OPPORTUNITIES: DATES AND DEADLINES
 
Study Abroad

  
 
 
 

15-Feb 

 
 

Non-Yale Summer Abroad application opens 

 
 
 

1-Apr 

 
 

Non-Yale Summer Abroad application deadline 

 
 
 

5-Apr

 
 

Countries will be reviewed in accordance with the Travel Policy on this date to determine if travel will be permitted or restricted to the selected destination 

 
 
 
 

Once an application is approved from this date onwards, the student will have access to the International Study Award (ISA) request form

  
 
 
 
 

Yale Summer Session (YSS) New Haven & Online

  
 
 

15-Feb 

 
 

YSS application opens 

 
 
 

21-Apr 

 
 

Yale x Flatiron School Web Development Bootcamp (CPSC S115) application deadline 

 
 
 

14-May 

 
 

YSS Session A application deadline 

 
 
 

18-Jun 

 
 

YSS Session B application deadline 

 
 
 
 
 

Fellowships & Funding

  
 
 

3-Mar 

 
 

Summer Common application deadline 

 
 
 

10-Mar 

 
 

Summer Research Common application deadline 

 
 
 

17-Mar 

 
 

Hixon application deadline 

 
 
 

5-Apr

 
 

Countries will be reviewed in accordance with the Travel Policy on this date to determine if travel will be permitted or restricted to the selected destination 

 
 
 

1-May 

 
 

International Study Award (ISA) application deadline 

 
 
 
 
 

OCS

  
 
 
 
 

1-May 

 
 

Summer Experience Award (SEA) application deadline