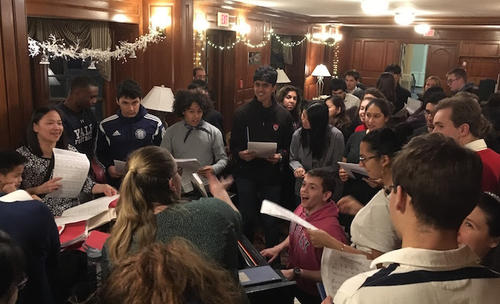 Notes and News – Week of 12/10
 
HL's Pieces
 
Dear Red Lions,
 
We had a busy weekend full of amazing art and music!  Thank you to our Dining Staff for a lovely holiday dinner this past Friday evening.  Our photo of the week is titled "Holiday Singalong" and features Alex DiMeglio TD '20  leading us in Mariah Carey's "All I Want for Christmas Is You."   
Many thanks to Yasmin Almandeen '21 and Nikita Raheja '20 for doing a great job decorating the TD and RH Common Rooms!
 
Congratulations to our TD Art Studio Aides Sarah Jho '20 and Antalique Tran '21 for curating a wonderful art show and reception in the TD Gallery this Sunday.  Please go by and see the amazing art done by our TD students! 

 
Many thanks to TD seniors Nadia Rahman and Kaitlin Cardon for leading our New York City winter arts trip.  My family and I were not able to go this year so I was very grateful that our wonderful TD senior aides were able to step up and make sure everyone made it to the theaters and got back on the bus.  By all accounts, everyone had a great time at Alvin Ailey and "Kinky Boots"! 
 
A very warm congratulations to TD Graduate Affiliate and Conductor, Sarah Fox (M.A. R. Music and Religion '19), on her first TD Orchestra concert!  She led the orchestra through a wonderful program and the beautifully decorated TD Dining Hall was the perfect backdrop for our winter concert. 
 
You have all received my note about the Reading Week/Finals schedule as well as the reminder that Quiet Hours (11pm-8am) are now in effect every night for the reading/exam period.  Please do your best to keep TD a quiet and restful place for everyone to sleep and study.
 
TD Quiet Study Spaces are designated for the TD Library, computer rooms, and dining halls. 
 
Group work spaces are in the TD Buttery, Selin Lounge, and TD Common Rooms. 
 
Now that the TD Dining Hall is open 24hours, please do your best to take care of our Dining Hall and clean up after yourselves! Students may bring food and drinks into the Dining Hall but please throw out your trash and do not leave a mess for the staff.  The TD Dining Hall will close between 7-8am for the staff to set up for breakfast service at 8am.  Please help them by leaving the Dining Hall neat and tidy.
 
Here is our TD study break schedule for the fall 2018 Reading Week/Finals Period:   
 
Monday 12/10 10pm       SAC Garden Catering Study Break (Thompson Room)
 
Tuesday 12/11 9:40pm    "Ten Minute" Courtyard Dance Party (TD Courtyard)
 
Tuesday 12/11 10pm      SAC Thai Food Study Break (Thompson Room)
 
Wednesday 12/12 10pm  SAC Popeye's Study Break (Thompson Room)
 
Thursday 12/13 7:30-9pm        Lightning Game Night (TD House)
 
                                             All games take less than 15 minutes to play!
 
Thursday 12/13 10pm     HoC Hot Pizza Delivery (Thompson Room)
 
                                             Pizza delivery will continue for exam period.
 
Friday 12/14 8am           Hot Breakfast for start of exam period (Dining Hall)
 
 
Without further ado, here is a word from Dean Mahurin…
 
Áshe,
 
HL
 
***
 
We are left to imagine the day
it won't require imagination
to care about all of the others.
(from "Imagine," Kamilah Aisha Moon)
UPCOMING DATES AND DEADLINES:
December 13, Tuesday: Reading period ends, 5:00pm; final examinations begin, 7:00pm.  Deadline for all course assignments, other than term papers and term projects.  This deadline can be extended only by a Temporary Incomplete issued by your residential college dean (i.e. me!).
December 19, Wednesday: Examinations end, 5:30pm; winter recess begins.  Deadline for all term papers and term projects.  This deadline can be extended only by a Temporary Incomplete issued by your residential college dean (me again!).
GO SOUTH: Info Session on Social Justice Summer Internships in Savannah, GA
Join the team members of Go South on Tuesday, December 11 at 5:00pm in WLH 114 to find out about how you can be part of their vision for a more just, more equitable South–where economic opportunity is available to all, where social and cultural life reflect the region's diversity of experiences and voices, and where all Southerners' rights to political participation are protected. First years, sophomores and juniors are welcome to come learn about Go South Summer, the organization's summer fellowship in partnership with community organizations in Savannah, GA, or finding and funding summer internships in the South in general. Pizza will be provided!
CTL Study Break with Dean Chun!
Join Dean Chun and the staff of the Poorvu Center for Teaching and Learning for a study break on Tuesday, December 11 from 4 - 5:30 p.m. Enjoy snacks and drinks, lively music, coloring books, and prizes. Enter the prize drawing by pre-registering on Yale Connect.
Yale Library Long Night Against Procrastination
Tuesday, December 11, 7:00 PM, Bass Library Classrooms L01 A/B & L06 A/B       
The Long Night Against Procrastination is for students who want to get serious work done before finals. At this event, the library will provide a distraction-free, quiet environment for you to work… along with regular breaks for snacks, stretching and cute animal videos. Featured event: a 15-minute version of our "Procrastination: How to Work Through It" workshop. Writing Partners and Academic Strategies Mentors will be available for drop-in consultations. Registration required. NOTE: ALL phones and personal communication devices (except laptops) will be kept in secure storage during the event. Participants may retrieve their devices when the leave.
ISPS Director's Fellows
The Institution for Social and Policy Studies at Yale (ISPS) is pleased to announce that applications are open for the Director's Fellows program. The fellowship is open to Yale sophomores and juniors who are committed to working in U.S. domestic politics and policymaking. Selected Fellows will join ISPS as members of the Domestic Policy Group starting in January 2019, and over the course of one calendar year, will receive sophisticated policy training from ISPS faculty and affiliates, integrate into ISPS research activities, and test their development through real world application and feedback. ISPS Director's Fellows will have the opportunity to attend biweekly workshops, some featuring prominent Yale faculty and guests working on policy-relevant issues and others providing training in skills such as op-ed and policy memo writing, media appearances, and blogging.
The Fellowship is open to Yale College sophomores and juniors and can be completed online. To apply, please visit our webpage and click on the Application Form near the bottom of page.
Deadline for applying is December 21, 2018 at 9:00am. Accepted fellows will be notified in January.
Should you have any questions, please feel free to contact Tory Bilski at victoria.bilski@yale.edu.