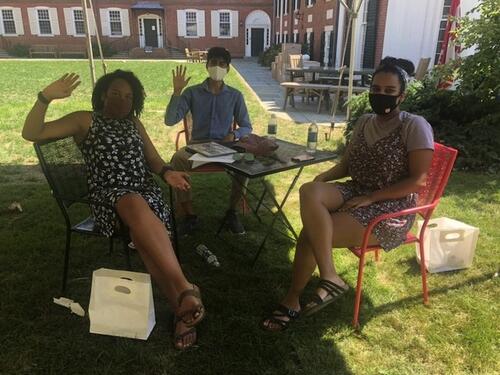 Dear Red Lions,
Welcome to the first edition of TD Notes and News!  Welcome First-Year Lions!!!
 
For those of you who are new to TD, please know that our weekly newsletter comes out every Monday – pandemic or not – and it is chock full of important information about the college. It will have event listings, application deadlines, and other announcements.  My section will contain information specific to our TD community while Dean Mahurin's section will have important Yale College academic deadlines and opportunities.  So it's worth the read!
We also feature a "photo of the week" each issue that is submitted by a member of our community – students, staff, and fellows – capturing life inside and outside of the college.  This year, because we are both a residential and remote community, I welcome photos from just about anywhere depicting TD life this semester.  Please send in a title or caption for the photo and the names of TDers depicted.  
Our first "photo of the week" is submitted by TD Froco, Jadyn Trayvick (left) showing herself with fellow Frocos Nishanth Krishnan and Seyade Tadele eagerly waiting for our new first-years to arrive.  Yes, TD land, Fall 2020 Move-in has officially begun!  The pandemic has made it impossible to do our usual warm "TD move in crew" greeting with everyone pitching in and driving wheelbarrows to welcome our first-years and move in their belongings.  But our wonderful TD staff, with much appreciated help from folks from YC&E, has managed to settle our first-years into the courtyards.
For students moving back into TD, I have a quick message about trash/recycling.  During the first couple of days of the mandatory 14-day arrival quarantine when you are isolating in your rooms waiting for the results of your arrival test, you may not leave your rooms except to use the bathroom so you will have to live with your trash/recycling in your room.  But once you have received your negative result, you may take your trash/recycling down to the TD basement's trash/recycling rooms and put them in the bins.  If you have a very large volume of trash, you may exit the TD Temple Street gate briefly to discard your items into the large dumpster parked on the corner of Temple and Grove.  Until the 14 day arrival quarantine period is over, you are only allowed out briefly to toss your trash.  So absolutely no wandering!
Please know that I am available to meet with TD families Tuesday and Wednesday from 10-3pm through my "HL Zoom Room".  So if your families would like to stop in and say hello or ask questions, I'm here! 

 
My TD Office Hours will begin this Friday 8/28.  I plan to have TD office hours over Zoom on Wednesdays and Fridays from 1:30-3:30pm.  To make an appointment, please email Deanna Caplan, my assistant and our new Senior Administrator in the Head of College Office.  Her email is Deanna.caplan@yale.eduand she will be happy to work with you to set up an appointment.
Here are some more important TD events and dates for this week.  Please note that the Zoom links will be sent out the day of the event.
Wednesday 8/26 3-4pm "TD Staff Meet and Greet for First-Years"
You will want to meet the incredible TD staff who takes such good care of our college!  Always important to know who to call if we have a question/problem but also who to thank for the time and energy of making sure things work!  We'll do quick introductions and follow with a brief Q&A.
Thursday 8/27 6:30pm "Residential Fellows Meet & Greet for First Years"
Please log on to meet our two wonderful Residential Fellow families in resident in TD.  They are the Simons with Justin Simon, Assistant Coach of Yale basketball and Tricia Simon who teaches at East Rock Community Magnet School and their children, Divera and Daniel.   And the Bei/Mbodj family with Assistant Professor Amy Bei and Researcher Sidiya Mbody, who are in the School of Public Health and their three beautiful children, Aby, Dhor, and baby Anna.  You can hear about their work and life at Yale.
Sunday 8/30 7pm "TD Student Leadership Meet and Greet with First Years"
TD's strength comes from the dedication of our students and we encourage all of you to find ways to get involved.  We'll host a virtual panel with the leadership of the Mott Woolley Student Council, the Social Activities Committee, the TD aides team, and the Froco team.  They will give you an inside look at what it means to belong to a collaborative community and work together to plan great activities that are the envy of other colleges and most importantly support one another and the staff of TD.  A short Q&A will follow.  
Sunday 8/30 9pm "Welcome/Welcome Back Magic Show with Jake and Josh"
Our legendary TD magicians, Josh Beasley and Jake Mezey, will offer a magic show to welcome all of us to a new academic year.  We've given them a challenge to put together a show that will meet all social distance requirements – so no surgery in the TD Dining Hall allowed – but it will still blow our minds!  They will also offer a magic demonstration/instruction at the end.  
All these great events will get us through the first half of the mandatory quarantine.  And we'll come back with more events for the second week.  
Without further ado, here is a word from Dean Mahurin…
Àshe,
HL
***
Today
Frank O'Hara
Oh! kangaroos, sequins, chocolate sodas!
You really are beautiful! Pearls,
harmonicas, jujubes, aspirins! all
the stuff they've always talked about
still makes a poem a surprise!
These things are with us every day
even on beachheads and biers. They
do have meaning. They're strong as rocks.
This poem I especially love for the beginning of the semester, when so much is yet to be done and discovered, yet to be learned (or unlearned).  I'm looking forward to being alongside you all this year.   You do have meaning.  You're strong as rocks.
Dean
CALENDAR OF PERTINENT DATES AND DEADLINES
Aug. 24


 

M


 

Move-in begins for students planning to be in residence, 9 a.m.


 

Aug. 28


 

F


 

Move-in ends.


 

Aug. 31


 

M


 

Fall-term classes begin.


 

Sept. 1


 

T


 

Application for spring 2021 Term Abroad Opens.


 

Sept. 4


 

F


 

All final schedules due by 5:00 p.m.


 

Sept. 7


 

M


 

Labor Day; classes meet.


 

Sept. 14


 

M


 

All students planning to complete degree requirements at the end of the fall term must file a petition by this date.


 

Sept. 14


 

M


 

Withdrawal from Yale College on or before this date entitles a student to a full rebate of fall-term tuition. See Undergraduate Regulations.


 

Sept. 14


 

M


 

Final deadline to apply for fall-term Leave of Absence. See Leave of Absence, Deferral, Withdrawal, and Reinstatement.


 
CLASS OF 2024: NAVIGATING YOUR FIRST DAYS AT YALE: Wednesday, 7-8pm
Join me and your frocos – and your 2024 classmates!  Zoom link to follow.
DISABILITY PEER MENTORS 
You can sign up for a Disability Peer Mentor at https://tinyurl.com/2020DisabilityPeerMentor. Students with any form of disability – mental illness, chronic illness, learning disability, temporary disability, physical disability – may join, and no diagnosis is required! The program is open to students of any class year and aims to pair students with someone who can serve as both a guide and a friend with an understanding of disability.
Learn more about navigating disability at Yale here: https://tinyurl.com/DisabilityAtYale 
ESSENTIAL LIBRARY RESEARCH SKILLS
Meet with a librarian online for 30-minutes to learn how to discover resources at Yale Library. This session is for Yale students interested in learning how to discover material for coursework or personal use. 
Wednesday August 26, 1 PM EST | Register: https://schedule.yale.edu/event/6968540 
Thursday, August 27, 4 PM EST | Register: https://schedule.yale.edu/event/6968704 
Monday, August 31, 2 PM EST | Register: https://schedule.yale.edu/event/6968840 
Tuesday, September 1, 12 PM EST | Register: https://schedule.yale.edu/event/6968875
YALE TUTORING INITIATIVE
Volunteer tutors are needed to support New Haven public school students grades 6-12 via Zoom. Focus areas for tutoring include Math, Science, Social Studies, Languages, Reading/Writing and college preparatory tutoring such as SAT help and essay writing. Hours are flexible and based on G&P student's availability Monday-Saturday. If you are interested in this service and community engagement opportunity, please complete the form here.