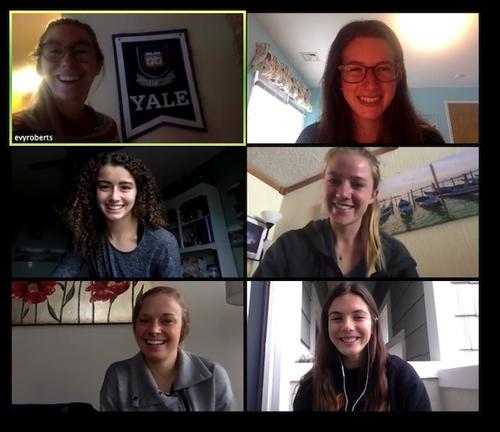 Dear Red Lions,
I begin with a quick update that Rosenfeld Hall (RH) is now designated for additional housing for New Haven's first responders and medical personnel.  The university was able to offer 300 beds through Franklin, Murray, Stiles, and Morse colleges but is now aiming to increase the number of beds to 550 by using RH.  The YCDO selected about 27 standalone singles or a single in a suite in RH that are spread out across four floors.  All of the TDers have been contacted over the weekend regarding the packing, storing, and shipping of their belongings.  (So if you have not been contacted, your room was not chosen at this time.) I am truly grateful to our TDers for working with the university in providing important support to our city.  
In regards to the final pack up and move out for the college, I still do not have any concrete information.  The YCDO is working on it.  Once I hear the plans, I will be happy to share them with all of you.
Many thanks to TD sophomores Maya Kerfoot and Vanessa Blas for organizing our first TD SAC Trivia Night over Zoom and Kahoot. We had a great time testing our general pop culture and TD knowledge!  
Our "photo of the week" comes from TD senior Rachel Suss who did a "virtual 'berry brunch'" over the weekend with 4 generations of TD women's varsity track athletes.  Going clockwise from the top left corner, pictured are Evy Roberts '19, Rachel Suss '20, Gabi Rinne '19, Erin Gerardo '21, Kelli Reagan '18, and Hannah Steffke '20.  They talked about how much they missed our famous "Berry Brunch" and the TD community.
 
Please continue to

 

sign up for Virtual TD Community Night over Zoom on Friday 4/17 from 8-10pm EDT.  So if you are feeling extra brave, please step up.  We'd appreciate getting all sign-ups this Wednesday 4/8 so that we have an idea of the number of performances we'll be featuring.  We'll put up the recording of the event on our TD Vimeo page so anyone who can't tune in at that time will still be able to view and enjoy the performances.  We can definitely use some volunteers to perform live. 
Senior lions, please don't forget to sign up to receive your TD Day shirt.  The Mott Woolley council needs your information quickly if they are able to make and send out shirts this month.  Non-seniors can pick up their shirts in the fall when you return to campus.
Here are some important dates and virtual events for the next couple of weeks:
Monday 4/6 11:59pm Deadline for TD Summer Fellowship Applications
The Richter fellowship application has closed.  But the TD summer fellowships – Bergin and Chubb – are due at 11:59pm tonight, so just before midnight.  Similar to the Richter, if you would like to submit 2 projects for consideration, you may enter your two project proposals with separate itemized budgets in the same pdf document.  Go here for the Fellowships database.
Tuesday 4/7 5:30pm (TD Courtyard Time) TD Mellon Forum/ZooMellon 
Our last Mellon Forum of the 2019-2020 academic year is thisTuesday.  Looking forward to celebrating a great year of presentations.  We'll also talk about ideas for celebrating senior dinner virtually on 4/28.  Here is the Zoom link info:
Join from PC, Mac, Linux, iOS or Android: https://yale.zoom.us/j/314354122
Or Telephone:203-432-9666 (2-ZOOM if on-campus) or 646 568 7788
Meeting ID: 314 354 122
International numbers available: https://yale.zoom.us/u/adGWZfKw3A
Friday 4/10 8pm (TD Courtyard Time) SAC Virtual Game Night
Using Zoom's "room" function, our fearless SAC leaders plan to create breakout game rooms.  Possible games include: Risk, Mafia, Codenames, Pictionary, Psych, Jackbox, Cards Against Humanity, Dungeons and Dragons, etc.  The number of breakout rooms and which games we'll play will depend on how many folks join in.  So log on and have fun!
Here is Dean's poem for the week:
Dusting
Rita Dove
Every day a wilderness—no
shade in sight. Beulah
patient among knickknacks,
the solarium a rage
of light, a grainstorm
as her gray cloth brings
dark wood to life.
 
Under her hand scrolls
and crests gleam
darker still. What
was his name, that
silly boy at the fair with
the rifle booth? And his kiss and
the clear bowl with one bright
fish, rippling
wound!
 
Not Michael—
something finer. Each dust
stroke a deep breath and
the canary in bloom.
Wavery memory: home
from a dance, the front door
blown open and the parlor
in snow, she rushed
the bowl to the stove, watched
as the locket of ice
dissolved and he
swam free.
 
That was years before
Father gave her up
with her name, years before
her name grew to mean
Promise, then
Desert-in-Peace.
Long before the shadow and
sun's accomplice, the tree.
 
Maurice.
 
And I'm closing out this week's Notes and News with some of the pictures of spring from TDers around the country:
 
Yilin Chen '23 from Wayne, PA
Kingrey Sullens '21 sent this photo from his back deck in Longview, TX.  He writes, "The weather was so beautiful I was tempted to do my Zoom meetings on my picnic table!"  
William McCormack '22 shared that "spring hasn't truly come" to Boston.  But "there are small signs…"
Please keep the photos coming!  I'll try to feature a few each week.  In the meanwhile, stay healthy and I look forward to seeing many of you on Zoom this week!
Àshe,
HL