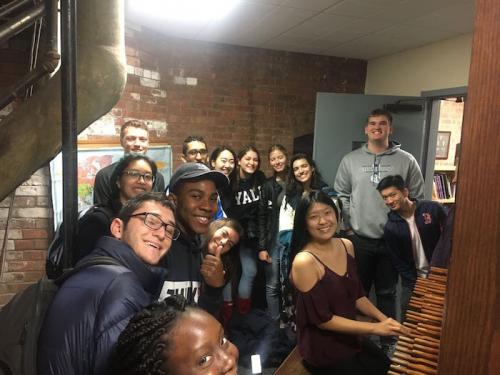 Notes and News – Week of 4/2/2018 
HL's Pieces
Dear Red Lions,
Happy April 2nd!  Please note that everything in this edition of "Notes and News" should be taken seriously!  Seriously! 
First, I am sad to announce that we have had to cancel a couple of our TD events this week.  Our tea with Luka Sabbat has been canceled.  Unfortunately, he has been called away on a photo shoot and will not be available to come to campus this Wednesday.  The TD SAC Spring Formal will also not be this Friday 4/6. SAC is working hard to come up with another plan for the semester.  If you want to get involved please go to their meeting tonight!
TD '21, it's time to get ready for First-Year Olympics set for Saturday, April 14th!  TD team captains, Angel Mora and Lizzie Dolan, are working hard to lead you all to victory!  This year TD drew APHRODITE (Goddess of Love, Pleasure, and Beauty) so come on out to support your class in awesome tests of strength, might, speeeeeed, balance, and dexterity (lyrical dexterity). Some of the events include dodgeball, ultimate frisbee, inflatable jousting, a rap battle, and carrying a watermelon covered in vaseline.  You will all get a shirt for participating but we need you to go to this form to sign up and give us your shirt size!  This will be an original, one-of-a-kind design that incorporates TD with Aphrodite!   The team captains will follow up with another form for events sign-up.  
Speaking of our TD first years, our "photo of the week" comes from Froco Rosa Vargas who organized a tour of Harkness tower for TD '21 and TD Frocos.  She writes that they "got a tour of the tower, practiced pushing some of the keys, and climbed to the bell space to see the views/hear the music!"
 
Here are some important events for this week:
Tuesday 4/3 5:30pm  Senior Mellon Forum (TD House)
Second to last Mellon Forum of the year.  Please note that we will be featuring 5 presentation this evening.
Saturday 4/7 4:30pm Susan Wang Senior Piano Recital (TD House) 
Come cheer on TD senior Susan Wang as she performs some of her favorite piano pieces for her graduation recital.  Light reception will follow.
Sunday 4/8 11-1:30pm TD Berry Brunch (TD Dining Hall)
One of our favorite TD traditions will feature a fabulous brunch menu.  Make sure you all have your TD stickers for your ID cards.  Family dinner protocol will be in effect so all off-campus TDers are welcome to dine for free.  We'll also take time out to unveil the beautiful art work from our Spring Fellow Faith Ringgold's art workshop in the TD Art Studio.
Here are great events for the following week: 
Monday 4/9 Final Cut Finals (Yale on York)
Big congratulations go to Michael Ai '20, Jack Atwater '19, Tongil Ko '18, and Sem Kroon '18!  They are through the semifinals and are headed into this year's Final Cut finals scheduled for Monday 4/9 to be held at Yale on York!  Please come cheer our great cooks on as they take on 3 other colleges for the title!  As usual, there will be a ton of vendors and lots of delicious food sampling!
Tuesday 4/10 Senior Mellon Forum Celebration (TD House)
Last Mellon Forum for TD 2018!  Come here the last of this year's presentations.  We'll go out with a big celebration of sushi, cake, and bubbly! 
Saturday 4/14 First Year Olympics (Old Campus)
All right TD '21, time to rally and bring home the trophy!!!  Unleash those hidden rapping, balancing, dancing, gaming skills and competitive spirit.  Events take place throughout the day.  Sign up here to get a free t-shirt featuring the team Aphrodite logo and get more information on how to be a part of this very fun day!!! 
Sunday 4/15 Julia's Run (Cross Campus)
TD is sponsoring 10 runners for the annual "Julia's Run"!  Proceeds from the run benefit LEAP, a leadership development organization dedicated to empowering New Haven's children and youth. Julia's Run is a New Haven tradition that celebrates the memory of Julia Rusinek, a rising senior at Yale University at the time of her death in July 1999. The event combines Julia's passion for running with her commitment to making a difference in the lives of children.  Go to their online registration site and enter the code TD4JULIA to participate. First come first served!
Without further ado, here is a word from Dean Mahurin…
Áshe,
HL 
***
"You never know exactly when something begins.  The more you delve and backtrack and think, the more clear it becomes that nothing has a discrete, independent history: people and events take shape not in orderly, chronological sequence but in relation to other forces and events, tangled skeins of necessity and interdependence and chance that after all could have produced only one result: what is."
(John Edgar Wideman, Brothers and Keepers)
UPCOMING DATES AND DEADLINES:
Apr. 6
Friday
 Last day to convert from the Credit/D/Fail option in a full-term course to a letter grade. See 
Grades
.
Last day to withdraw from a course offered in the second half of the term without the course appearing on the transcript. See 
Withdrawal from Courses
 and 
Grades
.
Apr. 20 Friday Last day to convert from the Credit/D/Fail option to a letter grade in a course offered in the second half of the term. See Grades. 
Apr. 27 Friday Classes end, 5:30 p.m.; reading period begins.
Last day to withdraw from a full-term course or a course offered in the second half of the term. See Withdrawal from Courses and Grades.
YALE REVIEW OF INTERNATIONAL STUDIES 
YRIS seeks interesting, diverse and compelling scholarship on international questions broadly understood: the relations between countries, trends or challenges of transnational or global scope, and the interaction of people and ideas from different countries. Our previous issues can all be downloaded here (
http://yris.yira.org/archives
).  The deadline for submissions is 
April 4th
, and all submissions should be emailed to 
yris@yira.org
. Our
solicitation
guidelines can be found 
here
. 
The Acheson Issue also has a cash prize for the top submissions - the first place winner receives $500, second place receives $300, and third place receives $200.
Are you a member of the classes of 2019 or 2020? Apply to join our community of Academic Strategies Mentors! We are now taking applications for the 2018-2019 academic year. Academic Strategies Mentors work an average of 3-4 hours per week leading workshops, meeting 1-1 with students and developing resources. Pay is $18/hour. Application deadline is Wednesday, April 11 at 11:59 PM. For more information and to apply, click here.
FIRST GENERATION YALE 
Blazing the Trail:  Being the First
1stGenYale is an alumni-led AYA Shared Interest Group which supports our students. We share your diverse backgrounds including being among the first in our families and/or from underserved backgrounds to attend college or graduate school. As alumni from all schools and career professions, we want to ease your transition, help you navigate and take advantage of all that Yale has to offer, including its alumni.
2:30pm-3:30pm
Career Explorations - Networking event for Yale College and G&P students to share your unique talents, perspectives and experiences with corporate & non-profit sponsors: Macquarie, AQR Capital Management, Honest Tea, Girls, Inc., LEDA (Leadership Enterprise for an Diverse America), KIPP Schools, MLT (Management Leadership for Tomorrow), and New Haven Promise (to date).
3:30pm-4:30pm 
Yale Student Panel:  Campus Life Today for Students Being First
Participate in our "flip classroom" discussion in which students from Yale College and G&P Schools share their perspectives with alumni and students.
4:30pm-5:30pm 
Students, Alumni, and Sponsors Networking Reception
Continue the conversation and connect with alumni, sponsors & fellow students with refreshments!
RSVP –  All students must register in advance no later than April 6, 2018. RSVP to 1stgenyale@gmail.com with your name, class year, field of study, and both email addresses (Yale and personal email address). There is no charge for students to attend. Thank you. We all look forward to seeing you!