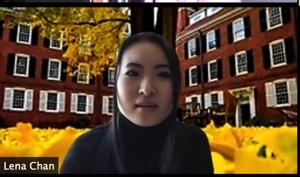 Dear Red Lions,
I hope everyone is staying safe and dry.  Here in New Haven, along with most of the east coast, we are dealing with high wind warnings with heavy rains until this evening.  So seek shelter, folks, and dig into this edition of TD Notes and News with Dean Mahurin back with her very own dean's section!
Thank you to TD junior Seyade Tadele for submitting this great "photo of the week."  She captured fellow TD Junior Lion, Lena Chan, with her great background showing off our beautiful courtyard in full gingko gold during her Zoom class session.  Seyade writes "Lena's lovely background… brightened my day a bit."  
 
We are excited to do our first ever 
virtual TD Community Night this Friday 4/17 from 8-9pm
!  I think it's going to be as big a milestone as the recently lauded virtual SNL.  There are indeed some TDers who are throwing caution to the wind and going live from their living rooms.  Others are sending us pre-recorded performances and creative projects that are perfect for an internet media platform.  So tune in this Friday night and support our performers!  We'll send out the Zoom link before 5pm that day.  
Please continue using this 
Calendly link for my virtual TD office hours.
  I have 15 minute slots set up for the rest of the semester, up to Friday 5/1.  So please feel free to sign up at your convenience.  If none of these times work, just shoot me an email and we'll find another time for a Zoom meeting.
Here are some important dates and virtual events for the next couple of weeks:
Friday 4/17 Noon Deadline for resubmitting TD Summer Fellowship Applications
This notice is only for students who have already submitted your applications by last week's 4/6 deadline.  You already received an email from me stating that all TD fellowship proposals must be in accordance with the YCDO's guidelines regarding travel and summer courses.  So if yours is currently not in compliance, you have until this Friday to submit an adjusted proposal and budget for re-evaluation.  Otherwise, we have no choice but to reject the proposal.  Rising seniors have the option to postpone research travel for their thesis projects into the fall as long as it is completed by the end of winter break of the 20/21 academic year.  If you have questions, please shoot me an email or sign up for my virtual office hours.  Go here for the Fellowships database to submit your adjusted proposals and budgets.  
Friday 4/17 8-9pm TD Virtual Community Night (TD Courtyard Time)
Thank you to the students who have volunteered to perform for this Friday's TD Community Night!  We will send out the Zoom link for the evening so stay tuned!  And the recording of the evening will go up on the TD Vimeo page for future viewing!
Monday 4/20 11:59pm Senior Dinner Sign Up Deadline
Please remember to fill out the survey for TD Senior dinner on Tuesday 4/28 at 6pm. You can sign up for your e-gift card for your preferred meal delivery service or go with a local takeout option or groceries for your own meal at home.  You can also nominate your classmates for funny "superlatives" and update your mailing address.  
Before I hand off to Dean, here is a picture of spring from TD junior Jacob Payne who is just outside of Phoenix, Arizona.  He took this picture on assignment for his architecture class to design a local community garden.  
 
I'll try to feature at least one photo for the rest of the semester so please keep them coming!
Àshe,
HL
***
The Forge
Seamus Heaney
All I know is a door into the dark.
Outside, old axles and iron hoops rusting;
Inside, the hammered anvil's short-pitched ring,
The unpredictable fantail of sparks
Or hiss when a new shoe toughens in water.
The anvil must be somewhere in the centre,
Horned as a unicorn, at one end and square,
Set there immoveable: an altar
Where he expends himself in shape and music.
Sometimes, leather-aproned, hairs in his nose,
He leans out on the jamb, recalls a clatter
Of hoofs where traffic is flashing in rows;
Then grunts and goes in, with a slam and flick
To beat real iron out, to work the bellows.
LEAP SENIOR COUNSELOR POSITIONS
LEAP (Leadership, Education, & Athletics in Partnership) is continuing recruitment efforts for our Summer 2020 Program. We are currently accepting applications for our Senior Counselor position.  LEAP Senior Counselors (with their Junior Counselors) lead groups of children and teenagers as teachers, mentors, and positive role models to help our youth develop both academically and socially. LEAP counselors are at the center of the LEAP experience for our young people and they must demonstrate the highest level of commitment.
The application and more information on the position can be found on our website. If you know of any students who would be interested in this opportunity, please to refer them to our site! Our application deadline is April 25, 2020.
 
Additionally, Yale provides select students with funding for summer internships. If any student is interested in learning about these funding opportunities, please refer them to the hyperlinked the applications to below:
 
1.     YANA Summer Fellowship. Deadline: April 19, 2020
2.     Dwight Hall Summer Fellowship. Deadline: April 20, 2020
3.     Yale Domestic Summer Award. Deadline: May 1, 2020
 
If you have any questions please feel free reach out to the Counselor Development Manager Abdul-Razak Zachariah (TD alum and former froco!) at azachariah@leapforkids.org.
 
JOIN CROSS CAMPUS – CONNECT WITH YALE ALUMS!
Yale alums invite you to join Cross Campus, Yale's new, online networking, community-building, and mentoring platform. In these hard times, Cross Campus draws our campus community closer through exchanges of advice, wisdom, and ideas. Alums share what they've learned. Students can network, get advice, and receive one-on-one coaching from Yalies who have "been in their shoes."
 
How do you start?
Go to crosscampus.yale.edu and click "Join"
Watch our 2-minute promo: https://vimeo.com/showcase/6941169/video/405131250
Create your profile (e.g., photo, headline, location, LinkedIn, resume, education, etc.)

Include your desired discussion topics and fields of interest 

Join one of our Cross Campus Groups
Click on "Find Other Yalies" – and connect with alumni!
ACADEMIC STRATEGIES WORKSHOPS
Click on the date/time below to RSVP and access the Zoom link.
Motivate Your Online Learning
Thursday, April 16, 4-5 pm Eastern Time
It's hard to stay focused and on task while on your own. Learn how to get motivated and keep engaged with your academic work while learning online.
Organization and Time Management for Online Learning
Monday, April 13, 4-5 pm Eastern Time
Tuesday, April 21, 4-5 pm Eastern Time
Learn mindsets and practical strategies for managing your online coursework and the demands of your off-line life. Stay connected with faculty and classmates and learn how to access Yale's academic resources online.
Cultivating Faculty Mentors/Recommendations – Remote Work Edition
Monday, April 13, 8-9 pm Eastern Time
Tuesday, April 28, 4-5 pm Eastern Time
Initiate conversations, ask for assistance, request recommendations, and build mentoring relationships with Yale faculty, teaching fellows and staff. Advice on how to do all of this remotely and for remote work opportunities!
Creating a Timeline for Your Senior Thesis (for juniors)
Tuesday, April 14, 4-5 pm Eastern Time
Wednesday, April 29, 4-5 pm Eastern Time
Learn how to plan your writing and research for next year's senior thesis, and how to access support resources for your senior project.
Public Speaking for Undergraduates
Wednesday, April 15, 7:30-8:30 pm Eastern Time
Professors are increasingly asking students to engage in public speaking, from leading class discussion to more formal presentations. This workshop suggests preparation and performance strategies to help you do your best.
Strategies for Online Exams – Finals Edition
Monday, April 20, 4-5 pm Eastern Time
Taking exams in an online environment introduces new challenges. Learn how to best prepare for these challenges in this interactive workshop.