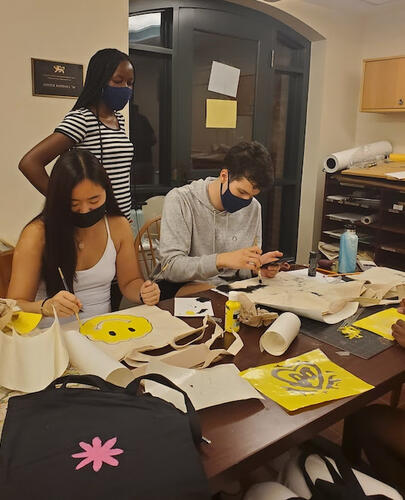 TIMOTHY DWIGHT NOTES & NEWS
WEEK OF 9/20/21
HL'S PIECES
Dear Red Lions,
I hope you are all excited about TD Community Night starting at 8:30pm!!!!  It will be the first ever fully live and outdoor Community Night we have done so it will be an adventure!  Please make sure to come early – 8:15pm – to grab a seat in the TD Courtyard.  You'll see that we have turned the upper courtyard into a stage and the lower courtyard into audience seating.  We have to divide up the audience into smaller groups so please stay in your area during the performance.  At roughly the one-hour mark, we plan to do a pizza intermission and then resume for part 2 of the evening.  Please note that this is a LIVE event!  So all performances will either be performed in-person in the TD courtyard or live streamed from the TD Dining Hall.  There will not be a Zoom option to watch the performance.
Congratulations to our Art Studio Aides, Kat Melnyk and Naomi Sellers, for a super successful tote bag workshop to relaunch our TD Art Studio.  Our "photo of the week" shows the art making in progress.  After more than a year of being closed, it's nice to see art once again taking place in our studio!  
The workshop was so successful that they will be doing it again next Saturday from 1:30-3pm.  Please see below for more information.  Here are some more fun designs:
And a quick announcement about the TD Aides Office/Package Center next to entryway D…
Please make sure that you are sending your packages to the Yale Shipping Center and NOT directly to TD.  
Student Name
Yale University
Timothy Dwight College
250 Church Street, Lower Level
New Haven, CT 06510-1714
We've had a problem with some random deliveries dropped at the gate that may or may not be making their way to TDers.  So please make sure you send your packages to the Shipping Center so that it can be properly processed and delivered to us.
Please note that we will be shifting the start time of the TD Package Center to 10am since we have so few students coming at that time.  So our new hours starting this week are:
 
10:00am - 11:30am
1pm - 5pm
Here are some more important TD events and dates for the next two weeks:
Monday 9/20 Start of 21-22 IM season
IMs start today!  Here we go folks, time to defend the Tyng Cup and make sure we celebrate for another straight year!  If you haven't signed up, it's not too late.  Contact your Head IM Secretaries Ben Scher and Jade Chen at ben.scher@yale.edu or jade.chen@yale.edu.
Monday 9/20 8:30-10pm TD Community Night (TD Courtyard)
Community Night is finally here!  Can't wait to see all the amazing talent and spirit across our 4 years!  We plan to do a pizza intermission at the halfway mark and then onto the 2ndhour of performances!  Come early and bring a blanket to grab a spot.
Saturday 9/25 11:30-1:30pm TD Football Tailgate Brunch (TD Dining Hall)
Our special fall brunch celebrates our student Athletes and the bounty of fall!  Enjoy a menu of apple cider, pastries, lox and bagels, hot turkey sandwich carving station, hot dogs, and vegan pasta primavera, and an assortment of pastries.  Family dinner protocol in effect so TD students only – make sure you have your stickers – and off-campus students eat for free.
Saturday 9/25 1:30-3pm Tote Bag Workshop (TD Art Studio)
Due to popular demand Art Studio Aides, Naomi Sellars and Katerina Melnyk, will host a tote bag workshop to introduce you to the studio.  All bags and materials supplied!  Come with your friends and suitemates to make fun personalized printed totes and also get trained for art studio access.  Can't wait to see your fun designs!
Saturday 9/25 Student Kitchen Open House and Cookie Bake Off (TD Student Kitchen)
You've heard that milk's favorite cookie is the Oreo. But what about TD's favorite … chocolate chip cookies? Swing by the TD student kitchen to try out several recipes and vote on your favorite—all while learning about the student kitchen!  Once you attend this workshop you will be able to sign up to reserve the student kitchen for use.  Please email TD kitchen aides, Eva Syth or Grace MacDonald, at eva.syth@yale.edu or grace.macdonald@yale.edu if you have any questions.
Sunday 9/26 TD 1-4pm Community Service Trip to Boys and Girls Club (Field Trip)
Our TD senators, Ryan Smith and Matthew Merritt, have organized a trip to paint the recreation room for New Haven's Boys & Girls Club.   They are located in downtown New Haven, close to Union Station. They can use your help so please sign up at this form.  Participation is limited to 20 people maximum.
Monday 9/27 5:30pm Senior Mellon Forum Kickoff Pizza Dinner (Upper Courtyard)
TD '22 please gather for an important information session about Mellon funding and presentations of your senior thesis projects this academic year.  We will aim to do in-person presentations this year!
Wednesday 9/29 3-4:30pm Project 14 Recording (Lower Courtyard)
We are delighted to welcome members of the Yale College Concert Band to the TD Courtyard to film a performance of an original piece by Pulitzer-Prize Winner, Tania León, that will be premiered virtually on Family Weekend.  TDers are welcome to watch the filming but we ask that you remain quiet for the taping.
Saturday 10/2 9:30am TD Outing to Wooster Square Farmers Market (field trip)
Join the TD New Haven Outreach aides to the Wooster Square Farmers Market! We will meet in the TD Upper Courtyard at 9:30am and depart from TD at 9:45am sharp to walk to the market. There will be lots of local, fresh fall produce to enjoy! For any questions please contact TD Outreach Aide, Anna Tredway, at anna.tredway@yale.edu.
Without further ado, here is a word from Dean Mahurin…
Àshe,
HL