Dear Red Lions,
Hope you are all taking advantage of the sunny weather and getting outside as much as possible.  Our "photo of the week" is from Minahil Nawaz '21 who captured Wally with the new Handsome Dan, aka "Kingman," out on Cross Campus on Sunday.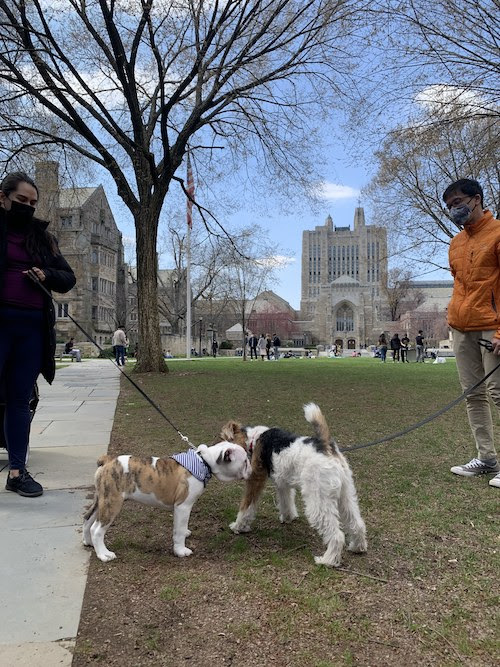 Many thanks to Brett Rappaport for putting together a delicious and informative cheese tasting for the college.  Not a single box remained and the cards will serve as a wonderful guide to joyous cheese eating for many years to come! 
Quick reminder that TD summer fellowship applications are due at 12pm on 4/14/21.  So if you have a summer research project or internship and need funding, please make sure to get your applications into the portal before it closes.  It is also fine to apply even if you are still waiting to hear back from an internship application.  To access the applications, please go to the Yale Fellowships and Grants database and search under "Timothy Dwight".
We'll be serving up hot pretzels and candy ahead of our Spring 21 TD Community Night this Friday 4/9 starting at 8pm!  Folks may watch the show in the TD courtyard or over Zoom.  The link will be forthcoming in our e-flyer!
TD Berry Brunch will be on Sunday 4/18 starting at 11am.  To give the Dining Hall staff more time to set up for the event, breakfast will NOT be served that morning so a good day to sleep in!  You can look forward to mix-berry pancakes, berry mimosas, lox and cream cheese bagel sandwiches, and more!  All enrolled, off-campus lions are welcome back to dine for free in the TD Courtyard!  If you think you'll come back onto campus for this special brunch, please sign-up here so that we can give the Dining Hall managers a rough head count.
Our First-Year Red Lion Games continues!!!  It is still anybody's race for the much coveted TD First Year Chalice since each group can earn 100 points – yes, 100 – each week!  Check the Standings link to see where your FroCo group stacks up and go to the Red Lion Games document to read all about each game.  Please sign up to play using the Registration Link by 11:59 PM on Tuesday, April 7. Have fun and play hard!!
Here are our events and deadlines for this week:
Tuesday 4/6 5:30pm TD Senior Mellon Forum 
We continue with our TD Senior Mellon forum series with Toby Richkind, Anna Reside, and Kenneth Xu.  Here is the Zoom link info for the event:
 
Thursday 4/8 3-4:30pm Yale Break Day with Kati Roll Cart (Temple Street Gate)
We celebrate Yale Break Day #4 with "kati rolls," a street food invention best described as a "Bengali Burrito" according to the cart's proprietors.  You'll get a choice of meat or vegetarian fillings wrapped up in a delicious flaky paratha. Look for the e-flyer for the pick-up times by class year and last name.
Friday 4/9 8pm TD Community Night (TD Courtyard and Zoom)
We are excited for our first-ever hybrid TD Community Night featuring a range of live and pre-recorded performances!  Come out at 7:30pm to pick up your warm pretzels and candy and grab your spot in the courtyard to view the show livestreamed on our movie screen.  We'll send out the Zoom link to join if you're not able to join us in the Courtyard.
 
Without further ado, here is a word from Dean Mahurin…

Àshe,
HL
***
Poem Beginning with a Line of Wittengstein
(Donald Hall)
The world is everything that is the case.
Now stop your blubbering and wash your face.
 
PERTINENT DATES AND DEADLINES
 
Apr. 6


 

T


 

Preference Selection opens for Fall 2021 limited enrollment courses.


 

Apr. 6


 

T


 

Departmental applications open for Fall 2021 limited enrollment courses.


 

Apr. 8


 

Th


 

Classes do not meet.


 

Apr. 14


 

W


 

Last day to withdraw from a course offered in the second half of the spring term without the course appearing on the transcript. See Withdrawal from Courses and Grades.


 

Apr. 21


 

W


 

Preference Selection closes for Fall 2021 limited enrollment courses, 5 p.m. (EST).


 

Apr. 23


 

F


 

Classes do not meet.


 

Apr. 30


 

F


 

Students are notified of application results for Fall 2021 limited enrollment courses.


 
MIXER FOR BLACK-IDENTIFIED STUDENTS
The Afro-American Cultural Center (The House) is organizing online mixers for Black-identified students to meet each other and be in community with each other.  TD's mixer will take place on Friday, April 9th from 4-5pm EST.  Please go here to register for the event:  http://cglink.me/2dA/r1059176. 
YALE COMMUNITY KITCHEN
Yale Community Kitchen is a student-run soup kitchen in the United Parish House – right across from TD. The Kitchen serves food donated by Yale Dining on Friday and Saturday evenings, and has continued to operate during the pandemic! They've adapted their project according to public health guidelines and now serve bagged to-go meals. They are also looking for new volunteers to get involved!
It's a fantastic way to volunteer during the pandemic, as well as to meet other Yalies in the kitchen in a COVID-safe way. See the interest form here: https://forms.gle/ANdhJcDafTGMFmtn6 
 
APPLY TO BE A DISABILITY PEER MENTOR
This program aims to pair students of Yale College and all graduate and professional schools with peers of similar backgrounds to create a community of support and mentorship for people with disabilities at Yale. This is an initiative of Disability Empowerment for Yale (DEFY) in collaboration with the Poorvu Center's undergraduate Acaemic Strategies Program and with DivineAbilities, the Graduate School Disability Alliance, and ThinkDifferent. Time commitment varies by time of year, averaging 2 hours per week, capped at 4 hours per week. Compensation for undergraduates is $18.50/hr. Within the program, we are also seeking two specialized undergraduate Tech Mentors, who will receive additional training through Academic Strategies to assist students in navigating accessible technologies, and who will work a projected additional 2-4 (paid) hours per week. The Tech Mentor program is intended to serve primarily students with sensory disabilities and neurodivergence, so prospective mentors who hold these identities and have experience with the technologies at hand will be prioritized. The application is available at https://tinyurl.com/DPMP2021 and will be due April 9th at 11:59 PM. If you're interested in requesting a mentor for the remainder of the 2020-2021 school, visit https://tinyurl.com/2020DisabilityPeerMentor. 
Please contact current and incoming program coordinators Paige Lawrence or Josie Steuer Ingall with any questions.
 
THINKING ABOUT FELLOWSHIPS LIKE MARSHALL/MITCHELL/RHODES?
Over the next couple of weeks the Fellowships office will have a series of Zoom webinars on postgraduate fellowships which can all be found on their calendar: https://funding.yale.edu/contact/fellowships-calendar.