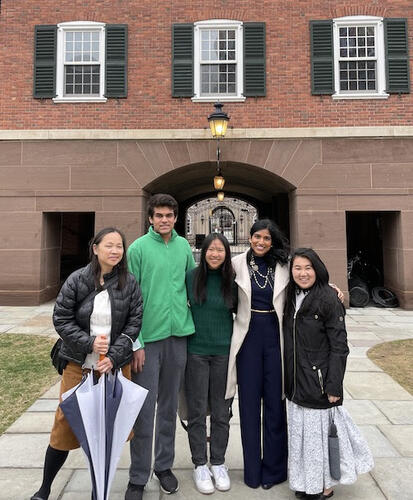 TIMOTHY DWIGHT NOTES & NEWS
WEEK OF 4/4/22
HL'S PIECES
Dear Red Lions,
April is off to a terrific start!  Our "photo of the week" features our TDers with Olivia John, founder of Osso Capital, who was last week's tea guest for a great talk on her "unconventional" path to success. 
I hope that you all saw the news that our dedicated TD SAC (Student Activities Committee) is working with our Dining Hall staff to host our TD formal this Friday, 4/8, from 9pm to 12am.  For more information, please see below.  
This coming Monday will be our first Chubb Fellowship event in two years!  We are excited to welcome to TD violinist Hilary Hahn to campus.  The public event will be held at 4:30pm at SSS 114 and the dinner should start at 6:30pm.  Registration for the dinner lottery closes Tuesday 4/5. We will be announcing the results of the dinner lottery by this Wednesday 4/6.  Please note that TDers not attending the dinner will have to dine elsewhere for the evening. 
Last but not least, please note that our TD Spring Community Night will be held on Monday 4/18 from 8:30pm to 10:30pm in the TD Dining Hall.  So if you would like to sign-up to perform, please go to this registration link by this Friday 4/8 at 11:59pm.  Performers will be able to do their acts unmasked but the audience will need to be masked for the evening.  Pizza will be served at the end of the evening as a grab & go since we will not be able to eat in the Dining Hall after hours.
Here are some important events/deadlines for the next few weeks:
Tuesday 4/5 5:30pm TD Senior Mellon Forum (53 Wall Street)
Our last Mellon Forum of spring 2022 – yes senior lions, it's time to end the presentations and turn those puppies in!  We wrap up our great series with presentations from Xavier Ruiz, Athena Stenor, and Felix Morara.  Dinner will be served at 5:30pm in Room 108 with presentations starting at 6:15pm in the auditorium.  Students must register in advance to participate in the dinner.
Thursday 4/7 9-10pm Cookie Baking with TD Grad Affiliates (Student Kitchen)
Our wonderful Graduate Affiliates are hosting a series of cookie baking events this month.  For their first event they will be baking chocolate chip and snickerdoodle cookies.  If you want to help bake, please plan to arrive by 9pm.  Otherwise, just pop in to grab some cookies and meet some of our GAs.  
Friday 4/8 10am-12pm TD Sustainability Project – Menstrual Cups (TD Common Room)
Our TD Sustainability Liaisons have launched a project to make sustainable period care more accessible by offering a limited supply of menstrual cups to interested TDers.  Unlike the 12 billion pads and 7 million tampons that end up in landfills annually in the U.S., menstrual cups are reusable and made of silicon.  Supply is limited so please sign up here for a cup to be picked up in the Thompson Room this Friday from 10am-12pm. 
Friday 4/8 9pm-12am TD SAC Formal (TD Dining Hall)
Our TD Formal will be in the TD Dining Hall this year!  All TDers are welcome but you must have a negative test result from Thursday 4/7 or Friday 4/8 or show proof of testing exemption to enter.   We will have a 21+ area for beer and punch so bring your ID.  Dress up and pose for the Photo booth!
Saturday 4/9 4-6pm Beginner Cooking Workshop: Pasta, Bread, and Salad
Our Student Kitchen Aides are hosting a spring-inspired cooking workshop featuring a menu of Lemony Asparagus Pasta, their own salad dressing for a fresh salad, and garlic bread.  Everyone will work together and practice basic cooking and knife skills, dressing composition, and pasta making.  Please register for the lottery using this Google Form.
Without further ado, here is a word from Dean Mahurin...



Àshe,




HL



***



Something You Should Know
Clint Smith
is that as a kid, I once worked at a pet store.
I cleaned the cages
of small animals like turtles, hamsters,
rabbits, and hermit crabs. 
I watched the hermit crab continue
to grow, molt, shed its skin and scurry across
the bottom of the aquarium to find a new shell.
Which left me afraid for the small creature,
to run around all exposed that way, to have
to live its entire life requiring something else
to feel safe. Perhaps that is when I became afraid
of needing anything beyond myself. Perhaps
that is why, even now, I can want so desperately
to show you all of my skin, but am more afraid
DATES AND DEADLINES
Apr. 7


 

Th


 

Last day to withdraw from a spring second-half course without the course appearing on the transcript.


 

Apr. 13


 

W


 

Registration for fall 2022 opens, 8:00 a.m.


 

Apr. 29


 

F


 

Classes end; reading period begins.


 

Apr. 29


 

F


 

Last day to convert from a letter grade to Cr/D/F option for a full-term course and/or a course offered in the second half of the spring term.


 
HOUSING DRAWS!
Class of 2025: Monday, April 4, completed!
Class of 2023: Tuesday, April 5, 8pm
Class of 2024: Tuesday, April 12, 8pm
 
Questions?  Email your housing reps (2023: Aaron Magloire and Max Moen; 2024: Kaleb Assefa, Makenzie Birkey, and Amanda Robinson; 2025: Grace Abawe, Logan Gauthier, Mia Rodriquez-Vars) or our senior AA Anh Tiet (anh.tiet@yale.edu)
YALE-CHINA FELLOWHIPS
Take advantage of this rare opportunity to live and work in Xiuning, China, on a fully-funded and supported fellowship.  
Hear from former Fellows on April 20th 8 pm ET – Register here for the Virtual Xiuning Teahouse!
 
Learn more and apply at www.yalechina.org/ycf.  Application forms due on April 28th
STUDENT AFFAIRS FELLOWSHIPS
The Yale College Dean's Office is hiring Student Affairs Fellows: recent graduates who spend two or three years working in the Office of Gender & Campus Culture, which houses the CCEs, and also the Alcohol and Other Drugs Harm Reduction Initiative (AODHRI).  The SAFs have significant, wide-ranging responsibilities, with many opportunities for professional development and leadership.  They collaborate with students and colleagues from across the university, train hundreds of people, present at conferences, design research studies, and closely mentor students.  Former SAFs have drawn on these skills and experiences to excel in graduate study and employment in a diverse array of fields.  Prior experience with sexual misconduct prevention or AOD harm reduction is helpful but not required.  More important are communication skills, creativity, strategic optimism, and the capacity to engage both broadly and deeply with the Yale community.  
For more details and to apply, see the position listing in STARS.  If you have any questions, please contact gcc@yale.edu.
WOMEN IN SCIENCE AT YALE: RESEARCH CHATS
Women in Science at Yale (WISAY) invites you to Research Chats on Tuesday, April 5th from 6-7:30 pm in Watson Rm A51.
Interested in STEM research, meeting fellow scientists, and/or exploring career paths? If so, you won't want to miss out on Research Chats organized by Women and Gender Minorities in Science at Yale (WISAY)!! Join us at 6:00 pm on Tuesday, April 5th as Ife Desamours and Maryann Platt, Ph.D., share their career paths and research. Ife is a graduate student studying novel interventions to reduce transmission of malaria. Maryann is a postdoctoral researcher studying blood-brain barrier maintenance in hibernators. Each informal talk will be 30 minutes, followed by networking! This event is open to all who are interested. Food/beverages will be provided pending COVID guidelines. RSVP for this event here: https://forms.gle/fjiPKwSk4jqbbASV7
 
ACADEMIC STRATEGIES WORKSHOPS
Assistive Tech – Drop-in session (online & in person)
Tuesday, Apr. 5, 5-6 pm ET
How can assistive tech ease your workload this semester? Need to make a to-do list that gets done? Need to organize materials for a research paper? Want to make your work more efficient with text-to-speech apps? Assistive Tech mentors can help you identify and use apps that fit your preferences and needs. Can't make a drop-in hour? Use this form to request a 1-1 meeting: Assistive Tech Mentor Request Form. Sponsored by the Disability Peer Mentor Program.
 
Managing a Heavy Reading Load (in person)
Tuesday, Apr. 5, 7-8 pm
Feeling overwhelmed by piles of reading? Learn some essential strategies to make the most of your limited reading time. Have less stress and create more free time!
 
Understanding Your Upcoming Senior Thesis (online)
Tuesday, Apr. 5, 8-9 pm
Learn how to plan your writing and research, and how to access support resources for your senior project.
 
Time Management (in person)
Wednesday, Apr. 6, 4-5 pm
Time management is key for lowering stress at Yale. Set priorities and develop a weekly schedule that can lead to an active and balanced academic life.               
 
Procrastination: How to Work Through It (in person)
Wednesday, Apr. 6, 7-8 pm
We all procrastinate. When your procrastination habits get in the way of your goals, however, it's time for a change. This workshop offers strategies for identifying the sources of procrastination and pursuing productive habits that can get you back on track.
 
ADHD Discussion Group (online)
Thursday, April 7, 2:30-3:30 PM
Do you struggle with challenges related to ADHD? Join other undergraduates to share, reflect and strategize over Zoom about how to best manage difficulties related to disorganization, time management, and other classic symptoms of ADHD. A formal diagnosis is not required for participation.
 
Cultivating Faculty Mentors/Recommendations (online)
Thursday, Apr. 7, 8-9 pm
Initiate conversations, ask for assistance, request recommendations, and build mentoring relationships with Yale faculty, teaching fellows and staff.
 
Senior Thesis Study Halls (in person; Register for location)
Friday, Apr. 8, 3-5 pm
Sunday, Apr. 10, 5-7 pm
These sessions will offer a combination of group work time (with the support of a Writing Partner during some weeks), group discussion time (a collective sharing of ideas, experiences, current challenges), and advice on working through this process from the earliest stages to the end, in a curriculum developed in part by Yale students in response to their own experiences here, with the support of faculty members, librarians, and other staff.
Academic Strategies Weekly Update: 4-1-22