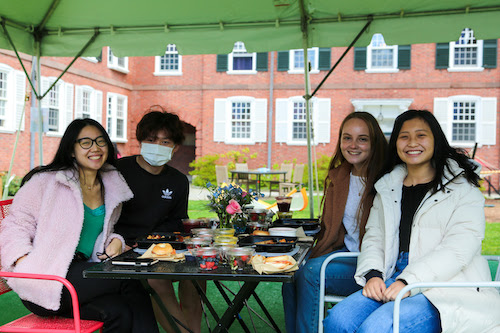 Dear Red Lions,
Our "photo of the week" comes from TD Sophomore Alisia Pan who captured TD sophomores Cindy, Lawrence, Emma, and Hannah enjoying Berry Brunch!  We are so grateful to the hard work of the TD Dining Hall staff to create such a beautiful and tasty meal! 
First-year lions, it looks like your classmates have put together a wonderful TD Bingo board full of fun challenges to help get you through to the last weeks of the semester.  We'll be sending this out separately tomorrow with a list of prizes in the form of cash credit to be spent at the TD Spirit/Gear Store run by the Mott Woolley Council.  So look out for that email.
Please note that because of the tea with Jennifer Cast and Sally Cole on Wednesday at 4:30pm and the Friday Fried Food truck (see below) to celebrate the last Yale break day, Sharon Goldbloom will be taking a well-deserved break from serving up her usual Thursday snack break treats.  So come get your goodies on Wednesday at 3:30pm ahead of the Apple/Amazon tea and meet two incredible TD Alums over Zoom!
Here are our events and deadlines for this week:
Tuesday 4/20 5:30pm TD Senior Mellon Forum
We continue with our TD Senior Mellon forum series with Lena Chan, Isaac Swift, and Kingrey Sullens.  Here is the Zoom link info for the event:
 
Wednesday 4/21 4:30-5:30pm Virtual Tea with Jennifer Cast and Sally Cole
Meet TD Alums Sally Cole and Jennifer Cast and hear how they went from being humanities majors to important executive positions in Apple and Amazon.  Cast became Amazon's 25th employee in the history of the company and Cole became the Communications Director of Google and then moved onto Apple. 
 
Friday 4/23 10:30-3:30pm TD Field Trip to Mystic Aquarium
Last call to sign up for the TD field trip to Mystic Aquarium! This trip is open to all "enrolled" and "in residence" on- or off-campus students.  TD is providing bus transportation and admission to the aquarium.  We'll aim to depart the Temple Street gate at 10:30am and arrive at the aquarium by 11:30am.  And we will depart by 2:30pm and return to campus by 3:30pm.  On-campus students may order a bag lunch for the trip. 
Friday 4/23 3-4:30pm Yale Break Day with Fried Dough Cart (Temple Street Gate)
We are celebrating our last break day with a crowd pleaser – fried dough!  There will be sweet choices of powder sugar and cinnamon sugar or a savory choice of pizza sauce and cheese.  See the forthcoming e-flyer for pickup by class year and last name.
Sunday 4/25 7pm First-Years Blue Booking Event (Virtual)
Confused about next year's class selection?  Stuck between interesting seminars?  Hoping to catch up with other TDers?  Join your fellow first-year lions for a TD Blue Booking event!  We'll send out an email on Thursday with a flyer and Zoom link.
Without further ado, here is a word from Dean Mahurin…

Àshe,
HL
***
I Am in Need of Music
Elizabeth Bishop
I am in need of music that would flow
Over my fretful, feeling fingertips,
Over my bitter-tainted, trembling lips,
With melody, deep, clear, and liquid-slow.
Oh, for the healing swaying, old and low,
Of some song sung to rest the tired dead,
A song to fall like water on my head,
And over quivering limbs, dream flushed to glow!
There is a magic made by melody:
A spell of rest, and quiet breath, and cool
Heart, that sinks through fading colors deep
To the subaqueous stillness of the sea,
And floats forever in a moon-green pool,
Held in the arms of rhythm and of sleep.
PERTINENT DATES AND DEADLINES
 
Apr. 21


 

W


 

Preference Selection closes for Fall 2021 limited enrollment courses, 5 p.m. (EST).


 

Apr. 23


 

F


 

Classes do not meet.


 

Apr. 30


 

F


 

Students are notified of application results for Fall 2021 limited enrollment courses.


 
YALE LAW INTERNSHIPS
Every year, the Yale Law Journal hires a small cohort of paid undergraduate interns to assist with the Journal's operations; we are seeking interns for the 2021-2022 academic year. Interns will also be expected to work a few hours (remotely) during summer 2021. The commitment is relatively light: interns should expect roughly one assignment of 5-10 hours per month, with periodic additional assignments of varying lengths, as well as opportunities to volunteer to take on additional assignments. More information is available in the attached posting.
To apply, please send a single PDF document containing a cover letter, one-page resume, undergraduate transcript, and a writing sample (5-10 double-spaced pages of academic work) to Managing Editors Josh Altman (joshua.altman@yale.edu) and Sammy Bensinger (samantha.bensinger@yale.edu) by Friday, June 11, 2021 at 5:00 PM. Please also direct any questions to the Managing Editors.
 
YALE SENIOR RESEARCH SHOWCASE
Please attend the Yale Senior Showcase, starting this Saturday (April 24) at 11am! Come virtually engage with over 30 Yale upperclassmen as they present their research in the basic sciences, applied sciences, social sciences, and humanities. Faculty and grad students from across different departments and disciplines will be judging students on their research rigor and presentation–and there will be cash prizes! Professor Feng Zhang of MIT, Dean Jeffrey Brock, Professor Paul Bloom, and Professor Steven Berry will be speaking during the event on their experiences in research. Stop by to learn something new and support undergraduate research at Yale! All symposium information and links can be found in the attached PDF or at: yurs.yale.edu.
FELLOWSHIP EVENTS
Info Session for UK Fellowships - Rhodes and Beyond: postgrad study in UK/Ireland (5 of 6)       
Wednesday, April 22, 12:30pm - 1:30pm ET     
Zoom Link  
   
Fulbright Information Session (3 of 5)  
Friday, April 22, 3:00pm - 4:00pm  
Zoom Link  
  
Schwarzman Scholars Virtual Session – Yale University  
Monday, April 26, 12:30pm - 1:30pm  
Register Here