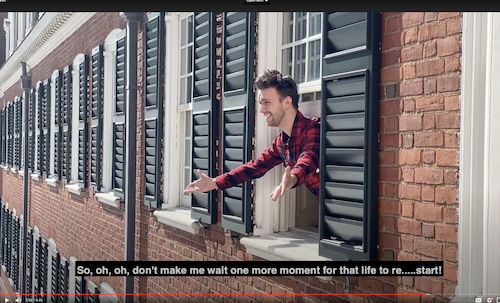 Dear Red Lions,
It was terrific to see so many TDers camp out in the courtyard and join in on Zoom for our TD Spring Community Night this past Friday!  Our "photo of the week" is from Max Moen's original parody/lip sych performance, "Good Morning from My Dorm," that he put together with camera assistance from his roommate, Ian Neidel.
 
Max's video was one of the many amazing pre-recorded and live performances shared on Friday.  I am so grateful to everyone's willingness to share their artistry and community spirit!  For anyone who missed the evening, I have uploaded all of the videos I received on our TD Vimeo page under the "TD Spring 2021 Community Night" showcase.  Unfortunately, I didn't record two of our wonderful live performances: Zack Andalman's masterly rendition of Horace Silver's "Nica's Dream" and Alex DiMeglio and Spencer Johnson's beautifully harmonized duet of "Wagon Wheel".  So those of you who caught these performances consider yourselves lucky!  
If you missed the announcement, Jake and Josh, our beloved TD magicians, will be doing their final performance on Tuesday 5/11 at 8pm.  Save the date and more info will be forthcoming!
Our celebration of the arts in TD continues with a one-person show by senior Saul Roselaar, currently up in the TD gallery and supported through a TD Creative Arts and Performance Award (CPA).  A glass artist, Saul, has shared with us photographs of his solid glass sculptures created from various colors of soda-lime glass over an oxy-propane torch.  Through photography, he is able to highlight particular features.  For TDers who cannot see the photographs in person, please check out his glass work and photography on his website or Instagram.
Now an important word about Berry Brunch this Sunday 4/18 starting at 11am…
It appears there has been a misunderstanding in regards to the invitation to "off-campus" TDers to come to the courtyard and participate in this spring's Berry Brunch.  Unfortunately, the Yale guidelines only allow "enrolled and in residence" students to come to the TD courtyard so this is the only off-campus group who may return for Berry Brunch.  Please remember that off-campus and enrolled TDers are still not allowed in the TD Dining Hall.  So you must pick up your pre-boxed meals in the small tent when you enter into the TD courtyard.  You may stay and eat outside in the courtyard or picnic elsewhere.
TDers who are enrolled remotely – such as our first-year and sophomore lions living in the area or  anyone taking a Leave of Absence – are NOT allowed to come back to the courtyard.  This is the case even if you have been testing and are vaccinated.  I have checked with Yale College and this continues to be the policy.  I am very sorry to disappoint but I can promise that next year's Berry Brunch will be even bigger and better to make up for missing out this year.  
Here are our events and deadlines for this week:
Tuesday 4/13 5:30pm TD Senior Mellon Forum 
We continue with our TD Senior Mellon forum series with Josh Beasley, Nishanth Krishnan, and Robbie Skoronski. 
 
Wednesday 4/14 12pm (noon) TD Summer Fellowship Applications Deadline
Don't forget to submit your proposals for TD summer funding before the grants and fellowships portal closes.  To access the applications, please go to the Yale Fellowships and Grants database and search under "Timothy Dwight". 
Wednesday 4/14 1:30-2:30pm Handsome Dan Comes to TD  (TD Courtyard)
For fans of Handsome Dan XIX, aka "Kingman," please come on out to the TD courtyard to meet the adorable new puppy addition to the Yale family of dogs.  We are grateful to Kassandra Haro for making time to share Kingman with us.  
Thursday 4/13 4-5:30pm Thursday Snack Break – Caramel Mud Pies (TD Package Room)
Come on down for a delicious, gooey sweet treat.  There will be a vegan option available!
Sunday 11am-1:30pm TD Berry Brunch (TD Dining Hall & Courtyard)
Our dining hall has worked over a month to pull this together and we are excited for the menu celebrating all kinds of berries and the arrival of spring!  Please remember that the TD Dining Hall will be closed in the morning so breakfast will not be served.
Without further ado, here is a word from Dean Mahurin…
Àshe,
HL
***
"I always tell people that I became a writer not because I went to school but because my mother took me to the library.  I wanted to become a writer so I could see my name in the card catalog." (Sandra Cisneros)
PERTINENT DATES AND DEADLINES
| | | |
| --- | --- | --- |
| Apr. 14 | W | Last day to withdraw from a course offered in the second half of the spring term without the course appearing on the transcript. See Withdrawal from Courses and Grades. |
| Apr. 21 | W | Preference Selection closes for Fall 2021 limited enrollment courses, 5 p.m. (EST). |
| Apr. 23 | F | Classes do not meet. |
| Apr. 30 | F | Students are notified of application results for Fall 2021 limited enrollment courses. |
COALITION OF ALLYSHIP ADVOCATES
Interested in unpacking and addressing the complicated legacy of Yale's history? Passionate about facilitating conversations about important topics related to diversity, equity, and inclusion? Engaged in various aspects of campus life related to these themes already? If any of this sounds like you, please consider applying to be a Student Coordinator for Yale's newest peer education group: Coalition of Allyship Advocates, an organization that provides all Yale College students with access to DEI trainings and programs. Following in the legacy of NextYale's 2015 demands, CAA has worked since 2017 to allow everyone at Yale to learn more about the history of their university, and what this means for the present. Applications for CAA Student Coordinator paid positions are due at 11:59 PM ET on April 26. You can find the link to apply here. If you have any questions, don't hesitate to reach out to marcela.sanchez@yale.edu, amber.young@yale.edu, and kathryn.schmechel@yale.edu.
RESEARCH OPPORTUNITY IN COMPARATIVE LITERATURE
To be used with an Summer Experience Award
 
I am looking for an undergraduate to work with me this summer doing research for a new book project on global lyric poetics. The project asks what comparative approaches we can take to studying lyric poems across a range of languages and cultures in the early modern period.
 
As a research assistant, you would apply for a Yale Summer Experience Award that funds such opportunities over the summer upto $4000 for the equivalent of 30 hours/week for 8 weeks. I am open to spreading that out over the summer more flexibly, depending on our respective schedules.
 
Specific tasks would include:
 
 
Beginning to build an archive of lyric poems written between 1450 and 1700 in multiple languages – this would include training and research in using rare books and manuscripts, online (and if, you are on campus, at the Beinecke library)

Compiling bibliographies on related topics

Building a website for the "Comparative Poetics" workshop that I will be co-hosting in 2021-22 and reaching out to collaborators

Helping plan events associated with the Comparative Poetics workshop
 
I am ideally looking for someone who is interested in lyric poetry, can read one or more languages than English (ideally 2 languages other than English would be a big plus!), and is enthusiastic about learning to get a large, complex research project off the ground. I will be happy and eager to teach you about manuscripts, archives and rare books, and hope we will learn together about the best digital methods to begin the vast project of compiling an archive of poems that will be the foundation not only for my book project but for other scholars and teachers. This can be a remote position, but please be prepared to spend many hours reading, searching online, and compiling a careful database.
 
If you are interested in this opportunity, please reach out to Professor Ayesha Ramachandran (Ayesha.ramachandran@yale.edu) with the following information: your major, the languages you read/speak, any experience you have with building websites or doing digital humanities projects, and a brief statement of why you are interested in working on this project.
 
ACADEMIC STRATEGIES WORKSHOPS
Creating a Timeline for your Senior Project (for current juniors)
Tuesday, April 13 @ 4 pm ET
Learn how to plan your writing and research, and how to access support resources for your senior project.
 
Time Management
Tuesday, April 13 @ 7 pm ET
Time management is key for lowering stress at Yale. Set priorities and develop a weekly schedule that can lead to an active and balanced academic life.               
 
Cultivating Faculty Mentors/Recommendations
Wednesday, April 14 @ 4 pm ET
Initiate conversations, ask for assistance, request recommendations, and build mentoring relationships with Yale faculty, teaching fellows and staff.
 
Procrastination: How to Work Through It
Wednesday, April 14 @ 7 pm ET
We all procrastinate. When your procrastination habits get in the way of your goals, however, it's time for a change. This workshop offers strategies for identifying the sources of procrastination and pursuing productive habits that can get you back on track.
 
Pathways for Seniors (for current Juniors)
Thursday, April 15 @  7 pm ET
Senior year is a unique juggling act as you wrap up your Yale College career and look forward to post-graduation plans. Learn how to set and accomplish senior year goals while still enjoying your final year as an undergraduate.