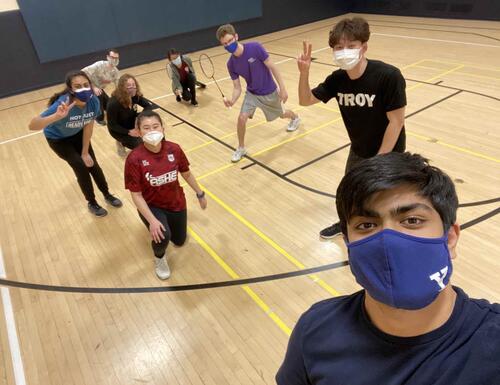 Dear Red Lions,
We are officially out of Arrival Quarantine folks!  Congratulations!  I am so glad to see that you are all getting the hang of testing and completing your daily health checks.  Please keep it up and continue to follow the Yale Community Compact to protect our health.
Hope you all took a break last Monday with Fryborg!  It was terrific to see our sophomores enjoying their Food Truck Sophomore Dinner.  Seen here are Michael Chen, Kishan Patel, and Josh Rothbaum enjoying their new tumblers.  Look for our second Yale Break Day on Tuesday 3/9 to feature sushi from Sono Bana restaurant in Hamden, CT!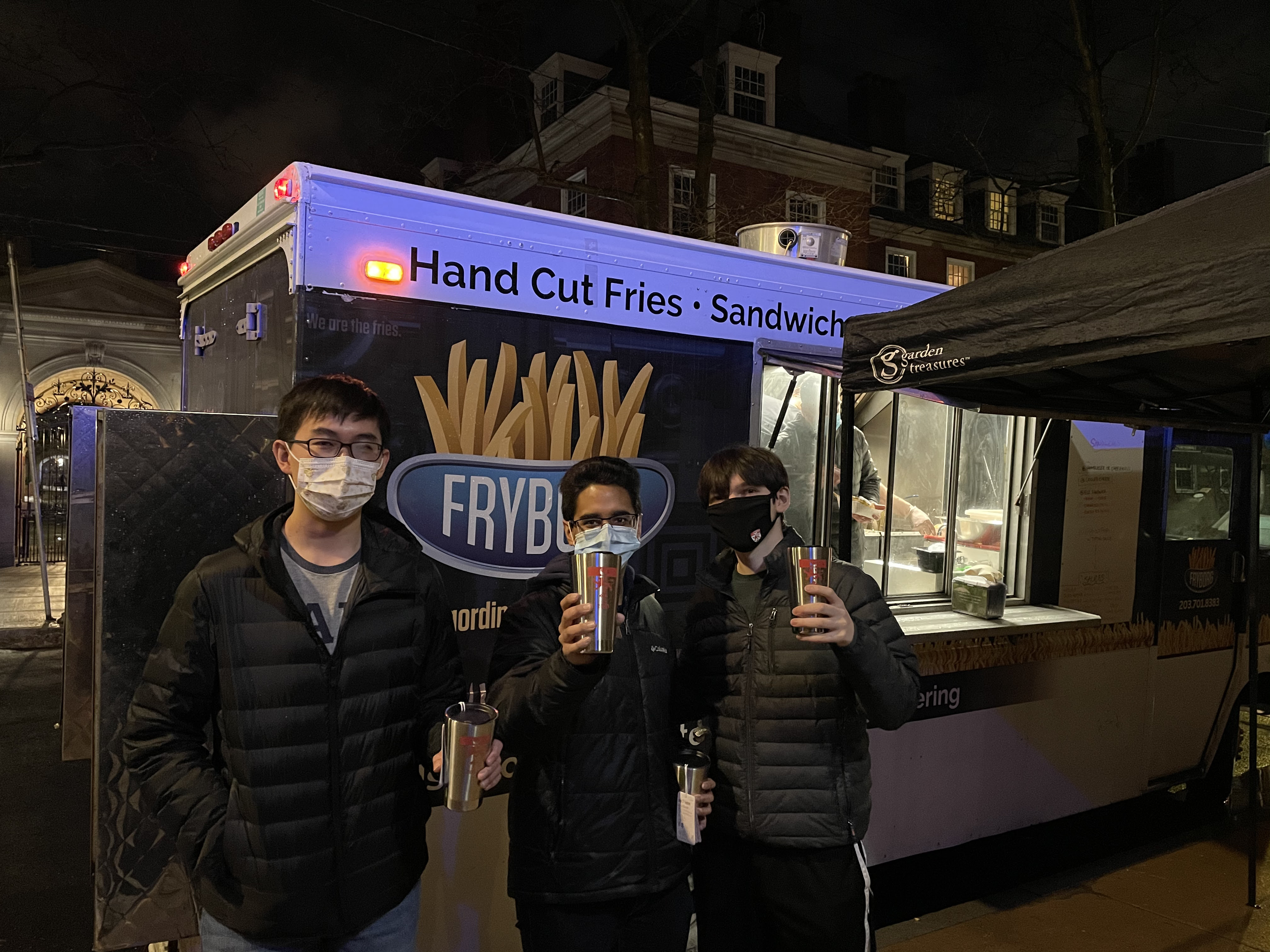 Our dynamic IM secretaries are back with the latest TD IM Sportscenter!  Don't want to give away any spoilers, but let's just say this week's "photo of the week" featuring our winning badminton team says it all.  Many thanks to Alisia Pan '23 for sending.  She writes: "The games were played with Taylor Swift blasting in the background… We won 3-2 against Saybrook and are overall 2-0 in the tournament!"  It's great to see all four classes of lions working together to secure the victory!!!  
Speaking of sports, I am delighted to announce that we will be hosting U.S. marathoner Sara Hall who finished in second place in the London Marathon this fall at the blistering time of 2:22:01.  She will be joining us via Zoom to talk about her impressive and lasting career as a professional runner.  Registration link and poster will follow.
If you have been craving theater, I am delighted to announce that TD is giving away free tickets to The Wandering, a new immersive show developed by a team of recent Yale alums to premiere in early April.  The show, being workshopped during March at the Schwarzman Center, involves an interactive web component and art objects/experiences that are delivered to you whether you are on campus or off-campus.  You can go to their website for more information and see their trailer.  Please fill out this google form to receive your ticket.  Please sign up by Sunday 3/7.
Speaking of immersive performances, please save the date of Friday 4/9 for our TD Spring Community Night!  We are hoping for warmer weather and aiming to set up the outdoor projection screen in the TD Courtyard so that we can watch the performances live streamed or pre-recorded.  Stay tuned for the Google Sign up form!
Here are our events and deadlines for this coming week:
Monday 3/1 10:23pm SAC elections (Zoom)
Our TD SAC is holding their annual elections tonight!  Please join in and learn more about the great work they do to organize our important community events.
Join from PC, Mac, Linux, iOS or Android: https://yale.zoom.us/j/96876370234 
    Or Telephone:203-432-9666 (2-ZOOM if on-campus) or 646 568 7788
    Meeting ID: 968 7637 0234
Tuesday 3/2 5:30pm TD Senior Mellon Forum Begins! (Zoom)
We are excited to begin our first Mellon Forum presentations for the Class of 2021!    First up are Jacob Payne, Rebeca Amonor, and Karina Di Franco!  Our presenters and their invited guests will be Zooming from the Whitney Humanities Center auditorium but the rest of the class is welcome to join us over Zoom:
 
Wednesday 3/3 8:30pm (EST) Machiattos with Matt (Zoom)
First-year Matthew Merritt will be zooming in to show us the art of lattes!  To follow along, you'll need these ingredients: coffee beans, milk (any kind), vanilla extract (optional), ground cinnamon (optional), and mini chocolate chips (options).  Zoom link to come on a flyer.
Thursday 3/4 4-5pm TD Thursday Snack Break –Tropical Fruit Salsa & Cinnamon Chips (TD Package Storeroom)
Sharon Goldbloom's snack break continues!  You should all know the drill by now, but if not just look for the flyer to follow!
Sunday 3/7 Deadline to register for Wandering
To participate in this exciting and original show by recent Yale alums in residence at the Schwarzman Center, please fill out this google form to receive your ticket.  
Without further ado, here is a word from Dean Mahurin…
Àshe,
HL
***
Poem [on getting a card]
William Carlos Williams
on getting a card
long delayed
from a poet whom I love
but
with whom I differ
touching
the modern poetic 
technique
I was much moved
to hear
from him if
as yet he does not
concede the point
nor is he
indeed conscious of it
no matter
his style
has other outstanding
virtues
which delight me
PERTINENT DATESANDDEADLINES
 
Mar. 9


 

T


 

Classes do not meet.


 

Mar. 19


 

F


 

Last day of first half-term courses.


 

Mar. 19


 

F


 

Last day to convert from a letter grade to the Credit/D/Fail option in a course offered in the first half of the spring term. See Grades.


 

Mar. 19


 

F


 

Last day to withdraw from a course offered in the first half of the spring term. See Withdrawal from Courses and Grades.


 

Mar. 22


 

M


 

Classes begin for courses offered in the second half of the spring term.


 

Mar. 24


 

W


 

Classes do not meet.


 

Mar. 26


 

F


 

Deadline to apply for double credit in a single-credit course. See Special Arrangements.


 

Mar. 26


 

F


 

Withdrawal from Yale College on or before this date entitles a student to a rebate of one quarter of the spring term's tuition. See Undergraduate Regulations.


 
WOMEN IN SCIENCE AT YALE RESEARCH CHATS
Women in Science at Yale (WISAY) invites you to Research Chats on Thursday, March 4th at 6 pm via Zoom.
Interested in STEM research, meeting fellow women scientists, and/or exploring career paths? If so, you won't want to miss out on Research Chats organized by Women in Science at Yale (WISAY)!! Join us at 6:00 pm on Thursday, March 4th as Julianne Rolf and Cassady Rupert, Ph.D., share their career paths and research. Julianne is a graduate student in Chemical and Environmental Engineering, studying water treatment methods including membrane distillation. Cassady is a postdoctoral researcher in Biomedical Engineering, working on tissue engineering to study development and disease in organs of the respiratory system. Each informal talk will be 30 minutes with time for questions! This event is open to all who are interested.RSVP hereto receive the Zoom link for the event!
SAS HOUSING ACCOMODATIONS FOR 2021-22
The annual medical housing accommodations approval deadline is Monday March 8th. If you have not yet applied for an new accommodation or to renew your current accommodations please contactStudent Accessibility Servicesas soon as possible as the review process often takes at least two weeksIf you are seeking medical housing accommodations, please send me an email indicating that you'll be pursuing this option – it will help me to keep this in mind as we configure next year's housing.
YALE-CHINA FELLOWSHIP
Seniors! Yale-China is offering aYale-China Fellowshipaward to teach for two years in Hong Kong after graduation. The application deadline isMarch 15th.More information can be found here:www.yalechina.org/ycf
We are holding our final information session on Wednesday March 3 at 8 pm EST. The session will include alumni fellows speaking about how the fellowship impacted their work in the field of law. Sign up to attend the sessionhere.
ACADEMIC STRATEGIES WORKSHOPS
Strategies for Reading Literature
Monday, March 1 @ 7 pm ET
How do we read deeply without running out of time to complete the reading? This workshop introduces techniques to help you effectively read and respond to literary works.
 
Reading Analytically for Social Science
Tuesday, March 2 @ 4 pm ET
This workshop provides an overview of deep reading to generate effective contributions to class discussion, develop essay topics, and identify strong evidence for essays. Participants will get practice with these strategies in our interactive session.
 
Procrastination: How to Work Through It
Tuesday, March 2 @ 7 pm ET
We all procrastinate. When your procrastination habits get in the way of your goals, however, it's time for a change. This workshop offers strategies for identifying the sources of procrastination and pursuing productive habits that can get you back on track.
 
Pathways for First-Years
Tuesday,March 2 @ 9 pm ET
What do you really want to get out of your first year? This interactive workshop helps students identify goals and sources of satisfaction and offers strategies for avoiding common pitfalls like overextension and burn out.
 
Managing a Heavy Reading Load
Wednesday, March 3 @ 4 pm ET
Feeling overwhelmed by piles of reading? Learn some essential strategies to make the most of your limited reading time. Have less stress and create more free time!
 
Public Speaking for Undergraduates
Wednesday, March 3 @ 7 pm ET
Professors are increasingly asking students to engage in public speaking, from leading class discussion to more formal presentations. This workshop suggests preparation and performance strategies to help you do your best.
 
Writing Emails, Presentations, and Reports: Academic and Professional Communication
Thursday, March 4 @ 4 pm ET
Learn strategies for writing for professional and formal academic audiences.
 
Getting the Most Out of Your Seminars & Lectures
Thursday, March 4 @ 7 pm
Learn preparation, participation, note-taking, and review strategies to help you succeed in these two very different learning environments.