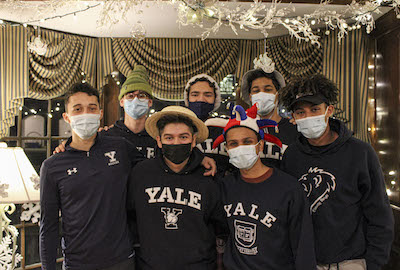 TIMOTHY DWIGHT NOTES & NEWS
WEEK OF 12/13/21
HL'S PIECES
Dear Red Lions,
It was terrific to see so many of you at our end of classes holiday reception last Friday afternoon.  Our two "photos of the week" come from Guillaume Hoffmann TD 24/23 and TD Operations Manager Zina Anwar for sending in these terrific photos capturing the fire pit/patio action from last Friday.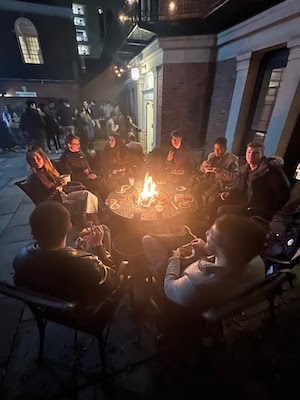 Speaking of photos, many thanks to our TD photography aides, Amay Tewari and Demi Lee, who have posted the link to the TD Holiday Photobooth from our TD holiday dinner last Saturday 12/4.  Please go to the link download the photos to share.
We are so grateful to our SAC, led by sophomores Eve Chinea and Isa Dominguez, for kicking us off last night with the delicious pad thai and spring rolls study break from Koon Thai.  And many thanks to all of you for cleaning up and not leaving behind food for our facilities staff to clean up.
Before I repeat the list of TD study breaks, here again are our rules (with some modifications because of COVID-19) to help all of us find time and space to work and sleep:
TD Quiet Hours (11pm-8am) will be in effect every night for the reading/exam period.  We want all TDers to be able to work in their rooms.  This also applies to the music practice rooms!  Please note this is the minimum requirement, many students do study in their rooms so please be courteous and keep the noise down during all hours.
TD Quiet Study Spaces are designated for the TD Library, computer rooms, and dining hall.  If you must do group work, please use the Buttery and TD Common Rooms. 
TD Dining Hall is staying open 24 hours for quiet studying only.   This year because of COVID-19, no outside food or drink will be allowed to come into the Dining Halls.  We are grateful that the staff is providing coffee, hot water, and hot chocolate so please help yourselves and continue to clean up after yourselves.  Please do your best to keep your masks on when in the Dining Hall. 
Please remember that the Dining Hall will close briefly at the following times for the staff to clean up:
7:30-8:30pm (after dinner service)
7:00-8:00am (before breakfast service)
We ask that you leave the DH at that time so that the staff can do their work.  I repeat – you want to get up to stretch and take a walk… or perhaps grab a nap or shower… or call home or a friend.  Either way, taking a break is good! 
 
**Fall Semester Study Breaks Schedule**
Masks are required for all indoor study breaks and we ask everyone to line up and not bunch up.  Please wait for SAC members to serve you and do not grab the food yourselves.  Please do NOT eat in the Common Room, Thompson Room, or Dining Hall.  
Monday 12/13 10pm SAC Garden Catering Study Break (Thompson Room)
SAC will be serving up lots and lots of chicken along with a veggie option.
Tuesday 12/14 8:30-9:30pm Mott & SAC S'Mores Study Break (Lower Courtyard)
We are pulling out the fire pits so warm up by the fire and melt some marshmallows and chocolate!  
Tuesday 12/14 9:45-9:55 TD 10-Minute Courtyard Dance Party
We are bringing back our beloved TD tradition!  It really just lasts for 10 minutes so come dance off some stress!
Wednesday 12/15 8-8:30pm Holiday Caroling Study Break (Lower Courtyard)
Join TD seniors Calvin Kaleel and Raquel Sequeira on some holiday singing!
Wednesday 12/15 10pm SAC Samosas Study Break (Thompson Room) 
Last TD SAC study break ends with samosas!  (Thank you SAC!)
Thursday 12/16 through Tuesday Tuesday 12/21 10pm Pizza Study Break 
Our TD Aides will serve up pizza every night from Thursday night until the end of exams to make sure everyone has something extra to carry them through late night studying.  Vegan and Gluten-free options available.  
Friday 12/17 8am TD Hot Breakfast (TD Dining Hall)
Our Dining Hall will be serving up a full hot breakfast of pancakes, bacon, sausage, etc. to kick off the start of exams.  So fuel up folks!
As always, you need to make sure you prioritize your health.  Please take good care of yourselves and one another.  Don't hesitate to reach out to myself or Dean if you need support! 
Without further ado, here is a word from Dean Mahurin …
Àshe,
HL
***
Rain
Raymond Carver
Woke up this morning with
a terrific urge to lie in bed all day
and read. Fought against it for a minute.
Then looked out the window at the rain.
And gave over. Put myself entirely
in the keep of this rainy morning.
Would I live my life over again?
Make the same unforgiveable mistakes?
Yes, given half a chance. Yes.
Dear all,
We've almost made it!  But of course, we all know that "almost" is a big word when it comes to final exams and term papers, so I wanted to take this moment to share a few critical points of reference heading into the home stretch.
Reading period runs until December 16, and all course assignments other than term papers and term projects must be submitted by that date.  Though I know many of you have already taken final exams in your classes, the officially designated exam period begins that night, and will continue through December 22.  At that point, you can congratulate yourself on getting through the fall semester: winter recess will begin!
I want to emphasize that December 22 is also the final possible date for the submission of term papers and term projects.  Of course, individual instructors may set deadlines for earlier than this date, even as they have full discretion to set deadlines as late as this date.  Beyond December 22, coursework may be submitted only with a Temporary Incomplete from me; your instructor cannot set deadlines or issue extensions for beyond December 22, even in graduate or professional school courses.  Yale College considers such deadlines and extensions invalid, and the work will not be counted toward your grade.  
Please note that, as with Dean's Excuses, the academic regulations permit Temporary Incompletes in only a limited range of circumstances; contact me right away if you anticipate needing one so that we can discuss your situation.  Postponements of scheduled final examinations, via ABX (clever acronym for "All But Exam"), also require my intervention, and may be authorized under the same set of circumstances as Dean's Excuses and Temporary Incompletes.  (Additionally, you may elect to postpone a final exam if you have three exams scheduled within four time slots, or if you have three exams scheduled within the first two days of the final examination period.)  As always, if you find yourself in any kind of trouble relating to the submission of work or the taking of exams, let me know right away – I'm very happy to consult on these points.  Or for some light reading during your study breaks, you can always consult the Yale College Programs of Study!: http://catalog.yale.edu/ycps/academic-regulations/completion-of-course-work/.
Finally, know that I'm cheering you on as you round this last corner.  As my grandfather would have said, you've almost got this semester licked.
Dean Mahurin