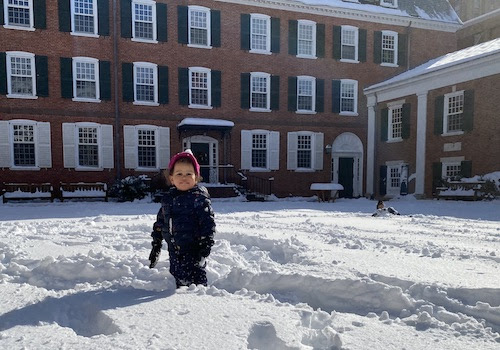 TIMOTHY DWIGHT NOTES & NEWS
WEEK OF 1/18/22
HL'S PIECES
 
Dear Red Lions,
Welcome to our first Notes and News of the 2022 spring semester!  We are excited to be back!
Our "photo of the week" comes from Amy Bei who shared these great photos of Anna and her big sisters enjoying the snow over the break.  
 
This weekend, we welcomed over 800 students back to campus and I am relieved to say that our isolation housing has not been tapped out.  So as of today, we do not need to initiate the "isolation in place" protocols.  With students staggering their returns and completing pre-arrival testing we may well continue to do well with spring move-in.  We can only take things one day at a time.  
If you have not submitted your COVID-19 booster information, please remember to do so ASAP!  I heard from some TDers that the link sent in Dean Boyd's email yesterday was not correct. This is the correct link for anyone who needs it.
I know it's an odd re-entry for many of you having to start the semester not diving into new classes but finishing out old classes by taking make-up exams.  I hope they all go smoothly.  Wishing you all good luck on those exams.
Please remember to pick-up your PPE kits when you return to campus…  For the rest of the week, you can pick up you PPE kit in front of the TD Head of College office from 9am-4pm.  We'll have them out on a bench.  For the weekend, they will once again be out on a table in front of the TD Package Room – or under the entrance to the TD Town Hall if the weather is poor from 12-3pm.  
Deadline for Creative and performing Arts grants extended… With the delayed start of the spring 2022 semester and the first 2 weeks of classes going remote, the Arts and Awards committee decided to push back the CPA applications deadline by one week with a new deadline of Monday 1/31 at 11:59pm East Coast Time.  Students who were awarded a CPA this past fall but have concerns completing their projects before spring break may be granted an extension until April 29th, last day of classes for this semester.  Please check in with me and your production advisors if you would like an extension.  As always, please remember to check in with me about your application before submitting.  This will help to make sure you provide the strongest proposal to the committee. 
Dean Mahurin will be back with more academic news next week!  Until then, safe travels back to campus and good luck with completing your exams!
Àshe,
HL & DM