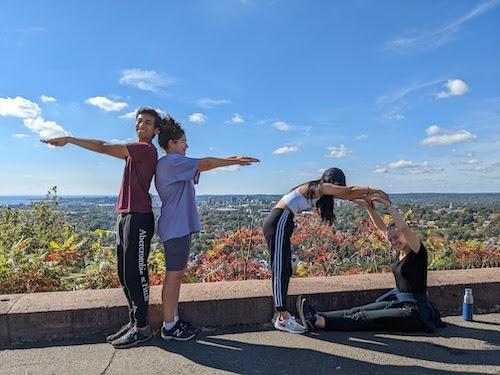 TIMOTHY DWIGHT NOTES & NEWS
WEEK OF 10/25/21
HL'S PIECES
Dear Red Lions,
Welcome back from Fall Break!  I hope everyone had plenty of rests and was able to catch up with friends and family along with work and sleep. 
Many thanks to our TD Graduate Affiliates for leading 3 short trips over the break to introduce students to the Cushing Center in the Yale Medical School, East Rock Park, and the Mill River.  Each activity generated a ton of photos.  I had so many entries for "photo of the week" that I am going to share at least a few of them:
"TD pride at the East Rock Summit" sent by Grad Affiliate Sandra Sanchez featuring first-years Suraj Singareddy, Danielle Gruber, Vivian Tong, and Calista Krass!
 
Kayaking on the Mill River sent by Graduate Affiliate Xinyi Chen featuring Ella Mainwaring Foster and Eva Hofmans with grad affiliate Peter Nimi on the right.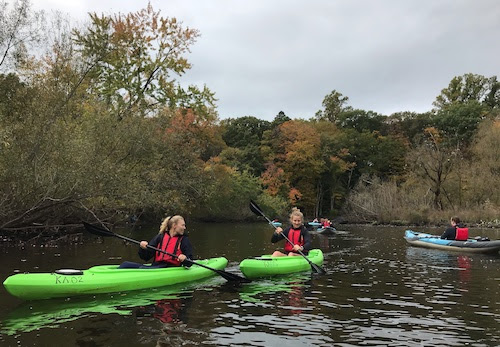 Last but not least, a very successful cooking workshop with TD Service Assistant, Sharon Goldbloom, and TD Student Kitchen Aide, Eva Syth, in the Student Kitchen submitted by Cam Do '22 (far left)!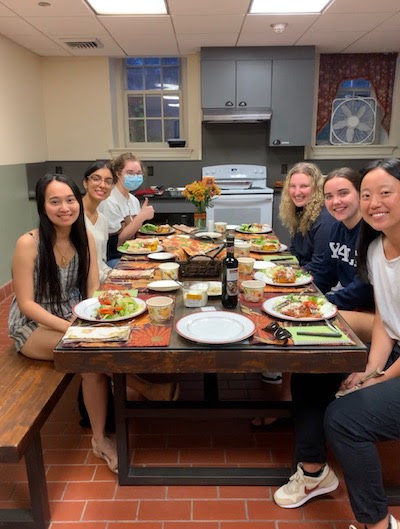 Fall Season IM playoffs start up this week so let's end this season strong and secure our place at the top of the Tyng Cup standings!!!  So while it is Halloween, please keep coming out to IMs!!!
Here are some more important TD events and dates for the next two weeks:
Friday 10/29 3:00-5:00pm TD Spooktacular Pumpkin Carving (Upper Courtyard)
Join us for pumpkin carving or painting!  All supplies will be provided and we'll show off your beautiful creations in the TD courtyard.  We'll also have hot apple cider and cocoa as well as other delicious treats.  No sign ups necessary, just come on up and get creative!
Saturday 10/30 and Sunday 10/31 TD Night at Escape New Haven (103 Whitney Avenue, at corner of Grove)
TD is once again partnering with our neighbor, Escape New Haven, to bring you their 2 creepiest games – the werewolf themed "Before Moonrise" and the "The Crypt" – for some spooky Halloween fun.  If you've never done an Escape Room before and would love to try, this is your chance!  Please go to this link to reserve your time. This is heavily subsidized by TD so this is a TD-event only.  Please do not share the link with non-TDers.  We also ask that you reserve your spot by paying $5 per person for each room.  Please note that the sign-ups state the maximum number of players.  Each room can actually go forward with 1 or 2 fewer players though it can make it more challenging to escape.  Sign ups close at 11:59pm on Wednesday 10/27 so you have 48 hours to assemble your team and play.  After Wednesday, unclaimed spots go back to Escape New Haven.
Sunday 10/31 11:30-1:00 AM FroCo Viewing Party for the YSO Halloween Show (Buttery TV Lounge and FroCo Lounge)
Because of the limited seating in Woolsey Hall this year, the YSO Halloween Show will be available via livestream.  Our TD FroCos will host two different viewing locations – TV area in the Buttery and FroCo Lounge.  We will need to adhere to the current indoor gatherings policy of no more than 20 attendees and everyone must be masked.  To view the show on your own, please go to this link.
Thursday 11/4 to Saturday 11/6 Shakespeare's "A Winter's Tale" (TD Upper Courtyard)
We are excited to present a unique outdoor courtyard theater featuring one of the great Shakespearean classics, A Winter's Tale!  Directed by Raquel Sequeira TD '21, the play will feature many of our TD thespians as well as performers from other colleges.  More information regarding tickets and seating will be forthcoming.  For now, please save the date!
Saturday 11/6 12:00pm-5:30pm Mott Woolley Paintball Trip (Meet in TD Courtyard)
Mott's annual paintball trip is back!  We'll gather in the courtyard to depart at noon and arrive at Extreme Paintball in Waterbury, CT for 3 hours of fun!  Trip sign up is limited to 35 total and is on a first-come, first-served basis at the TD HoC office starting at 9am on Tuesday 10/26 and ending at 4pm on Friday 10/29.  The trip (transportation, entry fee, ammunition, etc.) is heavily subsidized by TD but we ask each TDer to pay $12 at the time of sign-up to help with the costs.  If this is a hardship for anyone, please contact HL.  Any additional questions, please contact Mott President Max Moen at max.moen@yale.edu.
Without further ado, here is a word from Dean Mahurin…
Àshe,
HL
***
"But I aint so sho that ere a man has the right to say what is crazy and what aint.  It's like there was a fellow in every man that's done a-past the sanity or the insanity, that watches the sane and insane doings of that man with the same horror and the same astonishment."  (William Faulkner, As I Lay Dying)
DATES AND DEADLINES
Oct. 29


 

F


 

Midterm.


 

Oct. 29


 

F


 

Last day to withdraw from a fall full-term course without the course appearing on the transcript.


 

Oct. 29


 

F


 

Deadline to apply for double credit in a single-credit course.


 

Oct. 29


 

F


 

Withdrawal from Yale College on or before this date entitles a student to a rebate of one-quarter of the term's tuition.


 
LIBRARY WORKSHOPS
Reading Strategies for Writing Papers
Tuesday, October 26 at 4:00pm | Register: schedule.yale.edu/event/8363116
Doing original research can feel overwhelming, especially when you need to read scholarly texts to prepare to write a paper. Join librarians and the Poorvu Center to learn strategies to tackle scholarly texts efficiently. 
Attendees will:
o   Learn the benefits of and how to do pre-reading and selective reading
o   Learn how to identify key elements of a scholarly text
o   Gain practice doing lateral reading
 
Latte with a Librarian
Thursday, October 28 at 1:00pm | Register: schedule.yale.edu/event/8016753
Do you need to find a book or a scholarly article, or do you need help formulating a research question for a literature review? Meet with a librarian for a drop-in research consultation PLUS any student who asks a library or research-related question will receive a FREE Yale Library mug!
 
How to Find Scholarly Articles
Friday, October 29 at 3:00pm | Register: schedule.yale.edu/event/8141072
This 30-minute workshop will cover the fundamentals of how to find scholarly articles from Yale Library, using Quicksearch and other library databases, such as Academic Search Premier (EBSCO) and JSTOR. Attendees will also learn best practices for how to request articles using Interlibrary Loan.
ACADEMIC STRATEGIES WORKSHOPS
Imagining Your Summer (with CIPE)
Monday, Oct. 25, 4-5 pm
Thursday, Oct. 28, 7-8 pm
Interested in summer study abroad, fellowships, or internships, but don't know how to get started? Hear from students who have done these things to help you identify some possible summer opportunities. You will leave with a clearer idea of what is possible and the resources you can access to make your vision happen. Now is the perfect time to start planning!
Getting the Most Out of Mentorship
Monday, Oct. 25, 7-8 pm
Join Yale undergraduates for a conversation on how to make the most of any mentorship opportunity, including peer, graduate student, faculty, and alumni mentorship.
Cultivating Faculty Mentors/Recommendations
Monday, Oct. 25, 9-10 pm
Initiate conversations, ask for assistance, request recommendations, and build mentoring relationships with Yale faculty, teaching fellows and staff.
Managing a Heavy Reading Load
Tuesday, Oct. 26, 4-5 pm
Wednesday, Oct. 27, 9-10 pm
Feeling overwhelmed by piles of reading? Learn some essential strategies to make the most of your limited reading time. Have less stress and create more free time!
Get the Most Out of Your Reading
Tuesday, Oct. 26, 7-8 pm
Learn general strategies for effectively reading texts for any Yale class. Learn how to preview a text, effectively interact with the text while reading, and review your reading for class, essays, and exams.
Procrastination: How to Work Through It
Wednesday, Oct. 27, 7-8 pm
This workshop offers strategies for identifying the sources of procrastination and pursuing productive habits that can get you back on track.
So You Don't Feel Like Doing Your Work…
Thursday, Oct. 28, 4-5 pm
Have trouble staying focused and on task? Learn how to get motivated and keep engaged with your work while giving yourself the time you need to be healthy and grounded.
APPROACHING APPLICATION DEADLINES
October 28, 2pm ET - The Paul and Daisy Soros Fellowships for New Americans National Deadline | Eligible: Seniors, Alumni & Graduate Students        
October 29 - The Hertz Foundation Graduate Fellowship National Deadline | Eligible: Seniors     
November 1 - Public Policy & International Affairs (PPIA) Junior Summer Institute Fellowship National Deadline | Eligible: Juniors    
November 1, 11:59pm ET - USAID Donald Payne International Development Graduate Fellowship National Deadline | Eligible: Seniors & Alumni   
November 8, 1:00pm ET - Saint Andrew's Society Graduate Scholarship Campus Deadline | Eligible: Seniors         
November 11, 1pm ET - Barry M. Goldwater Scholarship Campus Deadline | Eligible: Sophomores & Juniors        
November 11, 1pm ET - Harry S. Truman Scholarship Program Campus Deadline | Eligible: Juniors        
November 15, 1pm ET - James C. Gaither Junior Fellows Program at the Carnegie Endowment for International Peace Campus Deadline | Eligible: Seniors & Alumni      
November 16, 8pm ET - The Critical Language Scholarship (CLS) Program National Deadline | Eligible: First-Years, Sophomores, Juniors & Seniors      
December 1 - Overseas Press Club Foundation Scholarship/Fellowships Awards National Deadline | Eligible graduate and undergraduate students   
December 3, Noon Beijing Time - The Yenching Academy of Peking University Scholarship National Deadline | Eligible: Seniors & Recent Graduates   
NOTE: Yenching Academy will host a series of virtual info sessions for prospective students.   
December 15 - Rotary Foundation Global Grant Scholarships; District 7980 Foundation Scholarships; Contact District 7980 Administrators with application questions | Eligible: Seniors/Alumni