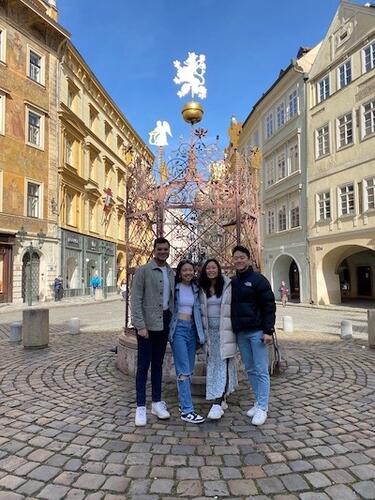 TIMOTHY DWIGHT NOTES & NEWS
WEEK OF 3/27/2023
HL'S PIECES
Dear Red Lions,
Welcome back from Spring Break!   I hope everyone had a relaxing break whether you stayed on campus like us or ventured far and wide.  Judging from the length of this week's Notes and News there is lots happening!
I received this "photo of the week" from Senior Lion Cindy Kuang who sent this photo showing us that the spirit of the TD lion can be found just about everywhere… including Prague!  Pictured underneath the lion from left to right are Adit Gupta, Cindy, Hannah Shi, and Allan Ding. 
We are almost ready to launch the sign-ups for the Anderson Cooper Chubb Fellowship events.  At 4pm he will be speaking at the Yale University Art Gallery and a post-talk special Chubb dinner in the TD Dining Hall will follow that evening.  So please keep check your emails this week for more information about the lottery for both events.
Here are some terrific TD events for the next couple of weeks:
Tuesday 3/28 5:30-7pm TD Mellon Forum (TD House)
Excited to continue with our Mellon Forum presentations.  This week we are featuringSenior Lions Megan Briggs, Guillaume Hoffman, and Zev Kazati-Morgan.  
Tuesday 3/28 8-9pm TD Sophomore Advising/Mentoring with TD Graduate Affiliates 
Calling all Sophomore lions… are you finding yourself undecided about a major or have questions about what classes to pursue for next year or want some advice navigating internships?  Then come to this wonderful informal advising event with our TD Graduate Affiliates who come from a range of disciplines and professional schools around the university such as the Yale School of Medicine and ask your questions.  Hot chocolate and Insomnia Cookies will be served!
Wednesday 3/29 6:30pm TD Sophomore Dinner (The Luke, 261 College Street)
We are excited for the TD Sophomore Dinner at the Luke, a new brasserie in downtown New Haven.  We will have a photo booth and an opportunity to write letters to your future senior selves that you will get back at your TD senior dinner in spring 2025.  Many thanks to your terrific Sophomore Class Committee Emily Zhang, Kennedy Wolf, Arlene Tetteh-Lartey, and Katelyn DeKeersgieter for their work on this event!
Thursday 3/30 7:30-9:30pm Junior Lions Bowling Night (Bowlero Bowling Alley)
We are thrilled to do a special TD Juniors event this spring featuring bowling at Bowlero in Milford, CT!   All TD Juniors are welcome to attend at no charge.  Please board the buses in front of the Temple Street Gate at 6:50 and 7pm.  Food and drinks will also be provided!   Many thanks to the very spirited committee of Junior Lions for planning this event:  Eda Aker, Alice Ao, Jai Chadha, Eve Chinea, Jack Denning, Jhon Escobar, and Demi Lee.  
Friday 3/31 6-7pm Dinner with Eric Liu TD '90 (Thompson Room, TD Dining Hall)
Come meet Eric Liu TD '90 and founder of Citizens University, a grassroots effort to build democractic participation around the country.  Eric served as a speechwriter in the Clinton White House shortly after graduating and was later appointed by President Obama to serve on the board of the Corporation for National and Community Service.  He is a frequent contributor to the Atlantic and has authored several books.  If you are interested in having dinner with Eric in the TD Dining Hall, please email me at mary.lui@yale.edu.  
Saturday 4/1 12-5:30pm Mott Paintball Trip 
Last call to sign up for annual paintball trip.  The trip is heavily subsidized by the TD Mott funds so there is only a charge of $10/participant.  (If this is a hardship for anyone, please email me directly).  Please go to this linkfor more information and to sign-up. 
Tuesday 4/4 4-5:15pm Jazz Improvisation workshop with award-winning Violinist Scott Tixier (TD House)
Meet and learn from one of the most creative living jazz violinists performing and teaching today.  To get an idea of what you might experience, see his TEDx talk.  Bring your instrument of choice – piano players will be able to use the house baby grand – and learn about improvisation from the ground up.  Tixier is a French jazz violinist who was selected by DownBeat as their Critic Poll Winner in 2018.  A five-time affiliated GRAMMY award-winner, he has performed, recorded, and toured with Jazz legends Kenny Barron and Antony Braxton to Stevie Wonder, Elton John, Coldplay, and more.  He has played on numerous film scores and TV shows including "The Tonight Show with Jimmy Fallon", "The Late Show with Stephen Colbert", and more.  In 2022, Tixier was the featured soloist for Jon Batiste's American Symphony premiere at Carnegie Hall.  He is on the faculty at the University of North Texas specializing in Jazz Violin and the Director of Jazz String Lab. Co-sponsored with the University Jazz Collective.  
Saturday 4/8 12-10:30pm Mott Trip to the Mets 
Mott is organizing a Mets Game outing for their big trip this spring semester.  This will be heavily subsidized by TD with roundtrip Metro North tickets.  More information will be forthcoming in a separate flyer.  For now, please save the date if you are interested in joining in!  
Without further ado, here is a word from Dean Mahurin…
Àshe,
HL
***
Postcard from Kashmir
Agha Shadid Ali
 
Kashmir shrinks into my mailbox,
my home a neat four by six inches.
I always loved neatness. Now I hold
the half-inch Himalayas in my hand.
This is home. And this the closest
I'll ever be to home. When I return,
the colors won't be so brilliant,
the Jhelum's waters so clean,
so ultramarine. My love
so overexposed.
And my memory will be a little
out of focus, in it
a giant negative, black
and white, still undeveloped.
 
 
DATES AND DEADLINES
Apr. 4


 

T


 

Deadline to apply for a fall-term 2023 Term Abroad or a 2023–2024 Year Abroad, 1 p.m.


 

Apr. 6


 

Th


 

Last day to withdraw from a spring second-half course without the course appearing on the transcript.


 

Apr. 17


 

M


 

Registration for fall 2023 opens for the Class of 2024.


 

Apr. 18


 

T


 

Registration opens for fall 2023 for the Class of 2025, visiting students, Eli Whitney students (without a class year).


 

Apr. 19


 

W


 

Registration opens for fall 2023 for the Class of 2026.


 

Apr. 28


 

F


 

Classes end; reading period begins.


 

Apr. 28


 

F


 

Last day to convert from a letter grade to Cr/D/F option for a full-term course and/or a course offered in the second half of the spring term.


 

Apr. 28


 

F


 

Last day to withdraw from a full-term course and/or a course offered in the second half of the spring term.


 

Apr. 28


 
 

Registration closes for all students.


 
MIDTERM: MARCH 10
 
An important pre-break reminder (also above but worth emphasizing): this Friday at 5pm is the deadline to withdraw from a course without a W on your record.  You can access the course change from here!: https://registrar.yale.edu/forms-petitions. 
 
ACADEMIC STRATEGIES WORKSHOPS
 
Organize Your Time! Workshops: 
Tuesday, March 28, 8 pm (online)
This interactive workshop offers evidence-based strategies for time management and the opportunity to start figuring out what will work best for you. 
 
STEM Navigators x OCS: How to Write the Medical School Personal Statement:
Thursday, March 30, 5 pm Poorvu Center 120B
Are you applying to medical school soon? Come to this workshop to learn how to tackle the personal statement.
 
Cultivating Faculty Mentors/Recommendations 
Monday, March 27, 7-8 pm, Poorvu CTL M104A 
Initiate conversations, ask for assistance, request recommendations, and build mentoring relationship with Yale faculty, teaching fellows, and staff. 
 
The Psychology of Time Management 
Monday, March. 27, 8-9 pm, Online 
Come to this workshop to learn about some of the major cognitive obstacles to organizing your time and take away a set of mental tools for increasing your awareness of these common thought processes so that they can be prevented or interrupted. 
 
Exam Study Strategies 
Tuesday, March 28, 4-5 pm, Poorvu M104A
Reduce exam stress by learning new strategies for preparing and studying for midterms and finals. This workshop offers suggestions for preparing for and taking problem-based, short answer, and essay exams. 
 
Getting the Most Out of Mentorship 
Tuesday, March 28, 7-8 pm, Poorvu CTL M104A 
A conversation on how to make the most of any mentorship opportunity. 
 
Managing a Heavy Reading Load  
Wednesday, March 29, 4-5 pm, Poorvu CTL M104A  
Feeling overwhelmed by piles of reading? Learn some essential strategies to make the most of your limited reading time. Have less stress and create more free time! 
 
STEM Navigators x YURA: How to Develop a Science Poster Presentation
Wednesday, March 29, 4-5 pm, Poorvu 120C
Friday, March 31, 4-5 pm, Poorvu 120C
Come to this workshop, led by the Yale Undergraduate Research Association, to learn how to start making your poster on your research! Whether it's for an upcoming conference, symposium, or thesis, you'll be sure to get the basics down at this workshop series.
 
STEM Navigators: Should I Take a Gap Year?
Wednesday, March 29, 5-7:30 pm, Poorvu 120A
Gap years are becoming increasingly common, but you might still be in debate with yourself. Come hear from STEM students at Yale who have taken gap years for a variety of reasons - it can help yourself gauge the value in taking gap years, whether it's in between your undergraduate years or afterwards! Dinner provided.
 
Revitalize Your Semester
Wednesday, March 29, 7-8 pm, Poorvu M104A
Want to refresh your approaches to your academic work? Our mentors will lead you through a series of activities to help you identify your current strengths and develop new strategies for meeting the new challenges presented by your current semester's courses
 
 
Reading Analytically for Social Science 
Wednesday, March 29, 8-9 pm, Online 
The workshop provides an overview of deep reading to generate effective contributions to class discussion, develop essay topics, and identify strong evidence for essays. 
 
Pathways for Sophomores
Thursday, March 30, 4-5 pm, Poorvu CTL M104A
Sophomore year offers new challenges, including increased course loads, upper-level classes, and identifying a major. This interactive workshop helps students set goals and make long-term plans for the year.
 
Optimize Your Reading 
Thursday, March 30, 7-8 pm, Poorvu CTL M104A 
Learn general strategies for effectively reading texts for any Yale class. Learn how to preview a text, effectively interact with the text while reading, and review your reading for class, essay, or exam preparation. 
 
Academic and Professional Communication
Thursday, March 30, 8-9 pm, Poorvu CTL M104A
 Learn strategies for writing for professional and formal academic audiences.
 
STEM Navigators Study Hall 
Sunday, April 2, 2-5 pm, Poorvu CTL 120A 
Come complete your p-sets, study, and meet your peers in your STEM courses. Snacks and peer mentors are here to help you with any questions about majors, summer opportunities, or classes to take in the future.
 
 
LIBRARY WORKSHOPS
NEXT STEPS WITH ZOTERO
Tuesday, March 28 at 3:30 pm | Register: https://schedule.yale.edu/event/10193606
For experienced users of Zotero, or anyone who has already attended 'First Steps with Zotero' and is ready to learn more. Topics include removing duplicates, adding tags and notes, creating a shared library, and integrating with Microsoft Word.
 
HOW TO FIND SCHOLARLY ARTICLES
Tuesday, March 28 at 7:00 pm | Register: https://schedule.yale.edu/event/10385741
Are you ready to find articles thoroughly and efficiently - without relying on Google Scholar while also avoiding pesky paywalls? In 30 minutes, learn strategies to find the best possible scholarly sources from Yale Library's databases.
 
DEMYSTIFYING THE LITERATURE REVIEW
Wednesday, March 29 at noon | Register: https://schedule.yale.edu/event/10256770
Learn how to conduct a literature review for your research papers, independent projects, and fellowship applications. This workshop is for undergraduate students new to writing literature reviews; graduate students are also welcome to attend.
 
FIRST STEPS WITH ZOTERO
Wednesday, March 29 at 5:00 pm | Register: https://schedule.yale.edu/event/10417154
Learn how to use Zotero, free software to help you manage your research and generate citations for a bibliography.
 
ADVANCED SEARCH TECHNIQUES
Thursday, March 30 at 7:30 pm | https://schedule.yale.edu/event/10401339
Learn how to research like a librarian, including how to use Advanced Search to find books and articles in Quicksearch. Join us for 30 minutes and get a step ahead for coursework and research projects!
 
HEIDI FRIDAYS: HEIDI'S BIRTHDAY PARTY!
Friday, March 31 at 2:00 pm | More information: https://schedule.yale.edu/event/10189443
Join us to celebrate Heidi the therapy dog, who is turning 4 years old! At this drop-in event, enjoy a sweet treat, wish Heidi a happy birthday, and mingle with your favorite Yale canines.
 
 
OFFICE OF CAREER STRATEGY
 
PDT Partners Information Session
Tuesday, March 28 | 5:00pm – 6:00pm
More information
 
Vanderbilt School of Medicine Info Session
Tuesday, March 28 | 4:30pm – 5:30pm
Learn more
 
AAMC Virtual Fair
Tuesday, March 28 | 11:00am – 4:00pm
Learn more
 
Endeavor Global Inc Coffee Chat (Session 2)
Thursday, March 30 |12:00pm noon – 3:30pm
Maison Mathis
Learn more
 
Oak Hill Advisors LP Information Session
Thursday, March 30 | 5:30pm - 6:30pm
TBD
Learn more
 
Veterinary Medical Admissions Virtual Fair
Thursday, March 30 | 12:00pm noon – 5:00pm
Learn more
 
Bain & Company, Inc. Information Session
Thursday, March 30 | 7:00pm – 9:00pm
The Blake Hotel
Register here
 
Yale Career Panels: A Candid View of the Medical Profession
Thursday, March 30 | 4:30pm – 5:30pm
Register here
 
How to Write a Medical School Personal Statement
Thursday, March 30 | 5:00pm – 6:00pm
CTL 120B
Learn more
 
Demystifying the Internship & Fellowship Process at Department of State
Friday, March 31 | 12:30pm – 1:30pm
Office of Career Strategy, 55 Whitney Ave, 3rd floor Rm 369
Registration required
 
Small Group Advising Session: Seniors Seeking Nonprofit Jobs
Friday, March 31 | 11:00am – 12:00pm noon
Learn more
 
NYU Dentistry DDS Open House
Saturday, April 1 | 9:00am – 12:00pm noon
NYU College of Dentistry Septodont Auditorium 
345 E 24th Street 1st floor New York, NY 10010
 
Red Sox Sports & Entertainment Career Fair
Tuesday, April 4 | 12:00pm noon – 4:00pm
The 521 Overlook, inside Fenway Park
Learn more
 
Ivy+ Just in Time Virtual Career Fair
Tuesday, April 18 | 1:00pm – 4:00pm
Learn more