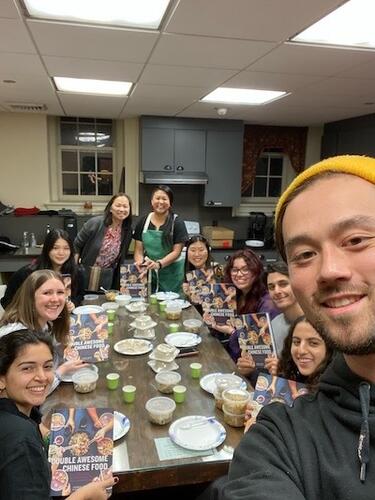 TIMOTHY DWIGHT NOTES & NEWS
WEEK OF 2/27/2023
HL'S PIECES
Dear Red Lions,
We have had some terrific teas this month including digital mapmaker and journalist, Aaron Reiss, and chef and food entrepreneur, Irene Li.  Here is our "photo of the week" with Irene in our TD student kitchen for her dumpling workshop. Look for a future TD buttery special featuring Irene's dumplings!
Don't forget… this is "Take Your Professor Out to Dinner" week at the TD Dining Hall.  So feel free to invite a professor out to dinner on the college.  Off-campus students not on the meal plan may also dine for free when they invite a professor out to dinner.  To help with traffic flow we ask that you pre-register at this Google Form.When you arrive at the dining hall we ask that you sign in again with your professor at the desk so that we have an accurate log of all the professors and students who dined together this week.
Monday 2/27 11:59pm "Book of Mormon" lottery registration deadline
Last call to enter the lottery to see the Book of Mormon this evening 8pm on Friday 3/3 at the Shubert Theater in downtown New Haven.  We'll announce the winners on Tuesday.
Tuesday 2/28 5:15-7:15pm TD Mellon Forum (TD House)
We are featuring 4 presentations this week by Luis Gonzalez, Max Moen, Emmy James, and Jason Lee. We will be starting 15 minutes earlier for dinner.  Presentations will start at 5:45pm.
Tuesday 2/28 9pm Plant-based Chicken Tenders Pop Up (TD Buttery)
The TD Buttery is teaming up with TD Sustainability to present a new menu item, plant-based chicken tenders!  TD Sustainability is offering FREE tenders to the first 50 people to order them.  So come on down and give them a try!
Friday 3/3 4-5:30pm TD Knitting/Crocheting Club (TD House)
Because of the start of spring break next week, we have decided to do  our next meeting this Friday.  So come on by to keep working or start a new project.  Suxiao Yang, crocheter extraordinaire will be back.  To check out some of her work go to her Instagram page @suemadeworld.  Tasty snacks as usual!
Without further ado, here is a word from Dean Mahurin…
Àshe,
HL
***
The Cave
Paul Tran
 
Someone standing at the mouth had
the idea to enter. To go further
 
than light or language could
go. As they followed
the idea, light and language followed
 
like two wolves—panting, hearing themselves
panting. A shapeless scent
in the damp air …
 
Keep going, the idea said.
 
Someone kept going. Deeper and deeper, they saw
others had been there. Others had left
 
objects that couldn't have found their way
there alone. Ocher-stained shells. Bird bones. Grounded
hematite. On the walls,
 
as if stepping into history, someone saw
their purpose: cows. Bulls. Bison. Deer. Horses—
some pregnant, some slaughtered.
 
The wild-
life seemed wild and alive, moving
 
when someone moved, casting their shadows
on the shadows stretching
in every direction. Keep going,
 
the idea said again. Go …
 
Someone continued. They followed the idea so far inside that
outside was another idea.
 
DATES AND DEADLINES
 

Mar. 1


 

W


 

Last day to withdraw from a course offered in the first half of the spring term.


 

Mar. 1


 

W


 

Last day to convert from a letter grade to Cr/D/F option for a course offered in the first half of the spring term.


 

Mar. 2


 

Th


 

Courses offered in the second half of the spring term begin.


 

Mar. 7


 

T


 

Deadline to apply for Non-Yale Summer Abroad, 1 p.m.


 
 
CENTER FOR LANGUAGE STUDY PROGRAMS
The Yale Center for Language Study is now accepting applications for fall semester study for its Fields Program and its Directed Independent Language Study (DILS) Program. The deadline for applying to either program for fall semester study is March 1st at 1:00pm. 

The Directed Independent Language Study (DILS) Program gives students the opportunity to study a language that is not currently taught in a Yale classroom. The Fields Program gives students the opportunity to pursue advanced-level language study within the context of their academic area of focus (generally in areas other literature if the language is taught at Yale, since advanced coursework in literature would likely be available).

Both are non-credit programs, open to all registered Yale students (undergraduate, graduate and professional). In each program, students work with a Language Partner—a native speaker of the target language (not a formal instructor)—in two 1-hour sessions for 12 weeks. The sessions aim to develop linguistic and cultural competence through active conversation and practice of what you are studying independently. With a limited number of slots available, a selection committee reviews all applications for their merit and appropriateness, and notifies students of its decisions within four to six weeks after the application deadline.

Details on each program and how to apply can be found at these links:
Directed Independent Language Study (DILS): 
https://cls.yale.edu/dils
Fields Program: 
https://cls.yale.edu/fields
 
LIBRARY WORKSHOPS
FIRST STEPS WITH ZOTERO | Online
Tuesday, February 28 at 8:00 pm |Register: https://schedule.yale.edu/event/10395074
Learn about Zotero, free software to help you manage your research, take notes, save and annotate PDFs, and generate a bibliography.
 
HOW TO FIND SCHOLARLY ARTICLES | Online
Wednesday, March 1 at 7:00 pm | Register: https://schedule.yale.edu/event/10385710
Are you ready to find articles thoroughly and efficiently - without relying on Google Scholar while also avoiding pesky paywalls? In 30 minutes, learn strategies to find the best possible scholarly sources from Yale Library's databases.
 
LIBRARY TOURS
 
ADVANCED SEARCH TECHNIQUES | Online
Sunday, March 5 at noon | Register: https://schedule.yale.edu/event/10401329
Learn how to research like a librarian, including how to use Advanced Search to find books and articles in Quicksearch. Join us to get a step ahead for coursework and research projects
SILVER SCHOLARS PROGRAM
The Silver Scholars Program at the Yale School of Management allows students to earn a Yale MBA degree within three years, directly after graduation, spring-boarding them toward their career goals and leadership positions. The program is designed for exceptional students with strong leadership potential. These students enroll in our full-time MBA program where they make up about 5% of the student body. Rather than the traditional summer MBA internship, Silver Scholars complete a year-long internship, extending their experience to three years.   
 
The admissions committee seeks applicants with a combination of intelligence, maturity, and curiosity who aim to be future leaders in their field of interest. Candidates from all majors are welcome to apply; we enjoy the diversity of interests and backgrounds that Silver Scholars bring to the broader MBA class at Yale SOM.
 
Yale College students receive a 50% tuition discount and an application fee waiver.  At this time only (Round 3, 2023: application deadline of April 11, 2023 for Fall 2023 start of the MBA program): students who have earned a 3.7 CGPA or above qualify for a GMAT/GRE waiver; that is, they do not need to submit any standardized test scores in order to apply to the Silver Scholars Program. 
 
If you would like to speak with an admissions representative about the Program or the application process, please reach out to maria.derlipanska@yale.edu.