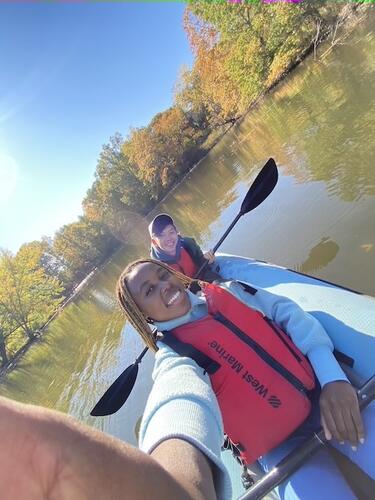 TIMOTHY DWIGHT NOTES & NEWS
WEEK OF 10/24/22
HL'S PIECES
Dear Red Lions,
Welcome back from Fall Break!  Our "photo of the week" is from TD Sophomores Alex Yu and Georgette Nyiraneza who sent this terrific photo from our TD kayaking trip on the Mill River this past Friday.  We were all very lucky to enjoy beautiful weather and colorful fall foliage. 
As we approach Halloween, I want to flag one exciting development – our SAC is working hard to finalize the TD Fall Formal for Friday November 4th.  So please save the date and more info should follow this week!
You'll see below that we have quite a few fun activities coming up at the end of this week going into Monday.  I know many of you are looking forward to the TD Escape New Havenevent for this week.  Unfortunately, we are experiencing a technical delay for getting our special signup page up and running.  As soon as Escape New Haven gets that worked out, I'll send out the link to TDland.  So stay tuned…
The TD Dining Hall staff asked me to convey their thanks for returning bowls and mugs to the TD Dining Hall.  Please keep the TD dishware coming back!
Here are some more important TD events and dates for the next two weeks:
10/26-10/31 TD week at Escape New Haven (103 Whitney Avenue)
We are continuing our wonderful collaboration with our neighbor, Escape New Haven, to offer a fun, creepy outing.  There will be 3 games to choose from this year – their classics, The Crypt and Moonrise, along with their newest game, Double-Cross, just unveiled this month.  This is a heavily subsidized outing so we ask TDers to pay $5 per person to reserve their spot.  Because we have such a limited number of spots, this is for TD students only.  If anyone requires financial support, please reach out to me.  The sign up link will be forthcoming!
Friday 10/28 3-5pm Pumpkin Carving (TD Upper Courtyard) 
Look for cider, donuts, and lots and lots of pumpkins.  We'll have big ones to carve or smaller ones to paint.  We usually display all of the creations in the TD courtyard over the Halloween weekend and then you're free to take it back to your room.  
Saturday 10/29 1-4pm Mott Woolley Apple Picking Trip to Lyman Orchards (Meet in TD Courtyard)
Come dressed in your Halloween costume to go apple picking at Lyman Orchards, one of Connecticut's oldest and biggest family-owned orchards.  There will be apples galore as well as a corn maze.  Mott will be awarding prizes for the best costumes.  If you are a baker, make sure to reserve the TD student kitchen over the weekend to bake up treats – pies, crumbles, muffins, etc.  Please sign up at this link if you plan to attend.
Sunday 10/30 9-11pm Buttery Spooktacular (TD Buttery)
Come one, come all, witches, werewolves, and other wicked creatures of the night! If you're in the mood for a scary good treat come join us for a night of mystery and magic in the TD buttery for our spooktacular Halloween special featuring BOOberry hand pies and witches' brew. We look forward to seeing you there…or else…
Monday 10/31 Halloween Dinner (TD Dining Hall)
Join the TD Dining Hall Staff for a fun evening of tricks and treats!  Who knows what creepy fun and delicious treats might pop up from the woodwork…. Come dressed up or not… a fun night awaits!
Wednesday 11/2 4:30pm Tea with Vera Kwakolfi, Senior News Editor for BBC Africa (TD House)
Meet Vera Kwakolfi, and learn about her work as Senior News Editor for BBC Africaand is responsible for the BBC's International TV Operations in Africa.  She leads teams of journalists based across Africa and in the UK who produce the multi-award-winning Africa Eye Investigations, Business, Health, Sprot, Women, News Analysis and Factual and Youth content for Africa in English, French, and Swahili.  We'll get to see clips of her and work and hear about her experiences becoming an award-winning journalist for the largest news organization in the globe.  This tea will feature delicious treats from Lalibela Ethiopian Restaurant in New Haven.  
Thursday 11/3 8pm TD Sustainability Movie Night (TD Common Room)
Join TD Sustainability for a movie night in the TD Common Room Thursday 11/3 at 8 pm. Visit @sustainabili_td on Instagram to vote on the movie: The Lorax or Bee Movie! Come by for a study break. We'll have popcorn and tea.  Please bring your own mug!
Without further ado, here is a word from Dean Mahurin…
Àshe,
HL
***
​I don't know quite what has happened
Or that anything has,
Hoping only that 
The irrelevancies one thinks of
When trying to pray
Are the prayer,
And that I have got by my own
Means to the hovering place
(from James Dickey's "Approaching Prayer")
 
DATES AND DEADLINES
 
Oct. 28


 

F


 

Midterm.


 

Oct. 28


 

F


 

Last day to withdraw from a fall full-term course without the course appearing on the transcript.


 

Oct. 28


 

F


 

Deadline to apply for double credit in a single-credit course.


 

Oct. 28


 

F


 

Withdrawal from Yale College on or before this date entitles a student to a rebate of one-quarter of the term's tuition.


 
SILVER SCHOLARS PROGRAM AT SOM
 
The Silver Scholars Program at the Yale School of Management allows students to earn a Yale MBA degree within three years, directly after graduation, spring-boarding them toward their career goals and leadership positions. The program is designed for exceptional students with strong leadership potential.  These students enroll in our full-time MBA program where they make up about 5% of the student body. Rather than the traditional summer MBA internship, Silver Scholars complete a year-long internship, extending their experience to three years.  All Yale College students receive a 50% tuition discount and an application fee waiver.
 
The admissions committee seeks applicants with a combination of intelligence, maturity, and curiosity who aim to be future leaders in their field of interest. Candidates from all majors are welcome to apply; we enjoy the diversity of interests and backgrounds that Silver Scholars bring to the broader MBA class at Yale SOM.
 
If you would like to speak with an admissions representative, please email maria.derlipanska@yale.edu to schedule an appointment.
VOLUNTEERS NEEDED AT A NEW HAVEN PUBLIC SCHOOL
Truman School
Thursdays 2:30-5:30
114 Truman Street 
 
Located in the Hill neighborhood of New Haven, Truman School serves 485 students in grades K-8. Over 80% of students are low income and many are new to New Haven and learning English as a second language. We are seeking 10-15 Yale students willing to make a full year commitment to tutoring and mentoring a Truman student.  Training will be provided by Big Bothers Big Sisters and transportation to and from the school will be provided by Dwight Hall.  The enrollment process for volunteers includes an application, a brief informational interview, and a zoom training. Apply now if you would like to join a deeply committed group of educators and help these students succeed! The program begins at the end of October.
 
Questions?  Reach out to sophia.deoliveira@yale.edu. 
ACADEMIC STRATEGIES PROGRAMMING
Individual Mentoring—Online schedule now available!
Get organized for the semester by meeting with an Academic Strategies Mentor. Mentors will help you develop a weekly study routine, offer strategies for approaching complicated readings and p-sets, and help you develop a plan for prepping for those first exams. Our online mentoring schedule is available here: ASP Mentor Individual Consultations. You can also request a mentor by emailing us at academicstrategies@yale.edu.  
 
STEM Navigators: Want to learn the best practices for succeeding in introductory STEM Courses? Join STEM Navigators, an Academic Strategies mentoring network that provides you with information, events, and support to guide you through these crucial first courses. Sign up via this link: STEM Navigators sign up 
 
Disability Peer Mentor Program 
A collaboration between Academic Strategies and Disability Empowerment at Yale, this program matches students with disabilities with peer mentors who have similar experiences navigating academic life at Yale for individual mentoring. Students can request a mentor via this form: Disability Peer Mentor Request. First-year students can also request mentorship and guidance about Student Accessibility Resources through the SAS Peer Liaison Program. 
 
ADHD Discussion Groups
Monthly on Tuesdays, 4-5 pm starting Nov. 1.
Come share strategies and get support at you navigate Yale with ADHD Groups forming soon! To sign up click here.
 
Meet with our Learning Specialist 
Have a learning difference or other condition that affects how you accomplish your academic work? We can talk with you about new approaches for meeting Yale's academic challenges. Contact Academic Strategies Learning Specialist Carol Morse (carol.morse@yale.edu) for an appointment. 
 
Assistive Tech Mentors: Drop-in Hours
Mondays, 5-6 pm, Poorvu Center M104A
Want to learn how to use apps for organizing, text to speech, or task management to help you get your academic work done efficiently and effectively? Meet with one of our Assistive Tech mentors to explore how assistive technologies might be helpful to you.
 
Senior Thesis Power Hours
Need to get that senior thesis started? Use our dedicated Senior Thesis Power Hours to motivate your work. For more information, fill out this form: ASP Senior Thesis Support.
 
Academic Strategies 1-1 Consultations for Student Athletes
Meet with Dr. Karin Gosselink for an individual consultation on Wednesdays from 11 am – 1 pm. Check in in about coursework, exam prep, motivation, time mangement, and anything else related to thriving as a student-athlete at Yale. Sign up for a 30 minute slot via this Calendly link: Student Athlete Academic Strategies consultations.
GLOBAL HEALTH STUDIES INFORMATION SESSION
The Global Health Studies Program is hosting an information session on Wednesday, November 2, from 12-1:15 pm, in the Hopper College's The Parlor (a beautiful, private room off the common room, connecting to Hopper's Dining Hall). The information session is open to Yale undergraduates interested in global health.  This year's applications for the Program open on October 26th and close November 20th.  Feel free to drop in between classes to learn more about the Program, hear from our current Global Health Scholars, and ask questions about the Program.  Pre-registration for the information session is not required.