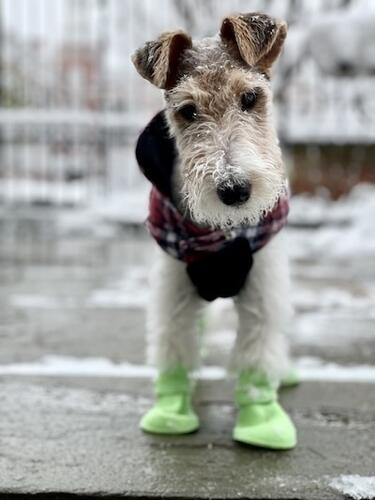 TIMOTHY DWIGHT NOTES & NEWS
WEEK OF 3/6/2023
HL'S PIECES
Dear Red Lions,
We are almost at spring break so this is the last big push through midterm papers and exams until we get there!
If you are in need of a puppy break, I am happy to introduce you to Mingming, the latest addition to the Lui/Balbarin family and TD Community.  She is just over 3 months old and finished her last set of shots so she is finally ready to meet the TD community.  If you want to meet Mingming, come around lunch time and you will likely see her on our patio.  Here she is as our "photo of the week" wearing some stylish lime-green booties.
With spring break around the corner, we will be very light in programming this week.   
Tuesday 3/7 5:30-7pm TD Mellon Forum (TD House)
This week's presentations feature Senior Lions Cindy Kuang, Lila Selin, and Katrina Starbird.  
Tuesday 3/7 8-10pm Early Pi Day Special (TD Buttery)
Happy (Early) Pi Day!!!  The TD Buttery couldn't let spring break get in the way of our wonderful Pi/Pie Day tradition, so they will be serving up pies in the TD Buttery a week early.  Stop by for a slice!
I heard from several TDers that they were not able to invite a professor to dinner last week because of midterms.  So we plan to do "Invite Your Professor to Dinner" week again for the week of 4/17.  So if you did not manage to invite a professor, please do!  
Speaking of post-break, we have a lot of great events coming up… here are a few:
Tuesday 3/28 TD Sophomore Advising/Mentoring with TD Graduate Affiliates 
Wednesday 3/29 TD Sophomore Dinner at the Luke in Downton New Haven
Saturday 4/1 Mott Woolley's Annual Paintball Trip 
More information will be forthcoming.  For now, just save the dates!
Please note that the TD offices will have very limited hours over Spring Break.  TD Operations Manager, Samantha Moore, will send out a separate note listing the hours of operation.  So if you do have urgent business with either the Dean or HoC offices, please try to visit our offices this week.  
Without further ado, here is a word from Dean Mahurin…
Àshe,
HL
***
"Sadly, my night stand is where books go to die. When I've read 20 percent of a book and mean to finish it but get derailed, I keep it there as, I guess, a reminder of failure and mortality." (Rebecca Makkai)
DATES AND DEADLINES
Mar. 7


 

T


 

Deadline to apply for Non-Yale Summer Abroad, 1 p.m.


 

Mar. 10


 

F


 

Midterm.


 

Mar. 10


 

F


 

Spring recess begins, 5:30 p.m.


 

Mar. 10


 

F


 

Last day to withdraw from a spring full-term course without the course appearing on the transcript.


 

Mar. 10


 

F


 

Deadline to apply for double credit in a single-credit course.


 

Mar. 10


 

F


 

Withdrawal from Yale College on or before this date entitles a student to a rebate of one-quarter of the term's tuition (Undergraduate Regulations).


 

Mar. 27


 

M


 

Classes resume, 8:20 a.m.


 

Apr. 4


 

T


 

Deadline to apply for a fall-term 2023 Term Abroad or a 2023–2024 Year Abroad, 1 p.m.


 
MIDTERM: MARCH 10
An important pre-break reminder (also above but worth emphasizing): this Friday at 5pm is the deadline to withdraw from a course without a W on your record.  You can access the course change from here!: https://registrar.yale.edu/forms-petitions.