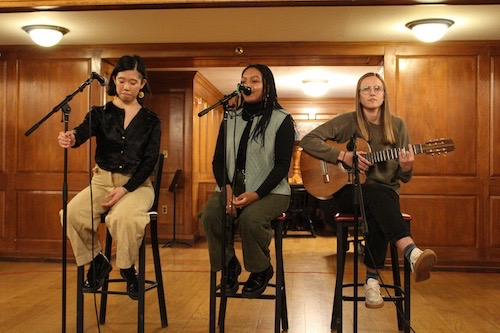 TIMOTHY DWIGHT NOTES & NEWS
WEEK OF 2/6/2023
HL'S PIECES
Dear Red Lions,
We had another terrific TD Community Night last Tuesday evening as seen by this week's "photo of the week" from TD Photography Aide Demi Lee!  From left to right we have super seniors Isa Zhou, Sophia Hall, and Lucie Warga.
A true TD Community Night, we had all four classes represented down to our littlest kids in the college!  Many thanks to Jai Chadha TD '24 and Shubh Gupta TD '26 for stepping up to be our emcees for the evening.  For more photos of our amazing TD performers please go this link.
And if anyone is inspire by these performances to get involved with the TD Recording Studio, please email our student recording engineers – Eric and Gabby – at eric.jimenez@yale.edu and gabby.montuori@yale.edu.  You can also drop by their office hours at the Recording Studio under entryway D:
Eric – Tuesdays 3-5pm
Gabby – Fridays 4-6pm
If your talents are more in the visual art realm, our Mott Woolley Student Council is looking for student artists to create new designs for TD Merch.  For more information or to sign up, please go to this Google Form and upload your ideas.  Or you can reach out to Mott President Emily Zhang at Emily.x.zhang@yale.edu.
Here are some important upcoming dates and events for TD: 
Tuesday 2/7/2023 5:30-7pm TD Mellon Forum resumes (TD House)
We are excited to resume our fabulous Mellon forum presentations and dinners featuring the amazing capstones of our TD Seniors.  We will release the presentation schedule closer to the date.
Tuesday 2/13 8:30-11pm TD Valentine's Day Ice Skating Trip (Ralph Walker Rink)
Last call to sign up for skating! The form closes tonight (Monday 2/6) at 11:59pm.  We'll announce the lottery results by 5pm on Thursday 2/9. 
Friday 2/10 TD 4-5:30pm Knitting/Crocheting Club Meeting (TD House)
Our first meeting of the semester!  Our survey had 40 responses of new and experienced knitters/crocheters.  All are welcome but we are reserving the needles and yarn for the beginners and then experienced folks can help themselves.  Experienced folks can also help out by bringing projects in progress or just stop by to help with the newbies.  Light refreshments provided.
Wednesday 2/15 4:30pm Tea with Filmmaker/Writer Curtis Chin (TD House)
Curtis Chinis the co-founder of the Asian American Writer's Workshop in New York City and award-winning writer for television before transitioning to work on social justice documentaries.  He will be here to screen and talk about his new movie,Dear Corky, focusing on the life and work of legendary New York City Chinatown photographer Corky Lee.  This event is co-sponsored by the Asian American Cultural Center (AACC) and a post-tea dinner will be organized by the AACC. 
Wednesday 2/15 11:59pm Deadline for TD Aides Applications 
Interested in working on the amazing TD Aides team and joining the behind the scenes fun?  Aides support the TD offices as well as our special spaces across the college: art studio, gym, kitchen, and more.  Fill out the Aides application and learn about the work our student aides do to support our wonderful community.
Without further ado, here is a word from Dean Mahurin…
Àshe,
HL
***
The Death of the Bee
Linda Pastan
 
The biography of the bee
is written in honey
and is drawing
to a close.
 
Soon the buzzing
plainchant of summer
will be silenced
for good;
 
the flowers, unkindled
will blaze
one last time
and go out.
 
And the boy nursing
his stung ankle this morning
will look back
at his brief tears
 
with something
like regret,
remembering the amber
taste of honey.
 
 
 
DATES AND DEADLINES
 
Feb. 7


 

T


 

Last day to withdraw from a course offered in the first half of the spring term without the course appearing on the transcript.


 

Feb. 7


 

T


 

Deadline to apply for Yale Summer Session Programs abroad, 1 p.m.


 

Feb. 10


 

F


 

Withdrawal from Yale College on or before this date entitles a student to a rebate of one-half of spring-term tuition (Undergraduate Regulations).


 

Mar. 1


 

W


 

Last day to withdraw from a course offered in the first half of the spring term.


 

Mar. 1


 

W


 

Last day to convert from a letter grade to Cr/D/F option for a course offered in the first half of the spring term.


 

Mar. 2


 

Th


 

Courses offered in the second half of the spring term begin.


 

Mar. 7


 

T


 

Deadline to apply for Non-Yale Summer Abroad, 1 p.m.


 
 
LIBRARY WORKSHOPS
FIRST STEPS WITH ZOTERO | Online
Learn about Zotero, free software to help you manage your research, take notes, save and annotate PDFs, and generate a bibliography.
 
HEIDI THE THERAPY DOG | Marx Library
Take a break with Heidi the therapy dog!
 
HOW TO FIND SCHOLARLY ARTICLES | Online
Are you ready to find articles thoroughly and efficiently - without relying on Google Scholar while also avoiding pesky paywalls? In 30 minutes, learn strategies to find the best possible scholarly sources from Yale Library's databases, including Quicksearch Articles+ and subject-specific databases.
 
ADVANCED SEARCH TECHNIQUES | Online
Learn how to research like a librarian, including how to use Advanced Search to find books and articles in Quicksearch. Join us to get a step ahead for coursework and research projects!
STUDY ABROAD
Yale Summer Session Abroad or Non-Yale Summer Abroad - What's the Difference?
Yale Summer Session Programs Abroad are intensive, highly structured study abroad programs for Yale College credit. A full semester of coursework is condensed into the program length. Students benefit from the same level of rigorous coursework offered at Yale during the academic year. Through excursions and activities, students gain hands-on experience that amplifies the classroom learning.

A 

non-Yale summer study abroad program is a program for academic credit run by another university or other study abroad program provider that you can attend during any one of your three summers while enrolled at Yale. After successful completion of a program of this type, you'd earn transfer credit towards your Yale degree.
You can find both Yale Summer Session Programs Abroad and Non-Yale Summer Abroad programs on our designated list using the Search Programs tool. Both types are ISA-eligible!
Yale Summer Session Programs Abroad 2023 – Deadline: Tuesday, February 7 @ 1:00 p.m. (Eastern) 
Application for Credit and Petitions for Non-Yale Summer Abroad 2023 – Deadline: Tuesday, March 7 @ 1:00 p.m. (Eastern) 
Academic Year 2023-24 or Fall Term 2023 Abroad – Deadline: Tuesday, April 4 @ 1:00 p.m. (Eastern) 
SAS HOUSING ACCOMODATIONS
The deadline to apply for SAS housing accommodations is February 15th.  If you are requesting housing accommodations for the 2023-2024 academic year, please contact Student Accessibility Services (SAS) following the steps below as soon as possible. The deadline for housing accommodation requests is February 15, 2023 (including a completed SAS housing form from your treatment provider). 
Steps to request housing accommodations for next year:
1.       Complete an SAS accommodation request form in the Accommodate system.
2.       Have your current provider that you have been working with this year complete the SAS housing form and return it via email to sas@yale.edu or secure fax at (203) 432-8250. Be sure to allow enough time for your provider to complete the form by the February 15 deadline.  
3.       Schedule an appointment with SAS.
 
Please contact SAS with any questions at sas@yale.edu.
YALE-CHINA FELLOWSHIPS
Apply now to the Yale-China Fellowship, a 114-year-old tradition that places recent Yale graduates at one of three teaching sites in mainland China and Hong Kong. While there, they live as members of the local community, teach English, and lead a variety of extracurricular and service activities. As a former Fellow, I cannot overstate how rewarding an experience the Fellowship is.
For more information, including full details on the application process, descriptions of each teaching site, and dates of information sessions, visit http://www.yalechina.org/ycf, reach out to a current Fellow if you already know one, or email education@yalechina.org. Applications are due March 6th.
OFFICE OF CAREER STRATEGY SESSIONS
What is Podiatric Medicine?
Tuesday, February 7 | 5:00pm – 6:00pm
Learn more
 
2023 Virtual All Ivy Environmental & Sustainable Development Career Fair
Friday, February 10 | 10:00am – 3:00pm 
Learn more and register
 
Info Session with Asian University for Women - Teaching Fellows Program
Friday, February 10 | 12:00pm noon – 1:00pm
Office of Career Strategy, 55 Whitney Ave, 3rd floor
Learn more
 
Coffee Chats with Asian University for Women - Teaching Fellows Program
Friday, February 10 | 2:00pm – 4:00pm
Office of Career Strategy, 55 Whitney Ave, 3rd floor
Learn more
 
West Coast Vascular and Interventional Society Virtual Symposium
Saturday, February 11 & Sunday, February 12 | 11:00am – 9:00pm
Learn more
 
Morgan Stanley Information Session
Wednesday, February 15 | 12:30pm – 1:30pm
Location TBD
Learn more
 
Morgan Stanley Networking Reception
Wednesday, February 15 | 7:00pm – 8:30pm
Location TBD
Learn more
 
The Russo Group of Northwestern Mutual Coffee Chat
Thursday, February 16 | 2:00pm – 4:00pm
Learn more
 
Government, Education & Non-profit Career Fair
Friday, February 17 | 10:00am – 3:00pm
Register here (registration required)