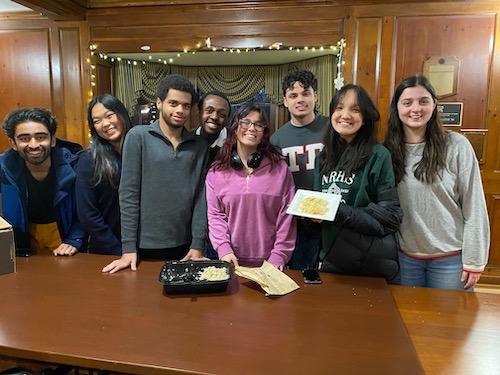 TIMOTHY DWIGHT NOTES & NEWS
WEEK OF 12/19/22
HL'S PIECES
Dear Red Lions,
Now that the World Cup is truly over we can all get back to concentrating on finishing out the Fall 2022 semester.  The last exam wraps up this Wednesday and then the college closes on Thursday for the long winter break.  
We still have two more nights of 10pm pizza deliveries – tonight and tomorrow –coming from Town Pizza to get you through these last couple of days of studying.  Our "photo of the week" features our wonderful TD SAC under the new leadership of Jhon Escobar '24 and Kennedy Wolf '25 who organized a great series of study breaks during the Reading Week.  Thank you all for your hardwork!
Of course, our TD finals traditions continue… TD Puzzle completed!
Ten Minute Courtyard Dance Party lives on…
And it looks like a new tradition might be born thanks to Suxiao Yang who taught about a dozen TDers how to knit or crochet.  Look for us to start up a knit/crochet club that will meet on Friday afternoons next semester!
And when you feel recharged 

and

 ready to look ahead to the 2023 spring semester, please take a look at some of our special TD fellowships reserved only for our students in the college.  The applications will go live in the Yale Grants and Fellowships database beginning in mid-January. 
Senior lions, please note that you are not eligible to apply for the TD summer fellowships.  However, we still have TD Mellon funds available for senior thesis research.  If you have any questions please do not hesitate to shoot me an email at mary.lui@yale.edu or make an appointment for when we return to campus in January.
Creative and Performing Arts Awards in the Residential Colleges 
With spring comes another round of CPA applications!  The CPA supports on-campus dramatic, musical, dance, video or film productions, literary publications, and exhibitions in each of Yale's Residential Colleges.  For guidelines, please go to the CPA site.  The online application goes live on 1/9/2022 and closes on Monday 1/23/2022 at 11:59pm.  All applicants should meet with me when we're back in January to talk over your projects before submitting an application.  
These next three summer fellowships open for applications in mid-January.  TD students may apply for more than one of these fellowships as long as their summer plans fit the fellowship's guidelines.  
Timothy Dwight College Bergin Fellowship
Established in honor of Thomas Bergin, former head of TD, the fellowship may be awarded to a TD student for a summer experience that may include a summer course, an internship, or a work experience at Yale or beyond.  
Timothy Dwight Richter Summer Fellowship
Intended solely for the purposes of independent study and research, the Richter fellowship requires applicants to have a clear research agenda that goes beyond mere travel or summer course work.  Creative Projects and group research projects may be funded.  
Timothy Dwight Chubb Student Fellowship
This fellowship extends the work of the original 1941 gift by Hendon Chubb to encourage and support "students interested in government and public affairs."   To reflect the ways in which the Chubb Fellowship has honored leaders in the arts, humanities, and sciences, the Chubb Fellowship may fund TD students engaged in public service or leadership development in any professional field.  However, government and public affairs will continue to take priority.  
This concludes our last Notes and News of the Fall 2022 semester.  We wish each of you a successful finals period and safe travels and a joyous holiday celebrations with dear friends and family!  Take every opportunity to reconnect, eat a lot, sleep, exercise, and take some time to reflect on this semester. 
We can't wait to welcome you back to the courtyard and start off 2023 together!
Àshe,
 
HL & Dean