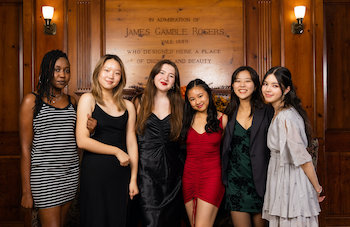 TIMOTHY DWIGHT NOTES & NEWS
WEEK OF 11/7/22
HL'S PIECES
Dear Red Lions,
Despite the deceptively warm weather, we are well into November!  Hopefully, many of you were able to enjoy the TD SAC Formal.  Congratulations to our TD SAC presidents, Eve Chinea TD '24 and Jhon Escobar TD '24, and their SAC team for their hard work to create our first off-campus TD formal in almost 3 years!  
Our "Photo of the Week" features a cluster of group portraits taken at our TD Photo Pop Up studio by Isabel Chenoweth.  These photos are free to download from her website. You just need to type in the password, "22TDCFormal," to access the pictures.  You may also purchase prints by using the shopping cart.  
 
As we head towards the Thanksgiving Break, please note these important announcements…
First, if anyone is in need of housing with our Harvard sister college, Leverett House, please go here and fill out this 1 minute poll by this Wednesday evening at 11:59pm. As the form states, these are spartan accommodations… basically a floor for sleeping and the promise of pizza the night before… but there is a roof over your head! 
For anyone staying in New Haven for the Thanksgiving break please note that the TD Dining Hall will be closed after dinner on Friday 11/18 and not reopen until the following Sunday 11/27.  Instead, BF and MY dining halls will be open until Wednesday 11/23 for anyone who is on the meal plan and then close for the Thanksgiving holiday weekend. 
On Thanksgiving – Thursday, 11/24 – all Yale College students who are staying on campus for the break in the 14 colleges are welcome to join the Thanksgiving dinner hosted at the Omni hotel from 12pm to 3pm.  If you plan to be here for Thanksgiving, please sign up here so that we can get an accurate head count for the Omni.
Dr. B and I plan to host a dessert bar with board games later in the afternoon so stay tuned for those plans.
Some of you may have heard a rumor that I will be participating in a standup set on Sunday 12/11 at SSS 114 in support of Comic Relief, a comedian-founded charity in England that fights poverty.  I am here to confirm that I am indeed participating along with several other HoCs.  The comedy writing team behind the hilarious TD Political Roundtable – composed of Sophomore Lions Alex Bavalsky, Isaac Moskowitz, Krupa Subramaniam, and Emily Zhang – have signed on to take on the challenge of making me funny.  If you would like to support this event, go here for tickets.  In the meantime, the Political Roundtable will be making their campus debut in the JE Theater on 11/11 and 11/12!!! 
We have, unfortunately, had to postpone our tea with journalist Aaron Reiss because of illness.  We hope to host Aaron next year so stay tuned.
Here are some wonderful events for the next two weeks:
Saturday 11/12 TD Football Tailgate Brunch (TD Dining Hall)
This weekend is the big game against Princeton and then the following will be Harvard-Yale!  To get us all in the spirit of these big games TD is hosting its signature football tailgate in the Dining Hall.  There will be an amazing menu of assorted egg sandwiches to go, footlong hot dogs, bagels and lox, hot apple cider, and more!  Family protocol is in effect and off-campus TDers are welcome to eat for free! 
Monday 11/14 5:30pm First TD Senior Mellon Forum (TD House)
We are excited to launch this year's series with the class of 2023.  Expect a delicious catered dinner with wine and beer along with three fabulous presentations!  Dinner begins at 5:30pm and presentations will start promptly at 6pm.  Please note this is for TD seniors only.  
Tuesday 11/15 7-9pm Beaded Friendship Bracelets Workshop (TD Art Studio)
Need a break from classes? Want to make some DIY friendship bracelets with your TD besties? Join the Art Studio Aides Alex and Naomi for a bead workshop and astound yourself and others with the beautiful jewelry you will make.  All bracelet-making materials will be provided, including clay beads, letter beads, and elastic thread.  No sign-up necessary.  We can't wait to see what you make!! 
 
Wednesday 11/16 11am-1pm TD Volunteers at Downtown Evening Soup Kitchen (DESK, 311 Temple Street)
For 30 years, DESK, located across the street from TD, has partnered with other New Haven groups and Yale Hospitality to deliver meals to people in need on Thanksgiving morning.  DESK can use TD's help to receive and process food shipments next week as they prepare for food deliveries to local clients.  Volunteer work will include unloading grocery shipments and sorting and packing.  Please go to this form to sign up if you are interested in volunteering with other TDers.
Without further ado, here is a word from Dean Mahurin…
Àshe,
HL
***
My Dad Says
Naomi Ayala
 
I can do anything, so I try yoga nidra
to see if I can find him.
He's been dead four years now
though I tell people when they ask, two. Just two.
My mind refuses what it wants
even if I haven't lost anything.
One day I caw like a seagull
swooping in for a long dive.
Another, I am hunger waking up the bear.
Today I go to the trees to listen
and he is an old cedar, but sweeter than that.
When I was a girl, I knew I'd never be a girl exactly.
He was the only one who knew it
and let me run wild, would never tell the others.
 
 
DATES AND DEADLINES
 
 
Nov. 10


 

Th


 

Last day to withdraw from a fall second half-term course without the course appearing on the transcript.


 

Nov. 14


 

M


 

Registration for spring 2023 opens for Class of 2023, 8:30 a.m.


 

Nov. 15


 

T


 

Registration for spring 2023 opens for Class of 2024, visiting students, and Eli Whitney students (without a class year), 8:30 a.m.


 

Nov. 16


 

W


 

Registration for spring 2023 opens for Class of 2025, 8:30 a.m.


 

Nov. 17


 

Th


 

Registration for spring 2023 opens for Class of 2026, 8:30 a.m.


 

Nov. 18


 

F


 

November recess begins after last class.


 

Nov. 28


 

M


 

Classes resume; 8:20 a.m.


 
LIMAN SUMMER FELLOWSHIP
From 7:00-8:30pm on Monday, November 14th in the Davenport College Common Room, the Arthur Liman Center for Public Interest Law at Yale Law School is hosting an information session about our Liman Summer Fellowship: a program through which Yale College students are eligible for summer funding while interning with a non-profit organization of their choice. This info session will be a chance for students to learn more about the program and application process, and to hear from former Liman Summer Fellows who will share about their experiences.   Please reach out with any questions to jennifer.taylor@yale.edu!
 
 
CAREER SERVICES EVENTS
STEM Job and Internship Fair
Wednesday, November 9 | 11:00am – 3:00pm
Learn more
Poynter – Jennifer Homans: Mr. B: George Balanchine's 20th Century: Jennifer Homans in conversation with Emily Coates and Brian Seibert 
Trumbull Head of College House
Wednesday, November 9 | 4:00pm
Learn more
 
Distrust and Disparities in Healthcare: Unraveling the Complexities
Wednesday, November 9 | 4:00pm – 5:30pm
Learn more
 
Boston Based Graduate Schools for Health Professions Admissions Panel
Wednesday, November 9 | 6:00pm – 7:00pm
Learn more
 
Forte: Financing Your MBA 
Wednesday, November 9 | 12:00pm noon – 1:00pm
Learn more
LIBRARY WORKSHOPS
Essential Library Research Skills – multiple dates!
A great introduction to navigating Yale Library resources. In this 30-minute workshop, learn how to find material to use in your courses, research, and for fun! 
How to Find Scholarly Articles – multiple dates!
Learn how to find scholarly articles for your upcoming research papers, including how to develop effective keywords, using Quickseach to find articles and databases, and how to request articles via Interlibrary Loan.
 
Reading Strategies for Writing Papers
Tuesday, November 8 at 1:00pm | Register: https://schedule.yale.edu/event/9486824
Doing original research can feel overwhelming, especially when you need to read a lot of scholarly texts to prepare to write a paper. Join us for 45-minutes to learn strategies to tackle scholarly texts efficiently. 
 
Latte with a Librarian
Wednesday, November 9 from 1-2:30pm | More info: https://schedule.yale.edu/event/9487366
Meet with a librarian in Thain Cafe (outside of Bass Library) for a drop-in research consultation. Any student who asks a library or research-related question will receive a FREE Yale Library mug!