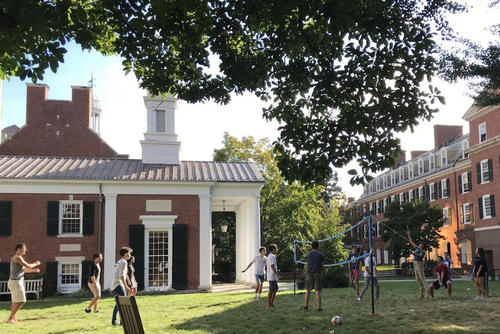 Dear Red Lions,
Today is the start of the new Intramurals season so let's win back the Tyng Cup back for TD!!!  To get you all in the spirit of IMs, this week's "photo of the week" is from Sophie Hall '22 and captures Sunday's courtyard volleyball game! 
First up, we have an afternoon soccer game against Franklin!  
Meet the IM Secretaries in the TD courtyard at 4:45 to walk over to the buses to get to our 5:15 game in the Yale Fields.  Also, tonight is our first ping pong game against Saybrook!  Please meet in the Buttery at 7:40pm for our 8pm game.  [It's unfortunately, the same time as Community Night, but vanquish our challengers quickly and you can come back in time for pizza and the 2nd half!]  IM Football season starts on Thursday.  And please click on these links for the schedules to football, soccer, and ping pong.
As shopping period winds down, the TD student committees will start their work for the year.  If you are interested in getting involved, here are two major committees:
Mott Woolley Council (Mott) is the Student Council of TD.  They will be holding new elections next week and need new representatives for the class of 2023.  If you would like to run, please submit a statement (maximum 300 words) by 6pm this Friday, September 14th via email to Grace Bartlett '21, current Mott president, at grace.bartlett@yale.edu.  Your statement should include your past experiences and qualifications as well as your ideas for project to take up on the Mott Woolley council. 
The Student Activities Committee (SAC) meets every Monday evening in the TD Common Room at 10:23pm.  They will meet directly after the end of Community Night.  Please stop by to help with organizing wonderful events for the community such as this semester's Fall Formal!
Our underground spaces are coming back online!  Many thanks to TD Buttery managers Michael Ai '20 (middle) and Allie Olson '21for creating a great taco night special!  Look for their full re-opening this week for the usual, Sunday to Thursday late night Buttery hours. 
The art studio aides are getting the studio up and running.  For anyone who has signed up in the HoC office for art studio access, please note that you must attend a studio orientation in order to get swipe access to the art studio.  Just come to drop-in studio hours to get oriented:
 Kat Melnyk: Friday, 6-8 PM
Antalique Tran: Saturday, 6-8 PM
Zi Lin: Sunday, 3-5 PM
Here are some more important TD events for the next two weeks:
Monday 9/9 8pm Community Night (TD Dining Hall)
Get ready for another amazing evening of TD performances!!!  This is our biggest sign-ups yet so be prepared for an exciting night of music, poetry, magic, theater, and even jump rope!!!  Divera Simon will lead us off at 8pm.  Come on down to the TD Dining Hall to grab your seat!  
Friday 9/13 8pm SAC Courtyard movie night (Tentative date)
Depending on weather conditions, SAC wants to start off the year with the return of "Courtyard movie night."  Come to tonight's SAC meeting at 10:23pm or right after Community Night – whichever comes first – to pick the movie and discuss the fall's activities.
Friday 9/20 4-6pm Art Studio Tote Bag Printing Workshop
The art studio is ready to reopen!  The art studio aides will start the year with a tote bag printing workshop with all supplies—bags, paints, screens, etc.—provided. Just bring your design creativity. To sign up, please go to this link.  The art studio aides (antalique.tran@yale.edu, zihao.lin@yale.edu, and katerina.melnyk@yale.edu) will give an orientation session to get you swipe access to the Art Studio then teach the technique. They will also offer quick orientations throughout the year during their weekly office hours (see above). Feel free to reach out to them about any questions regarding the art studio!
Without further ado, here is a word from Dean Mahurin…
Áshe,
HL
***
 
Fifth Grade Autobiogrpahy
Rita Dove
I was four in this photograph fishing
with my grandparents at a lake in Michigan.
My brother squats in poison ivy.
His Davy Crockett cap
sits squared on his head so the raccoon tail
flounces down the back of his sailor suit.
My grandfather sits to the far right
in a folding chair,
and I know his left hand is on
the tobacco in his pants pocket
because I used to wrap it for him
every Christmas. Grandmother's hips
bulge from the brush, she's leaning
into the ice chest, sun through the trees
printing her dress with soft
luminous paws.
I am staring jealously at my brother;
the day before he rode his first horse, alone.
I was strapped in a basket
behind my grandfather.
He smelled of lemons. He's died—
but I remember his hands.
Course Schedule Deadlines:
Class of 2023- Monday, September 9, before 5:00 p.m.
Classes of 2022 and 2021- Tuesday, September 10, before 5:00 p.m.
Class of 2020- Wednesday, September 11, before 5:00 p.m.
Schedules are handed in to Trish Cawley in the TD Dean's Office.  The 5:00 p.m. deadline is strictly enforced.  A late schedule incurs a fine of fifty dollars (there it is again!).  A schedule of 3.0 or 3.5 course credits OR a schedule of 6.0 or 6.5 course credits needs my permission before the schedule is handed in. 
 
Degree Audit: 
Yale Degree Audit (YDA) is a tool that tracks your progress toward the bachelor's degree. YDA is located on the Academics tab of Student Information System (SIS). YDA displays the Yale College degree requirements that you have already completed and those that are still pending.  Yale Degree Audit does not take the place of face-to-face advising, although you may wish to share your audit with your adviser. Instead, it provides an easy-to-read summary of requirements, allowing you andyour adviser to spend more time discussing course selection and academic goals.  Do not rely solely on your degree audit when planning your courses; continue to use Yale's standard systems for schedule planning, and employ YDA as an additional tool.  More features will be added to YDA in the future, including the ability to track progress toward major requirements.  If you have suggestions, general observations, or questions that are not answered by the FAQs, send them to registrar@yale.edu using the subject line "Degree Audit."  (And if you believe that academic information in your degree audit is incorrect, contact me as well!)
 
UPCOMING DATES AND DEADLINES
September 11          Deadline to apply for a fall term Leave of Absence.  See me if you are thinking about requesting a leave of absence for this fall term.  Withdrawal from Yale College on or before this date entitles a student to a full rebate of fall term tuition.  All students planning to complete degree requirements at the end of the fall term must file a petition by this date.
September 19          Last day to withdraw from a course offered in the first half of the fall term without the course appearing on the transcript. Last day to convert from a letter grade to the Credit/D/Fail option in a course offered in the first half of the fall term.
September 21          Withdrawal from Yale College on or before this date entitles a student to a rebate of one-half of fall term tuition. 
 
2020 CIPE Calendar Photo Contest
Each year since 2007, CIPE has sought the best photos taken by students who participated in CIPE sponsored programs internationally and domestically for the CIPE calendar. The calendar is distributed to offices around Yale's campus, and the first place winner receives their photo professionally framed. We want YOUR amazing photos to feature! See the contest website for more details and to submit your photos. The deadline to enter is October 6th.
OCS Industry-Specific Recruiting Events/Career Fairs
The Office of Career Strategy is hosting 9 industry-specific networking events/career fairs this fall.  For details, list of employers attending and to sign up: Yale Career Link (under Events-Career Fairs/Networking Events).  Business casual dress for all events.  Prior to attending, submit your resume for review in PDF format to ocs.resumereview@yale.edu.  
Yale Career Fireside Chats- How to Ace Your Interview Webinar
Tuesday, September 10, 11:00AM-12:00PM
Fall Info Session on Study Abroad and the Spanish Major
Friday, September 13, 1:30pm – 3:00pm
CIPE, 55 Whitney Avenue, 3rd Floor, Room 369
October 15 – Credit for Spring 2020 Term Abroad Application Deadline
Light Fellowship Information Session 2
Wednesday, September 11, 4:45pm – 5:45pm
CIPE, 55 Whitney Avenue, 3rd Floor, Room 369
Paul & Daisy Soros Fellowships for New Americans Info Session with Director Craig Harwood
Wednesday, September 11, 5:30pm – 6:30pm
Dow 100, 370 Temple Street
Oxford/Cambridge Funding Information Session: Gates, Churchill, Cambridge Trust, Keasbey…..
Thursday, September 19, 12:30pm – 1:30pm
CIPE, 55 Whitney Avenue, 3rd Floor, Room 305
APPROACHING APPLICATION DEADLINES
September 17, 1:00pm - Richard U. Light Fellowship Early Fall Preliminary Deadline | Eligible: Sophomores, Juniors, Seniors & Graduate Students
September 17 - Pickering Graduate Fellowship Program National Deadline | Eligible: Seniors & Alumni
September 24, 1:00pm - Luce Scholars Program Campus Deadline | Eligible: Seniors, Alumni & Graduate Students
September 24, 11:59pm - Charles B. Rangel International Affairs Program National Deadline |  Eligible: Seniors & Alumni
September 26, 11:59pm EDT - Schwarzman Scholars Program  (U.S and Global applicants) National Deadline | Eligible: Seniors/Alumni
October 3, 1:00pm - Churchill Scholarship Campus Deadline | Eligible: Seniors & Alumni
October 7, 1:00pm - Keasbey Scholarship Campus Deadline | Eligible: Seniors
October 9 - Gates Cambridge Round 1 National Deadline | Eligible: Seniors & Alumni
October 10 - Knight-Hennessy Scholars Program National Deadline | Eligible: Seniors & Alumni
October 23, 1:00pm - Michel David-Weill Campus Deadline | Eligible: Seniors 
October 23, 11:59pm PST – The Hertz Foundation Graduate Fellowship National Deadline | Eligible: Seniors
October 21-25 (depending on field), 5pm - National Science Foundation Graduate Research Fellowship National Deadline | Eligible: Seniors, Alumni & First-year Graduate Students
November 1, 2:00pm EDT - The Paul and Daisy Soros Fellowships for New Americans National Deadline | Eligible: Seniors, Alumni & Graduate Students