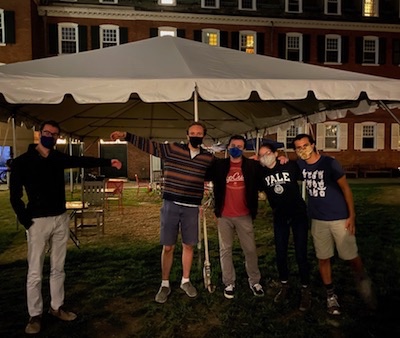 Dear Red Lions,
The IM season has started and we are currently in First Place!!!  We have a strong and creative group of IM secretaries working this season – Jessica Li (Head IM Sect), Angel Mora, and sophomores Ben Scher and Jade Chen are supporting the team remotely!  If you haven't caught their "TD Sports Center" videos, you can check them out on their Instagram @td.ims to stay up to date.  
Our "photo of the week" comes from this Saturday night's event.  Many thanks to the TD Buttery and Kitchen aides for organizing a great "Sunnyside Cookout After Dark" event for our first-years.  Special thanks to Matt Beard and the TD Dining Hall staff for providing the delicious burgers and hot dogs and sharing their special burger sauce!  And also thanks to KC Mills and Sharon Goldbloom of the TD staff for their work and Dr. B for designing the special event t-shirt for our first-years.  TD first-years who did not get a shirt can still get one from the TD Packages Storeroom.  We still have a bunch of large an extra-large shirts left.
 
Our first-years Food Truck outing was a success as you can see from this photo. From left to right, Bernice Wang and Clara Lee ordered the eel special and udon soup; and Yingying Zhao, Randy Munoz, Peyton Meyer, and Jay Kauffin picked up pad thai, assorted coconut curries, and grilled chicken and other popular dishes. 
 There is still room to sign up so please go to this link and click all the Fridays that work for you.
  I'll send out an email by Thursday afternoon/Friday morning to let folks know they are on for that Friday.  
Many thanks to the Graduate Affiliates for running a terrific hike up East Rock park this past Saturday.  TD is sponsoring 25 runners for the

 

HAVEN

 

Free Clinic's fundraising virtual run on October 11, 2020.  TD Junior, Vanessa Blas, will be our TD team captain and you can sign up through the

 

TD team page

 

she created. 

 

TDers should go to this link and register for the "Adult 5k participant + t-shirt" option.

 

And then enter this coupon code –

 

tdlions20

 

– to have the entrance fee waived.
Here are some of our events for these next two weeks:
Tuesday 9/29 7-8pm "Seniors Champagne and Chocolates Virtual Toast" (Zoom Event)
Please sign up here if you would like to offer a toast to your class!  If you haven't yet picked up your gift bag of champagne and chocolates, you can still do so tomorrow (Tuesday 9/29) from 1-5pm.  If you are studying remotely, your chocolates are being mailed to you (sorry, can't send champagne).  The zoom link and password has already been sent.
Wednesday 9/30 4:30pm "Restaurants and Food Justice during a Pandemic" a Virtual Tea with Soleil Ho (Zoom Event)
Soleil Ho is the restaurant critic for the San Francisco Chronicle and also the co-creator of the award-winning Racist Sandwich podcast.  We are excited to talk with her about how the pandemic is changing the American restaurant industry and what will be left of the food world once it is over.  We will send out the Zoom link (with password) on Tuesday.  We will be handing out gourmet popcorn – caramel, birthday cake, and curry – from the TD Packages Room ahead of the tea from 3:45-4:15pm.
Thursday 10/1 8pm TD Sophomores Town Hall Zoom
Looking forward to our Sophomore Zoom and catching up with each of you!  In the meantime, check out the great work IM secretaries Jade Chen and Ben Scher are doing to rally our first-years to Tyng Cup victory with their tag team "TD Sports Center" production!
Sunday 10/4 3pm TD Ice Cream Cart Social (TD Courtyard)
Our wonderful Public Health Team will be hosting an ice cream cart social!  Forecast for mostly sunny with highs of around 65!  
Wednesday 10/7 4:30pm Virtual Tea with Shawn Levy TD 89' (TD Zoom)
You have no doubt seen Shawn Levy's amazing body of work – Night at the Museum series, Stranger Things, The Arrival, and many, many more.  A dedicated TD alum he is excited to be back to talk about his latest project, Free Guy, and the future of film.  We will be sending out a Zoom link with password closer to the event.
Without further ado, here is a word from Dean Mahurin…
Àshe,
HL
***
"…the unfolding of the unforeseen was everything. Turned wrong way round, the relentless unforeseen was what we schoolchildren studied as 'History,' harmless history, where everything unexpected in its own time is chronicled on the page as inevitable. The terror of the unforeseen is what the science of history hides, turning a disaster into an epic." (Philip Roth, The Plot Against America)
PERTINENT DATES AND DEADLINES
Oct. 13


 

T


 

Last day to withdraw from a course offered in the first half of the fall term. See Withdrawal from Courses and Grades.


 

Oct. 13


 

T


 

Last day to convert a fall first-half term course from a letter grade to Cr/D/F.


 

Oct. 14


 

W


 

Classes begin for courses offered in the second half of the fall term.


 

Oct. 15


 

Th


 

Deadline to apply for spring 2021 Term Abroad. See Special Arrangements.


 

Oct. 23


 

F


 

Midterm.


 

Oct. 23


 

F


 

Withdrawal from Yale College on or before this date entitles a student to a rebate of one-quarter of the fall term's tuition.


 

Oct. 23


 

F


 

Last day to withdraw from a fall full-term course without the course appearing on the transcript. See Withdrawal from Courses and Grades.


 

Oct. 23


 

F


 

Deadline to apply for double credit in a single-credit course. See Special Arrangements.