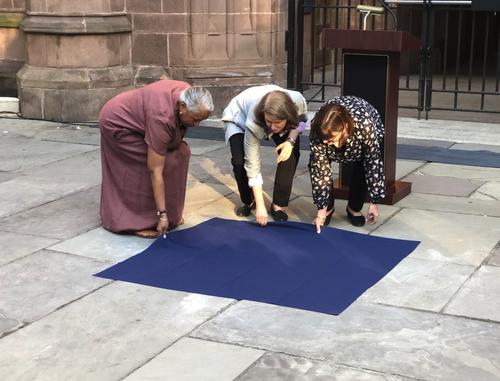 Dear Red Lions,
I hope all of you had a wonderful weekend and soaked in the warm sunshine!  As you know, this weekend hosted a celebration of Yale's 50 years of co-education with a "Commemorative Weekend" that invited back alumni from the original classes.  This week's "photo of the week" comes from TD Alum and Fellow Vera Wells '71, who was among this group of women.  She writes: "I had the honor of unveiling the commemorative Threshold Stone at the entrance of Phelps Gateway on Old Campus, in celebration of being one of the "First Women" at Yale College in September 1969."  Vera Wells is pictured on the left with Eve Hart Rice '73 (center) and Carol Whitehead '72 (right).
Many thanks to the Art Studio aides – Antalique Tran, Zi Lin, and Katerina Melnyk – for running a terrific tote bag workshop.  Please note that TDers may work with the Art Studio aides to reserve the studio to print up your own bags or shirts.  For more information, drop into the studio their office hours.
Please don't forget next Saturday 9/28 will be our traditional Fall Football Tailgate brunch in the TD Dining Hall in celebration of the first Ivy League home game!  Family dinner protocol will be in effect so we will not be accepting transfers from other colleges and all TD off-campus folks can eat for free.  But you must have a current "TD 2019-2020" sticker on your ID cards.  If you do not have one, just come to the Head of College office during our usual business hours to get the sticker for your ID card.
The TD Lounge has reopened!  You will no doubt notice that we have changed some of the furniture and added a very comfortable rug and floor pillows to allow the room to become a space for quiet meditation and relaxation.  So feel free to reserve the space as a tv/media lounge or a wellness space.  The lounge is very much a work-in-progress so let us know if you have additional suggestions!
Here are some more important TD events and dates for the next two weeks:
Tuesday 9/24 6-7pm Senior Mellon Forum Dinner Kickoff Info Session (TD House)
TD 2020 please head over to the TD house to learn about the Mellon Forum and senior project funding opportunities.  You'll meet the team of Mellon Coordinators and Graduate Affiliates supporting the Mellon Forum.  All seniors who received the Richter Fellowship are expected to present at the Mellon Forum this academic year and are encouraged to present in the Fall semester.  Sushi dinner will be served!
Saturday 9/28 11-1:30pm TD Football Tailgate Brunch (TD Courtyard/Dining Hall)
You don't want to miss this delicious special brunch brought to you by our amazing Dining Hall staff.  Don't forget to pick up your "TD 2019-2020" stickers in the HoC office during the business day!
Monday 9/30 6-7:30pm Tea/Dinner with Dr. Liz Delasobera, Head Team Doctor for the Washington Capitals (TD House)
Come join our first tea of the year with Dr. Delasobera '02.  An American studies major, Dr. Delasobera was also the captain of the Yale women's tennis.  She went onto medical school at Stanford and is now a sports medicine specialist.  She'll talk about her work with the Caps as well as her efforts at creating guidelines on concussions for athletes.  We'll serve up a hearty pasta dinner so feel free to come straight from practice to the TD House and meet Dr. Delasobera!  
Tuesday 10/1 TD Community Engagement Fellowship (Deadline at 11:59pm) 
The Timothy Dwight Community Engagement Fellowship supports student efforts to create and foster long lasting relationships with New Haven public institutions and non-profit organizations. Each year, six fellowships will be awarded with an annual stipend of $600 for students to undertake public service projects in any field. Priority will be given to collaborations with institutions within the greater New Haven area and the vicinity of TD.  Fellows are expected to contribute a minimum of 3-5 hours per week to the partnering organization while classes are in session throughout the fall and spring semesters.  To apply, please go to the Fellowship & Grants database.
Saturday 105 4:30-6pm TD Family Weekend Reception (TD House)
We are delighted to welcome your family and friends for their weekend visit to campus!  We'll have wonderful food and drinks so feel free to come and go and drop by at your convenience.  Please go to this link for a full calendar of events across the Yale campus.
Without further ado, here is a word from Dean Mahurin…
Áshe,
HL
***
Poetry
Marianne Moore
I too, dislike it: there are things that are important beyond
      all this fiddle.
   Reading it, however, with a perfect contempt for it, one
      discovers that there is in
   it after all, a place for the genuine.
      Hands that can grasp, eyes
      that can dilate, hair that can rise
         if it must, these things are important not because a
high-sounding interpretation can be put upon them but because
      they are
   useful; when they become so derivative as to become
      unintelligible, the
   same thing may be said for all of us—that we
      do not admire what
      we cannot understand. The bat,
         holding on upside down or in quest of something to
eat, elephants pushing, a wild horse taking a roll, a tireless
      wolf under
   a tree, the immovable critic twinkling his skin like a horse
      that feels a flea, the base-
   ball fan, the statistician—case after case
      could be cited did
      one wish it; nor is it valid
         to discriminate against "business documents and
school-books"; all these phenomena are important. One must
      make a distinction
   however: when dragged into prominence by half poets,
      the result is not poetry,
   nor till the autocrats among us can be
     "literalists of
      the imagination"—above
         insolence and triviality and can present
for inspection, imaginary gardens with real toads in them,
      shall we have
   it. In the meantime, if you demand on the one hand, in defiance of their opinion—
   the raw material of poetry in
      all its rawness, and
      that which is on the other hand,
         genuine, then you are interested in poetry.
 
UPCOMING DATES AND DEADLINES
 
Friday, October 4

 

Last day to withdraw from a course offered in the first half of the fall term. See Withdrawal from Courses and Grades.

Monday, October 14

 

Classes begin for courses offered in the second half of the fall term.

Tuesday, October 15

 

October recess begins, 11 p.m.
Deadline to apply for a spring 2020 Term Abroad. See Special Arrangements.
YALE CENTER FOR LANGUAGE STUDY
The Yale Center for Language Study is now accepting applications for spring semester study for its Fields Program and its Directed Independent Language Study (DILS) Program. The deadline for applying to either program for spring semester study is October 1st.
The Directed Independent Language Study (DILS) Program gives students the opportunity to study a language that is not currently taught in a Yale classroom.
The Fields Program gives students the opportunity to pursue advanced-level language study within the context of their academic area of focus (generally in areas other literature if the language is taught at Yale, since advanced coursework in literature would likely be available).
Both are non-credit programs, open to all registered Yale students (undergraduate, graduate and professional). In each program, students work with a Language Partner—a native speaker of the target language (not a formal instructor)—in two 1-hour sessions for 12 weeks. The sessions aim to develop linguistic and cultural competence through active conversation and practice of what you are studying independently. With a limited number of slots available, a selection committee reviews all applications for their merit and appropriateness, and notifies students of its decisions within four to six weeks after the application deadline.
Details on each program and how to apply can be found at these links:
Directed Independent Language Study (DILS):
https://cls.yale.edu/dils
Fields Program:
https://cls.yale.edu/fields
Please note that all applications must be received by the application deadline (this includes applications for continued study from current DILS or Fields students).
BA-BS/MPH INFORMATION SESSION
 
This year's Information Session for the BA-BS/MPH Program (https://publichealth.yale.edu/admissions/programs/mph/select/index.aspx) will be on Thursday, September 26, 2019 at 5:00 P.M. in Linsly- Chittenden Hall, Room 211. We will cover the academic requirements, the concentrations of study and the admissions process. Program directors and current students will also be available to answer questions.
STEM OPPORTUNITIES
 
STARS II Application Deadline: Wednesday, September 25 @ 11:30 pm
https://science.yalecollege.yale.edu/stars/stars-ii-program
STARS II is designed for Yale College women, minorities, socioeconomically disadvantaged, and other historically underrepresented students to pursue studies and careers in the sciences and engineering. STARS II provides an intensive research experience for juniors and seniors. Beginning in the fall semester of their junior year and continuing through the senior year, STARS II scholars receive a stipend to support up to ten hours per week of laboratory research under the supervision of a faculty mentor and graduate student(s). *If you are taking research for credit, you cannot receive a stipend and credit simultaneously for the same hours of work.  However, you may receive the STARS stipend for up to 10 additional hours beyond those received for credit.  During the intervening summer, the program provides stipend support for students to continue their research full-time for up to ten weeks. In the spring semesters of their junior and senior years, STARS II scholars conduct a formal presentation of their research, in the form of a poster or a talk, at the STARS II Research Symposium. STARS II students participate in workshops designed to develop their scientific skills. They are encouraged to present their research at regional and national scientific conferences/meetings, and submitting their research for publication.
Student Employment Opportunity: Undergraduate Research Assistant, STEM Education Team, Yale Poorvu Center for Teaching and Learning
The Yale Poorvu Center for Teaching and Learning is seeking a motivated undergraduate Research Assistant to help our vibrant STEM Team during the Fall of 2019. The STEM Education Team leads national faculty development initiatives that promote excellence in undergraduate STEM Education such as the Summer Institutes on Scientific Teaching (summerinstitutes.org). The Research Assistant will work closely with the STEM team to maintain the accuracy and integrity of the Summer Institutes data, manage routine website maintenance, and more, with the potential to contribute to ongoing research projects. The Research Assistant will receive training in a range of skills and programs relating to data management, STEM education, and evaluation. Learn more about the responsibilities: http://tinyurl.com/poorvuresearchassistant
SURVIVOR SUPPORT NETWORK
 
The Survivor Support Network (SSN) is a group of Yale undergraduates who meet weekly to provide mutual support to each other in the process of healing from sexual violence. Meetings are peer-facilitated and confidential, with SHARE counselors present at each meeting to provide support and guidance. All survivors welcome.  If you are interested in attending or want to know more, please email: ssnyale@gmail.com.