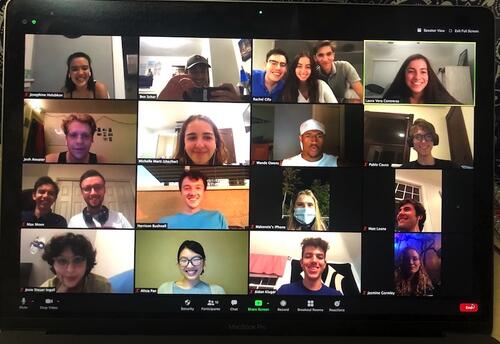 Dear Red Lions,
First, a word of gratitude to our wonderful TDers who participated in this fall's virtual Community Night.  We had our usual eclectic mix of live and pre-recorded performances as well as enthusiastic community support.  Here again is the link to the Zoom recording as well as all the pre-recorded videos.
I had a lot of great photos submitted for this week.  So I'm going with two!  The first is, "Sophomore Lions on Zoom Reunion," sent by Laura Vera Contreras and Ben Scher.  What started as a Zoom reunion for entryway I quickly grew into a class of 2023 gathering.  We miss you all!
Our second is titled "Swing Time" and features the newest addition to the upper Upper Courtyard – a family swingset!  As demonstrated by the TD children –  Divera, Dior, and Aby – and the TD Frocos – Robbie Skoronski, Angel Mora, and Seyade Tadele – it can be enjoyed by young and old! 
Here are some of our events for these next two weeks:

Monday 9/21 5:30pm "Dean's Lean Workout Machine" (TD Lower Courtyard)

First of resistance bands workouts with our very own Dean Mahurin.  Because of social distancing, we're limiting attendance to 10 and spreading everyone 12' apart.  If you didn't get into this week's lottery, just try again.  We'll keep track of who has attended to make sure everyone gets a chance to workout with Dean!
Friday 9/25 9-10:30pm "Sunnyside Cookout After Dark" (TD Lower Courtyard)
We are excited to announce that we have received permission to do a food event in the courtyard!!!  So our Buttery Managers, Franklin Bertelotti and Carli Roush, and our Kitchen Aides, Yasmin Alamdeen and Vanessa Blas, are throwing a Sunnyside cookout in the lower courtyard this Friday night from 9-10:30pm to welcome our first-years into the college.  So if we can't bring our First-year lions to Sunnyside then we will bring Sunnyside to TD.  We will be grilling up burgers and hot dogs – veggie options also available.  TD upper-years are also invited, but please let the first-years eat first!
Saturday 9/26 2-4pm East Rock Hike with TD Graduate Affiliates (Meet at Temple Gate)
Saturday forecast has every indication of being a gorgeous sunny late summer/early fall afternoon.  Meet some of our wonderful TD Graduate Affiliates and walk over to nearbyEast Rock Park for stunning views of New Haven and the campus.  This is a leisurely hike so you only need to put on some sneakers.  Especially for students new to the Northeast, you'll be able to see the start of gorgeous New England fall foliage.  
Tuesday 9/29 7-8pm "Seniors Champagne and Chocolates Virtual Toast" (Zoom Event)
We are excited to welcome back and celebrate our amazing Senior Lions. With so many of you off-campus this year, this toast will bring you all back to reconnect.  If you are on-campus and living in TD, please pick up your gift bag of champagne and chocolates anytime between 1-5pm on Monday 9/28 and Tuesday 9/29 and plan to pop the champagne and open your box of chocolates on Tues 9/29. If you are studying remotely, your chocolates are being mailed to you (sorry, can't send champagne).  Please note that a Zoom link (with password) will be sent directly to all senior lions ahead of the event.
Wednesday 9/30 4:30pm "Restaurants and Food Justice during a Pandemic" a Virtual Tea with Soleil Ho (Zoom Event)
James Beard award-nominee, Soleil Ho,is the restaurant critic for the San Francisco Chronicleand also the co-creator of the award-winning Racist Sandwich podcast.  We are excited to talk with her about how the pandemic is changing the American restaurant industry.  We will send out the Zoom link (with password) one-day in advance.
Thursday 10/1 8pm TD Sophomores Town Hall Zoom
TD isn't quite the same without our sophomore lions! Hoping to reconnect with all of you and talk about future programming ideas, especially for the coming spring semester when we can have you return.  Please note that the Zoom link and invitation (with password) was already sent on Friday September 18th.  So check your emails!
Without further ado, here is a word from Dean Mahurin…
Àshe,
HL
***
A Bowl of Spaghetti
Kimiko Hahn
 
"To find a connectome, or the mental makeup of a person,"
 
researchers experimented with the neurons of a worm
 
​
 
then upgraded to mouse hoping
 
"to unravel the millions of miles of wire in the [human] brain"
 
 
that they liken to "untangling a bowl of spaghetti"
 
 
of which I have an old photo: Rei in her high chair delicately
 
picking out each strand to mash in her mouth.
 
 
Was she two? Was that sailor dress from Mother?
 
Did I cook from scratch? If so, there was a carrot in the sauce
 
 
as Mother instructed and I'll never forget
 
since some strand determines infatuation as a daughter's fate.
PERTINENT DATES AND DEADLINES
Sept. 21


 

M


 

Last day to withdraw from a fall first-half term course without the course appearing on the transcript.


 

Sept. 24


 

Th


 

Withdrawal from Yale College on or before this date entitles a student to a rebate of one-half of fall-term tuition. See Undergraduate Regulations.


 

Oct. 13


 

T


 

Last day to withdraw from a course offered in the first half of the fall term. See Withdrawal from Courses and Grades.


 

Oct. 13


 

T


 

Last day to convert a fall first-half term course from a letter grade to Cr/D/F.


 

Oct. 14


 

W


 

Classes begin for courses offered in the second half of the fall term.


 

Oct. 15


 

Th


 

Deadline to apply for spring 2021 Term Abroad. See Special Arrangements.


 

Oct. 23


 

F


 

Midterm.


 

Oct. 23


 

F


 

Withdrawal from Yale College on or before this date entitles a student to a rebate of one-quarter of the fall term's tuition.


 

Oct. 23


 

F


 

Last day to withdraw from a fall full-term course without the course appearing on the transcript. See Withdrawal from Courses and Grades.

 
CENTER FOR LANGUAGE STUDY
The Yale Center for Language Study is now accepting applications for fall semester study for its Fields Program and its Directed Independent Language Study (DILS) Program. The deadline for applying to either program for Spring semester study is October 1st at 1:00pm. 
The Directed Independent Language Study (DILS) Program gives students the opportunity to study a language that is not currently taught in a Yale classroom.  The Fields Program gives students the opportunity to pursue advanced-level language study within the context of their academic area of focus (generally in areas other literature if the language is taught at Yale, since advanced coursework in literature would likely be available).
Both are non-credit programs, open to all enrolled Yale students (undergraduate, graduate and professional). In each program, students work with a Language Partner—a native speaker of the target language (not a formal instructor)—in two 1-hour sessions for 12 weeks. The sessions aim to develop linguistic and cultural competence through active conversation and practice of what you are studying independently. With a limited number of slots available, a selection committee reviews all applications for their merit and appropriateness, and notifies students of its decisions within four to six weeks after the application deadline.
Details on each program and how to apply can be found at these links:
Directed Independent Language Study (DILS): 
https://cls.yale.edu/dils
Fields Program: 
https://cls.yale.edu/fields
 
CIVIC ALLYSHIP INITIATIVE
Dwight Hall at Yale is excited to announce the Civic Allyship Initiative, a new program that seeks to introduce to students to organizing and advocacy work in New Haven. On our website, linked here, you can find more information about the program. The program is a fantastic opportunity to connect students to New Haven, especially in a moment where in-person opportunities are limited. Here is a link to the application, which closes on Wednesday, 9/23 at 11:59 EST. 
 
WRITING CENTER RESOURCES
Welcome back! All Writing Center tutoring is online this year. Here's how to access our services:
Residential College Writing Tutors: Professional writers, editors and teachers connected with your residential college. 
Peer Writing Partners: Single sessions with undergraduate and graduate students trained to offer feedback and positive support for your writing.
10-Session Writing Tutoring: Meet up to ten times with the same Writing Partner over the course of the semester. Sign up here or email ryan.wepler@yale.edu with questions.
 
MATRICULATE
Did you know that over 50% of our nation's high-achieving, low-income students don't apply to a single school that's an academic match for them? You can make this change — Join Matriculate! We are a national fellowship program and community of Yale students who advance equity by helping smart, under-resourced kids apply to college. Given the barriers that COVID-19 has exacerbated, our work is more important now than ever. Plus, our organization has hardly changed despite the transition to remote learning! Submit an eligibility form today at https://tinyurl.com/MAT22apply to get started!
 
 
ACADEMIC STRATEGIES WORKSHOPS
Supercharge Your Seminars & Lectures         
 
Monday, Sept. 21 @ 4 pm ET
Learn preparation, participation, note-taking, and review strategies to help you succeed in these two very different learning environments.
 
Time Management        
Monday, Sept. 21 @ 7 pm ET
Wednesday, Sept. 23 @ 9 pm ET
Time management is key for lowering stress at Yale. Set priorities and develop a weekly schedule that can lead to an active and balanced academic life.               
 
Pathways for Juniors
Monday, Sept. 21 @ 9 pm ET
How do I orient myself and find mentors within the major? What timelines do I need to be aware of? We'll explore these questions together in this interactive workshop.
 
Strategies for Intro Math: Problem Sets & Exams
Tuesday, Sept. 22 @ 4 pm ET
Monday, Sept. 28 @ 7 pm ET
Learn strategies for efficiently working on intro math problem sets and key approaches for studying for exams
 
Managing a Heavy Reading Load
Tuesday, Sept. 22 @ 7 pm ET
Monday, Sept. 28 @ 9 pm ET
Feeling overwhelmed by piles of reading? Learn some essential strategies to make the most of your limited reading time. Have less stress and create more free time!
 
Essentials for STEM: Reading Effectively for STEM      
Tuesday, Sept. 22 @ 9 pm ET
Learn strategies for reading purposefully and efficiently for STEM courses. Effectively read textbook chapters and scientific articles; navigate jargon, data, and figures; use readings to prep for problem sets and exams.
 
Strategies for Intro Econ: Problem Sets & Exams
Wednesday, Sept. 23 @ 4 pm ET
Learn strategies for efficiently working on intro econ problem sets and key strategies for studying for exams.       
 
Creating a Timeline for Your Senior Project          
Wednesday, Sept. 23 @ 7 pm ET
Learn how to plan your writing and research, and how to access support resources for your senior thesis.
 
Get the Most Out of Your Language Classes
Thursday, Sept. 24 @ 4 pm ET
Learn the daily habits and mindsets that can help you succeed in learning a language at Yale.
 
Pathways for Seniors
Thursday, Sept. 24 @ 7 pm ET
Learn how to set and accomplish senior year goals while still enjoying your final year as an undergraduate.
 
Exam Study Strategies
Thursday, Sept. 24 @ 9 pm ET
Monday, Sept. 28 @ 4 pm ET
Reduce exam stress by learning new strategies for preparing and studying for midterms and finals. This workshop offers suggestions for preparing for and taking problem-based, short answer, and essay exams