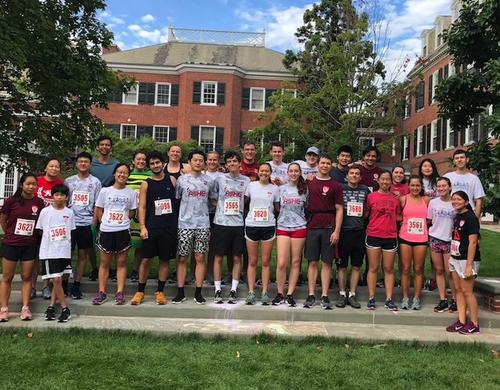 Dear Red Lions,
 
After the long holiday weekend, I hope everyone is ready to jump back into shopping period and finalize your schedules!!!  
Yesterday started bright and early with more than 35 TDers taking part in yesterday's New Haven Road Race!!!  It was our biggest turn out yet and we managed to grab a quick pre-race breakfast and photo before taking off the 5k and 20k/half marathon starting lines.
Despite the roller coaster weather conditions and road closures, we managed to ride out to Sunnyside Farm for our annual cookout hosted by Guido and Anne Calabresi.  Judge Calabresi TD '49 reminded us that 70 years ago he entered TD as a "freshman" and was thrilled that he and Anne could share their farm with our newest class of Red Lions.  We managed to get in some spikeball, volleyball, hiking, and even some swimming before the skies opened up and we had to call it a day.  The Calabresis have invited the entire college to come back later this fall and take advantage of the hiking trails through the hills and around the town reservoir.
With so much happening over the weekend, I had a lot of submissions for "photo of the week".  It was hard to narrow down to one, so I am sharing two.  
The first is from TD first year, Alisia Pan, who took this lovely photo of Michelle Marti, Khat Tuchscherer, and Ifeoluwa Adeogun at Sunnyside!  Also in the background on the right are Matt Leone, Wande Owens, and Rifat Islam. 
The second is titled "Insubordination" and sent in by TD sophomore Clayton Land.  He writes that the "TD Sophomores have taken back the first-year table since they're all at Sunnyside Farms."  First-years don't be shy about taking that table right back!
Thanks for sharing these great photos, Clayton and Alisia!  And for everyone else who sent in a photo, I am sorry I couldn't use it this week, but please keep them coming!
Here are some more important TD events for the next two weeks:
Sunday 9/8 4-5:30pm First TD Community Chamber Orchestra Rehearsal (TD House)
 
The TD orchestra begins its fourth season under the baton of Pricila Chavez Lara, Yale Divinity School graduate student, who is an accomplished musician and educator.  As in true community orchestra spirit, we welcome anyone from the greater TD community – students, fellows, staff, alumni, friends, and family.  No audition necessary for entry into the orchestra so feel free to come by and play.  If you can't make the first rehearsal, but would like to be on the email list, please send a note to pricila.chavezlara@yale.edu.
Monday 9/9 8pm TD Community Night (TD Dining Hall)
Sign-ups have been robust so we can expect some magic, a lot of singing, some poetry and even dancing!!!  But we definitely still have room for a few more acts.  So don't be shy!  To sign-up please go to this link and fill out the short form so that we can make sure to have what you need for your performance.
Underground Spaces Update
And we are working on reopening all of the TD underground spaces – Buttery, Recording Studio, Art Studio, Student Kitchen and TD Lounge – by the end of Shopping Period, next week.  Please remember that our TD Aides are also students and it's important we give them time to get their own courses and schedules sorted.  But please know that the music practice rooms are already available to TD students.  Just come to the HoC office to sign up for swipe access and we'll activate your IDs within 48 hours.  
Within the next couple of weeks, I hope to announce new classes for the TD recording studio and orientation/training sessions for the TD Art Studio along with drop-in hours.  So please stay tuned for those announcements.
Without further ado, here is a word from Dean Mahurin…
Áshe,
HL
***
"A poem is an empty suitcase that you can never quit emptying." 
(Kay Ryan)
 
ACADEMICS 
Course Schedule Deadlines:
Class of 2023- Monday, September 9, before 5:00 p.m.
Classes of 2022 and 2021- Tuesday, September 10, before 5:00 p.m.
Class of 2020- Wednesday, September 11, before 5:00 p.m.
Schedules are handed in to Trish Cawley in the TD Dean's Office.  The 5:00 p.m. deadline is strictly enforced.  A late schedule incurs a fine of fifty dollars (there it is again!).  A schedule of 3.0 or 3.5 course credits OR a schedule of 6.0 or 6.5 course credits needs my permission before the schedule is handed in. 
Online Course Selection:
1.       Use the worksheet capabilities to search courses to shop during shopping period.  
2.       After you have settled on the courses you will take, print your final schedule.
3.       Take the final schedule to your adviser for the signature. Sign the schedule.
4.       Hand in your signed schedule to the TD Dean's Office by the deadline for your class. 
     
I'll remind you that (1) the program does not check for conflicts in class meeting times (that is every student's responsibility) and that (2) once you print your final schedule, you cannot reenter the program to make changes and print a different final schedule.  Including or removing a course (after meeting with your adviser, for instance) must be hand written on the printed final schedule itself (in the Include and Remove Sections), and each change must be initialed by your adviser or me before the deadline for handing in the hard copy.
 
Degree Audit: 
Yale Degree Audit (YDA) is a tool that tracks your progress toward the bachelor's degree. YDA is located on the Academics tab of Student Information System (SIS). YDA displays the Yale College degree requirements that you have already completed and those that are still pending.  Yale Degree Audit does not take the place of face-to-face advising, although you may wish to share your audit with your adviser. Instead, it provides an easy-to-read summary of requirements, allowing you andyour adviser to spend more time discussing course selection and academic goals.  Do not rely solely on your degree audit when planning your courses; continue to use Yale's standard systems for schedule planning, and employ YDA as an additional tool.  More features will be added to YDA in the future, including the ability to track progress toward major requirements.  If you have suggestions, general observations, or questions that are not answered by the FAQs, send them to registrar@yale.edu using the subject line "Degree Audit."  (And if you believe that academic information in your degree audit is incorrect, contact me as well!)
 
UPCOMING DATES AND DEADLINES
September 11          Deadline to apply for a fall term Leave of Absence.  See me if you are thinking about requesting a leave of absence for this fall term.  Withdrawal from Yale College on or before this date entitles a student to a full rebate of fall term tuition.  All students planning to complete degree requirements at the end of the fall term must file a petition by this date.
September 19          Last day to withdraw from a course offered in the first half of the fall term without the course appearing on the transcript. Last day to convert from a letter grade to the Credit/D/Fail option in a course offered in the first half of the fall term.
September 21          Withdrawal from Yale College on or before this date entitles a student to a rebate of one-half of fall term tuition. 
LEAP NEW HAVEN
My name is Abdul-Razak Zachariah (Yale College 2017 - TD!) and I'm the Counselor Development Manager at
LEAP
in New Haven, CT. LEAP is a youth development and after-school program serving low-income communities and communities of color in the city with mentorship, literacy-based programming, and an array of comprehensive classes in different subject areas. We hire local undergraduate students as
Senior Counselors
 and take on both undergraduate and graduate students each semester as volunteers in our youth programming and administrative departments, offering opportunities for curriculum implementation, non-profit development and community partnership development.
TSAI CITY ACCELERATOR
Tsai CITY's Accelerator, which runs every fall and spring semester, guides students and teams with innovative ideas through the process of building effective organizations, projects, and ventures through workshops, mentorship, and funding. The Accelerator provides an enriching learning opportunity for students with innovative ideas.
Applicable ideas include (but are not limited to!) for-profit businesses, social enterprises, non-profits, civic or arts start-ups, faith-based organizations, apps, tech platforms, community programs, and civic/social movements. Teams of all sizes are welcome, though each team must include at least one full-time Yale student. This extracurricular activity is expected to take 5-10 hours per week.  See more, including application, here: https://www.city.yale.edu/accelerators.  Applications due September 11 at noon.
ACADEMIC STRATEGIES WORKSHOPS
Most workshops are held in the Poorvu Center (the new name for the CTL). Room M104A is located on the Poorvu Center's Writing Center mezzanine, just up the stairs near the 301 York St. entrance to Sterling Library. You are encouraged to RSVP vis Yale OrgSync (https://orgsync.com/162209/)
 
Fresh Start         
Monday, September 9, 2019, 6:00 PM, Poorvu Center M104A                                                     
Want to refresh your approaches to your academic work? Our mentors will lead you through a series of activities to help you identify your current strengths and develop new strategies for meeting the new challenges presented by your current semester's courses.                
Reading Effectively for STEM      
Monday, September 9, 2019, 7:30 PM, Poorvu Center M104A                                                     
Learn strategies for reading purposefully and efficiently for STEM courses. Topics of discussion include how to effectively read textbook chapters and scientific articles, how to navigate jargon, data, and figures, and how to use readings to prep for problem sets and exams.
Creating a Timeline for Your Senior Project          
Tuesday, September 10, 2019, 4:00 PM, Poorvu Center M104A                                                  
Learn how to plan your writing and research, and how to access support resources for your senior thesis. (For full-year and 1-semester senior thesis writers, and juniors planning for the following year.)               
Time Management        
Tuesday, September 10, 2019, 6:00 PM, Poorvu Center M104A 
Monday, September 16, 2019, 6:00 PM, Poorvu Center M104A                                                  
Set priorities and develop a weekly schedule that can lead to an active and balanced academic life.               
Succeeding in Seminars & Lectures         
Tuesday, September 10, 2019, 7:30 PM, Poorvu Center M104A                                                  
Seminars and lectures make different demands on students. Learn preparation, participation, note-taking, and review strategies to help you succeed. 
Pathways for First-Years
Wednesday, September 11, 2019, 4:00 PM, Poorvu Center M104A 
First years get a lot of advice from a wide variety of sources. But what do you really want to get out of your first year? This interactive workshop helps students identify goals and sources of satisfaction and offers strategies for avoiding common pitfalls like overextension and burn out.               
Managing a Heavy Reading Load               
Wednesday, September 11, 2019, 6:00 PM, Poorvu Center M104A    
Feeling overwhelmed by piles of reading? Learn some essential strategies to make the most of your limited reading time. Have less stress and create more free time!               
Strategies for Language Classes
Wednesday, September 11, 2019, 7:30 PM, Poorvu Center M104A  
Learn the daily habits and mindsets that can help you succeed in learning a language at Yale. This workshop offers an overview of how we acquire new languages and provides suggestions for study strategies and approaches that support this process.
Reading Analytically for Social Science   
Thursday, September 12, 2019, 4:00 PM, Poorvu Center M104A
This workshop provides an overview of deep reading to generate effective contributions to class discussion, develop essay topics, and identify strong evidence for essays. Participants will get practice with these strategies in our interactive session.        
Strategies for Reading Literature              
Thursday, September 12, 2019, 7:30 PM, Poorvu Center M104A 
Reading literature presents special challenges. How do we read deeply without running out of time to complete the reading? This workshop introduces techniques to help you effectively read and respond to literary works.               
STEM OPPORTUNITIES
STARS I: Application Deadline Monday, September 9, 11:30 pm
The STARS I Program is designed for students who have historically been underrepresented in the sciences. Receive mentorship, information, and resources about pursuing academic and professional opportunities in STEM at Yale. 
 
For Dean Sandy Chang's Guide to STEM at Yale and other useful information for STEM-interested students, please visit: https://science.yalecollege.yale.edu.