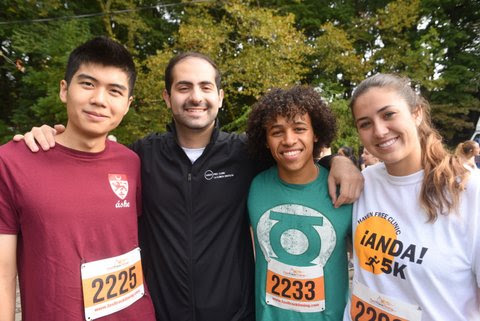 Notes and News – Week of 10/1
 
HL's Pieces
 
Dear Red Lions,
 
It was a great pleasure to see so many of your family members at this Saturday's Family Weekend reception.  It was especially terrific to see so many parents from the upper-years since it's been at least a year since I've seen many of your families here.  I hope everyone enjoyed a great weekend!
Our "photo of the week" comes from TD junior Michael Najem who just raised $40,000 for HAVEN from their fundraising run through New Haven's Edgewood Park this Sunday!  From left to right, we have Alex Hu '22, Spencer Johnson '20, Michael Najem '20, and Christina Lindsay '21
TD raised the third highest amount of all the residential colleges.  Speaking of Community Engagement, TD junior Elayna Garner is looking for TD students to volunteer with LEAP (Leadership, Education, and Athletics in Partnership).  LEAP will be doing a fun Halloween Celebration and a Thanksgiving Dinner and can use volunteers from the TD community.  Please email elayna.garner@yale.edu for more information or go to this Google Form.
 
TD sophomore Saul Roselaar is working with Yale's chapter of Every Vote Counts to support voter turn out at this year's November elections. They have launched the non-partisan Yale Votes initiative, a coalition of student groups who, in partnership with the university administration are working to register students to vote and encourage participation in the midterm elections in person or via absentee ballots.  Join them on Cross Campus on Friday 10/12 when they launch their "Pledge to Vote" photo campaign. 
 
Here are our important events for this week:
 
Monday 10/8 4:30-6pm Tea with Prof. Andrew Curley (TD House)
 
Co-sponsored tea with the Association of Native Americans at Yale (ANAAY), we are delighted to host Dr. Curley who is an Assistant Professor at the University of North Carolina.  His talk, "What is a Resource Curse?: Energy, Development, and Indigenous Sovereignties in Native North America," will focus on Indigenous rights and conflicts over energy and water rights and access for the Navajo (Diné nation). 
 
Tuesday 10/9 7-8:30pm Senior Champagne Tasting w. David Swensen (TD House)
 
David Swensen, Chief Investment Officer and manager of the Yale endowment, is generously sharing his collection of champagne with the college.  Sign-ups are now closed and all participants have been notified.
 
Wednesday 10/10 5-6:30pm  Joint Grad School info session with Silliman College Hosted by Career Services (Silliman Rm 303)
 
If you're considering applying to graduate school (master's and doctorate programs) and want to learn the nuts and bolts of putting together the strongest application – then this is the workshop for you!  A panel of graduate students will help walk you through the process and answer your questions.
 
Wednesday 10/10 8-9pm Sophomore Advising Night with TD Grad Affiliates (TD Dining Hall)
 
TD '21 meet our fabulous graduate student affiliates who come from across a range of disciplines, departments, and professional schools on campus.  Many of our affiliates are TD alums now back to continue their postgrad education.  They are a wealth of information and inspiration to get you through this sophomore year so take the time to meet them!  Please sign up here to register for the event.  You can also just show up but signing up helps us make sure that you will meet the Graduate Affiliate of your choice.
 
Thursday 10/11 4:30-6pm Tea with Clemantine Wamariya TD '13, "The Girl Who Smiled Beads" (TD House)
 
We are delighted to welcome back Clemantine Wamariya who just published her first book this spring, The Girl Who Smiled Beads: A Story of War and What Comes After, with Crown Publishers.  A New York Times bestseller, the book chronicles her childhood experiences living through the Rwandan genocide and gaining refugee status in the United State and growing up in Chicago.
  
Friday 10/12 8pm SAC Movie Night (TD Courtyard)
 
Movie night is back!! Take a break from cramming for midterms, bring a blanket, and get cozy this Friday evening at 8 for a screening of Coco in the courtyard!  We'll provide the movie candy!
 
 
Saturday 10/13 7:30-9:30pm TD Board Games Night (TD House)
 
Our monthly board game night is back!  Hosted by Dr. B and Resident Fellow, Joscha Legewie.  Expect fun games old and new games.  Light snacks and drinks will be provided!
 
And here are some exciting events for the following week – Fall Break!!!
 
Wednesday 10/17 TD Fall Break Trip to the Frick Museum (NYC)
 
TD alum and fellow, Stephen Scher '56, will host 10 TD students on a curator-led tour of the Frick Museum.  Dr. Scher is an art historian and retired CEO of Scher Chemicals.  He has maintained a strong connection to New York's finest art museums including the Metropolitan Museum of Art and the Frick Museum.  We are providing students with free train tickets and entry into the Frick Museum.  You can take the train down anytime, but you must meet at 1:30pm for the start of the tour.  To get your ticket and spot on the tour, sign up through this Google Form. 
  
Thursday 10/18 1-3pm Paint Splatter Wall Art (TD Art Studio or TD Courtyard)
 
The Art Studio aides will be holding a "paint-splatter wall art" workshop.  If weather permits, the art making will head outside.
 
Without further ado, here is a word from Dean Mahurin…
 
Áshe,
 
HL
 
***
 
"So this is what I will do. I will gather together my past and look. I will see a thing that has already happened. the pain that cut my spirit loose. I will hold that pain in my hand until it becomes hard and shiny, more clear. And then my fierceness can come back, my golden side, my black side." (Amy Tan, The Joy Luck Club)
UPCOMING DATES AND DEADLINES:
October 15, Monday: Deadline to apply for a Spring 2019 term abroad.  Classes begin for courses offered in the second half of the term.
October 16, Tuesday: October recess begins, 11p.m.
October 22, Monday: Classes resume, 9a.m.
Interested in becoming a CCE?  
The Communication and Consent Educators are a diverse, creative group of undergraduates drawn from across campus to foster a more positive social and sexual climate.  Through workshops, programs, and conversations, they collaborate within their own communities to build a culture of respect and support. They also serve as a resource for students who have experienced or heard about sexual misconduct, providing a peer avenue to SHARE, the UWC, Title IX, and the Yale Police. The CCEs are paid employees of the YCDO, working 5-10 hours per week, with longer hours during training periods in August and January.  There's no need for prior experience in sexual violence prevention. The prime qualification for being a CCE is the desire to make Yale a better place! For more information or to apply, please visit yale.edu/cce.  
New Haven Day of Caring
This coming Saturday, October 13th is the New Haven Day of Caring. On the 13th, Yale students will serve the community of New Haven alongside a diverse array of New Havenites. By painting murals and planting trees, we will spend a day giving back and getting to know the city we call home. This is the first day of service that the city of New Haven has ever coordinated with Yale, so we want to ensure a high turn-out of Yale students. Might you be able to publicize this event to the members of TD?
The following registration link allows interested parties to sign up for a two-hour shift, and these are spread throughout the day, so folks can coordinate their service with their schedule. Registration closes on Wednesday!
https://www.eventbrite.com/e/new-haven-day-of-caring-tickets-48486142357
Yale Center for Language Study
The Yale Center for Language Study is now accepting applications for spring semester study for its Fields Program and its Directed Independent Language Study (DILS) Program. The deadline for applying to either program for spring semester study is October 15th . The Directed Independent Language Study (DILS) Program gives you the opportunity to study a language that is not currently taught in a Yale classroom.  The Fields Program gives you the opportunity to pursue advanced-level language study within the context of your academic area of focus.  Both are non-credit programs, open to all registered Yale students (undergraduate, graduate and professional). In each program, students work with a Language Partner—a native speaker of the target language (not a formal instructor)–in two 1-hour sessions for 12 weeks. The sessions aim to develop linguistic and cultural competence through active conversation and practice of what you are studying independently. With a limited number of slots available, a selection committee reviews all applications for their merit and appropriateness, and notifies students of its decisions within four to six weeks after the application deadline.  Details on each program and how to apply can be found here:
Directed Independent Language Study (DILS)
https://cls.yale.edu/dils
Fields Program
https://cls.yale.edu/fields
Yale Playwrights Festival: Call for scripts!
Please submit your one-act and/or full-length script(s) in progress for consideration for the 2019 Yale Playwrights Festival, to be held February 8-9 in a series of public readings in the Off-Broadway Theater.  We are looking for unpublished, previously unproduced works in progress . Your script can be any length. But it should be far enough along to benefit from the mentorship of working writers in and out of Yale and then from a rehearsed reading in front of an audience.  (But not so far along it's ready for production, in which case please produce it.)  Normally, four to six festival scripts are selected by a panel of Yale faculty readers from those submitted. The author of each script is then assigned two mentors, one inside Yale, one outside Yale, professional writers who work with the student writer in the six or so weeks before the festival. The focus of YPF is process . Each writer continues to work on the script before it's scheduled for presentation in YPF19.  Recent years' YPF mentors include Clare Barron '08, Liliana Blain-Cruz MFA '12, Amy Boratko, Daniel Egan, John Guare MFA '63, Bobby Lopez '97, Tarell McCraney MFA '07, Conor McPherson, Deb Margolin, Donald Margulies, Elise Morrison, Itamar Moses '99, Jonathan Payne, Joseph Roach, Colette Robert '03, Edwin Sánchez MFA '94, Charles Smith, Margaret Spillane, Andrea Thome, Alice Tuan, Mac Wellman, Lauren Yee '07, and Anna Ziegler '01.
You may submit more than one script. A hard copy is required. Be sure that the pages are stapled together and your name is on the title page. The type size of the dialogue should be at least 10 points, preferably 12. Leave your script(s) with May Brantley in the Theater Studies office, 220 York, Room 102.
Timetable:
November 26, 4 pm: Scripts due to May Brantley, Theater Studies, 220 York Street
Mid-December:  Festival writers notified
Mid-December to February:  Writers work on scripts
February 8-9: 2019 Yale Playwrights Festival   
For more information, email toni.dorfman@yale.edu