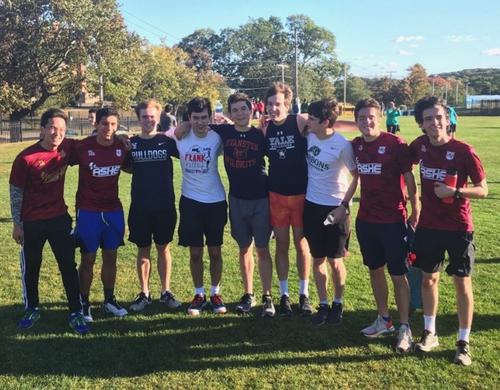 Dear Red Lions,
Hope everyone enjoyed this year's "Family Weekend"!  Whether or not you had family and friends visiting, I hope you took advantage of the opportunity to catch the many sporting events and great performances over the few days!
Our "photo of the week" features the TD runners for the men's and women's IM Cross Country race this past Friday.  Despite the windy and wet conditions, we gave it our all and had a great time as you can see from our big smiles!  Congratulations to Sophia Currie '22 (far left) and Zack Andalman '23 (center) who both came in 8th! 
 
October is a busy month in the college!  For Fall Break, we'll send out our usual guide to local activities for anyone staying on campus.  In addition, we are planning a small theater outing to see Moulin Rouge on Broadway on Thursday 10/17 and a trail hike through a local state park on Friday 10/18.  When we return from break we'll be gearing up for our Chubb event with Representative Rosa DeLauro on Thursday 10/24.  Stay tuned for the Google form to enter the dinner lottery with Rep. DeLauro!
And, of course, we have Halloween!  While we cannot do "Escape the Forbidden Tomb" in the RH crypt again – sorry folks!!! – we are still continuing our wonderful partnership with our neighbor, Escape New Haven!  So we're doing a "TD College Night" for the week leading up to Halloween.  From Sunday 10/27 to Thursday 10/31, they will be offering to the TD Community two games –"Before Moonrise" and "The Crypt" – at a highly reduced price.  You must be a member of the TD community (undergraduate, graduate affiliate, Staff, or Fellow) to sign up on the special registration page.  But you are welcome to bring in non-TD guests.  Entry fee is $5/person payable via credit card on their online site.  Follow the instructions to see the capacity limits for each game.  Many thanks again to Escape New Haven founders, Ethan Rodriguez-Torrent and Max Sutter, for hosting our college!
The TD Recording Studio is starting their training sessions this weekend!  Apply to join the TD Recording Studio's team of sound engineers! Training sessions (provided by studio engineers from Firehouse 12, a professional New Haven recording studio) will span four Sunday afternoons in October/November, after which point those who complete the training will be among the lucky few with swipe access to the studio. If you're interested, please complete this form by Thursday, October 10th. Training will commence Sunday, October 13th.  If you are interested in reserving the recording studio,feel free to fill out our new reservation form!
Here are some more important TD events and dates for the next two weeks:
Wednesday 10/9 6-7pm "Meet the Alum" dinner with Alan Liu TD '18 (Downey Room)
We have 1-2 spaces left for dinner with Alan Liu TD '18, who graduated with a BS/MS in Computer Sciences and was also the Director of Technology for YHack.  Currently at Facebook, he is excited to talk to TDers interested in working in Silicon Valley.  Please go here to sign up.
Friday 10/11 10pm-12am SAC Fall Formal (Box 23)
SAC's Fall Formal at Box 23 is back!  There will be drink tickets available for TDers who are ages 21 and over.  Lots of food and non-alcoholic beverages available for all! 
Saturday 10/12 Big Sib/Little Sib Apple Picking Trip (Bishop's Orchards)
Sign-ups have been completed for this fall outing for our Sibs groups!  Apple pie baking will happen in the TD Student kitchen following return from the trip.  More sib events will be on the way!
Saturday 10/12 12:55pm TD Goes to the Met Opera Live Stream (Sprague Hall)
Enjoy opera at the MET as though you were there!!!  Yale School of Music is offering tickets to TD for this special live stream performance of Giacamo Puccini's classic, Turandot, at Sprague Hall.  Sung in Italian with English subtitles, this live cinema transmission is part of the Met's award-winning Live in HD series, bringing opera to more than 2,000 theaters around the world.  At the intermission, for opera fans there will be an opera quiz and the winner gets an all-expenses paid trip to the Met (usually in late April or early May) to see a production.  Dinner in the Met's interior restaurant as well as roundtrip transportation is included!  Go here to sign up!
Sunday 10/13 Recording Studio Training Sessions Begin (TD Recording Studio)
We'll be working with studio engineers from Firehouse 12 for four consecutive training sessions. The 1 ½ hour recording studio teaching sessions have been scheduled for Sundays from 1:00-2:30 on the following dates: Oct 13, Oct 20, Oct 27, Nov 3. After these trainings, you'll know how to properly operate our equipment and be given swipe access to the Recording Studio.  Please feel free to email the Recording Studio Aides, Maryanne and Eric at maryanne.cosgrove@yale.edu anderic.jimenez@yale.edu  if you have any questions.
Without further ado, here is a word from Dean Mahurin…
Áshe,
HL
***
 
Silence has sometimes a remarkable power of showing itself as the disembodied soul of feeling wandering without its carcass, and it is then more impressive than speech. In the same way to say a little is often to tell more than to say."  (Thomas Hardy, Far From the Madding Crowd)
UPCOMING DATES AND DEADLINES
Friday, October 4

 

Last day to withdraw from a course offered in the first half of the fall term. See Withdrawal from Courses and Grades.

Monday, October 14

 

Classes begin for courses offered in the second half of the fall term.

Tuesday, October 15

 

October recess begins, 11 p.m.
Deadline to apply for a spring 2020 Term Abroad. See Special Arrangements.
YALE PLAYWRIGHTS FESTIVAL: CALL FOR SCRIPTS
 
Competition open to all Yale College students!  Please submit your one-act and/or full-length script(s) in progress for consideration for the 2020 Yale Playwrights Festival, to be held February 7-8, 2020, in a series of public readings in the Off-Broadway Theater.
We are looking for unpublished, previously unproduced works in progress. Your script can be any length. But it should be far enough along to benefit from the mentorship of working writers in and out of Yale and then from a rehearsed reading in front of an audience.  (But not so far along it's ready for production, in which case please produce it.)
Normally, four to six festival scripts are selected by a panel of Yale faculty readers from those submitted. The author of each script is then assigned two mentors, one inside Yale, one outside Yale, professional writers who work with the student writer in the five or so weeks before the festival. The focus of YPF is process. Each writer continues to work on the script before it's scheduled for presentation in YPF20. 
Recent years' YPF mentors include David Auburn, Clare Barron '08, Liliana Blain-Cruz MFA '12, Amy Boratko, Daniel Egan, John Guare MFA '63, Obehi Janice, Bobby Lopez '97, Tarell McCraney MFA '07, Caroline V. McGraw, Conor McPherson, Deb Margolin, Donald Margulies, Elise Morrison, Itamar Moses '99, Jonathan Payne, Joseph Roach, Colette Robert '03, Edwin Sánchez MFA '94, Charles Smith, Margaret Spillane, Andrea Thome, Alice Tuan, Mac Wellman, Lauren Yee '07, and Anna Ziegler '01.
You may submit more than one script. A hard copy is required. Be sure that the pages are stapled together and your name is on the title page. The type size of the dialogue should be at least 10 points, preferably 12. Leave your script(s) in the Theater Studies office, 220 York, Room 102.
The 2020 Yale Playwrights Festival is sponsored by the Marina Keegan Fund and Yale Theater Studies. 
Timetable:
December 2, 4 pm: Scripts to be left in the office of  Theater Studies, 220 York Street
Mid-December:  Festival writers notified
Mid-December to February:  Writers work on scripts
February 7-8, 2020  Yale Playwrights Festival , Off Broadway Theater  
For more information, email jacob.moses@yale.edu or toni.dorfman@yale.edu
PRINCETON IN ASIA
Princeton-in-Asia Information Session
Wednesday, October 9, 4:00 pm – 5:00 pm
Yale Center for International and Professional Experience, Room 305
55 Whitney Ave., 3rd Floor, New Haven, CT 06511
PRINCETON IN ASIA (PiA) is an independent, non-profit organization located at Princeton University. Founded by students in 1898, the program has long been driven by a mission to foster mutual appreciation and cultural understanding by connecting service-minded graduates and partner organizations in Asia through immersive work experiences that transform perspectives, cultivate long-lasting friendships and benefit local and global communities. 
For the 2020-2021 academic year, Princeton in Asia expects to offer approximately 135 full-year fellowships in the following locations: Cambodia, China, East Timor, Hong Kong SAR, India, Japan, Kazakhstan, Kyrgyzstan, Laos, Macau SAR, Malaysia, Mongolia, Myanmar, Nepal, Singapore, South Korea, Sri Lanka, Taiwan, Thailand and Vietnam. 
Princeton in Asia Fellows teach in kindergartens, secondary schools, polytechnics and universities; they help run international and local nonprofits as well as some of Asia's most innovative businesses and social enterprises; they write for newspapers and create content for news platforms with an international reach. Due to the size and diversity of the fellowships available, we encourage applicants of all disciplines and backgrounds to apply. For more information and application details, please attend our information session at Yale with PiA alumni!
OCS STEM CONNECT CODING PRACTICE SESSION
Thursday, October 10, 7:30-9:30PM
WTS B52
Bring a pencil, paper, and laptop
OCS STEMConnect Coding Practice Sessions are series of events led by peer students/volunteers, to help those searching for technical jobs gain hands-on coding experience, as well as network with peers to do mock interviews. During this first session, we will begin by an overview of the coding interview, how to prepare for it, resources available, and what OCS offers. Then the session leader will walk through three concrete problems to help you warm up. If there is time left, additional problems will be given to those who wish to continue practice in pairs. Everyone is welcome, while the event particularly targets those who are relatively new to technical job searching and need some guidance. Some knowledge of data structures and algorithms is assumed.
ACADEMIC STRATEGIES RESOURCES
 
1-1 Mentoring
Meet with an Academic Strategies Mentor! They will help you develop a weekly study routine, offer strategies for approaching complicated readings and p-sets, and help you develop a plan for getting through midterms. Have questions? Please email us at academicstrategies@yale.edu.
Academic Strategies Web Guides
Midterms thrown you off? Get back on track with our Academic Strategies web guides, including Academic Resources, our guide to finding the resources you need to support your academic work.
Yale College Writing Center
Residential College Writing Tutors available: https://www.yalewco.com/index.php
Peer Writing Partners available daily, Poorvu CTL tutoring mezzanine
Writing Study Halls (Sundays 2-5 pm, Wednesdays 7-10 pm).
See https://poorvucenter.yale.edu/undergraduates/writing-tutoring-and-programs for more detailed information.
The Community Initiative: Empowering first-generation and low-income students at Yale
A partnership between the Yale College Dean's Office and the Poorvu Center for Teaching and Learning: https://fgli.yalecollege.yale.edu
Meet with an FGLI Ambassador
Do you have specific questions about some of the initiatives or resources we offer? Do you have any questions about your professor's office hours? Are you from the West Coast and want to know more about Winter in New Haven? Then visit our team of ambassadors during their office hours! We are located at the front desk of 55 Whitney Avenue, 2nd floor.
Career Clothes Closet
In partnership with the Asian American Cultural Center, the Community Initiative has developed the Career Closet, a source of professional clothing for students that need professional attire for interviews, receptions, and all other formal events. Students can check out multiple items of clothing for 2 weeks, all free of charge. https://fgli.yalecollege.yale.edu/financial-resources/deans-office-services/career-closet