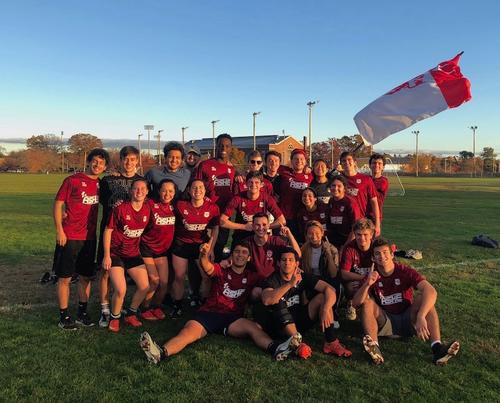 Dear Red Lions,
Hot off the presses – TD won the Soccer IM championship!!!  With this resounding 5-1victory over Silliman we put the curse to rest!  No one was injured and everyone played their hearts out to secure the victory!!!  Faren Roth '22 was voted the MVP of the game!  Ok, folks onto the Tyng Cup!!!
We had an amazing week of events connecting to the greater New Haven community!  On Thursday

 

we hosted our Fall Chubb Fellow, Representative Rosa DeLauro, at the Yale Law School where she spoke passionately on the importance of protecting the social safetynet and staying active in our political process. 

 
The next morning, TD Community Outreach Aide Ashwin Chetty '21 then led our service trip to Sunrise Café at 6:55am on Friday morning!   We are working on more opportunities to work with local food banks in the city, so pleas stay tuned!
Here are all of our great TD events for this week:
Escape New Haven is doing a special "TD Week" for their two games – The Crypt and Before Moonrise!  They are offering us a special discounted price of $5/player.  You must be a TD student to sign up so please do not share the link with your non-TD friends.  Please go to this link for the TD sign up page.
Wednesday 10/30 8-10pm Cookie Decorating (TD Student Kitchen)
The TD student kitchen aides are hosting a "decorate-your-own" Halloween themed cookies event!  Aside from cookies, we will have apple cider.  Everyone is welcome and feel free to stop in at anytime!
Friday 11/1 7-9pm TD Seniors Red Wine Tasting with David Swensen (TD House)
 
Saturday 11/2 11:00am-4:30pm Mott Woolley Paint Ball Trip
Mott is offering a specially discounted price of $10 for a day of paintball!  Come to the TD HoC office to secure your spot.  You'll also need to sign two waiver forms in order to participate.  If anyone would like to request a deposit waiver, please email me at mary.lui@yale.edu.  Remember to layer with warm clothes that can get dirty!
Saturdays & Sundays from 3-5pm Community Art Project Office Hours at TD Art Studio
We can continue to use your help with the TD community art project with DESK – Downtown Evening Soup Kitchen to help create art for our neighbor organization.  Students of all artistic skill levels are invited to join and all supplies costs will be covered! To join, visit office hours or contact  nishanth.krishnan@yale.edu or zihao.lin@yale.edu with questions.
Here are our great events next week:
Tuesday 11/5 5-6:30pm "Grad School 101" Workshop (Thompson Room)
The Office of Career Strategy with our TD Graduate Affiliates will be offering an info session on the nuts and bolts of applying to graduate school.  Please feel free to get your dinner ahead of time.  Off-campus students are welcome to dine for free to attend this event.
Wednesday 11/6 6-7pm Dinner with TD Alders – Ward 7 and Ward 22 (Thompson Room)
Friday 11/8 8pm-8am TD Dino Snore (Peabody Museum)
Sleepover at the Peabody for the Class of 2023!  We are excited to partner again with the wonderful folks at the Peabody.  The museum will be undergoing their major renovation closing down this spring.  They will likely not reopen until your senior year so you don't want to miss this chance to see the museum at night and behind the scenes!  More information will be forthcoming!!!
Without further ado, here is a word from Dean Mahurin…
Áshe,
HL
***
Essay on Storytelling
Elisa Gonzalez
Easy enough to begin—
Once and not now I
parachuted from a daring little plane.
As if shipwreck survivor I crawled onto shore.
Rain clouds above though it wouldn't rain for days.
Something told me so.
Anemones flirted on the hills.
But plot is greedy, ever urging on
desire. And—however improbable—
it's true: as if ransomed
you stepped through a gate.
Invited me in.
I never slept.
I lingered among orange trees and lady's-tresses.
I donned a blue dress.
You didn't touch. Neither
did you close your eyes.
Almond tree struck blushing, figs rotting wild across stones.
This embarrassing oleander, it petaled my hair.
Where is this? And which of us lives here?
From time to time.
I don't understand the contrivance of ends: my forever
condition.
But stay here, sit beside me,
let's talk till the rain comes.
Change—it is the world's strangest
condition.
So we may abandon
garden for house, and fall asleep.
So we may wake, we may
say, Yes, I see you.
Yes, I think I know
what it is to satisfy a dream.
UPCOMING DATES AND DEADLINES
November 7, Thursday

 

Last day to withdraw from a course offered in the second half of the fall term without the course appearing on the transcript. See Withdrawal from Courses and Grades.
Last day to convert from a letter grade to the Credit/D/Fail option in a course offered in the second half of the fall term. See Grades.

November 23, Sunday

 

November recess begins, 9 p.m.

November 30, Sunday

 

Last day to relinquish on-campus housing for the spring term without charge. See Undergraduate Regulations.
FELLOWSHIP EVENTS
Richard U. Light Information Session 5
Tuesday, October 29, 11:00am - 12:00pm
CIPE, 55 Whitney Avenue, 3rd Floor, Rm 369
Yenching Academy of Peking University (Master's Program in China Studies) Information Session
Presented by Dr. William Brent Haas, Director of Admission Affairs at Yenching Academy
Tuesday, October 29, 4:00pm - 5:30pm
CIPE, 55 Whitney Avenue, 3rd Floor, Rm 369
Wednesday, October 30, 11:45am -12:45pm
Yale Poorvu Center for Teaching and Learning, 301 York St, Room 120A
Summer STEM Fellowship Opportunities
Dr. Alexia Belperron will discuss, How to Find a Lab.
Friday, November 1, 3:00pm – 4:00pm
LC 104
Friday, November 1, 4:00pm-5:00pm
Yale Poorvu Center for Teaching and Learning, 301 York St, Room 120A
Summer Fellowships and Funding Information Session
Monday, November 4, 4:00pm – 5:00pm
Yale Poorvu Center for Teaching and Learning, 301 York St, Room 120B
INTERESTED IN BECOMING A CCE?
The Communication and Consent Educators are a diverse, creative group of undergraduates drawn from across campus to foster a more positive social and sexual climate.  Through workshops, programs, and conversations, they collaborate within their own communities to build a culture of respect and support. They also serve as a resource for students who have experienced or heard about sexual misconduct, providing a peer avenue to SHARE, the UWC, Title IX, and the Yale Police. The CCEs are paid employees of the YCDO, working 5-10 hours per week, with longer hours during training periods in August and January.  There's no need for prior experience in sexual violence prevention. The prime qualification for being a CCE is the desire to make Yale a better place! For more information or to apply, please visit yale.edu/cce.
ACADEMIC STRATEGIES WORKSHOPS
Workshops
Most workshops are held in the Poorvu Center (the new name for the CTL). Room M104A is located on the Poorvu Center's Writing Center mezzanine, just up the stairs near the 301 York St. entrance to Sterling Library. You are encouraged to RSVP via Yale OrgSync (https://orgsync.com/162209/).
Managing a Heavy Reading Load     
Monday, October 28, 4:00 PM, Poorvu Center, 2nd Floor, M104A
Feeling overwhelmed by piles of reading? Learn some essential strategies to make the most of your limited reading time. Have less stress and create more free time!
Cultivating Faculty Mentors     
Monday, October 28, 6:00 PM, Poorvu Center, 2nd Floor, M104A
Thursday, October 31, 4:00 PM Poorvu Center, 2nd Floor, M104A
Initiate conversations, ask for assistance, request recommendations, and build mentoring relationships with Yale faculty, teaching fellows and staff.
Procrastination: How to Work Through It
Monday, October 28, 7:30 PM, Poorvu Center, 2nd Floor, M104A
We all procrastinate. When your procrastination habits get in the way of your goals, however, it's time for a change. This workshop offers strategies for identifying the sources of procrastination and pursuing productive habits that can get you back on track.
Writing Emails, Presentations, and Reports: Academic & Professional Communication for Undergrads
Tuesday, October 29, 4:00 PM, Poorvu Center, 2nd Floor, M104A
Need to write to faculty or employers about recommendations and summer opportunities? Need to present your ideas effectively to different kinds of audiences? This workshop helps you identify how to tailor your writing to your audience and communicate with confidence.
Exam Study Strategies          
Tuesday, October 29, 6:00 PM Poorvu Center, 2nd Floor, M104A
Reduce exam stress by learning new strategies for preparing and studying for midterms and finals. This workshop offers suggestions for preparing for and taking problem-based, short answer, and essay exams.
Fresh Start: Midterm Edition    
Tuesday, October 29, 7:30 PM, Poorvu Center, 2nd Floor, M104A
Want to refresh your approaches to your academic work? Our mentors will lead you through a series of activities to help you identify your current strengths and develop new strategies for meeting the new challenges presented by your current semester's courses.        
 
Imagining Your Summer       
Wednesday, October 30, 11:45 AM, Poorvu Center 120A (Lunch provided)
Friday, November 1, 4:00 PM, Poorvu Center 120A
Interested in summer study abroad, fellowships, or internships, but don't know how to get started? Come for an information workshop with our Academic Strategies Mentors and representatives from CIPE to help you identify some possible summer opportunities and your next steps to make your vision happen. Deadlines for summer opportunities are coming up very soon, so start planning now!
Public Speaking for Undergraduates
Wednesday, October 30, 4:00 PM, Poovu Center, 2nd Floor, M104A
Professors are increasingly asking students to engage in public speaking, from leading class discussion to more formal presentations. This workshop suggests preparation and performance strategies to help you do your best.
Time Management            
Wednesday, October 30, 6:00 PM, Poorvu Center, 2nd Floor, M104A
Set priorities and develop a weekly schedule that can lead to an active and balanced academic life.        
Pathways for Sophomores
Wednesday, October 30, 7:30 PM, Poorvu Center, 2nd Floor, M104A
Sophomore year offers new challenges, including increased course loads, upper-level classes, and identifying a major. This interactive workshop helps students set goals and make long-term plans for the year.