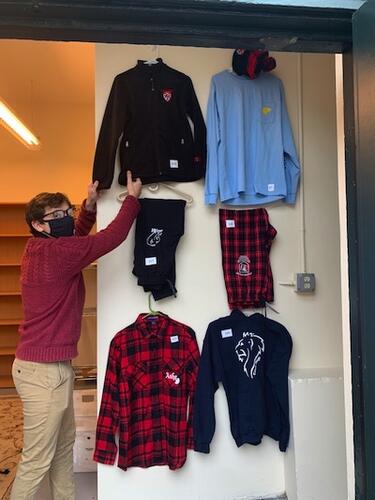 Dear Red Lions,
The Tyng Cup race is back on!  Let's keep our lead going as we head into these last weeks of the semester!  Tonight is the start of ping pong so let's get out there!
Our "photo of the week" is titled "TD Gear Shop Open for Business"!  Thanks to TD junior Calvin Kaleel and Mott Woolley President and KC Mills for putting together the shop.  Mott is in the process of restocking and ordering some new gear so stop by and take a look at the selections.  
TD pianists – super serious to the not so serious – I am excited to let you know that

 

TD has access to the grand piano in the RH classroom.  If you want to reserve a practice time for the rest of the semester, just email KC Mills at

 

kc.mills@yale.edu

 

with 3 possible times with 2 hour blocks. She will work out access with the Yale College Registrar's Office to grant you swipe access.  Please note that the room will not be available on Tuesday evenings from 5:30-8pm and all day on Wednesdays.  
We are clearly in full swing of election season.  I want to remind everyone of Yale's policies regarding political campaigns and messages set by the Office of General Counsel that are stated here. Yale strives to encourage respectful political participation without favoring any party or candidate.  The university has strict rules regarding any form of campaign materials including banners, signs, flyers, and chalking on the exterior of Yale buildings or common spaces that include college courtyards.  We want to keep all common spaces warm and inviting for all students and staff.
We took a break from hosting activities but we now have the go ahead to start up again.  So here are our great TD events for this week:
Wednesday 10/28 8pm TD Knitting Circle (over Zoom)
Still room to join the TD Knitting Circle!  Please register at this link and attend the meetings on Wednesday nights.  You'll see the Zoom link for the meeting on the registration page.
Thursday 10/29 to Saturday 10/31 TD Night at Escape New Haven 
Last chance to sign up for the handful remaining spots for Before Moonrise.  I was told that a group of 3 could tackle the room though it will certainly be very challenging.  So if any of you want to try, feel free.  Here is the link again. It will stay available until Escape New Haven fills it.
Friday 10/30 3:30-5:30pm or Saturday 10/31 2-4pm (rain date) Pumpkin Carving (TD Courtyard)
Looking ahead to this weekend's weather forecast, it looks like it may rain on Friday.  So to play it safe, we'll go to Saturday afternoon as our rain date.  Still hope to decorate the courtyard with carved and painted pumpkins.  No need to sign up, just show up.  Stay tuned for the final decision on day/time.
Saturday 10/31 6-6:30pm Trick or Treating with TD Families
Celebrate Halloween with our TD little ones by handing out candy at the entryway door on Saturday night.  We need volunteers from each entryway to answer the door when Divera, Daniel, Ana, Aby, and Dior come dressed and knocking.  All candy will be provided.  Just write KC Mills if you're interested in being the representative for your entryway and she will give you instructions.  
Without further ado, here is a word from Dean Mahurin…
Àshe,
HL
***
My People
Langston Hughes 
Dream-singers,
Story-tellers,
Dancers,
Loud laughers in the hands of Fate—
           My People.
Dish-washers,
Elevator-boys,
Ladies' maids,
Crap-shooters,
Cooks,
Waiters,
Jazzers,
Nurses of babies,
Loaders of ships,
Porters,
Hairdressers,
Comedians in vaudeville
And band-men in circuses—
Dream-singers all,
Story-tellers all.
Dancers—
God! What dancers!
Singers—
God! What singers!
Singers and dancers,
Dancers and laughers.
Laughers?
Yes, laughers….laughers…..laughers—
Loud-mouthed laughers in the hands of Fate.
PERTINENT DATES AND DEADLINES
Nov. 4


 

W


 

Last day to withdraw from a fall second-half course without the course appearing on the transcript.


 

Nov. 20


 

F


 

November recess begins after classes end.


 

Nov. 30


 

M


 

Classes resume online.


 

Dec. 4


 

F


 

Fall-term online classes end; online reading period begins.


 
The Brady-Johnson Program in Grand Strategy

 is now accepting applications for its year-long seminar focused on politics, social change, and geopolitics.  Beginning in February, the two-semester course explores how to achieve large ends with limited means, whether in military conflict, foreign policy, domestic politics, or social movements. The course engages questions of grand strategy from a wide range of perspectives, exploring topics in racial justice, global security, economic development, climate change, immigration, and technological advancement, among others. It emphasizes interaction between academics and practitioners, and between participants of differing political views. Grand Strategy aims todevelop students' capacities not only to analyze the past and present, but to act as responsible, thoughtful leaders and citizens of the future. In conjunction with the course, the program hosts a number of 

events and private dinners

 with practitioners such as diplomats, politicians, military personnel, journalists and media experts, and social activists. This course is a highly selective and intensive seminar that offers summer research grants to all accepted students. 
If you are interested about our program please visit our 

Q&A

 on our website for more details.  To apply, please clink the link here: 

https://grandstrategy.yale.edu/apply

.  The deadline to apply is November 1 at 11:59pm.
COMMUNITY AND CONSENT EDUCATORS
Interested in becoming a CCE?  The Communication and Consent Educators are a diverse, creative group of undergraduates drawn from across campus to foster a more positive social and sexual climate.  Through workshops, programs, and conversations, they collaborate within their own communities to build a culture of respect and support. They also serve as a resource for students who have experienced or heard about sexual misconduct, providing a peer avenue to SHARE, the UWC, and Title IX. The CCEs are paid employees of the YCDO, working 5-10 hours per week, with longer hours during training periods in August and January.  There's no need for prior experience in sexual violence prevention. The prime qualification for being a CCE is the desire to make Yale a better place! For more information and to apply, please visit yale.edu/cce. 
CCE QUIZ
https://uquiz.com/quiz/hUbZSL/resources-quiz
Being off-campus, whether at home or in New Haven, can be a refreshing change of pace, but it can also be isolating. This quiz asks a mix of fun and reflective questions and offers a non-exhaustive list of wellness practices and resources that you can utilize while navigating out-of-residence life. The Yale CCEs designed this quiz to help you reflect and connect with Yale resources. Your data will be kept confidential. We hope you enjoy the quiz and that it helps you to reflect and access the wonderful resources offered by the University.
WOMEN'S LEADERSHIP INITIATIVE:
WLI is an official organization dedicated to the empowerment and celebration of womxn. Our organization helps create and develop womxn's leadership skills, offering opportunities, and a community platform. The Mentorship Committee has one goal this semester: to foster relationships between Yalies. For many first-years, there is not much room for a casual mentorship (or even friendship!), in which advice, knowledge, and experience are shared; a guiding relationship where support is always present. For womxn especially, it is important to have an older girl to rely on —turn to— when navigating your first college year. 
WLI encourages students to fill out one of the following links, either as a mentor or a mentee. As all Yalies are striving for some new (socially distant, of course) relationships, our Mentorship Initiative is a great way to both network, and make a new friend! 
Here is the link to the form for mentors: https://forms.gle/T8gkqmxvFmPyeHsq7
Here is the form for mentees: https://forms.gle/vBwtQpwcs2bzSDcL9
OFFICE OF CAREER STRATEGY:
Alumni Perspectives on Disability Inclusion in the Job Search
Tuesday, October 27, 4:00pm
Register here: https://yale.zoom.us/meeting/register/tJAtdO-rrT4tGNHjv340mCNpnNR5Nhe_v5K_
If you're wondering Should I Reveal A Disability to A Potential Employer, and If So, When? Join this conversation to hear from Matan A. Koch (YC Alum), Director of RespectAbility California and Jewish Leadership at RespectAbility, Pia Kohler (YSE Alum), Senior Research Fellow at UMass Boston's Center for Governance and Sustainability, and another panelist or two to be announced. The panel will be moderated by Kristen Beyers, Director of Community and Inclusion at Yale School of Management.
Yale Only Graduate and Professional School Virtual Fair
Thursday October 29, 3:00pm-4:30pm
Thinking about applying to one of Yale's Graduate or Professional Schools?
If so, register for this virtual event to network with admissions representatives and get answers to your questions about specific school and programs, learn about application deadlines, degree options, financial aid, future career prospects and more. Similar to an in-person event, you will be able to speak directly with admission representatives from Yale's Graduate and Professional Schools.  Registration Required
Designing Your Career @ Yale Programs
Learn to apply design thinking tools and ideas to: explore your possible career futures, take proactive steps to test your career interests, moving from contemplation to action, and become a part of a growing community of life designers Design thinking can help you create a life that is both meaningful and fulfilling, regardless of background and identity, or what your interests might be. Open to sophomores, juniors, and seniors.
LIBRARY WORKSHOPS
Demystifying the Literature Review
Tuesday, October 27 @ 12:30 PM EST | Register https://schedule.yale.edu/event/6988340
Learn how to conduct a literature review for your research projects and fellowship applications. This workshop will cover: 
·       How to conduct a literature review using library resources
·       How to use a chart to keep track of and evaluate your sources
·       How to use citation management software for organizing sources
Ask Me Anything: Librarian Office Hours
Wednesday, October 28 @ 3 PM EST | Register: https://schedule.yale.edu/event/7034627
Do you need to find a book or e-book, a scholarly article, or dataset? Do you need help formulating a research question for a paper, or finding sources for an annotated bibliography? Drop-in any time between 3 PM and 4 PM EST to meet with a librarian online for a short research consultation.
Planning Research and Independent Projects for Summer Fellowships
Thursday, October 29 @ 1:30 PM EST | Register: https://schedule.yale.edu/event/7065748
If you are planning to create your own (non-STEM) research or independent project for a summer fellowship, this session will outline the key factors you will need to consider and how to access some useful resources. Hosted by Yale University Library and the Center for International and Professional Experience.