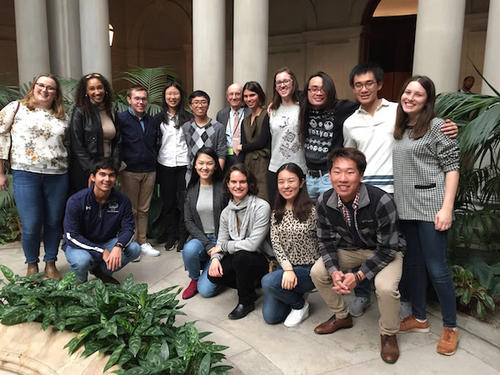 Notes

 and 

News

 – Week of 10/22
 
HL's Pieces
 
Welcome back, Red Lions!
 
Hope everyone had a great fall break! I saw many of you going in and out of the Courtyard enjoying a more relaxing pace, exploring 

New

 Haven, and getting puppy therapy with Autumn!  We also had a great week of art!  In the courtyard, our Art Studio aides did Splatter Wall Art on Thursday.
 

Our "photo of the week" is titled "TD Goes to the Frick Collection" and features our hosts Stephen Scher TD '56 with our gallery curator, Emma Capron, who led us through her exhibit on the 15th century work of Jan Van Eyck.  We also had the opportunity to tour the rest of the Frick's collections.  I am delighted to say that our TD group had representation from across all four years! 
  
As we gear up for Halloween, a quick reminder that the online reservation system for "Escape the Tomb," the pop-up Escape Room in Rosenfeld Hall is now live!  Don't forget to respond to Melina Delgado and Alanna Pyke's email if you want to go for free with your Sibs on Tuesday 10/30.
 
The Peabody Museum will also be holding their annual "Haunted Ball & Costume Ball" event on Friday 10/26.  We have two pairs of tickets to give away!  If you're interested in entering the drawing for the tickets, please send an email to KC Mills at Mills, kc.mills@yale.edu.  We'll announce the winners by Thursday morning.
 
Our SAC Fall formal will take place on Saturday 10/27 at Box 23 from 9-11:30pm and the annual Mott Woolley paintball trip will take place on Saturday 11/3!  To sign up, please go to the Head of College Office during business hours (9am-5pm, Mon-Fri)and pay $10 (cash or credit) before Tuesday 10/30. 
 
With Election Day coming up fast on Tuesday 11/6, there is still time for TDers to obtain absentee ballots for states where the registration deadline has not yet passed.  If you need to know the registration rules for your state, you can go here to www.vote.org.  If you wish to vote in Connecticut, you have until 10/30 to register online.   Go to this link for more information about voting in CT.   You may still register in city hall on the day of the election, but you will contend with long lines so go online!  And please feel free to come to the HoC office if you require stamps or any additional help.  The TD Aides will be ready to assist!
 
**************
 
Here are our important events for this week:
 
Tuesday 10/23 4:30-6pm Tea with TwoSet Violin (TD House)
 
TwoSet Violin, the comedy music duo consisting of Brett Yang and Eddy Chen are stopping into TD as part of their sold out North American tour.  Come early to get your seats, doors open at 4:15pm.  If any TDers would like to have dinner with TwoSet after the tea, please email me at mary.lui@yale.edu.  We have room for 15 students.
 
Thursday 10/25 4:30-6pm Tea with Lisa Rosenblum TD '75, "Yale, Athletics, Telecommunications, Government: Reflections on Building a Career" (TD House)
 
Come meet one of the most "most powerful women in cable" and telecommunications!  Lisa Rosenblum is currently the Vice Chairman of Altice, USA and served as the Commissioner and Deputy Chairman of the New York Public Service Commission.  An alum of one of the first classes of women at Yale, Ms. Rosenblum was also the Captain of the Yale Women's Tennis Team and its most valuable player.  We are delighted to welcome her back to TD to discuss her long and successful career in the telecommunications industry.
  
Thursday 10/25 7-11pm Opening Night for TD Pop Up Escape Room with Escape New Haven (Rosenfeld Hall)
 
The online system is now live!  So grab your spot while you still can!  The RH Escape Room will run from October 25 to October 31, from 7pm to 11pm each night.  Please feel free to invite non-TD friends.  They are welcome as long as they come with a TDer!
 
Friday 10/26 3-5pm Pumpkin Carving (TD Courtyard)
 
We kickoff the Halloween weekend with our own pumpkin carving event with hot chocolate, hot apple cider, and donuts.  Of course we will have pumpkins of all sizes to carve, paint, and decorate. 
 
Saturday 10/27 9-11:30pm SAC Fall Formal (Box 63)
 
SAC is excited to announce our Fall Formal will be at Box 63, located at 338 Elm Street just on the corner of Park and Elm Streets.  There will be great food, drinks, music, and dancing! 
 
And here are some exciting events for the following week when we return from break:
 
Monday 10/29 Lunch with Dean Marvin Chun (Thompson Room)
 
Dean Chun sent out a note earlier in the semester announcing his schedule of lunches with Yale undergraduates for this fall.  Go to this link to sign up and make sure to select TD on the form.
 
Tuesday 10/30 8-10pm Sibs Night for Escape the Tomb with Escape New Haven (RH Common Room and RH Crypt)
 
To celebrate our wonderful sibs, TD is hosting a Sibs Night in the RH Coomon Room with hot apple cider and cookies.  Sib groups may sign up for one of the 8 available slots to play "Escape the Tomb" for free.  You must sign up with our Sibs program coordinators, Alanna Pyke and Melina Delgado. 
 
Saturday 11/3 Mott 11:30am-4pm Woolley Paintball Trip
 
Great way to relieve midterms and have some fun!  Sign up in the Head of College office and pay $10  to secure your spot.  Sign ups will close on Tuesday 10/30.  The bus leaves at 11:35am  on Saturday morning from the Temple Street gate and will return to campus around 4pm.  Make sure to bring clothing that you are comfortable getting dirty and will keep you safe from paintballs and the cold.For more information, please email angel.mora@yale.edu.
 
Without further ado, here is a word from Dean Mahurin…
 
Áshe,
HL
 
***
Fame is a bee.
It has a song—
It has a sting—
Ah, too, it has a wing.
VERY IMPORTANT DEADLINE!:
October 26, Friday: Midterm.
Last day to withdraw from a fall full-term course without the course appearing on the transcript. See Withdrawal from Courses and Grades.
Last day to convert from a letter grade to the Credit/D/Fail option in a fall full-term course.
Deadline to apply for double credit in a single-credit course.
Withdrawal from Yale College on or before this date entitles a student to a rebate of one-quarter of the fall term's tuition. See Undergraduate Regulations
Brady-Johnson Program in Grand Strategy
Applications are now being accepted for the 2019 Grand Strategy Course. Team taught by Yale faculty and distinguished practitioners, the two-semester course explores how to achieve large ends with limited means, whether in military conflict, foreign policy, domestic politics, or social movements. We will be holding an information session for students interested in learning on Wednesday, October 24 from 5:00-6:00p.m. in LC 102.  Learn more at https://grandstrategy.yale.edu/courses/studies-grand-strategy/2019-course-application.
Harbor Scholars: A Dwight Hall Program
Harbor Scholars seeks to address the unique challenges faced by those who do not benefit from the personal and financial support that many receive from family, both at Yale and throughout the New Haven community.  This identity includes but is not limited to those with experience in the foster care system, those who have gone forth with emancipation proceedings, or those who lack parental support for other reasons.  
In order to ensure the continued success of these individuals at the collegiate level, the program will provide academic mentorship, financial assistance, and social support to Yale students of this background. Those who would like to serve as Affiliate Members in supporting the program and partaking in community involvement initiatives are also welcome and ENCOURAGED TO JOIN. The program will organize Scholars and Affiliate Members to provide mentorship and college counseling services to New Haven Area high school students in out-of-home care  later in the term and throughout the Spring so as to pass down the skills and insights that were integral to their own success and reduce the factors that may hinder public high school students of this identity from realizing their full potential.  
If you are a Yale student who fits this identity OR someone who does not identify with this background but wishes to support New Haven Area youth who do, feel free to reach out to the president of the organization, Tim Ryan, at timothy.ryan@yale.edu!
Academic Strategies Workshops
Cultivating Faculty Mentors/Recommendations
Initiate conversations, ask for assistance, request recommendations, and build mentoring relationships with Yale faculty, teaching fellows and staff.        
Monday, October 22, 4:00 PM Seminar Room, Trumbull College
Friday, October 26, 2:30 PM CTL 118A
Fresh Start: Midterm Edition
Want to refresh your approaches to your academic work? Our mentors will lead you through a series of activities to help you identify your current strengths and develop new strategies for the second half of the semester.
Monday, October 22, 6:00 PM CTL M104A
Succeeding in Seminars        
Learn strategies for effective engagement in class discussions, working closely with professors, and preparing for seminar projects.
Monday, October 22, 7:30 PM CTL M104A
Procrastination: How to Work Through It   
We all procrastinate. When your procrastination habits get in the way of your goals, however, it's time for a change. This workshop offers strategies for identifying the sources of procrastination and pursuing productive habits that can get you back on track.
Tuesday, October 23, 6:00 PM Walker Seminar Room Berkeley College
Succeeding in Lectures/Notetaking 
Learn strategies for effective note-taking, classroom engagement, and exam and assignment preparation for lectures.
Tuesday, October 23, 7:30 PM LC 317
Exam Study Strategies          
Reduce exam stress by learning new strategies for preparing and studying for midterms and finals. Get suggestions for preparing for and taking problem-based, short answer, and essay exams.
Wednesday, October 24, 4:00 PM CTL M104A
Time Management    
Set priorities and develop a weekly schedule that can lead to a satisfying academic life.
Wednesday, October 24, 6:00 PM LC 208
Managing a Heavy Reading Load     
Feeling overwhelmed by piles of reading? Learn some essential strategies to make the most of your limited reading time. Have less stress and create more free time!
Wednesday, October 24, 7:30 PM CTL M104A
Reading Analytically 
Learn how to read deeply to generate effective contributions to class discussion, develop essay topics, and identify strong evidence for essays.
Thursday, October 25, 7:30 PM CTL M104A
Imagining Your Summer (ASP & CIPE/Fellowships)
Interested in summer study abroad, fellowships, or internships, but don't know how to get started? Come for an information workshop with our Academic Strategies Mentors and representatives from CIPE to help you identify possible summer opportunities and your next steps to make your vision happen. Deadlines for summer opportunities are coming up very soon, so start planning now!
Friday, October 26, 1:00 PM CTL 120A
First-Generation/Low-Income Community Initiative
What does it mean to be the first in your family to attend college—at Yale of all places? What experiences come with growing up in a low-income household? What role do all of these experiences play as we endeavor our individual careers at Yale and afterwards?  Be part of a developing and growing community of students from first-generation and/or low-income (FGLI) backgrounds through the First-Generation Low-Income Community Initiative! Together, we talk about these questions and more to make sense out of our collective identity, all while developing friendships across socially and culturally diverse backgrounds. Whether through academic guidance, mentorship, or personal guidance, our community is eager to welcome and support you.
The Initiative consists of
Study Spaces Monday (

6 – 10 PM

) and Thursday (

7 – 10 PM

) evenings with peer Student Ambassadors

Weekly discussions on what it means to be first-gen and/or low-income

Weekly academic workshops (through the Academic Strategies Program)

Weekly newsletter (featuring Student Shout-outs and upcoming FGLI events)

Office hours with Student Ambassadors

Collaborative events with other student organizations
Have an idea? Want to express a need? Let us know!  Contact jose.lopez@yale.edu for more information, and learn more at https://fgli.yalecollege.yale.edu This initiative is a part of the Woodbridge Fellowship, in collaboration with the Yale College Dean's Office and the Center for Teaching and Learning.
This week's FGLI Community Initiative Workshop: Fresh Start: Midterm Edition 
Want to refresh your approaches to your academic work? Our mentors will lead you through a series of activities to help you identify your current strengths and develop new strategies for the second half of the semester.