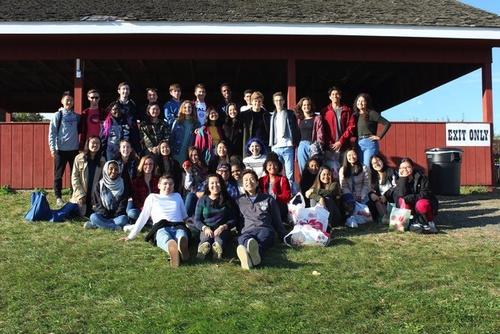 With just days away from Fall Break, I begin this week's "Notes and News" with our "photo of the week" featuring our Big Sib/Little Sib apple picking trip to Bishop's Orchards in Guilford, CT.
As you can see the skies cleared and the sun came out just in time for the trip on Saturday!  Everyone had fun picking apples, going through the corn maze, and then baking in the TD student kitchen.  Many thanks to Thuy Pham for the picture and please go to her album to see more!
When we return from break we will be gearing up for our Fall Chubb Fellow event with Representative Rosa DeLauro!  This should be a very special event to honor one of the longest serving Congresswoman in the House.  Especially with the political turmoil in Washington, D.C. we are delighted that she is taking time out of her extremely busy schedule to spend time with our college.  Please go here to sign-up for the dinner with TD students.  The lottery results will be announced on Monday 10/21.
Many thanks to our great SAC leadership, Virginia Davis and Eric Jimenez, for pulling off another great Fall Formal at Box 23!  Next on our SAC's agenda is bringing back our "TD Assassins" game.  This is basically an elaborate game of "tag" that takes place across campus and over several days (10/23 to 11/4)!  Go here to read about the rules and sign-up with the GroupMe link to play!  Registration will close this Sunday 10/20 at noon!  Once you sign up, you'll get updates and announcements.  Let the games begin and may the odds be ever in your favor! 
Starting this Wednesday 10/16 we will be on Fall Break.  Please go here to access our TD Fall break guide if you are here this week.  In addition, here are some activities we have planned:
Thursday 10/17 NYC Theater trip to "Moulin Rouge" matinee
The lottery is closed and the results will be announced this evening.  Lottery winners will have until Wednesday at 4pm to pick up their theater and train tickets from the TD Head of College office.  Because of the high demand, we will have a waitlist.  Any unclaimed theater and train tickets will automatically go to those on the waitlist for pick up starting at 9am on Thursday morning.
Friday 10/18 1-4pm Brooksvale Park Hike with TD Grad Affiliates
Sunny with a high of 60 degrees is the projected forecast for this Friday!  Join TD Graduate Affiliate, Juliana Lawrence, on a hike through beautiful Brooksvale Park in Hamden (just the next town over) at the height of Fall Foliage season.  Please sign up here if you're interested in joining the hike!  We plan to stop for ice cream before heading back to TD. 
Saturday 10/19 10am-12pm Sustainability Outing to the Wooster Sq. Farmer's Market
TD Sustainability co-coordinator Ryan Tsedevsuren '21 and Malak Khan '21 will be leading a trip to the Wooster Square Farmer's Market on Saturday at 10am.  Please meet in the TD courtyard and you'll walk over as a group.  Please bring money if you plan to buy any of the local produce or prepared foods for sale.  Please reach out to ryan.tsedevsuren@yale.edu if you have any questions.
When we come back we'll have a lot happening the week of 10/21:
Wednesday 10/23 4:30pm Tea with Soleil Ho (TD House)
Restaurant critic for the San Francisco Chronicle, Soleil Ho, will be here to talk about food and social justice!  She's reviewed a wide range of culinary experiences including fine dining restaurants to Michelin-star ramen restaurants to Popeye's Chicken Sandwich.  She is also a graphic novelist and the former co-host of the award-nominated Racist Sandwich podcast, which looked at food under the lights of gender, race, and class.
Thursday 10/24 5:15pm and 6:45pm Fall Chubb Lecture and Dinner with Representative Rosa DeLauro (Yale Law School and TD Auditorium)
Representative DeLauro's Chubb address at the Yale Law School is open to the public.  Go here to enter the lottery to have a seat at the Chubb dinner!
Friday 10/25 3:30-5pm Pumpkin Carving (TD Courtyard)
Join in our fall college tradition of carving and painting pumpkins to decorate the TD Courtyard!  Come early to claim your pumpkin.  We'll have warm apple cider and apple cider donuts!  
Without further ado, here is a word from Dean Mahurin…
Áshe,
HL
***
 
Yellow Breast, swaying upon the slender stem of a wild sunflower, warbles a sweet assurance of this as I pass near by. Breaking off the clear crystal song, he turns his wee head from side to side eyeing me wisely as slowly I plod with moccasined feet. Then again he yields himself to his song of joy. Flit, flit hither and yon, he fills the summer sky with his swift, sweet melody. And truly does it seem his vigorous freedom lies more in his little spirit than in his wing. (Zitkala-Sa, Why I Am A Pagan)
UPCOMING DATES AND DEADLINES
Monday, October 14

 

Classes begin for courses offered in the second half of the fall term.

Tuesday, October 15

 

October recess begins, 11 p.m.
Deadline to apply for a spring 2020 Term Abroad. See Special Arrangements.
NB: I will be out of the office during the fall recess, but available to answer questions over email!
FLU SHOT CLINICS
| | | | |
| --- | --- | --- | --- |
| Date | Time | Location | Ages |
| Tues., Oct. 15* | 9am-3pm | Yale Health Center, 1st floor | 5 years and older |
| Sat., Oct. 19 | 9am-1pm | Yale Health Pediatrics, 3rd floor | 6 months and older |
| Wed., Oct. 23 | 10am-3pm | Yale School of Medicine, Harkness Building | 5 years and older |
| Fri., Oct. 25* | 9am-3pm | Yale Health Center, 1st floor | 5 years and older |
| Wed., Oct. 30 | 4:30pm-7pm | Yale Health Pediatrics, 3rd floor | 6 months and older |
| Sat., Nov. 2 | 9am-1pm | Yale Health Pediatrics, 3rd floor | 6 months and older |
| Thurs., Nov. 7* | 2pm-7pm | Yale Health Center, 1st floor | 5 years and older |
| Wed., Nov. 13 | 10am-3pm | Yale School of Medicine, Harkness Building | 5 years and older |
| Sat., Nov. 16 | 9am-1pm | Yale Health Pediatrics, 3rd floor | 6 months and older |
| Tues., Nov. 19* | 2pm-7pm | Yale Health Center, 1st floor | 5 years and older |
| Sat., Nov. 23 | 9am-1pm | Yale Health Pediatrics, 3rd floor | 6 months and older |
INTERESTED IN BECOMING A CCE?
The Communication and Consent Educators are a diverse, creative group of undergraduates drawn from across campus to foster a more positive social and sexual climate.  Through workshops, programs, and conversations, they collaborate within their own communities to build a culture of respect and support. They also serve as a resource for students who have experienced or heard about sexual misconduct, providing a peer avenue to SHARE, the UWC, Title IX, and the Yale Police. The CCEs are paid employees of the YCDO, working 5-10 hours per week, with longer hours during training periods in August and January.  There's no need for prior experience in sexual violence prevention. The prime qualification for being a CCE is the desire to make Yale a better place! For more information or to apply, please visit yale.edu/cce.
STUDIES IN GRAND STRATEGY
The Brady-Johnson Program in Grand Strategy is now accepting applications for the class of 2020. The Grand Strategy Program: Studies in Grand Strategy  is the flagship course for the Brady-Johnson Program in Grand Strategy. Beginning in January, the two-semester course explores how to achieve large ends with limited means, whether in military conflict, foreign policy, domestic politics, or social movements. The course engages security questions from a wide range of perspectives, including national security, global security, and social security. It emphasizes interaction between academics and practitioners, and between participants of differing political views. Grand Strategy aims to develop students' capacities not only to analyze the past and present, but to act as responsible, thoughtful leaders and citizens of the future.
To apply, Please clink the link here: https://grandstrategy.yale.edu/apply
We will be hosting two information sessions, an undergraduate session on Tuesday, October 22 from 4:30-5:30pm, and a graduate session on Thursday, October 24 from 4:00-5:00pm. Both sessions will take place in WLH Room 116.
 
NEW FOR SOPHOMORES!
Designing Your Career @ Yale is for sophomores who may be unsure of their career interests, and would like an active approach to identifying career options for summer and post-graduate opportunities. Design thinking can help create a meaningful and fulfilling life, regardless your interests. Adapting Stanford University's approach of applying Design Thinking principles to life decision-making, OCS is offering 1/2-day workshops for sophomores seeking to explore possible career paths, take proactive steps to test careers, and become a part of a growing community of life designers. Sophomores will be guided through career exploration through multiple hands-on activities, and will leave the program with concrete steps to further their personal and career goals.
Each program is held at the Study Hotel and all materials and food will be provided!
Fall 2019 Program Dates (students may apply for one – space is limited): November 1 and December 6 (times & details in Yale Career Link)
November 1st Application Deadline: October 18
December 6th Application Deadline: November 22