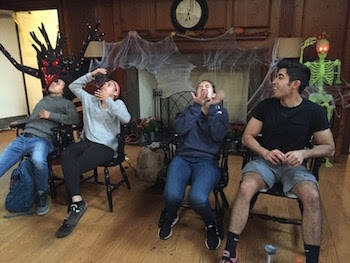 Notes and News – Week of 11/5
 
HL's Pieces
 
Dear Red Lions,
 
We have a big week coming up!  First, Tuesday 11/6 is Election Day!  I hope those of you who are eligible to vote have sent back your absentee ballots if you were voting in your home state.  If you wish to vote in Connecticut you may still register on Election Day.  You can go to the 2nd floor of City Hall at 165 Church Street to register and vote on the same day.
 
Then Wednesday is "Chubb day" with award-winning graphic novelist, Gene Luen Yang, who will be speaking at the Yale University Art Gallery at 4:30pm on "The Power of Comics for Inclusivity and Equality."  The Chubb dinner will follow in the TD Dining Hall at 7:15pm.  Everyone who received a seat in the TD lottery has been notified.  If you signed up for the dinner lottery and did not hear back, please let me know ASAP.  Please note that if you are not attending the Chubb dinner, you will have to dine elsewhere for the evening.  The Dining Hall will close after lunch service on Wednesday to allow the staff to prepare for the special dinner. 
 
Speaking of the TD Dining Hall, many thanks to our wonderful Dining Hall team led by Sammy Feliciano and Matt Beard for a great Halloween celebration!!!  Our "photo of the week" features a number of photos sent to me by many folks and is titled "TD Trick or Treat" and shows TDers – young and old – enjoying the fabulous decorations and very fun games!  Thank you for sharing everyone!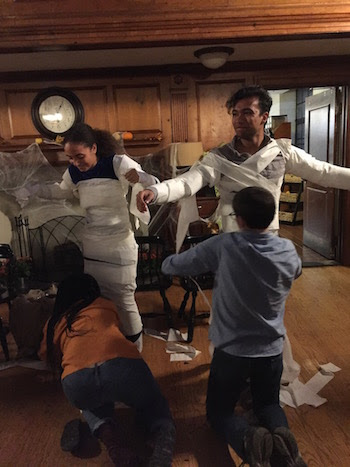 The Harvard-Yale Game is less than 2 weeks away!  Please don't forget to sign up if you plan to stay at our sister college, Leverett House, the night before the Harvard-Yale game.  Please go to this link and fill out the form before the end of today so that we can get a rough headcount to our hosts.
 
Here are a couple more important events coming up in TD:
 
Friday 11/9 12pm Lunch with Abigail Roth, Alder for Ward 7
 
TD is the only college with two Alders!  While the TD courtyard is in Ward 22 under Alder Jeanette Morrison, Rosenfeld Hall is in District 7.  Please come to lunch with Alder Roth to discuss New Haven issues.
 
Tuesday 11/13 5:30pm Senior Mellon Forum
 
Calling all TD seniors… come support the three brave folks who are volunteering to be the first in the class to share their senior thesis research!  Presentations will begin promptly at 5:45pm.  These works-in-progress talks are always fun, intellectually stimulating, and simply fabulous! 
 
Without further ado, here is a word from Dean Mahurin…
 
Áshe,
 
HL
 
***
 
"Listen, as the Isley Brothers say, to the music. You must learn to do that before you can expect to understand. Slowly. Slowly. A few licks at a time."
(John Edgar Wideman)
UPCOMING DATES AND DEADLINES:
November 9, Friday: Last day to withdraw from a course offered in the second half of the fall term without the course appearing on the transcript.
November 16, Friday: November recess begins, 5:30p.m.
November 26, Monday: Classes resume.
Silver Scholars Program
The Silver Scholars Program at the Yale School of Management allows students to earn a Yale MBA degree within three years, directly after graduation, spring-boarding them toward their career goals and leadership positions. The program is designed for exceptional students with strong leadership potential. Silver Scholars enroll in our full-time two-year MBA program but rather than the traditional summer MBA internship, Silver Scholars complete a year-long internship, extending their experience to three years. All Yale College students receive a 50% discount and an application fee waiver.
 
The admissions committee is looking for candidates with a combination of intelligence, maturity, and curiosity who aim to be future leaders in their field of interest. There is no particular background that is given preference – we enjoy the diversity of interests and experiences that our Silver Scholars bring to the broader MBA class at Yale SOM. If you would like to speak with an admissions representative about the Program or the application process, please reach out to maria.derlipanska@yale.edu to schedule an appointment. The next application deadline is January 7, 2019.
Long Night Against Procrastination: Tonight!
Maximize your productivity in Bass Library at the Long Night Against Procrastination on November 5th from 7 PM – midnight with dedicated, distraction-free study time. Writing Partners, Academic Strategy Partners, and librarians will be available for drop-in consultations. Throughout the night we will provide short study breaks with snacks and puppy videos, of course. 
NOTE: ALL phones and personal communication devices (except laptops) will be kept in secure storage during the event. Participants may retrieve their devices when the leave.
Office of Career Strategy
Forté Foundation's Rising Star Initiative: As one of 20+ sponsor schools in this Initiative, Yale OCS is pleased to offer our undergraduate women, across majors, the opportunity to develop skills in critical 'career ready' areas through free interactive and engaging on-line programming—career exploration, personal branding, job searching, networking, and professional values.
3rd Annual Career Networking Mixer
Thursday, November 8, 7:30pm-9:30pm
Afro-American Cultural Center
Co-sponsored by the Afro-American Cultural Center and 1stGenYale. Sign up here
Diversity at Work Panel
Wednesday, November 7, 12:00pm-1:30pm
55 Whitney Ave, 3rd Floor
Learn from Yale alumni/staff as they discuss their experiences navigating the job market, making sense of office culture and expectations, as well as other challenges in a variety of work settings. This event is open to all Yale students and postdocs. Lunch will be served. 
Boston Career Forum 2018
Friday, November 9 - Sunday, November 11
Hynes Convention Center