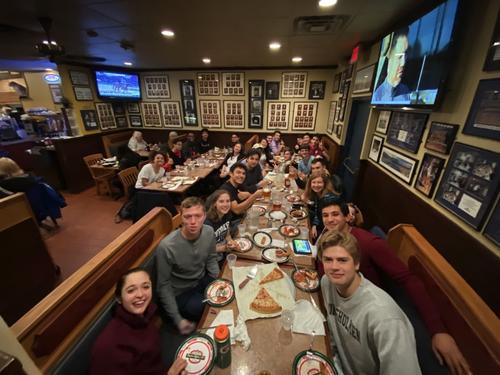 Hope everyone is recovered from a very busy Halloween week and ready for November!  We have two "photo of the week" submissions for this week.  First, we had a great celebration with the winning TD IM soccer team at Yorkside pizza!  Let's keep it going by winning volleyball!
And then here is a photo of the TD folks who had a blast playing paintball!
Here are our events for this coming week:
Tuesday 11/5 5-6:30pm "Grad School 101" Workshop (Thompson Room)
The Office of Career Strategy with our TD Graduate Affiliates will be offering an info session on the nuts and bolts of graduate school application.  Please feel free to get your dinner ahead of time.  Off-campus students are welcome to dine for free to attend this event.
Wednesday 11/6 6-7pm Dinner with TD Alders – Ward 7 and Ward 22 (Thompson Room)
Friday 11/8 Dino Snore with TD First Years
Overnight outing at the Peabody Museum!  We'll be sending out the schedule for this weekend shortly.  Please stay tuned!
Here are our great events next week:
Tuesday 11/12 4-5:15pm Tea with Abdul-Razak Zachiariah TD '17 (TD House)
Tuesday 11/12 6-7:30pm TD Senior Mellon Forum (TD House)
Very excited to launch our first Mellon Forum presentations for the Class of 2020!  We kick off the year with two great presentations and a catered dinner featuring a local New Haven restaurant!
Thursday 11/14 Guacamole Cart Pop Up dinner (TD Dining Hall)
Saturday 11/16 1-2:30pm House Concert with Maryanne Cosgrove TD '21 (TD House)
Continuing with our tradition of hosting house concerts, we are excited to present Maryanne Cosgrove's voice recital in the TD House!  Light reception will follow.
Without further ado, here is a word from Dean Mahurin…
Áshe,
HL
***
 
No use to say
Wendy Chen
 
that I was born here
in a small red house
on the Connecticut River.
In the winter, we'd walk
by its strip of Listerine
blue ice,
knowing spring
would turn our print
to water,
and water
to New England clay.
No.  I am not
American.
For you, I am
brom no country
but the East,
my body fragrant
as star anise.
 
UPCOMING DATES AND DEADLINES
November 7, Thursday

 

Last day to withdraw from a course offered in the second half of the fall term without the course appearing on the transcript. See Withdrawal from Courses and Grades.
Last day to convert from a letter grade to the Credit/D/Fail option in a course offered in the second half of the fall term. See Grades.

November 23, Sunday

 

November recess begins, 9 p.m.

November 30, Sunday

 

Last day to relinquish on-campus housing for the spring term without charge. See Undergraduate Regulations.
SUMMER OPPORTUNITIES FAIR
Friday, November 8th, 2:30-4PM
Silliman Dining Hall
Chart your course to summer with the Center for International and Professional Experience (CIPE)! Stop by the annual CIPE Summer Opportunities Fair to learn about hundreds of amazing internship, study, and funding opportunities in the U.S. and abroad for summer 2020. Chat with staff, faculty, and students affiliated with our four units; the Office of Career Strategy, Study Abroad, Yale Summer Session, and Fellowships- to find experiences that are right for you. There you go, your summer is planned!
JACKSON INSTITUTE FOR GLOBAL AFFAIRS
 Information sessions for prospective Global Affairs majors:
FRIDAY, NOVEMBER 8
3:00 - 4:00 PM
MONDAY, NOVEMBER 18
4:00 - 5:00 PM
Location:
Horchow Hall, 55 Hillhouse Avenue, GM Room
 
Join Global Affairs DUS Sigríður Benediktsdóttir to learn more about the program and application process.  Treats will be served.
The Global Affairs major is designed to give students the social science research tools necessary to solve today's most pressing global challenges.  To learn more about the program and access the online application, visit
http://jackson.yale.edu/study/ba/program/ or email lily.sutton@yale.edu.  The application deadline is Friday, November 22 at 11:59pm EST
STEM OPPORTUNITIES
Summer STEM Fellowship Information Sessions
Wednesday, November 13 - meet Dean Sandy Chang in the Stiles Dining Hall (table on the stage) from 5:00-6:30pm
Wednesday, December 4 - meet Dean Sandy Chang in the Stiles Dining Hall (table on the stage) from 5:00-6:30pm
Summer STEM Fellowships: How to Write a Research Proposal
Friday, November 15 - meet Dr. Alexia Belperron in LC 104 from 3:00-4:00pm
Guide to STEM at Yale
For Dean Sandy Chang's Guide to STEM at Yale and other useful information for STEM-interested students, please visit: https://science.yalecollege.yale.edu.
UPCOMING APPLICATION DEADLINES
November 12, 1:00pm EST - Saint Andrew's Society Graduate Scholarship Campus Deadline | Eligible: Seniors 
November 18, 1:00pm EST - James C. Gaither Junior Fellows Program at the Carnegie Endowment for International Peace Campus Deadline | Eligible: Seniors/Alumni
November 18, 1:00pm EST - Barry M. Goldwater Scholarship Campus Deadline | Eligible: Sophomores & Juniors
November 19, 8:00pm EST - Critical Language Scholarship (CLS) Program National Deadline | Eligible: First-Years, Sophomores, Juniors & Seniors
November 21, 1:00pm EST - Harry S. Truman Scholarship Program Campus Deadline | Eligible: Juniors
December 1 - Rotary Foundation Global Grant Scholarships; Contact the gershonmail.net%20%3ccmg@gershonmail.net%3e" rel="noopener noreferrer" target="_blank">New Haven Rotary Foundation Chair with application questions | Eligible: Seniors/Alumni 
January 3 | 4PM EST - SALAM 2020: Summer Arabic Language and Media ProgramNational Deadline |Eligible: First-Year Students, Sophomores, and Juniors
December 6, Noon Beijing Time - The Yenching Academy of Peking University Scholarship National Deadline | Eligible: Seniors & Recent Graduates
January 9, 1:00pm EST  - National Security Education Program NSEP David L Boren Undergraduate Scholarship Campus Deadline |Eligible: First-Year Students, Sophomores, and Juniors
December 13 | 1PM - Richard U. Light Fellowship Late Fall Competition Deadline | Eligible: First-Year Students, Sophomores, Juniors, Seniors, and Graduate Students (Note: Attending an info session is required.)