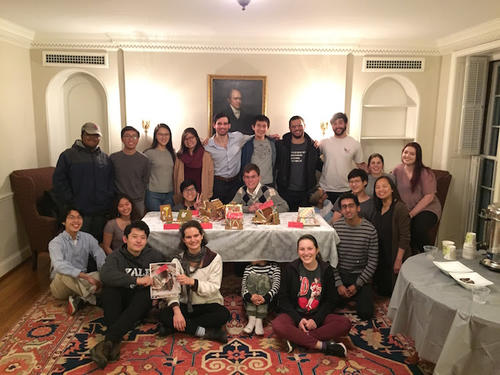 Notes and News – Week of 11/26
 
HL's Pieces
 
Dear Red Lions,
 
I hope you all had a great Thanksgiving break!  The Balbarin/Lui family, including my brother and parents, greatly enjoyed cooking and hosting TD students, family, and friends at our house on Thursday night.  It's always a treat to share in the holiday feasting!
 
Our "photo of the week" is titled "Gingerbread 2018" and was taken last Tuesday when Nick Kelly (brother of Ben Kelly TD '22) and Hanna Mandl TD '17 came back to TD to lead a new generation of Red Lions in the gingerbread making tradition.  
If you haven't yet been to the Thompson Room, please stop by and take a look at the creations!  And if you wondered how one of the teams managed to pull off the gorgeous bead work on their house, here is a picture of Ben Kelly working with tweezers… what concentration!
 
Hard to believe that we only have two weeks of classes left in the Fall 2018 semester!  Here are some important TD events to put onto your calendars before we shift into the finals period with study breaks.
 
Tuesday 11/27 5:30pm Senior Mellon Forum (TD House)
 
Our Senior Mellon Forum series resumes!  Last one for the fall semester please come out to hear your peers discuss their capstone projects!  As usual dinner will be served.  Please come early or stay late to help with clean up and set-up.
 
Friday 12/7 5-7pm TD Holiday Dinner (TD Dining Hall) & Holiday Singalong (TD Common Room)
 
Family dinner protocol will be in effect so all off-campus folks should come back to enjoy a warm and wonderful holiday meal prepared by our terrific Dining Hall staff.  All TD First-years will go to the Yale on York space for the first-year dinner, but you are all welcome to come back to the TD dining hall if you want to hang out with us for desserts and the holiday singalong in the TD Common Room.  If anyone would like to volunteer to play the piano for the singalong, please email me directly at mary.lui@yale.edu.  At 7pm, we will move out to the Common Room for the singalong where we'll sing everything from traditional carols to more contemporary classics.  All music will be provided!
Saturday 12/8 New York City Winter Arts Trip
 
Our annual tradition of seeing the phenomenal Alvin Ailey Dance Company continues – but with a twist.  In addition to the 15 tickets we have for the 2pm Alvin Ailey performance at City Center, we will also have 15 tickets for the performance of "Kinky Boots" on Broadway.  We will also have room on the coach bus to take an additional 15 TD students who would like to go to NYC for the day but do not plan to attend either show.  The bus will depart at 10am from the Temple Street gate and leave NYC around 6pm.  We will have boxed breakfasts from the TD Dining Hall.  We should arrive in the city by 12pm to give everyone time to grab a quick lunch before the start of the shows at 2pm.  The bus should depart NYC around 5:30/6pm.  I will email out the Google Form lottery sign-up by Tuesday afternoon.  The lottery will close on Sunday (12/2) night and we'll announce the results by Monday (12/3).
 
Sunday 12/9 1-3pm TD Art Studio Fall Gallery Opening (Art Studio)
 
Calling all art folks!  Please submit to the TD Art Studio's Fall gallery show! The gallery will open on December 8, Sunday, 1-3PM with light refreshments. The gallery is a casual opportunity to celebrate all types of artwork created by the TD Community, so there are no thematic or stylistic restrictions! Submit your piece by emailing sarah.jho@yale.edu (cc: antalique.tran@yale.edu, julia.fleming-dresser@yale.edu, victoria.gebert@yale.edu) with your name, class year, and a title and photo of the piece by this Sunday December 2nd .  If you need more time, just email Sarah with a request for an extension!  Please follow the TD Art Studio's new instagram @tdartstudio for updates on events! 
 
Sunday 12/9 8:30pm TD Orchestra Holiday Concert (TD Dining Hall)
 
Please join the TD Community Chamber Orchestra for our first concert of the 2018-2019 academic year.  We'll be playing a short winter holiday concert featuring Beethoven's First Symphony, first movement, and selections from Tchaikovsky's Nutcracker Suite.  A reception of cookies and hot chocolate will follow in the Thompson Room.
 
Without further ado, here is a word from Dean Mahurin…
 
Áshe,
 
HL
 
***
 
"I learned to make my mind large, as the universe is large, so that there is room for paradoxes." (Maxine Hong Kingston, The Woman Warrior)
UPCOMING DATES AND DEADLINES:
November 30, Friday: Last day to relinquish on-campus housing for the spring term without charge.
December 7, Friday: Classes end, 5:30pm; reading period begins.  Last day to withdraw from a fall full-term course or a course offered in the second half of the fall term.
December 13, Tuesday: Reading period ends, 5:00pm; final examinations begin, 7:00pm.  Deadline for all course assignments, other than term papers and term projects.  This deadline can be extended only by a Temporary Incomplete issued by your residential college dean (i.e. me!).
CLASS OF 2020!  Interested in being a froco next year?
Join me and members of this year's froco team for an informal information session in the Selin Lounge next Monday, 12/3, at 9:30pm.  We'll try to answer all your most pressing questions!  
Blood Drive
The American Red Cross at Yale will
be hosting a blood drive at the Joseph Slifka Center Monday, 11/26 to Thursday, 11/29 from 10:00 AM - 3:45 PM and at Berkeley College
on Friday, 11/30 from 11:00 AM - 4:30 PM. We'd love to have you make an appointment
here,
if you haven't done so already.
If
you have any questions, please e-mail Ben Grobman (ben.grobman@yale.edu),
our Donor Outreach Coordinator.
HUMS411: Life Worth Living
"What does it mean for a life to go well? What would it look like for a live to be lived well? In short, what shape would a life worth living take? We will explore these questions through engagement with the lives and visions of founding figures from six diverse traditions of imagining a good life: the Buddha, the Torah and the Hebrew prophetic and wisdom writers, Jesus of Nazareth, Muhammad, John Stuart Mill, and Friedrich Nietzsche. The course will also feature visits from contemporary individuals who understand their lives to be shaped by the traditions in question."
https://yalesurvey.ca1.qualtrics.com/jfe/form/SV_74B5iYo3rfHnWuN
Yale x Flatiron
Become a web developer this summer. Seriously.
Yale Summer Session is partnering with the Flatiron School to launch a Web Development Bootcamp this summer. The Yale x Flatiron School Web Development Bootcamp is offering CPSCS115 "Introduction to Full-Stack Web Development," which will give you a deep dive into the intellectual enterprises of computer science and teach you to think, and build, like a software engineer. Best of all:  You don't need any prior computer science experience to take the course. All you need is the passion to learn!
Why attend Yale x Flatiron School?
Learn Ruby and JavaScript–and apply your knowledge to other software languages

Gain experience in front-end and back-end programming

Discover how your unique perspective can contribute to a web development team

Apply your knowledge in other courses, a job, or in graduate school

Earn 2 Yale College credits and QR (pending faculty approval)